Who is online?
In total there are
59
users online :: 2 Registered, 0 Hidden and 57 Guests :: 3 Bots
LunarWolf
,
Teenwrestler
Most users ever online was
418
on Tue Jul 30, 2019 9:51 am
Champions & #1 contenders
Looking to get back into forum rp
Thu Dec 16, 2021 6:58 am by 321Shazam
Hello, it's been awhile. I'm trying to get back into rping on here. I'm looking for hentai style matches feel free to message me here or on discord @[FTK] Bastion#5496
I hope to hear from you guys soon. I can't wait to have some fun with you guys
Comments: 3
Health problem
Wed Jan 05, 2022 1:24 pm by Harrier
Hey,
I just want to inform you that I am taking a hiatus. I am feeling terrible and am currently in medical treatment. Sorry.
Comments: 2
Hunting for matches
Sat Jan 01, 2022 11:09 pm by GrandAkumaShogun
Hey all, as the title says looking for matches for any of my boys
Takeichi Mori
Takeshi Kawai
or
Imai Cosmo
. As a side note for Takeichi if you're interested in him I was thinking of trying to move him from being a jobber so if you're down for helping with that in particular we can discuss. Otherwise if any of my three dudes catch your interest for a match or other interaction feel free to get in touch on here or in a pm. Thanks in advance to anyone who shows
[
Full reading
]
Comments: 1
Page 5 of 7 •
1, 2, 3, 4, 5, 6, 7
Unfortunately for Eshe, Makie didn't plan on giving her those seconds.

The Egyptian girl was already proving to be a very skilled opponent, one who was forcing Makie to fight harder against her. Knowing how good Eshe was, Makie fully intended taking her seriously from this point on-- which meant not giving her a moment's respite, even while the dark-skinned beauty was lying dazed on the mat.

Walking over to Eshe, she would grab a hold of one of her opponent's slender legs, and intertwine her own legs around it. With this done, Makie would sit back down, press her palms agaisnt the mat, and arch her body off the mat, trying to lock in a figure four leg lock while Eshe was still grounded! The figure four wasn't one hold that Makie used often, but with Eshe down like this, it was a good opportunity to wear her opponent down!

Underdog21




Posts

: 5962


Join date

: 2008-04-26


Age

: 35



Her head was rolling side to side as she tried to get her grips back on reality. The pain was excruciating to say the least and if anything she just wanted to lay here and rest. Eshe knew she didn't get paid for doing something like that and her pride in giving her all wouldn't allow it either. Still, she was leagues away from actually putting her body to the task of climbing to her feet.

Makie wouldn't give her time either, feeling their hands grasp her legs, her mind slowly began to fixate on her current situation. Just as she pushed herself up off the mat, her eyes would widen as the small hurricane dropped to lock-in a figure four. She fell back down to the mat, her legs crying out as the muscles began to pull. She gripped her long violet hair as pain shot back up towards her center. Her legs were in agony, but she couldn't let it consume her.

The Egyptian needed a plan and fast or she'd be tapping soon. The ref was already down on the mat, asking her did she give up; choosing to ignore them and think. Her body began to rock, the only way she saw out of this was rolling the pair of them over, she could pull her legs out of this after that. Even as she groans and writhes, she wouldn't give in, using her free hand to push her more and more closer to her desired freedom. She was hoping the rocking would manage to unbalance Makie as well and if it did, she'd take full advantage of it to roll them into their stomachs.
_________________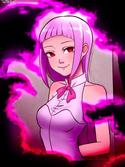 LilyStar




Posts

: 866


Join date

: 2018-02-27


Age

: 25


Location

: Your heart



Makie allowed herself a faint smile as she managed to lock in the figure four, her pale legs entwined with Eshe's slender dark ones as she leaned back on her palms, stretching Eshe's limbs beyond the limits of their tolerance. Eshe was screaming now, clutching her long violet hair as her lithe body twisted left and right on the mat in agony. Damn, Makie though, she had to use this move more often, it was really working.

Except, as she was soon to discover, there was a downside.

With a surprising suddenness, Eshe twisted her body sharply, and Makie suddenly felt the two of them being rolled over. "Wha...nononono--" Makie cried, trying to extend her arms to prevent the roll. It wasn't enough, though, and suddenly Makie was rolled over onto her front, her chest flattened against the mat. And now, that same lock that had been tormenting Eshe only a few seconds before now was now twisting her own legs in an excriating manner.

Makie screamed, her head shaking furiously from side to side as the figure four was reversed on her. Intense pain was shooting up her legs now. Fighting back the tears welling in her eyes, she tried to dig her elbows into the mat and push off, trying to roll the two of them again towards the ropes so that she could break the hold...

Underdog21




Posts

: 5962


Join date

: 2008-04-26


Age

: 35



Eshe gripped tighter onto her hair as Makie seemed to revel in her leg lock. Pain continued to shoot uo to her core, the signals becoming overwhelming as she hatched the idea to flip them over. Her training never explained what would happen if she found herself in the hold. She never could focus when her trainer locked it in. With a forceful, push the pair of them found themselves on their stomachs, and funnily enough, the pain seemed to vanish.

She pushed up in her elbows to look back over her shoulder, Makie was the one screaming now, was this a reversal? The hurricane began to shake her head, crying out "no" as they now found themselves in the predicament she had suffered earlier. As much as she wanted to keep the hold on them, this wasn't a position she wanted to stay in for long.

Makie seemed to go for the ropes, but Eshe was kind enough to pull forward, unlocking their legs from the hellish lock for the both of them. God, this hurt so much but she wasn't going to let Makie get away with this.

If the Violet was quick enough, she'd pounce on her smaller rival, her idol hopefully malleable to her wishes. She'd send her hand through their short hair to pull them up as they did her, showing she wouldn't be the forgetful type. Hoping to manage that, she'd guide Makie under her arm, throwing their arm over her shoulder as she went for their tights again. Her aim was to hook them up in another suplex position but if they looked their, she'd straighten herself out, the pair would come down in an L shape for a brain buster to shake the ring.
_________________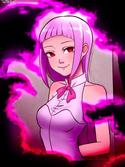 LilyStar




Posts

: 866


Join date

: 2018-02-27


Age

: 25


Location

: Your heart



Sweat was beginning to bead Makie's forehead as Eshe reversed the figure four, twisting her legs painfully on the mat. She was screaming in pain now, trying to resist the urge to tap, trying instead to roll the two of them towards the ropes. The moment she even began the roll, however, Eshe finally relented, and release the figure four. Wordlessly, Makie rolled onto her side, groaning as she clutched her thigh, her legs still sore after being pretzeled like that.

And then, suddenly, her scalp was burning as her hair was yanked. "Aaaaahhh~!" she gasped, her arms coming up to Eshe's wrists as she was pulled up to her feet. It seemed that Eshe wasn't playing games any more, she noted. Stumbling to her feet, Makie felt Eshe's head go under her arm, pressing her agasint the warm side of her chest, while draping Makie's own arm over her head. Alarm bells rang in Makie's head as she realized what was going on.

Grimacing, she balled the fist of her free hand and tried to punch it into Eshe's back, once, twice...hoping that it would make Eshe let her go. If it didn't however, then Makie would be lifted up in the brainbuster and brought crashing down to the mat again, left lying splayed out on her back utterly dazed by the move...

Underdog21




Posts

: 5962


Join date

: 2008-04-26


Age

: 35



After unraveling their sore legs, Eshe was numb in her legs, they felt so heavy, so strained as she pulled herself up to her feet. Makie was proving to be a lot more than what she remembered on television but that made this all worth while. Even so, she had to get back at them, show she wouldn't let her hair pull go unpunished, especially with how she has to treat it. Makie was growing in the canvas, rubbing her thigh as the Egyptian would, fighting through the pain would be all worth it, if she could just get that three count.

Kneeling down, her tanned fingers run through that short, black hair, guiding her to her feet albeit a bit roughly. Their gasp had a small hint of satisfactory to please Eshe. Of course, she didn't like the thought of it but it was payback after all. Pulling them into position, she'd throw their arm over her neck, grabbing under their leotard for support. She gasped suddenly as she felt a fist pound into her back. The first hit made her grip tighten but the second made her hesitate. Pain began to resurface in her back, she clenched her teeth, she had to endure.

With a pained groan, the Egyptian would bend her knees, tugging up the smaller woman into the air before kicking out her legs to drop the pair of them for her desired brain buster. The pair of them would lay flat on the mat, Eshe was panting, her mind drawing blank as she looked at the heap of a woman she made. It seemed like it was not or never, she huffed as she rolls onto her side, Makie was close enough that when the violet came over, her bust pressed against their downed face. Body going limp over top to add all her weight into it, she'd grab their leotard from her sides, breathing heavily as she tried to put her idol away.

"Stay...down, please." she states between her labored breathes. Her fingers scrunching up her rivals attire tightly to keep a grip. The referee drops down, beginning her count and slapping the mat.

ONE!
_________________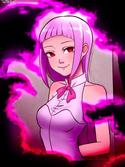 LilyStar




Posts

: 866


Join date

: 2018-02-27


Age

: 25


Location

: Your heart



Makie breathed hard as her head was squeezed against the side of Eshe's chest, and blushed further as her leotard was pulled. She retaliated quickly, sending one punch, then another, around into the Egyptian girl's back, each blow causing Eshe to gasp sharply, and make her grip lessen. But it didn't do enough to make Eshe let go, not by a long shot.

And then, Makie's body was lifted off the ring. She tensed, expected Eshe to go for a piledriver, and waited for the unpleasant sensation of the blood rushing to her head as she was tiled upside-down. But that never happened: instead, she was held at an awkward tilt...and then gravity came rushing in. Her head collided, hard, with the mat, with enough force to make her entire body jolt on impact, and her vision went white as a terrible ringing filled her ears.

Makie moaned softly as she sprawled onto the mat, and made no resistance as Eshe rolled her over. She felt Eshe's round, lycra covered breast press against her face, and through the ringing in her skull, was barely able to make out the sound of the ref counting down in the background.

"ONE! TWO! THR--"

Something inside her snapped, urging her to move, NOW, before she lost. With willpower even she didn't know she had, she twisted her body underneath Eshe's, barely managing to get a shoulder up, her head twisting to the side under Eshe's chest as she breathed softly for air...

Underdog21




Posts

: 5962


Join date

: 2008-04-26


Age

: 35



Hitting home had a incredible feeling to it, even if there were bumps everything worked out in the end. That was exactly how she felt about this spine buster, it felt it was enough to finish off the fiery hurricane that persevered through everything she had thrown so far. As they came down with a thunderous crash, Eshe couldn't help but revel in the moment for a mere second before her body tapped on that tanned shoulder to remind them of her predicament. She was running out of steam and fast, if the Egyptian didn't end this now, she might not ever.

It took so effort to roll into that elevated body sprawled next to her. Even as they laid beaten and breathless, Makie had a noble air about them, it's what she admired about them. Covering all the base as she settled on top of foe, her bust pressed to their face as her own cheek settled onto their stomach, finger digging into their attire, Eshe felt hardly any resistance. The only moment she found was the labored breaths, raising her up slightly with each inhale then exhale.

The first count was quiet, Makie seemed to be satiated and under the ring's spell. Two came along and nothing stirred, the Egyptian felt she had it. Taking down her inspiration felt like a huge step, one she wanted to climb on. It was three began did fire burn in the small hurricane. With such a fierce twist, Eshe's body practically hopped from the source. Makie had broken the pin, putting herself back into the match.

Eshe slide her knees under her body as she pulled herself down Makie's frame to lift herself up. She scrunched her eyes in disbelief mouthing 'no.' Mostly to herself though her mind was having a blasting party seeing them break free. Her body on the other hand, had the worst luck of the bunch. She was aching and now she only had enough steam to last her a short while. What could she do now? In what little energy she had to think of left the only option was,Baal.

_________________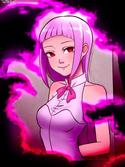 LilyStar




Posts

: 866


Join date

: 2018-02-27


Age

: 25


Location

: Your heart



Makie was breathing hard now as she lay on her back, her head still swimming after taking that nasty brainbuster. Around her, the crowd was cheering her on, impressed by this display of stubborn resilience on her part. Her chest rose and fell as she tried to catch her breath, oblivious to Eshe's frustration, knowing only that, for whatever reason, the violet wasn't following up her attack. At least, not yet.

Slowly, but surely, though, she shook her head, and began to roll over onto her front, slowly but surely trying to get up to her elbows and knees. At the outset of this match, she had dismissed Eshe as an enthusiastic fangirl, but...she couldn't remember the last time an opponent had left her hurting this badly (although that might have been because she was feeling incredibly woozy at this moment). Alaina Sanders, Belinda Northman, Daisuke Kamiya...Eshe may not have known it, but she was proving to be just as fearsome an opponent as all of those other ladies.

Underdog21




Posts

: 5962


Join date

: 2008-04-26


Age

: 35



Both women were slow to get up completely, her body was sluggish, weights seemed to be added without her knowing. To even think of winnin, she needed to put Makie back down on her stomach for Baal to even be an option. That was a well and good plan but her idol didn't like the idea of staying down for long and Eshe knew that if she even had a moment of pushback from the smaller woman, it was over.

Pushing up on her foot, the Egyptian would look to get to a standing position first, it wasn't impossible to overpower the firecracker but both of them were rubbing low on steam, pain overtaking their bodies. She steps forward, coming in low, her hands already outstretched to hook their waist if Makie was complacent and still groggy from her brainbuster. She wanted this, no, needed this to prove to them that she was more than a fan, she was a wrestler.

Unbenounced to her, Makie was already on that state of mind, if she managed to grab their waist, she'd hesitate. Her body was giving into the pain, the weights seeming so heavy as she clung to their attire. She pushed her muscles to obey, trying to keep herself in this, telling it she wouldn't forgive them if they let this happen.
Last edited by LilyStar on Tue Feb 16, 2021 12:35 am; edited 1 time in total
_________________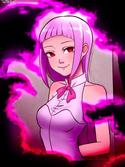 LilyStar




Posts

: 866


Join date

: 2018-02-27


Age

: 25


Location

: Your heart



Page 5 of 7 •
1, 2, 3, 4, 5, 6, 7
---
Permissions in this forum:
You
cannot
reply to topics in this forum