Who is online?
In total there are
36
users online :: 2 Registered, 0 Hidden and 34 Guests :: 3 Bots
Diesel_Electric_Razor
,
Jstruggs716
Most users ever online was
418
on Tue Jul 30, 2019 9:51 am
Champions & #1 contenders
Who wants a match?
Sat Aug 13, 2022 2:28 am by Bahamut01
Hey all its been a while. So trying to get some matches going! Reply here or pm me and let's make something happen!
Comments: 2
Apologies.
Tue Aug 09, 2022 1:04 am by ihateocrecolors
Due to some issues that I think have been popping up because of my involvement in stuff, I believe it's in the interest for me and everyone else that I take a temporary or probably permanent leave from AFW-related stuff. I have been nothing more than a burden to most of you. I won't make this into a giant paragraph. All I want to say is that I apologize to everyone who's ever rooted for me because I can't hack it not anymore.
Comments: 1
Retiring some wrestlers
Sun Jul 10, 2022 11:42 am by Deus001
Hey all
Deus here, I've been thinking it over and I'll be looking at benching some of my roster. Been thinking its a bit over bloated and with newer ideas on the horizon for me I've figured its time to shuffle them off to greener pastures or let their faceclaims be free to use.
So at the moment I will be retiring Chuang Lingxian, Qi Lingxian and Leon La Rouge effective immediate. I might be considering benching other people but atm the above three are getting axed. If you want to adopt any of …
[
Full reading
]
Comments: 1
Page 3 of 7 •
1, 2, 3, 4, 5, 6, 7
Makie's chest rose and fell as she lay under Eshe, still winded from that brutal spear to the chest she had taken. the new girl seemed rather surprised, all things considered, as she ended up straddling the Japanese girl: Eshe was skilled, Makie had to admit, but there was a lot she was lacking in ring experience, especially if she got flustered this easily.

No sooner had she thought this, however, when Eshe locked her dark-skinned legs across Makie's arm, trapping it in a figure four! Makie's eyes widened, and she was soon howling with pain, her free hand grabbing uselessly at Eshe's boot as she was forced to arch off the mat. Doing her best to ignore the hot pain shooting through her shoulder, she manouvered her body, trying to get in range to drop one leg across the bottom rope and break the hold...

Underdog21




Posts

: 6059


Join date

: 2008-04-26


Age

: 36



In, out...in, out. The rise and fall of their chest was all the movement she could see as she sat atop their heaving chest. Sure the feeling was awkward as she met their gaze, it was when she transitioned to her arm bar submission that Makie sprung to life. She knew from experience how much it could hurt. A burning sensation as your muscles were strained from the pulling and squeezing, her legs had the power to make it really hurt and she was seeing it first hand.

The hurricane was doing everything in their power to break the hold. Pawing are her boot, arching madly to slip out but Eshe wasn't having it, she added on the pressure to make them painfully aware of her power. It wasn't until she felt her body dragged along the mat did it come to her she was heading for the ropes. She wasn't sure what to do to keep them from reaching it but Makie was quick. It was only a matter of time until their boot slipped over the rope and the referee demanding she let go.

The Egyptian cursed herself, maybe if she had them center ring that could've forced a tap out but a spring chicken like the storm was highly unlikely. With her legs releasing the arm from her care she'd roll backward to put some distance between the two, slipping up from her knees and with a bounce getting to her feet. She'd ready herself into a grappling stance, for some reason she felt this was going to be a long match, the hurricanes determination was something to contend with.
_________________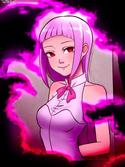 LilyStar




Posts

: 894


Join date

: 2018-02-27


Age

: 26


Location

: Your heart



Makie was blissfully relieved when Eshe finally released her. Her shoulder burned with pain, and as she rolled up to her knees, she clutched her shoulder, rotating it as she tried to relieve some of the stress it had been put under. Opposite her, Eshe was rising to her feet, and Makie was painfully aware of how well this newcomer had put her on the defensive.

Seeing Eshe getting up into a grappling stance opposite her, Makie glared at her, mirroring her stance. Without waiting, Makie darted in again, locking up with Eshe...only to shift both of her arms around one of Eshe's arms, and drop back, kicking a boot up into Eshe's stomach as she tried to monkey flip her hard to the mat!

Underdog21




Posts

: 6059


Join date

: 2008-04-26


Age

: 36



Makie has taken a moment to roll her shoulder, Eshe could tell she must've done more than she originally thought. She supposed in a way, The Hurricane now knew she wasn't going to play nice nor hold back in her idol. The glare made it painfully clear on that fact, it made the Egyptian slightly recoil, she hoped they weren't mad at her or going to kill her.

As the violet settled into her grappling stance, she thought Makie was going to answer her call. In a way they had but Eshe would soon learn not in the way she planned. The smaller woman was quick and feeling the hard tug forward, her body could only comply. She'd found herself in a similar position before and just like them she had no way of getting away. That hardened boot kicked up into her stomach was enough to make her gag but then she was flipped hard onto her back only pushing the impact back and forth. "Guygh!" She cries out her midsection hammered.
_________________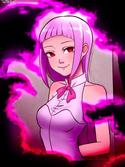 LilyStar




Posts

: 894


Join date

: 2018-02-27


Age

: 26


Location

: Your heart



Makie grinned as she managed to flip Eshe to the mat, the taller Egyptian girl's violet hair trailing behind her as she flew overhead. Leaping back up to her feet, she saw Eshe lying flat on her back, and decided it was time to act while Eshe was down.

Bursting into a run, Makie would bound towards the opposite ropes, rebounding off of them before running back towards the prone Eshe. If all went to plan, then hopefully Eshe would still be stunned and on her back as Makie backflipped forward, aiming to deliver a leg drop across her opponent's chest or midsection!

Underdog21




Posts

: 6059


Join date

: 2008-04-26


Age

: 36



The ring erupts as her back slams into the mat, pain taking over as she pants. Makie sure knew how to bring the hurt with something simple like the monkey flip. Her stomach still felt the impression of their boot.

She heard the sound of running, the sound of a rebound as the ropes creaked by being stretched. The tornado was coming back. She'd cover her stomach in expectation, shutting her eyes with anxiousness but nothing came, only the sound of emptiness and then wind? A harsh impact rocked her chest. Air forced out of her lungs as she bent in with force. She rolls to her side, covering her now aching chest. Eshe was losing her grip, she needed to get back up!
_________________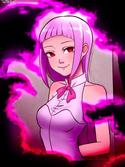 LilyStar




Posts

: 894


Join date

: 2018-02-27


Age

: 26


Location

: Your heart



Makie grinned as her leg collided with her opponent's ample chest, sending her opponent rolling sideways clutching the hit area, her purple hair spilling out on the ring behind her. Going back up to her knees, she brushed her hair back as she followed after the groaning Egyptian girl.

"You know, you're pretty good so far, fangirl," she said, grabbing a handful of the violet's hair to pull her up to her feet, "but let's see you get out of this!" Sliding her legs around Eshe's waist, she would lock her ankles together and start squeezing in a punishing body scissor. At the same time, Makie would lean back on her palms and arch up off the mat, adding more power to the body scissor as she sought to squeeze her opponent like a tube of toothpaste...

Underdog21




Posts

: 6059


Join date

: 2008-04-26


Age

: 36



Her chest was throbbing from the leg drop. The thought of recovering was so far away but she couldn't let Makie pile on like this. Eshe wasn't going to let her admiration hold her back, the tornado had to learn the hard way the violet wasn't one to toy with. She groans feeling her hair pulled bringing her up only to feel those legs wrap around her waist and tighten together in an unforgiving vice.

She gasps in surprise from the pressure, her hands quickly went to those legs of hers that attempts to drain the life from her. Eshe tries to pry them apart, her efforts wasted as Makie raised her up, making her lose ground. The Egyptian grunts in frustration as she's out in a tough spot. Suddenly she had an idea. Gritting through the pain, she'd push up with her legs, knowing full well she couldn't break out of the scissor hold, she opted instead for a pin attempt!

If her plan succeeded, Eshe would bridge Makie into a make shift pin, the Egyptian could grin through the pain. "You'll see just how much better I can be!" She shouts, the referee dropping down to count.

One!
_________________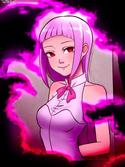 LilyStar




Posts

: 894


Join date

: 2018-02-27


Age

: 26


Location

: Your heart



Makie's breathing tightened, her chest rising and falling ever so slightly as her strong legs punished Eshe's middle. The Egyptian girl was gasping in pain now, trying to pry Makie's legs apart. Gritting her teeth, Makie locked her ankles together even more, causing the scissor to tighten even further around Eshe's sides. So far, Eshe was having no success, and by the sounds of things, the scissor was taking its toll on her.

Makie was about to ask Eshe if she gave up, however, when the Eygptian girl suddenly kicked off the mat. Surprised, Makie was rocked onto her back, her shoulders pressed against the mat. In an instant, the referee was right down next to them, starting the countdown. Clever, Makie thought begrudgingly.

With a hiss of irritation, Makie twisted sideways, trying to roll the two of them onto their sides and get her shoulders off the mat. The motion would cause her scissor hold to loosen, but all the same, Makie would try to maintain the scissor, at the same time leaning in against Eshe and trying to slide her arms across the other girl's throat, trying to lock in a sleeper in addition to the scissor...

Underdog21




Posts

: 6059


Join date

: 2008-04-26


Age

: 36



She expected the scissor hold to break when the ref started the count but to her surprise Makie didn't relent. The hiss rattled in her ears, the sound of irritation and annoyance. Eshe had managed to somewhat turn the situation around but her expectations weren't realized as she now found herself laying on her side, still trapped in the tornado's body scissor.
She quietly hissed to herself, Makie was tenacious with this hold, it was draining for sure but, was she loosening it up? The vice grip legs around her waist didn't seem as Iron locked as it once was, the Egyptian had some leeway. Makie made the choice to lean in, Eshe was beginning to think up an escape plan from her prison. With the smaller woman in range now, the tanned woman would shoot her elbow upward, aiming for their unprotected ribs. Her free hand, digging into their thighs to pry them away if her shot found bone.
It was a cheap shot in her mind but it was better then being choked up on such a draining hold. She'd fire one more of her first elbow was successful, hoping the second wave would give her the release she so desperately craved for. If her attempts bore results she'd crawl from her position on the mat toward the ropes, lightly panting with a slight grin on her face. "Gosh, Makie. You sure are packing that punch, I didn't think you'd try to take me out that early." She prompted, steadily attempting to get to her feet. The violet now ready more then ever to show her stuff to her idol. Pumped up and steaming, if Makie was slow to respond, the egpytian would make the first move. Her aching sides would be avenged. 
Footsteps rattle the mat as she charges, aiming to overwhelm the firecracker before she has a chance to retaliate. Eshe extends out her arms looking to grab her idol by the waist and lift up high. Attempting to gain the upper hand, she'd slam them to land back first in a gut wrench suplex to keep her sudden change in momentum.
_________________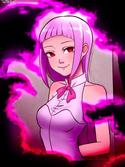 LilyStar




Posts

: 894


Join date

: 2018-02-27


Age

: 26


Location

: Your heart



Page 3 of 7 •
1, 2, 3, 4, 5, 6, 7
---
Permissions in this forum:
You
cannot
reply to topics in this forum