Champions & #1 contenders
Who wants a match?
Fri Aug 12, 2022 10:28 pm by Bahamut01
Hey all its been a while. So trying to get some matches going! Reply here or pm me and let's make something happen!
Comments: 2
Apologies.
Mon Aug 08, 2022 9:04 pm by ihateocrecolors
Due to some issues that I think have been popping up because of my involvement in stuff, I believe it's in the interest for me and everyone else that I take a temporary or probably permanent leave from AFW-related stuff. I have been nothing more than a burden to most of you. I won't make this into a giant paragraph. All I want to say is that I apologize to everyone who's ever rooted for me because I can't hack it not anymore.
Comments: 1
Retiring some wrestlers
Sun Jul 10, 2022 7:42 am by Deus001
Hey all
Deus here, I've been thinking it over and I'll be looking at benching some of my roster. Been thinking its a bit over bloated and with newer ideas on the horizon for me I've figured its time to shuffle them off to greener pastures or let their faceclaims be free to use.
So at the moment I will be retiring Chuang Lingxian, Qi Lingxian and Leon La Rouge effective immediate. I might be considering benching other people but atm the above three are getting axed. If you want to adopt any of …
[
Full reading
]
Comments: 1
Page 4 of 7 •
1, 2, 3, 4, 5, 6, 7
Makie was up close to Eshe now, her generous bosom pressing up against the other girl's back as she locked in her dual hold, sapping the strength from her. This close to Eshe, she could hear the other girl's ragged breathing as she locked in the sleeper, wearing her down bit by bit. "Nnngh...that's it...just shut your eyes and..."

She was cut off as Eshe's elbow shot back, drilling hard into her bosom. She gasped, the air bursting from her lungs and her dual grip weakening...before Eshe elbowed her again. This time, the blow was enough to send Makie rolling off of the other girl onto her back, one arm covering her hurting chest as she was left breathing hard from the Egyptian's counterattack.

Rolling away, Makie clenched her teeth as she pushed herself back up t her feet. The moment she was standing, however, the Egyptian girl came rebounding back to her. Makie's eyes widened, and she didn't have time to react before Eshe grabbed her around the waist, lifting her up, briefly pressing their two bodies together...

...before slamming Makie down to the mat with force. Her entire body jolted from the impact, and she lay flat on her back, groaning from the impact. "Nnnaagh..nnnngh...."

Underdog21




Posts

: 6059


Join date

: 2008-04-26


Age

: 36



Eshe could barely believe she had the stamina to pull off such a quick transition. Grabbing the smaller woman by her waist and hugging her tightly to slamming her down with enough force to make their body jolt upon impact. She looked back to see Makie on the mat back first, growing in pain but the violet was having her own troubles. The sleeper did more than she cared to admit, had she been any later on reacting to it she'd be the one out cold right now.

The Egyptian wasn't ready to get up just yet, her breathing was rough and sharp as she tried to regulate it to a calm intake and outtake. Makie was truly fiercesome, it was why she respected her, even with opponents bigger than her she never backed down. Setting aside her admiration she couldn't let her idol beat her, or at least not put up the fight she knew she could.

Shuffling to slip her legs underneath her body, Eshe slowly rose to her feet, shaking slightly before balancing herself as her breathing slowly but surely began to return to normal. Her pace was slow, she wanted to recover but taking anymore time would give the fiery hurrican the same time to recuperate too. If Makie hadn't gotten to her feet, the violet would lean down to take the smaller woman's arm and pull her to their feet.

Both now taking a serious hit, she had to push on, she felt she had to prove she was more than just a fan but a wrestler capable just like them. She'd throw their arm over her shoulder, attempting to keep her momentum going and land another impactful stab at their back, she'd reach down to a hopeful cooperative Makie and grab their leotard tightly. She bends her legs in and huffs with excursion to kift them up for a vertical suplex. Her hope to keep in this match was alive and well, all she had to do was act.
_________________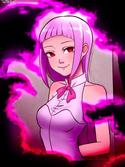 LilyStar




Posts

: 894


Join date

: 2018-02-26


Age

: 26


Location

: Your heart



Makie's generous bosom rose and fell as she lay on her back, groaning after that sudden suplex from Eshe. She arched up off the mat, clutching her hurting backside as she rolled onto her side. The Egyptian girl was more tenacious than Makie had expected, fighting back even after no doubt having a lot of her strength sapped by that earlier sleeper. Little by little, Eshe was showing that she was more than a fangirl, at least: she was also a competent wrestler.

Opposite her, Eshe was getting up to her feet, moving at a slow, groggy pace after the punishment she had just endured. Huffing, and not wanting to let Eshe retain the advantage, Makie tried to push herself upright, and the fans were clapping in rhythm as the two fighters slowly rose back up. Makie had just managed to get up to her feet when Eshe was in front of her, sliding one arm around her shoulder and grabbing her leotard with the other. Makie's eyes widened, and instinctively, she tried to to twist free.

She was far too late: the blood rushed to her head as she was lifted off the mat, before being unceremoniously slammed back down to the ring again. A short, stifled cry escaped Makie's lips as her upper body jacknifed off the ring, before she flopped down onto her back, clutching the base of her spine as her legs kicked fitfully at the mat in pain.

Underdog21




Posts

: 6059


Join date

: 2008-04-26


Age

: 36



The crowd clapped in rhythm to the pair of the crawling to get on their feet. Eshe managed to pull ahead and stand tall although clearly in pain and even more so struggling at the moment to hold her own. Makie was slow to stand herself. Through all that, even she was beginning to feel the heat in this match. The Egyptian wanted them to get back on their feet to come at her with everything but that had a price she couldn't pay. She knew that given the opportunity, the hurricane would really bring the beat down and she couldn't let that happen, not until she gave everything she had first, at least.

Through sheer excretion and will, the Egyptian caught her fiery rival. Tossing their arm over her neck, she'd grab a fistful of their red and yellow leotard to grip onto the firecracker. With a huff of force, Eshe would bend her knees, using the mat to bounce up, bringing Makie into the air, standing in nothing but the free space above her. She could do this, she could win, Makie would know that she was great, just like she was!

Kicking out her leg, their combined weight fell to gravity, the force bringing them both down towards the canvas like logs, crashing down from a clean cut. The impact was rough on the ring, if she didn't know better, she could feel the ring shake. Wit the two of them landing, although the Japanese woman took the brunt of the vertical suplex, Eshe felt a spike of pain in her own back. Rubbing the pain in as of to soothed it, she'd turn to see Makie covering their own back and kicking the mat in agony.

It was her chance. She'd push herself closer, stretching out her arms as she laid herself over the aching hurricane for a pin attemot, not even bothering to go for their leg.
_________________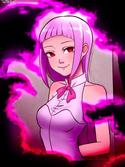 LilyStar




Posts

: 894


Join date

: 2018-02-26


Age

: 26


Location

: Your heart



Makie felt the blood rush to her head as the taller Egyptian girl liftet her upside down, leaving her legs dangling in the air as she was held upright. She cursed, twisted and thrashed like a madwoman, trying desperately to get free from Eshe's grip, trying to somehow free herself before her opponent could drop her.

A valiant effort, but, in the end, a futile one.

Colours exploded across her vision, while pain lanced down her spine as her entire body jolted from the impact. In a daze, Makie toppled onto her back, her face twisted in a rictus of pain as she clutched her hurting back, her skull ringing from where it had been slammed like a sledgehammer into the ring. Everything was now an addled mess of pain and dizziness, and she was only dimly aware that she was on her back.

Then she felt Eshe lying across her, and heard the ref's countdown.

"ONE...TWO..."

With a stifled cry, Makie twisted hard under Eshe, getting a shoulder up. The Egyptian fangirl was definitely proving to be a very tough opponent. Her chest heaved as she caught her breath, dizzily shaking her head as she tried to clear out the cobwebs, though for the time being she was still at Eshe's mercy...

Underdog21




Posts

: 6059


Join date

: 2008-04-26


Age

: 36



Time seemed to slow, almost to a stand still. Her anticipation and anxiousness had gotten the better of her having toppled over her idol to pin them to mat. Her mind began to wonder, should she have done this instead? Should she grab a leg? Could it be a trap? All these thoughts floss her brain, taunting the idea that the hurricane could be taken down so easily, a lie she knew that wasn't possible. The ref's hand felt to be coming down too slow. Her hand smacks the mat and at first the Egyptian was expecting to hear Two only to hear the first count instead.

Her gaze was filled with emotions of excitement, ambition. She wanted Makie to kick out, come back and throw that gauntlet down to begin again. Eshe however clutched the smaller ones body against her own, as much as she wanted that, she wasn't going to be a fool either and allow herself to fall victim to another submission hold either. Thoughts of the last one almost putting her down play back as she hears Two, finally. Now all that was left was Three, it was just around the corner-.

With a sharp cry, Makie twists sharply, bucking the Egyptian off and freeing herself from the pin. Her lips creep into a smile as admiration fills those violet pools. They broke free to keep fighting, even when she was writing in pain, the small Japanese woman was proving herself to be solidified as Eshe's idol. For that's for them, the hurricane was still at her mercy, still in pain. It felt rude to even consider taking it easy on them now, which was why the violet would get to her feet, a wave of longing taking her heart as she reached down for her rival.

If she managed to get them to their feet, she'd guide their head downward, pulling them close until they were locked between her thighs. Even now, she needed to catch her breath, the effects of the body scissor still prevalent as she aimed to bring them down. Hoping to still have a cooperative for, she'd lean down to wrap her arms around their waist, looking to haul them up, upside down in a piledriver position.
_________________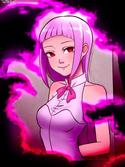 LilyStar




Posts

: 894


Join date

: 2018-02-26


Age

: 26


Location

: Your heart



The crowd let out an exhilarated cheer as Makie twisted, getting a shoulder up off the mat, the sudden movement causing her chest to rub up against Eshe's before the motion threw the Egyptian girl off. Breathing hard, Makie rolled over onto her hands and knees, sweat starting to drip from her hair as she started to perspire from this brutal match. Her back still hurt from that brutal suplex, and she winced as she tried to get up to her knees, fighting the pain as she tried to get back into the fight.

Eshe wasn't giving her time to recover, though. Makie felt herself being grabbed, pulled up to her feet, and the next thing she knew, a pair of powerful, dark skinned thighs clamped around her head in a vice. She gagged, pawing at those thighs, sinking to her knees as she flailed and squirmed in the headscissor. Then she felt Eshe's arms wrapping around her waist, the girl's bosom on her back, and she realized what was going on.

Doing her best to ignore the mounting pressure in her skull, Makie would press her hands against Eshe's thighs, pushing hard as she tried to force her head free. As Eshe lifted her up in the suplex, meanwhile, Makie would try to lash out with her own legs, clamping them around Eshe's head in a scissor of her own. As Eshe tried to bring Makie down in a piledriver, Makie would try to shift her weight hard, hoping to flip the two of them over so that instead Makie flung Eshe head-first into the mat!

Underdog21




Posts

: 6059


Join date

: 2008-04-26


Age

: 36



Makie was putting up a fight in her standing head scissor, even now she was being defiant when faced with the possibility of more pain. That's what she loved about this life, the life of a wrestler, willing to endure for glory and the tenacity to show what they've got. Even though she admired this look of the hurricane, that didn't mean she could let them go let alone save them from this fate. The pawing at her thighs reminded he of a kitten, so cute and adorable, it didn't matter to her that they were here senior but! Cute or not, she was going to spike this pretty head of theirs.

That was the plan, with the Japanese woman hauled up and hanging upside down, now unable to resist, she felt she had to perfect opportunity to pull a win out of the bag. She rose up on her toes to drive in the force only to be surprised by a pair of familiar legs wrap around her neck. Her violet eyes widened in fear as she could only expect the worse. Eshe couldn't stop herself, gravity taking them both down by Makie threw her weight hard. The Egyptian could only close her eyes as fate took its course.

"Guagh!" she cries out, a sharp cry as her neck jars, her skull spiked into the canvas. Her body practically bounced from the impact as she now laid there, curling into a ball as pain began to overtake her completely again. She gripped her neck, the stiffness making it impossible to focus, her breaths were hitching as she fought back the urge to wail. Eshe couldn't even think of getting to her feet or even rolling away, what could she do by lay here and wait for her turn at the chopping block?
_________________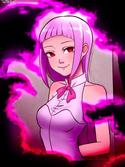 LilyStar




Posts

: 894


Join date

: 2018-02-26


Age

: 26


Location

: Your heart



If Makie's head hadn't been stuck between Eshe's thighs, then she might have seen the look of surprise on her opponent's violet irises as the shorter Japanese girl got her with a head scissor of her own. Everything after that, however, was just pure momentum: she shifted her weight, grabbing for the back of Eshe's legs to unbalance her, and then suddenly the Egyptian girl was tumbling forward. There was a tremendous crash as Eshe came toppled down, and then, just like that, her legs came loose.

Red-faced, Makie pulled herself free, and saw Eshe was now lying curled on her side, clutching the back of her neck, looking like she was in intense pain -- hitting the mat face-first would do that to a person, after all. Slowly, Makie began to rise up to her own feet, her movements slow and laborious after the punishment she had taken from Eshe thus far-- around them, the audience was clapping in rhythm, urging both wrestlers to their feet.

Finally getting to her feet, Makie walked over and grabbed Eshe by her arm and by her luxurious velvet hair, pulling the taller girl to her feet. Without wasting any breath "T-take this!" she said, before whipping Eshe towards the ropes. The moment Eshe came back at her, Makie would be waiting, trying to nail the Egyptian with a snap kick to her head or chest to take her down again!

Underdog21




Posts

: 6059


Join date

: 2008-04-26


Age

: 36



The Egyptian couldn't describe her pain, but if she had to in the spot, she'd say felt like a discarded doll laying out to wither away. Her body needed time to register her current predicament, trying to get up was a no go but she also couldn't bring herself to roll over either. She was stuck and now a sitting duck for Makie, who seemed able to slowly but surely get to their feet, standing talk as the audience began to hype them up. Eshe was with them in spirit but not in body.

Her smaller rival was right on top of her, she expected to be hammered into the mat or locked in another of her precarious holds but no, she pulled them up, only not just by her hair but by her hair. "O-ow! Not the hair!" she whines as the strands sting with the upheave. She didn't get a chance to complain again as the sent her towards the ropes her body not answering her own will as she bounced and rebound. Eshe couldn't stop herself nor could she find the strength to grab on to those leather tethers. Violets were wide again as Makie prepped herself ready, it was to late to stop.

The kick nailed her square in the face, her neck screamed in pain as she couldn't utter a single sound. The violet crumbles to the mat, laying flat in her back spread eagle. Her chest rises and falls with labored breaths, her body aching but she needed to pull through. What she needed was time to recover, if she could just get a couple seconds...
_________________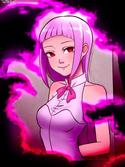 LilyStar




Posts

: 894


Join date

: 2018-02-26


Age

: 26


Location

: Your heart



Page 4 of 7 •
1, 2, 3, 4, 5, 6, 7
---
Permissions in this forum:
You
cannot
reply to topics in this forum