Who is online?
In total there are
36
users online :: 0 Registered, 0 Hidden and 36 Guests :: 2 Bots
None
Most users ever online was
418
on Tue Jul 30, 2019 9:51 am
Champions & #1 contenders
Apologies.
Tue Aug 09, 2022 1:04 am by ihateocrecolors
Due to some issues that I think have been popping up because of my involvement in stuff, I believe it's in the interest for me and everyone else that I take a temporary or probably permanent leave from AFW-related stuff. I have been nothing more than a burden to most of you. I won't make this into a giant paragraph. All I want to say is that I apologize to everyone who's ever rooted for me because I can't hack it not anymore.
Comments: 1
Retiring some wrestlers
Sun Jul 10, 2022 11:42 am by Deus001
Hey all
Deus here, I've been thinking it over and I'll be looking at benching some of my roster. Been thinking its a bit over bloated and with newer ideas on the horizon for me I've figured its time to shuffle them off to greener pastures or let their faceclaims be free to use.
So at the moment I will be retiring Chuang Lingxian, Qi Lingxian and Leon La Rouge effective immediate. I might be considering benching other people but atm the above three are getting axed. If you want to adopt any of …
[
Full reading
]
Comments: 1
Page 2 of 7 •
1, 2, 3, 4, 5, 6, 7
Makie had hoped to move too fast for Eshe to follow as the Egyptian girl came bouncing back at her. Speed, after all, was the one thing she relied on the most in her matches, and as Eshe bounced back, she anticipated that the other girl would be bracing for a clothesline, or even still too stunned to counter her effectively.

What she did not expect, as she grabbed Eshe's arm, was for Eshe to grab her arm in turn.

"Wha--" was all Makie got to say before she yanked right into Eshe's waiting free arm. Her head rocked as it collided in a brutal lariat, and Makie was sent spinning head over heels before landing on her front with a crash. Groaning, Makie pushed herself up on her hands, blinking both from the impact and in surprise at what had just happened.

Underdog21




Posts

: 6056


Join date

: 2008-04-26


Age

: 36



The Egyptians stance proved to be helpful in the perhaps a little over the top counter. Eshe assumed her attack would at least knock the firecracker down but sending her flying over in a front flip wasn't what she had in mind. The impact surprised her, shook by the sudden turn.

Makie pushes herself up and her hands, seemingly disoriented and for perhaps, a good reason. Eshe wondered if she should apologize or continue without that feeling of remorse. Her mind made a counter offer to apologize for it later, explain she didn't mean for that to happen. For now she'd focus on the task at hand.

With a reaffirmed head in the game, she'd slip her arms under the shrimps to pull her up to her feet. If Makie hasn't fully recovered, Eshe would slip her hands down to grab the woman's right arm tightly. Her plan carried momentum, a strategy to really show her stuff. If she could keep up her drive, she'd stop forward, using her weight and the snap to send the small Japanese woman into the corner for further punishment.
_________________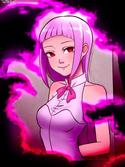 LilyStar




Posts

: 894


Join date

: 2018-02-27


Age

: 26


Location

: Your heart



Makie blinked her eyes, trying to shake out the cobwebs from that sudden surprise hit that Eshe had landed on her. At the start of this match, Makie had been taken aback by Eshe's bubbly personality and fangirlish attitude, and had underestimated her. Clearly, that had been a mistake.

Eshe wasn't letting her rest easily, either, as the Egyptian girl grabbed her by the arm and whipped her towards the corner of the ring. It was still early in the match, though, and Makie still had her head in the game. Spinning around at the last seconds, she grabbed onto both ropes, arresting her run before she could slam into the corner post, and leaving her open and ready for whatever follow-up Eshe had planned...

Underdog21




Posts

: 6056


Join date

: 2008-04-26


Age

: 36



The Egyptian began to feel a tinge in her heart. She'd been a fan of Makie's getting to be in this match was a huge highlight. She couldn't help but feel a tad guilty of having to hurt them but this is what she signed up for but to mention she already proclaimed she wouldn't hold back.

Sending the smaller woman to the ropes was a bit easier than she thought. As they were forced to the corner, they managed to turn and grab onto the ropes to lessen the blow of the corner. A smart move, but she was still left to her mercy. Eshe has to swallow her guilt and push on.

The firecracker was resting in the corner, seemingly open for another blow from the Egyptian. She'd dash forward, launching herself as fast as she could, jumping up high to plow onto Makie with a body press into the corner if she managed to hatch her plan. Her aim was to drive the Japanese firecracker into the corner to lay on more of the pressure. She didn't want to make quick work of the fiery tornado but she had a lot to prove, she felt.
_________________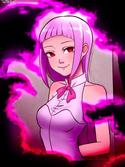 LilyStar




Posts

: 894


Join date

: 2018-02-27


Age

: 26


Location

: Your heart



Eshe was coming at her fast, bursting into a graceful run with her long, violet hair trailing almost dreamily behind her. As Makie reclined in the corner, Eshe leapt forwards, aiming to crush Makie against the corner post in a single, devastating body press.

Going as fast as she was, Eshe's move would have been devastating...if Makie had been sitting still, that was.

The moment Eshe leapt forwards, Makie grabbed the middle rope and spun underneath it, holding herself up under the rope in both hands as she tried to evade Eshe's body press. If she managed this, then after Eshe crashed into the corner post, Makie would show off some agility of her own, using her grip on the ropes to swivel her body around and drive her knees, hard, into the Egyptian girl's back!

Underdog21




Posts

: 6056


Join date

: 2008-04-26


Age

: 36



Makie looked so inviting, reclining in the corner, seeming either winded or just taking a breather. Eshe wanted to keep the pressure on, to keep her idol on the ropes to show them she had what it took to beat them. Perhaps she was a bit too eager, she dashed as fast as she could toward her destination, attempting to crash into the smaller Japanese woman.

It's what she thought she was going to do, but their agility proved to be much more experienced then her. Makie slipped through the middle rope. Hanging in tightly as Eshe came thundering across the ring. She tried her best to slow down but she only managed to come crashing into the corner post. Her whole front began to explode with pain, she'd slump over the post, clutching her chest.

A sudden jolt of pain met her backside as her rival slipped back through, swinging their knees in to crash into her back. Forcing her furtherinto the corner, Eshe gasped as another blow took her breath away. She'd hang onto the ropes to keep herself on her feet but the attack was really doing a number on her. She could feel her legs ready to give. If anything, Makie was proving that she had a lot of strength in that little body of hers. It only made the Egyptian respect her that much more but she'd have to get even with her and soon.
_________________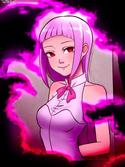 LilyStar




Posts

: 894


Join date

: 2018-02-27


Age

: 26


Location

: Your heart



Makie's counter attack worked perfectly as she evaded Eshe's attack, before using the ropes to her advantage to hammer her knees into the Egyptian girl's back. To her credit, Eshe remained standing in the corner, clinging to the corner ropes, though it was clear that Makie had gotten her good. Kipping back up to her feet, Makie flashed the audience a V-sign, before continuing on the offensive.

Moving up to Eshe, Makie would kick her once, twice in the midsection while she was still trapped in the corner, before grabbing her by the arm, turning to whip her across the ring. If she managed that without interruption, then she would be waiting to leap at Eshe legs-first and nail her with a hurricanrana!

Underdog21




Posts

: 6056


Join date

: 2008-04-26


Age

: 36



Eshe's back exploded with pain as their knees connected, her body forced to slump into the corner as she barely hung on. Makie sure knew how to pack a wild punch, that's for sure. She had only a second to reposition as the small firecracker enticed the crowd with a signal before continuing on with her assualt.

The Egyptian didn't have a moment to counter, her midesection took a hard shot, followed by another. She slightly bounced int he corner from the kicks, gritting her teeth. Her experienced opponent wasn't giving her an edge, that was to be expected but she wouldn't last like this nor did she plan on taking these kinds of hits forever.

Just as she was awaiting a third kick, Eshe felt the pull in her arm, a miracle that she wasn't going to be bullied in the corner but now she had a new problem. Her mind began to rack itself for an idea as she was whipped into the ropes. She'd use the momentum to her advantage, push in g herself through the stomach and back pain. The violent, would lower her shoulder, attempting to surprise Makie with a tackle that could take her down to the mat for some payback.
_________________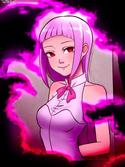 LilyStar




Posts

: 894


Join date

: 2018-02-27


Age

: 26


Location

: Your heart



Makie's kick connected with Eshe's midsection, once, twice, both hits causing the tall Egyptian girl to bounce in the corner, each hit causing Eshe to wince and grit her teeth. Makie wasn't one, though, to rely on corner brutality to win her fights, and she was especially conscious of how the ref was starting to count down. So instead, she grabbed Eshe by the arm, and, not giving her time to recover, whipped her opponent across the ring to the ropes. As Eshe came running back, Makie ran forwards, aiming to kick up and nail her with a hurricanrana...

...or at least she would have, if Eshe hadn't suddenly sped up and lowered her upper body. "Wha--?" was all Makie managed to say before Eshe's shoulder speared her just below her ample chest, causing the air to erupt from her lungs as she was bowled off her feet. Down Makie crashed to the mat, with Eshe landing on top...


Underdog21




Posts

: 6056


Join date

: 2008-04-26


Age

: 36



The rebound gave her run enough momentum to meet Makie head on. Tucking her body in, she'd protrude her shoulder out, lowering herself to catch them in the gut. Her aim was a bit off but that didn't seem to make that much of a difference as she speared the storm coming her way. Down the pair went to the mat, the Egyptian managing to take her opponent hard to the mat, and mount them.

She'd stare down with a shocked expression, never in her life did she think about ending up on top nor did she want to stay in such an embarrassing position over her idol. She'd think quickly, wanting something to transition into, to help ease the awkwardness. A part of her reveled in the position, she felt powerful as she pinned down such an experienced and strong fighter like Makie but the majority didn't play in that parts favor.

With a sudden idea, she'd swing her legs over them, switching her position. In the midst of changing, she would attempt to snake their arm between her legs and clamped down tightly. She'd use one leg to turn their body away if she managed to kick in her submission hold while the other rested over them for some added weight to her hopeful arm bar.
_________________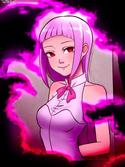 LilyStar




Posts

: 894


Join date

: 2018-02-27


Age

: 26


Location

: Your heart



Page 2 of 7 •
1, 2, 3, 4, 5, 6, 7
Similar topics
---
Permissions in this forum:
You
cannot
reply to topics in this forum