Who is online?
In total there are
24
users online :: 0 Registered, 0 Hidden and 24 Guests :: 2 Bots
None
Most users ever online was
418
on Tue Jul 30, 2019 9:51 am
Champions & #1 contenders
Apologies.
Tue Aug 09, 2022 1:04 am by ihateocrecolors
Due to some issues that I think have been popping up because of my involvement in stuff, I believe it's in the interest for me and everyone else that I take a temporary or probably permanent leave from AFW-related stuff. I have been nothing more than a burden to most of you. I won't make this into a giant paragraph. All I want to say is that I apologize to everyone who's ever rooted for me because I can't hack it not anymore.
Comments: 1
Retiring some wrestlers
Sun Jul 10, 2022 11:42 am by Deus001
Hey all
Deus here, I've been thinking it over and I'll be looking at benching some of my roster. Been thinking its a bit over bloated and with newer ideas on the horizon for me I've figured its time to shuffle them off to greener pastures or let their faceclaims be free to use.
So at the moment I will be retiring Chuang Lingxian, Qi Lingxian and Leon La Rouge effective immediate. I might be considering benching other people but atm the above three are getting axed. If you want to adopt any of …
[
Full reading
]
Comments: 1
Page 7 of 7 •
1, 2, 3, 4, 5, 6, 7
Eshe's reaction to being helped up was more extreme than Makie had expected. Eshe practically pressed her forehead to Makie's hand, and was visibly trying to hold back tears. This was all, of course, before she stood back up and tried to act cool, but Makie had nonetheless noticed it all by that point.

This girl really is a fan of mine, she thought. Being able to do well in a match against me, and hearing my opinion of her, really mattered a lot to her.

Makie blushed, smiling awkwardly. She hadn't ever fought someone who had such a high opinion of her, and she was at once gratified to have Eshe as a fan, and at the same time felt more than a little guilty for having to have gone all out against her the way she did-- but then, Eshe had proven that she was a wrestler to be taken seriously. "Yyyyyeah, sorry, it was my first time using that finisher," she admitted. "One moonsault is pretty powerful on its own, but three might have been overdoing it. You okay? I'd hate to think I seriously hurt one of my fans."

She reached over and clasped one of Eshe's hands tightly, partly in order to stabilize the poor girl as she struggled to stand. "I will say this though, Eshe-san, one of your predictions did come true." She smiled. "After this match, I'm definitely now a fan of yours."

Underdog21




Posts

: 6056


Join date

: 2008-04-26


Age

: 36



The violet was ecstatic, even in her current state, battered, teetering in passing out she couldn't help but feel satisfied. Gaining the recognition from one of her inspirations meant a lot, she didn't want this moment to end; burning it into her mind forever. She'd have to look online for the recap later to save. For the moment though, she'd hold tightly to her idol.

She softly laughed, earning her a slight wince as her pained abdomen spiked. "That was your first time using it?" she asks, honestly bewildered they pulled out something new for the first time and on her of all people. She supposed the severity just showed that Makie saw her as a threat to seriously put down. The thought fed her ego, just a little. "Maybe it was a little overkill. The first one took me down, the last two just put me through hell and then some." She joked, clasping their hand tightly again. She couldn't stop asking herself if this was a dream. "I'll be alright. It comes with the job right?" the Egyptian adds with a smile.

Makie was kind enough to grasp her tightly, until she could fully recover, standing was out of the question without their help. Just to make her heart flutter even more, the hurricane called herself their fan. She couldn't believe what she was hearing, she wanted to cry, to shout at the top of her lungs with excitement but in her condition? Out of the question. "I can't tell you enough how much that means. I-I don't know what to say." She began, the violet's mind was going to fast for her to properly think. How could it get any better than this, she had no idea but, standing forever didn't sound like a good time.
_________________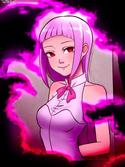 LilyStar




Posts

: 894


Join date

: 2018-02-27


Age

: 26


Location

: Your heart



Eshe's reaction was, admittedly, adorable. Her eyes lit up with happiness as Makie told her that she was now a fan of hers, and she looked like she would have been a lot more excited, bubbly and fangirly...if she wasn't currently suffering from severe abdominal pain. It almost made Makie laugh: honestly, Makie herself had had some of her fangirly moments when she had first come into this league (it had been a dream of hers to fight in the ring against, or alongside, Natasha Han or Rainbow Mika, but, well...that had never happened).

"Don't say anything," Makie replied, still smiling. "Just keep doing what you're doing now. You're a kickass wrestler, Eshe-san, and with a little more experience you'll be amazing. The next time we fight, who knows, maybe you'll be the one walking away with that pinfall." She chuckled. "That being said...maybe we should stop standing here like this? It doesn't look like it's very pleasant for you, plus if we keep standing like this any longer the fans might start chanting for us to kiss."

Underdog21




Posts

: 6056


Join date

: 2008-04-26


Age

: 36



If pain hadn't warped her body, she would be jumping, excited, joyful, happy, none of those words could possibly explain how she felt right now. Besides the hurting achyness, she wrapped one arm around her idol, squeezing as tight as she could as they told her not to speak that she was good as she was. It made the smile in her face grow wider and better still, it wasn't a dream.

[color=#6633ff]"That means a lot, Makie-San. Next time we have a match, I'm definitely going to win...for sure." She declared holding on, to keep herself standing upright, her cheeks flushed a slight red tint over her tanned skin. Did she say kiss? She did say that, didn't she? She could feel her face getting hotter at the notion, she slightly nods in agreement. "Y-yes! Yes, we probably should."

If Makie lead the way, the Egyptian would follow close behind using their support, she'd rest for a minute or two before heading home. That would be a welcomed plan.

Winner by Pinfall: Makie Akamatsu
_________________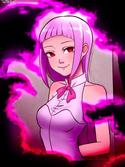 LilyStar




Posts

: 894


Join date

: 2018-02-27


Age

: 26


Location

: Your heart



Page 7 of 7 •
1, 2, 3, 4, 5, 6, 7
Similar topics
---
Permissions in this forum:
You
cannot
reply to topics in this forum