Who is online?
In total there are
50
users online :: 1 Registered, 0 Hidden and 49 Guests :: 3 Bots
skip-stop
Most users ever online was
418
on Tue Jul 30, 2019 9:51 am
Champions & #1 contenders
fraction match wanted
Tue May 23, 2023 6:46 pm by Rohi Yamin
Comments: 3
Leaving here because of a baby
Fri Jun 02, 2023 4:22 am by Coolgirl1999
Goodbye everyone but I have to leave as I longer will have the time to roleplay as you seen by the title I have recently got legal custody of a family member 3 month old son and I have to focus on him, pets and work now which means I won't be able to do any more roleplay matches for a while, so goodbye
Comments: 1
Tension Match Hunt
Fri May 19, 2023 9:50 pm by GrandAkumaShogun
Looking for matches for my boys
Takeichi Mori
Takeshi Kawai
If anyone is interested feel free to hmu. ty in advance to anyone who responds.
Comments: 2
Page 1 of 5 • 1, 2, 3, 4, 5
VS.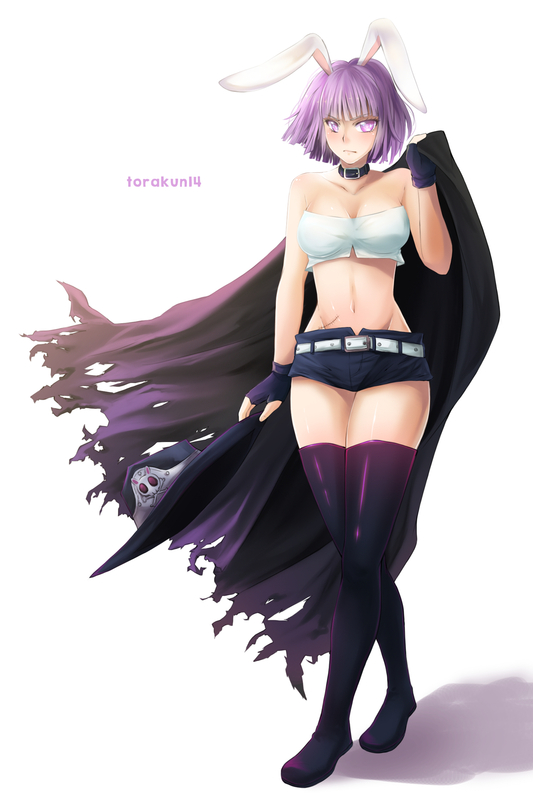 Hardcore Match
Opponents can obtain victory either via Pinfall, Submission, or by Knockout. The use of weapons is allowed and encouraged. Referee interference will be limited.
Eshe was nervous. A hardcore match: a match full of violence and recklessness, not to mention danger? She couldn't keep the butterflies from fluttering those wings like drums. A part of her was perhaps a bit worried about her well being but the majority was curious, intrigued, excited even. The idea of being pushed to go beyond her limits made the possibilities of actual danger null void. Her father on the other hand wasn't as forthcoming about the idea as she was.
That conversation played back in her head as she began to slip into her leotard, pulling the fabric up to hug her frame.
"Papa, I promise, it won't be as bad as you're making it out to be, I know what I'm doing."She tried to explain for the millionth time.
"Habbiiiti, I know you do but this is a bit more than I imagined when you told me about this match of yours. I don't know what will happen, and I hate to think you won't be taken care of."
His tone expressed concern, the violet wasn't sure what to say on how to make this easier for him. This was her job, her life now, it was her choice and she took it.
"Please papa, just trust me. I'll be fine, if anything really bad happens I'll have the doctors call you right away. Will that put you at ease?" She asks, a hint of desperation mixed into her plea. She understood why he was worried but she wasn't a child anymore, she could handle herself.
A sigh came through the phone, of course that wasn't enough for him, but he couldn't tell his daughter what to do with so many miles between them and her dream coming to a hurdle.
"Fine..fine. I'll be happy with that, for now. You better make it up to me, Habitti."
He said with a soft chuckle.
She snapped back to reality as her flattened out the fabric at her stomach. Her mind suddenly went to her opponent; Death Bunny. A tough and confident competitor, she'd seen their matches when she was just getting into the swing of her training. The bunny wasn't just a cute name, it was held by a woman who had the power to put death first in their name. Their brutality was honestly a bit jarring but, AFW offered yet another oppurtunity to her. A night to climb that ladder to see how far she'd come.
As she left the locker room, her butterflies began to slip away one by one. She heads down the now familiar hall then towards that always standing curtain. With a quick breath, her music began to blare over the speakers, calling her to the ramp and thus the stage of perpetual violence that would follow. As the bass began to speak she'd step out, striking her hips in unison with that present smile. Confident in herself she'd head down that ramp with a hip sway here, a hip sway there, distracting herself from the thoughts of what will be.
Climbing up those steel steps, she'd slip into the ring in traditional fashion, going between the second and third rope before swinging her hips one last time before turning on her heels toward the ramp. She stared with those piercing violets for the Bunny of Death. She'd have to definitely pull out the big guns for another big shot.
_________________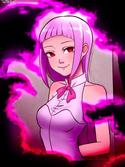 LilyStar




Posts

: 919


Join date

: 2018-02-27


Age

: 27


Location

: Your heart



Adrift in her own lugubrious mindscape was where she'd find it most accommodating to indulge in quiet contemplation. Escaping reality was not the intent, merely separating oneself from the vacuous commotion for the briefest of respites helped to center oneself greatly. Though not always successful in attaining such seclusion, she'd find herself in need of such divertissement in recent days to quell the chaos in her thoughts and ensure she'd stayed on the straight and narrow. Once again she'd find herself in the unenviable role of measuring stick for which management wished to gauge and evaluate burgeoning talent. She'd been struggling to accept this new role at the beginning, until she pondered it to be an effective way in keeping her own fighting skills honed, by contending with fledgling newcomers with hearts afire and an insatiable hunger to make a name for themselves. She couldn't quite pinpoint when she'd been cast in this vaunted role as gatekeeper to the upper echelons to the federation, but it was one that Death Bunny had come to now embrace. And best get used to.

Sweeping darkness enshrouded the arena to the reverberating GONG of a tolling bell. Twinkling starlight's from people's cellular phones brightening up the ominous dead of night to the continued chiming and foreboding chanting of D.B.'s theme until the Grim Hopper came shambling out from behind the curtains. Grimly marching onward and down the ramp clothed in her tattered trenchcoat, wide-brimmed hat, skimpy hot pants jeans and white cotton top. Offering not even a parting glance or acknowledgment of the captivated fanbase on either side of her. Instead keeping her bunny-eared head tilted down until she approached ringside, where she'd turn and saunter up the adjacent steel steps and enter the squared circle through the ropes to an almost silenced hush of a reverent audience keeping their adulation to minimum throughout their entirety of D.B.'s somber and subdued marching. Now stoically standing aside her corner turnbuckle, the lights of the arena only brightening up once she'd tipped off her hat and revealed the soulless iris' centered on the nubile challenger across the ring from her.

She'd disrobe her tattered leather jacket and hand it, as well as her hat, off to a ringside official before beginning to rotate her arms, and start appraising her adversary from afar. First impressions abounding, but nothing D.B. was willing to bet the farm on just yet. What she did speculate on was whether this newblood had what it takes to stick it out when the rules of this match were put into play, and hardened steel careened with flesh that would make all that makeup on her face significantly less noticeable and effective. Regardless of that one passing thought, Death approached the middle of the ring with a taciturn glower and a distinct curiosity in learning more about the type of person who would willingly resign oneself to taking part in one of the more vicious experiences of one's life, against an adversary assuredly advised against had she consulted with AFW executives beforehand...

_________________

killcarrion




Posts

: 6056


Join date

: 2013-04-14


Age

: 36



The arena became dark as the sound of a bell began to toll. The sound reverberated death in its wake as the Egyptians eyes attempted to adjust to the now dark open space. The curtains illuminated barely any light but she knew who was coming. The faint silhouette of torn cloth and bunny ears was barely visible but there was no mistaking who was approaching by that ominous call.

Phones began to light up across the arena, perhaps it was to help the audience see or perhaps it was a dark sea of souls oking to the surface to scare her. The butterflies seemed to toil in her gut as Death continued to approach. A grin perhaps out of sheer fear or overzealous excitement crept on her face. This was the kind of thing you get to experience once, especially against an opponent like Death Bunny. Her butterflies seemed to flutter off as she prepared herself for conversation.

The faint sound of stomps against steel caught he attention, they were close. Bright lights flashed as she began to disrobe. Her outfit was original, one she'd seen countless times on television just before her match. Seeing another familiar (kind of) face, sent chills down her back. She'd have a lot to prove to such a deadly opponent. Seems she was running into a lot of those these days. The violet would begin to stretch, her own pair of bunny ears, shifting with her weight, sprung and ready for action against her adversary.

She offered no words of encouragement, no gushing feelings as she limbered up. There were no pleasantries, considering the type of match the two were going to engage in. Nothing like heating the hell out of each other to really nail in your confidence about your worth when you were up against Death Bunny. Forming a strategy seemed useless, everything could be a weapon now and with hardcore set in stone using the ropes, the chairs, to even playing dirty could help her in some way. She shook those thoughts away, sure if push came to shove she'd use them but she had a bit of pride too.
_________________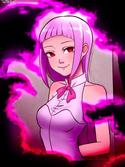 LilyStar




Posts

: 919


Join date

: 2018-02-27


Age

: 27


Location

: Your heart



Recently, people had begun reveling in not just the savage brutality of the bunny-eared Harbinger Of Death's matches, but the sheer macabre spectacle of her encroaching presence. Bone-chilling and awe-inspiring, was how they'd come to describe it. Perplexingly enough it may have been the only entrance in the entire federation where the silence it instills was actually a testament to D.B.'s popularity, when such a reaction to any other wrestler appearance was basically a death-knell for that sorry soul's career. But for D.B., it was purely out of spellbound awe and reverence, and some say would it was worth the price of admission alone. But it was only what came afterward that mattered much to her. The sudden illumination of the arena bringing light to the masses and to whom D.B. would be pitted against. Someone who was physically fit, as per the norm. Although noticeably athletic, and trained to be in tip-top condition...

...but D.B. didn't know what was up with the bunny ears. An uplifted eyebrow and surly "Hrmm..." directed up at their bobbing presence before assigning her dead-eyed glare back down at her adversary's also familiar-looking lavender colored iris' and hair color. The visual parallels were evident enough without her needing to draw anymore attention to them, for now chalking this all up to sheer coincidence and not any attempt at fan worship or mockery on Eshe's part...for now. The Grim Hopper remaining silent as the grave aside from the crack to her knuckles as she backpedaled and put some space between them, than encircling the ring alongside the bunny-eared greenhorn before adapting a grappling stance. Then attempting to lock-up with Eshe with concerted effort motioned into it and hunch to her shoulders. D.B. sporting her own sly and devilish smirk to match Eshe's own after noticing the competitive zeal emblazoned in her own eyes.

_________________

killcarrion




Posts

: 6056


Join date

: 2013-04-14


Age

: 36



The embodiment of the deceased seem to hold that corner. She couldn't shake that feeling completely as she caught their glimpse. Was DB studying her or was she strategizing against her? Eshe wasn't sure but either way both proved to answers she wasn't looking forward to. It didn't help that the crowd was being eerily silent, it was actually the first time since debuting that the arena was this quiet. It was almost as if the crowd themselves feared her prescenes more than she did. It only made her smirk with the notion, she wouldn't let herself back down, not when she'd come this far.

As the two began to circle the ring, the Bunny of Death motioned for her closer as she settled into a grappling stance, one she was all to familiar with. It gave the violet an idea, a way to test herself in other ways. She'd step in, cautiously at first then with reckless abandon as she met the lockup head on. She'd struggle for a moment against the experienced wrestler before shifting her focus. She'd attempt to bait the Bunny into a trap of sorts. Eshe would look to take full control of the lock up, guiding their body sharply. From here if she found success, she'd shift the woman's head to hug up close to her own body, hoping to lock in a headlock.

If the violet's plan worked, she'd lock her fingers in a lock like grip, keeping the woman's head close to her ribs. She figured if anything, the egyptian could move into a number of maneuvers from this position but that was up to her opponent. She wasn't dumb enough to underestimate anyone, especially not the recent string of veterans. DB would need the same approach as many others: a well thought out strategy. For now, she'd wrench the violet bunny caught in her clutches, hopefully the surprise would be enough.
_________________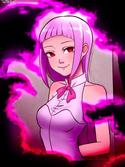 LilyStar




Posts

: 919


Join date

: 2018-02-27


Age

: 27


Location

: Your heart



Not that Death wanted to shatter Eshe's somewhat accurate interpretation of D.B.'s professional mindset when it came to sizing up her opponent, but she'd be lying if she said about 5-10% of her thought processes was dedicated to figuring out what was the deal with Eshe's rabbit ears. Well implemented, fashionable, though still somewhat unorthodox looking...but who was D.B. to criticize? Anyway...questions for later. Her game-face never alleviating from it's taciturn grimness as they circled the ring in tandem, the Bunny Brawler wiping her thumb off of the bridge of her nose once it appeared Eshe was ready to stop dancing and start fighting. Her arms being at the ready and tingling with anticipation at the potential challenge ahead, following Eshe's lead at the beginning by taking a stutter step before officially locking horns in the middle of the ring. Twisting and shifting in muscled exertion to jockey for a better position.

Not one more second passing before Eshe slyly repositioned herself to bring their bodies close enough for her to smoothly transition into a side-headlock that stiffly locked the bunny girl down with vexing irritation. Death squinted her iris' shut from the torqued constraint between Eshe's lined ribcage and the bicep bearing down from the other side, D.B.'s posture slanted with a leg stiffly stretched backward to accommodate being caught in the rookie's clutches. The lack of panic on her part being a clear indicator that she was not about so easily discouraged however. D.B. panting softly against the side of the Egyptian's side-boob that was obscuring the Reaper's view before extending one of her arms to hug around Eshe's waist from behind. Once she'd interlocked her gloved hands together around Eshe's waistline, a heaving haul backward would have Death attempting a release backdrop suplex upon the spry greenhorn.
_________________

killcarrion




Posts

: 6056


Join date

: 2013-04-14


Age

: 36



The violet was adamant in her current position as she wrestled for it. The bitter twisting and shifting of their positions was a bit more draining then she originally thought. That just went to show the level of performance she'd have to put in to match the Grim Hopper. Though with a quick and sly manuver, she managed to tighten DB against her body, locking her in tight with a side headlock. She'd wrench just a bit to flex her new position before getting into the bitty gritty but something bothered her.

She'd been in a few of these and locked in her fair share but one thing didn't seem right. She felt ni pawing, no desperation. Death Bunny seemed calmed but irritated in her hold, almost like she had nothing to fear from the Egyptian. The reason why would make itself known. Two shapely built arms would encompass her waistline, she could feel her bunny rival pressing against her ribs as she exerted some pressure. Eshe gasped with surprise as her feet felt nothing beneath them and then the sudden whisp of air going through ci er hair as she felt the sting of the canvas.

If the scuffle of DB's maneuver, she'd manage to get herself free, while the Egyptian remained locked in, slamming down into the mat from the suplex. If she were released, she'd get to her feet slowly, disoriented from the blow, she'd tuck in her legs to shift herself upward. That's what happens when you're cocky, she supposed. She should've saw it coming but now she'd need to get her head back in the game and deal her just punishment.
_________________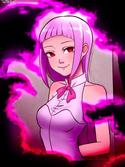 LilyStar




Posts

: 919


Join date

: 2018-02-27


Age

: 27


Location

: Your heart



Not that the headlock wasn't well implemented. The tensed focus and muscled torque was all there in droves, D.B. could attest to that firsthand now. But however many times the rookie's been snagged in one, it was safe to assume that the grim veteran had her beat. Experience ended up being the determining factor when it came to D.B. keeping her head on straight, not panicking so easily, and countering the Egyptian's headlock in one definitive and hauling upheaval. Death's backward arch being perfectly curved as her thighs and glutes tensed up in the backdrop suplex with her indeed releasing Eshe immediately afterward. One twisting pivot later, D.B. had arisen up to one knee while facing her recently slammed foe while a hand massaged the back of her neck.
The Egyptian having by now just gotten her feet under her before she'd have the back of her outfit tugged to unwillingly guide her towards the turnbuckle right beside her.
The Reaper
twirling Eshe around so she'd be laying her back against the padded turnbuckle before hooking both of her greenhorn opponent's arms behind the top ropes. An odd occurrence than taking place as Death stepped up to Eshe and brought them face to face, a hollow emptiness to her eyes that would bring a freezing chill to any soul as she than brought an index finger to her own lips. "Shhhh
hhh..."
A hushed silence coming over some sections of the audience that came from D.B.'s shushing...before she'd shoot her arm back, and waylay her open-palmed hand against Eshe's breasts for a booming
thundercrack
of a knife-edge chop.
_________________

killcarrion




Posts

: 6056


Join date

: 2013-04-14


Age

: 36



Her long violet hair coats the white canvas, she shakes the cobwebs out, to get her gears up and going again. Death Bunny managed to rattle her with a simple suplex just like that. The Egyptian began to wonder if she bit off more than she could chew but now wasn't the time for those thoughts to cloud her mind. She'd fumble with her attempts to get to her feet, DB wasn't going to give her the kindness of recovery and she'd find that out very soon.

Her leotard was tugged up unpleasantly, she'd grit her teeth at their mercy and placed against the turnbuckle. It felt like being thrown in a cell, her arms hooked under the ropes almost as if chained to a cold, stone wall. If that wasn't enough, The Reaper silences the crowd. The ominous silence made an unnerving atmosphere settle into that packed arena. What were they planning? What was going on? She began to feel the butterflies in her stomach race with anxiousness and like a war gong being sounded, a sharp pain would explode of her chest, unhooking her right arm from the shackle as she cupped her aching breast. A harsh open handed knife chop got the desired effect as the sound bounced around the audience. Such power, such ferocity. Eshe had to collect herself and quick if she wanted to avoid another one of those.

In an effort to level the playing field, the violet would reach out with her freed hand, she wanted payback and no time better than now. If she was quick enough, she'd grab hold of that white tank and roughly pull them forward. Hoping to find success, Eshe would slam her skull right into her attacker, hoping to drive them back and gain a few seconds of recovery.
_________________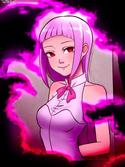 LilyStar




Posts

: 919


Join date

: 2018-02-27


Age

: 27


Location

: Your heart



Death always did feel she did functioned better in the comfort of absolute silence. It was why she's come to memorize every subterranean hallway and shadowed corridor throughout all of AFW's main building, to the point where online rumors suggested she were some manner of ghastly apparition who haunts its darkened crevices. Although more often than not she's occupying these areas to enjoy her favorite pieces of literature. But right now, The Dead Woman was shushing the audience into silence to see just how far the sound of this slicing chop would travel, and to give the silenced masses a vague idea of just how searing that knifing chop must have felt. The women in the audience perhaps being better able to relate than the men...

A step back being taken by Death after imprinting her hand against Eshe's now shielded breast, the Reaper apathetically wiggling her striking hand indicating that kinda stung on her part. For now, she pondered as to how well her Egyptian adversary had taken the strike that would have brought other opponent's to their knees, but D.B. wasn't about to start offering kudos just yet. Not when the match was only in its infancy and she had not even begun to fight just yet. Unfortunately, Death's re-approach would come prompt the cornered Egyptian into action by clamping onto her cotton top and yanking her forward into a particularly jarring meeting of the minds. A thumping clunk of their foreheads had Death repelling backward a few steps in grimacing disorientation and her hand massaging where they butted heads.

_________________

killcarrion




Posts

: 6056


Join date

: 2013-04-14


Age

: 36



Page 1 of 5 • 1, 2, 3, 4, 5
Similar topics
---
Permissions in this forum:
You
cannot
reply to topics in this forum