Who is online?
In total there are
46
users online :: 2 Registered, 0 Hidden and 44 Guests :: 3 Bots
ARStudios2000
,
Deus001
Most users ever online was
418
on Tue Jul 30, 2019 9:51 am
Champions & #1 contenders
fraction match wanted
Tue May 23, 2023 6:46 pm by Rohi Yamin
Comments: 3
Leaving here because of a baby
Fri Jun 02, 2023 4:22 am by Coolgirl1999
Goodbye everyone but I have to leave as I longer will have the time to roleplay as you seen by the title I have recently got legal custody of a family member 3 month old son and I have to focus on him, pets and work now which means I won't be able to do any more roleplay matches for a while, so goodbye
Comments: 1
Tension Match Hunt
Fri May 19, 2023 9:50 pm by GrandAkumaShogun
Looking for matches for my boys
Takeichi Mori
Takeshi Kawai
If anyone is interested feel free to hmu. ty in advance to anyone who responds.
Comments: 2
Page 5 of 5 •
1, 2, 3, 4, 5
Her chest heaved as she grit her teeth in pain, Eshe could hardly breath as Death Bunny laid into her. Wave after wave of the heavy hand had chipped away at her chest leaving her breathless and crying out in sheer shock and unyielding hurt. It took everything in her to keep herself propped up against the ropes; to not slip into darkness in the corner as the only thing that crossed her mind was the dark Revenant herself. Her knees were shaking and wobbly, barely keeping her weight up as she groggily looked up to find her adversary retreating a couple steps back. She found her chance to retaliate all she had to do was move…move…? Move?! Her legs quivered, eyeing up the prize, Eshe was still, she couldn't will herself to take even a single step on her own. Her mind begged her body to move but she had nothing left.

The Egyptian was dissapointed in herself, the moment she waited for was there but she couldn't grasp it. The chance slipped through her fingers and on the other side of that valley stood Death Bunny, ready for action. The worse was coming, she braced herself for inevitable impact when DB yanked her from the corner, would she be sent off to darkness? Her mind could only wonder, as her dark tanned arm slipped around their waist to keep herself up, her knees quake almost dropping herself onky to be escorted towards the middle of the ring. Her gaze looked aimlessly at her predicament. There was no escaping, no way of getting out of this. As she felt the surprising warmth grace her neck, her breath hitched in her throat as a cool doom took over. Her arm was endnared as a shin caught her chin, cutting off any tremor to breath. Her free hand frantically patting out for Death only to find nothing to grab onto, her feeble swipes did nothing and she was forced into the only way out: tapping.

Her free hand found the mat and began to frantically tap, she couldn't take it anymore, the pain in her neck, the pain in her shoulder. She didn't even get to utter a whine of protest as she was locked in to the Revenant's finisher. If Death was willing to release her, the Violet Egyptian would slump, cradling her shoulder as she weakly drew breath, the over head lights practically blinding her as she laid there, recuperating.
_________________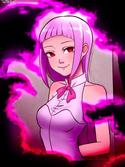 LilyStar




Posts

: 919


Join date

: 2018-02-27


Age

: 27


Location

: Your heart



Typically, it was the Bunny Revenant who best encompassed the grim reality of every living being's inherent mortality. But in an odd juxtaposition this day, Eshe may have briefly supplanted D.B. in that role considering how mush she embodied the walking dead herself. The fitness fighter incapable of even balancing on her own two feet with her dark-tanned legs quivering like gelatin. Battered and brought to the brink of her utmost limitations with nothing else to offer accept a begrudging acceptance of the inevitable. Death escorting her out of the corner turnbuckle with an arm braced around eachother's waist as if in a macabre waltz towards Eshe's impending damnation. The dance with the devil not lasting long in the slightest as D.B. applied the throttling submission with intensified vigor and gnashed teeth. She swished from side to side to further disorient her rookie adversary, who eventually succumbed to the lack of breathable air with her tapping out to bring the match to it's grim conclusion. Death immediately releasing the Hell's Gate and briefly taking a breather on her back before swiveling over to situate herself on one knee, slinging her arm atop that bent leg while the referee raised her other arm in victory.

Those amongst her fandom naturally applauded to the tune of her theme song playing, but Death shifted her gaze to her splayed out opponent currently becoming acutely familiar with the rooflights from how exhausted they were. To think that this rookie would provide such a fatiguing challenge and honestly make Death work far harder than she anticipated for this particular triumph. Whatever Eshe would feel about this match's result, she'd better not be despondent or sullen after bringing that much of a fight today. Death scowled and huffed out through her nostrils, not accustomed to what she was about to do but knowing what needed to be done. If Eshe started feeling herself become lighter, she didn't need to freak out as if she were passing into the great beyond. It was just Death aiding the fitness fighter back to her unsteady footing by slinging Eshe's arm over the reaper's shoulder and D.B's arm hugged around the back of her waist. "...*sigh*...come on, upsey daisy. Oi, wake up already. Anyone who provides me with that much of a challenge can't be seen looking weak afterward..." Death somberly uttered with a slight jostle. Eshe awakening to not only being brought to her feet, but the audience now applauding her for a match well fought.

_________________

killcarrion




Posts

: 6056


Join date

: 2013-04-14


Age

: 36



Her body was burning with the intensity she went through it to even put a dent in Death Bunny. Her breath was shaken at first as she managed to draw a full lungful of air in. Her chests rises and falls erratically as she brings her heart rate down. She wipes the sweat from her brow with her good arm, taking a moment to bring herself to get up in the amount of pain she's in. Putting all her weight on her free hand was a bit much so she lays back down on her side for a moment. Eshe feels as if her shoulder was yanked out of socket, still cradling her sore limb. For a moment the Egyptian contemplated asking the referee for a hand as fits their job description and was both surprised and somewhat satisfied that she managed to get help by just thinking about it. It felt like a secret power you randomly find out you have but she wouldn't question her authenticity. The violet picks up her weary head with a faint smile to thank who she thought was a ref only to go pale as she noticed it was the revenant pulling her to her feet. A nervous laugh leaves her lips as she stumbles to the ropes with the image of death giving her a hand. A cold sweat breaks out over the Egyptians entire body as a result.

"Y-yeah, no…no! Uh-" Eshe was speechless, was she about to get pummeled even more? Was she going to meet her maker? Those thoughts ran through her head as she stared at her predicament but she realized that the Bunny was actually helping her out. She quieted her mind and loooked out to the audience who cheered for them both as they began to leave. The Egyptian gets the idea and sinks her fingertips into their white top to keep her grip. She makes an effort to straighten up and put her best foot forward. Despite having lost to badly, she felt proud of herself for sticking it out. There were times she felt so frightened she honestly thought she'd pass out or run but she stood her ground. When she thinks on how much she gave, it made her feel a bit better, a bit more confident. She'd hold onto the victor gighyjy as they slowly made their way up the ramp. Her muscles crying out in pain as she goes but she holds her head high. For a moment, she leans over to whisper to the revenant before heading behind the curtain.

"Thank you, Death Bunny…"
_________________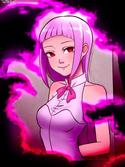 LilyStar




Posts

: 919


Join date

: 2018-02-27


Age

: 27


Location

: Your heart



Page 5 of 5 •
1, 2, 3, 4, 5
Similar topics
---
Permissions in this forum:
You
cannot
reply to topics in this forum