Champions & #1 contenders
fraction match wanted
Tue May 23, 2023 12:46 pm by Rohi Yamin
Comments: 1
Tension Match Hunt
Fri May 19, 2023 3:50 pm by GrandAkumaShogun
Looking for matches for my boys
Takeichi Mori
Takeshi Kawai
If anyone is interested feel free to hmu. ty in advance to anyone who responds.
Comments: 1
Looking for Friction Hentai debut match
Tue May 23, 2023 2:50 pm by SigmaMorgan
Comments: 3
Page 2 of 5 •
1, 2, 3, 4, 5
The shushing of the crowd gave her that eerie sense again, the kind that makes one's spine tingle with fear. She couldn't let it overwhelm her, let it push her into a panic. The sound of silence as she barely managed to hold her own after such a sickening strike left her winded but not out. The violet needed to get back in this, what she needed was a plan. The Grim Hopper was coming back, possibly for seconds but that's when she struck and she struck fast.

Grabbing tightly onto that tank top, she yanked Death forward and bashed her skull with everything she could muster. The Egyptian recoiling into the corner but her foe stepping back too, rubbing her pained skull and grimacing. This was her chance! After a moment of recuperating, her adrenaline kicked in, the want for payback rung in her mind over and over as she launched herself forward. The violet would hop up, bringing her knees up and she would use her sudden launch to catch the bunny. Her attempt would drive her knees into their chest, using the force of gravity to bring them down to the mat for a thunderous explosion on the mat. If she managed that she'd roll up, sitting on the canvas to rethink her options and her strategy.
_________________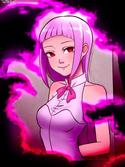 LilyStar




Posts

: 916


Join date

: 2018-02-26


Age

: 27


Location

: Your heart



Physics tended to play a larger role in wrestling matches than some would believe. Aside from the obvious implementations such as the residual effects of one bare-knuckled fist into the side of someone's smarmy face, there's the more retaliatory lesson of every action deserving an equal and opposite reaction. Death figured she had Newton to thank for her air-slicing knife-edge chop being responded to with Eshe tugging on her cotton white top into a head-clunking collision that compelled Death into a few staggered backsteps. Guess this goes to show that wrestlers should take some time out from pumping iron to bone up on Physics 101.

Some credit was of course due to the rookie Eshe, who seemed to take hits better than The Dead Woman had initially anticipated. Who was currently taking a moment to recover from the headbutt she'd just doled out, and inadvertently allowed Death to do the same as she'd gotten most of the cobwebs out of her head too by the time the Egyptian would come vaulting out from the corner turnbuckle. A steadied posture, swift reflexes, and about all the strength she could muster allowing Death to catch Eshe with both hands gripping the back of her thighs to the audience's shock. Death huffing out in exertion from striding forward to seat Eshe atop the corner turnbuckle she'd just escaped from, but with a few socking gut punches for good measure.

_________________

killcarrion




Posts

: 6055


Join date

: 2013-04-14


Age

: 36



Pain rocked her noggin as she made the rash decision to head but the bunny of death but in doing so, she earned a couple seconds of freedom. Eshe planned to mount her counter to knock them down, and take the fight to them. Her plan seemed flawless in execution and even more so with her now elevated stance in the ropes. She jumps! Bringing her knees together, this was it, this was her moment to shine against such a dangerous opponent, she could do this! -was what she thought. Fantasy compared to reality was always kinder then one could hope, and reality was harsh.

Her violet pools were wide, awestruck as Death Bunny not only took no damage but had her in her clutches. Gripping her tanned thighs, she could do nothing but grab hold of her captor. She was impressed, frightened, confused, and many other emotions that explained the pure shock on her face. This couldn't be happening, surely she wasn't so weak that any opponent could just catch her off the ropes, right? Right?! The Egyptian couldn't find the strength to fight back at the moment, she found herself frustrated but overcome with fear as Death Bunny sat her down on the top turnbuckle.

Her stomach implodes as the hardcore bunny digs her fist into her gut. The violet curls into the weight of impact as another shot meets her center. She coughs from the force, growing as she covers her wounded stomach. Was the gap between them so wide that she was being manhandled like this? Through the strands of her violet hair, she would look defiantly up at her attacker, one hand reaching out to grab hold, to keep herself propped up as she fought to keep herself in the match.
_________________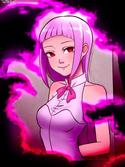 LilyStar




Posts

: 916


Join date

: 2018-02-26


Age

: 27


Location

: Your heart



Catching a wrestler in mid-air was a showcasing of strength typically reserved for those among the Friction roster with either shredded physiques who subscribe to and consider Ladies Fitness magazine their bible...or, on the polar opposite side of the spectrum, the huskier ladies backstage whom you would be wise to title as husky and not fat within earshot of them lest you wish to become smothered unconscious beneath all of that excess husk. Death clearly couldn't be slotted in either category and remained comfortably somewhere in the middle, where the substantially scary strength she did possess worked alongside her split second reflexes and weight distributing stance in catching the spirited newcomer with a squeezing grip on the back of her thighs.

Death heaved and started hauling the Egyptian back towards what she surmised was the direction of the corner turnbuckle, a guess she had no choice but to make considering her scowling vision consisted only of the space between Eshe's brown thighs and the red spandex of her sweet spot. Feeling her adversary be settled atop the corner turnbuckle did not mean Death could relax though as she socked Eshe in the stomach several times to keep her nice and placated. Death taking a sighing breathe to briefly collect herself after the feat of strength before climbing up the turnbuckle herself until Death stood atop the middle ropes, than tucking Eshe's head underneath her armpit before scaling up to the top rope. Where the tugging grip on the side of the Egyptian's spandex both made it snugly hug her backside, and signaled to the excited audience the onset of an attempted superplex...

_________________

killcarrion




Posts

: 6055


Join date

: 2013-04-14


Age

: 36



Her stomach began to ache, muscles crying out for mercy as the Recenat's fist dug hungrily into her flesh. She was in pain, reeling in it even, as Death Bunny continued to pound her spirit flat. The usual chipper and upbeat attitude quickly faded into a fitting image of survival. This was no longer about proving her strength so much as surviving this to fight another day. Even if that's how she truly felt, Eshe couldn't bring herself to even think of running. That was one thing her body and mind could agree on. No more explosions reacted from her stomach, her eyes open, to see a softly panting Rabbit, looking at her as if she were subdued prey ready to be devoured.

It seemed to be the case as those seconds passed by, her violet foe climbed the ropes, stopping midway before plucking her up from the top. They would pull her head underneath their shoulder, keeping her close to their body as the Egyptians arm was locked over their neck. Gears began to crank and spin as she tried to visualize a plan, a way out of this oncoming danger that her body sensed. She couldn't let herself be beaten without putting up a fight, not against someone like DB who deserved her all and more. Eshe felt the sudden tightness in her spandex, the pale knuckle against her tanned hip, emphasizing her backside, a fact she didn't care much for easoecially in her current position.

She knew what was coming next, allowing it to happen wasn't going to be on her to-do list tonight. If Death would attempt to haul her up, the violet would slip her boot between the rope, hooking the leathered tether to save her skin. She would use this leverage if she accomplished that feat and would slip down, out of their grip to the mat below. Managing that would take a lot out of her but, if she managed it, she'd she'd a year of joy, only a single tear not to be dramatic.

This would be where it happened, her comeback to show she wasn't just some weak newbie. She'd take a slight step forward, attempting to hook the Grim Hopper onto her shoulders. Eshe would grab the back of their shorts and lift her slightly. The violet figured this would make or break her but she had to try. Begging for her plan to work, she'd lift Death Bunny just a hint higher before throwing herself forward with a thundering cry, driving her for deep into the mat for a powerbomb
_________________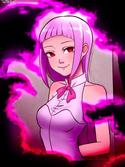 LilyStar




Posts

: 916


Join date

: 2018-02-26


Age

: 27


Location

: Your heart



Death had always been considered a rarefied jack of all trades form of wrestler. One who seems to excel moderately well at all categories although obviously proficient in terms of strength and strikes. But even she would be the first to admit that the high-flying style, with suicide dives, corkscrew planchas and moonsaults off of two-story high steel structures...let's just say it was her least used arsenal of maneuvers. All of that stylish flair and aerodynamic spinning just seemed like audience pleasing theatricality. Quite frankly, she gets somewhat embarrassed even envisioning herself flying through the air with the greatest of ease. But she figured that exceptions could be made so long as they were in moderation, and a superplex off of the top rope was practically rudimentary in terms of the more complicated antics that the veteran high-flyers perform on a weekly basis around here.

Each subsequent haymaker delivered into the tender abdomen of the perched Egyptian seemed to take more and more out of her with every mashed indentation into her abdomen. The new girl certainly wasn't a chatterbox by any means, not that Death had any right to chastise others for being less than loquacious. But D.B. could already tell by the pain-stricken grimace on her face that she was in dire straits and seemingly in no shape to be impeding what Death had in in store. She could at least give Eshe credit for hanging tough and surprising D.B. with how resilient she was, but as to exactly how much remained to be rightfully tested. The Grim One attempting to do just that as she scaled the turnbuckle one rope at a time and with Eshe's head assertively tucked into a side-headlock. A heightened buzz reverberating throughout the audience as Death snatched a knuckled handful of the Egyptians tights and...

"...Tch...HGH..." Death snarled with gnashed teeth, flexed muscles, and dashed expectations once it became obvious that the Egyptian had canceled her plane ticket to go flying this night. Or rather she'd switched the ticket to Death's name instead as in one seamless motion she'd vault down and take the startled bunny girl with her. Settled atop Eshe's shoulders with both of Death's hands folded behind the Egyptian's purple-haired head, her eyes turned to saucers in the millisecond before getting savagely powerbombed center stage in the middle of the canvas. Rattling her nerves on impact with both of her legs draped over Eshe's shoulders with nothing more than a heaving swell of her chest afterward as she bitterly scrunched her face.

_________________

killcarrion




Posts

: 6055


Join date

: 2013-04-14


Age

: 36



She could feel herself ready to cry with relief as Death Bunny's plot at a super plea failed with her quick thinking. As she slipped down the revenants frame to enact her own scene of vengeance from the ropes, Eshe could only think of one thing: punishment. She would never consider wanting to beat someone brutally under any circumstance but with this demented rabbit? She had no choice but to make that exception. Funnily enough, despite their raw power, they were light as a feather in her shoulders. It seemed that her foe from the depths was just as surprised as she was when she stepped away from the corner with herself in tow. Their hands folded behind her, it was now or never as she pulled up on their shorts to drive them deep into the canvas.

BAM! The ring seemed to shake with the impact that was intended for her but thankfully, Lady Luck was on her side. With Death Bunny laid out on the mat, her legs draped over her shoulders, the Egyptian found herself panting softly from her current position. Her violet hues focused on the task at hand but just this little exchange was a lot more than she expected. She placed her hands at either side of those pale thighs, DB appeared to be nothing more than a swell on the canvas. Her brain must've been rattled from what she could suspect but that meant that she could hurt them, she could have a chance. In her mind, she didn't know if that way of thinking was a good thing or a bad thing, she choose not to question it any further and instead think of no one but the ghost she held. Her next course of action was lost on her. What should she do? How could she press on with this? With the scene laid out before her she could go for a pin but then again, if they kicked out and got their claws in her again, shed definitely be in trouble. Option one was out.

Her fingertips dig into their rather soft flesh, she wasn't frightened but a sense of dread did begin to mix with her emotion. She had no choice, continuing to wear them down seemed like the best option especially now. With their legs in her grasp, Eshe would stand to her feet, carrying their rattled body with her. If the revenant played along with her whips, she'd attempt to turn them over onto their front, stepping back with their legs in her grasp for a Boston crab. She needed to gain as much ground as she could, even in their short exchange, she knew that this rabbit wasn't one to take lightly or let her guard down near them. This woman was dangerous, and danger had to be taken care of accordingly.
_________________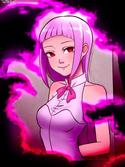 LilyStar




Posts

: 916


Join date

: 2018-02-26


Age

: 27


Location

: Your heart



It'd probably take a few minutes for Death to accurately recall the last time she'd been subjected to powerbomb of that scale and magnitude, one where the ring was still showing signs of quaking several long seconds from the Dead Woman being plastered back down to the canvas. Or at least D.B. assumed that the ring was still in a state of reverberating flux, but that could have easily just been her rattled sensibilities playing tricks on her what with that savage and plummeting descent and all. Regardless, it was probably against that perpetually chipper behemoth Himeko that Death could last recall being perched atop someone's shoulders like that. A lamentable situation which typically ended with a meteoric crater in the floor and her bunny-eared carcass stewing miserable within. Before that occurrence she'd face giantesses in underground fight pits, but no matter where or against who, Death would rather these situations have fleeting staying power in her memory and just be forgotten given how brutally painful they could end up becoming.

"...ow." A delayed response occurred as Death eventually managed to breathe in enough oxygen to vocalize her overall reaction to the less than welcome turn of events, muttered through a flinching grimace with her fulsome breasts straining the fabric of her white cotton top as she started collecting herself little by little. It seemed like no matter what she did tonight that Eshe was going to end up hammering Death into the middle of the canvas in an irritating example of the universe righting itself. What felt like fingertips clutching onto her soft thighs came right before the more distressing sensation of getting yanked upward by her legs until she was upside-down before being flipped over like a pancake. Death huffed out a puffed exhalation before her eyes dilated in wideness upon the realization of her predicament all too late, now snarling through her churlish voice from the rookie cinching in a tightened and damn well secured Boston Crab. One that Death currently didn't have an answer for when first implemented, but was wracking on the spinal torture anyway in case D.B's tortured scowl mashed against the canvas wasn't an obvious enough clue of that.

_________________

killcarrion




Posts

: 6055


Join date

: 2013-04-14


Age

: 36



The Egyptian could feel herself breathe as everything seemed to fall into place, she held the upper hand against an opponent that was truly worthy of the title: monster. She'd scoot back just a bit to ensure their spine would feel all of the tension she was going to inflict. Normally, Eshe would never try to do this to anyone, to harm them in the way she was planning on harming Death Bunny. To be honest though, most women she faced were nothing like The Revenant. This woman was focused, determined to inflict pain and misery the likes she had never seen. She couldn't imagine letting herself be driven into that he'll just to watch her self and in such a huge crowd fade to black. She'd seat herself at the midway of their spine, cranking those rather slender legs back as the growled and contorted beneath her.

She knew she couldn't hold this for long, she needed to find a way to transition to avoid a break from a count out. Giving the Rabbit any chance to recover would be a death sentence. Sure enough the referee was coming over to count the break, thinking fast, she could switch her position to restart the count. With that in mind, and if DB hadn't broken free just yet, Eshe would release their left leg, keeping the right in her grasp. She'd scoot further back, using her body to pin the pale woman to the mat, she'd bend their right leg further down, threatening to curl the Dead Womanin a single leg Boston Crab, given she was able to preform such a feat against a hopefully stunned opponent. She felt anyone, herself included, would need serious recovery time for such a meteoric powerbomb. Thinking back on the moments that had transpired before this hopeful event, she was glad it was them that hit the dust and not her, she didn't think she could come back form something like that.

She had a lot to plan for, with hardcore rules in place, nothing was outside the realm of possibilities. Eshe was unsure of herself though, could she really do this? Could she cross that line between what makes her, well her or giving into the pain and going for the throat like an animal? She shuddered at the thought of tossing herself into that pit. The violet decided to focus on the here and now, she would do what she had to but she'd do this on her own terms, no matter what, she wouldn't let anyone or anything drive her to that point of no return, she was strong. A will that proved she was good, and she'd show it to Death, even in the face of their otherworldly might.

_________________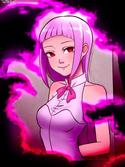 LilyStar




Posts

: 916


Join date

: 2018-02-26


Age

: 27


Location

: Your heart



Well, breathing easily was at least a luxury one of them could indulge in. Unlike Death, who probably couldn't inhale a precious lungful of air even if she wanted to given the angled curvature her sinewy figure was being subjected to at the moment. Death squirmed a little with rasping sputters being the best she can manage for the time being, although having a little trouble breathing was the least of her concerns what with Eshe being doggedly determined to settle herself in and make herself right at home atop the seething Reaper's middle spine. The focused intent with which Eshe had applied the fairly rudimentary submission had effectively immobilized and pacified Death with her hips and slim-lined stomach being hoisted off of the floor as well. The full bloom of her breasts being mashed against the canvas along with the cheek of her glowering visage, for now suppressing any and all anguished wails and instead concentrating solely on persevering her energy until some semblance of an opening was shown. An opportunity to capitalize on, and one she'd be far more capable of taking advantage of by staying calm until the time was right...although she'd appreciate if that time hurried it's ass up and got here already.

The optics of a relative newcomer wrangling down and sedating the Cantankerous Cottontail were not lost on Death and quite frankly served as additional anger-fueled motivation to figure a way out of this contemptible situation. The Egyptians professional level application of the submission had taken Death by surprise and even somewhat off of her game, that was until lo and behold, some respite was bestowed via the abandonment of one of her legs to slump down to the canvas. Death sighed in soothing respite from no longer having her leg muscles tautly tensed, but Eshe was not so generous with her other leg now being angled farther backward as a result with Eshe's soft backside firmly nestled onto an increasingly torqued spine. But Death could still work with this. The Reaper slamming her balled fists into the canvas with a determined exhale from her flared nostrils, using her freed leg to angle her toes against the surface for hoisting leverage. Death arose as high as she could by pushing herself upward before aiming to abruptly roll herself to the side until Eshe was on her back with D.B. soon after shuffling upward into a schoolgirl position, seated atop the Egyptian's chest into a sudden pinning predicament that had the referee snapping to attention.

"One!"

_________________

killcarrion




Posts

: 6055


Join date

: 2013-04-14


Age

: 36



Page 2 of 5 •
1, 2, 3, 4, 5
---
Permissions in this forum:
You
cannot
reply to topics in this forum