Who is online?
In total there are
61
users online :: 3 Registered, 1 Hidden and 57 Guests :: 3 Bots
NobuharuKinjo
,
skip-stop
,
Whitecrow233
Most users ever online was
418
on Tue Jul 30, 2019 9:51 am
Champions & #1 contenders
Tension matches wanted
Tue Sep 26, 2023 1:25 pm by Midori Hyuga
Comments: 0
Page 1 of 10 • 1, 2, 3, 4, 5, 6, 7, 8, 9, 10
Special exhaustion match: Unlimited rounds, KO to win each round, 3 minutes resting time after each round. The match will come to an end when one of the contenders is unable to stand up after the resting time.
Koji Yamada's entry theme Battleship Yamato echoed around the arena, getting the crowd hyped with its heavy metal tunes as the Japanese brawler walked his way to the ring, a cocky grin on his face as he adjusted his MMA fingerless gloves.
Once on the ring, the young guy hinted at some swift shadow boxing movements while the ring announcer explained the rules for his imminent match. Unlimited KO rounds going until one of the fighters was unable to continue? Hell yea, the kind of rules he liked for a change!
The Japanese boy knew that his female opponent was a rumored star of underground matches, and she was surely willing to make an impression on her first offical AFW match, but Koji was expecting a clear victory in this contest!
Though, a little crack in his confidence surfaced at the latest words from the ring announcer:
"...And as usual in our special events, hentai maneuvers aaaare allooooweeed!!!"
"Ugh... damn perverts! 0///0", he gritted his teeth as the spotlights turned to the ram where his mysterious opponent was going to appear.

wrestleryu




Posts

: 11513


Join date

: 2008-05-07



It wasn't long after that Selene herself was introduced. And when her name was called, she would stride out to the open and walk towards the ring in all her glory. She wouldn't make much of a show for now, just giving a simple wave or a wink to the audience as she made her way.
It wasn't until that she actually reached the ring that she decided to do something extravagant. Showing an unnatural skill in agility, she managed to jump up and over the top ropes, preforming an impressive front flip before landing flawlessly on her feet.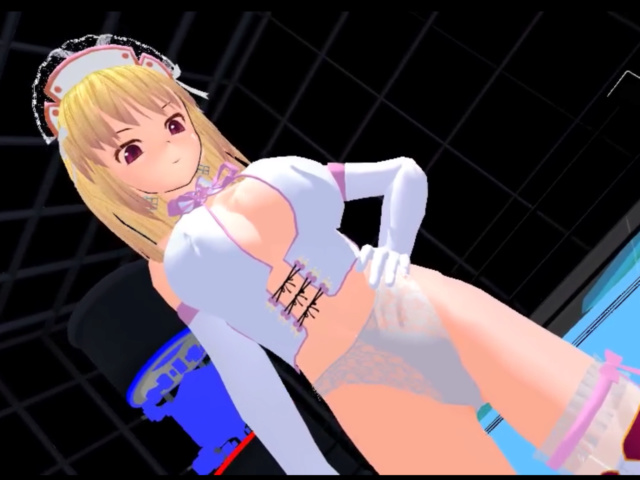 She would then turn to Koji, giving a smile that surely didn't leave any normal impression of one. "So then, my first official match here is against a MMA fighter? I guess that's rather fitting considering my history with boys like you. I wonder how many rounds you'll be able to last against me?"

USLMAN




Posts

: 1711


Join date

: 2018-08-13


Location

: Somewhere



The crowd welcomed Selene's appearance with an enthusiast roar. Regardless of the modest amount of showtime offered during her walk to the ring, the fans seemed in love with the newcomer already. Had it something to do with the much appreciated skimpy wrestling attire compliment her flawless body? The cute headpiece decorating the top of her blonde hair? Ot those impossibly large and yet gravity-defying breasts bouncing up and down with each step? All of the above, Koji had to admit to himself. That kind of seductive maid/nurse gimmicks was not new for AFW but it never failed in alluring the male audience after all. Though, Koji trying his best to keep a cool composture, preparing to welcome the busty girl with a wannabe-unfazed "mpfh".

But that's when Selene did something quite different from the average AFW vixen, flipping over the third rope and into the ring with lightening speed.
"Gasp...! 0///0 I mean..mpfh! Nice to meet you I am Koji Yamada, and I wonder how long can you run around the ring with those nice movements before I knock you down for the count!".

Keeping the unimpressed act, Koji stepped to the middle of the ring to give a closer look to his lovely-looking opponent: the girls was surely beautiful and gifted with almost unreal bouncy curves especially in the top half, which could risk to represent a distraction but it was not uncommon in the AFW. Other than that, she wasn't very tall or particularly strong-looking though.

"Alright then, welcome to AFW and... don't let your guard down!" Soon the bell rung and Koji decided that he'd take the initiative, warning the busty blonde before he would step in and throw a couple of tentative jabs aimed at Selene's belly to test her reactions, as Koji didn't want to ruin such a pretty face...if possible.

wrestleryu




Posts

: 11513


Join date

: 2008-05-07



Just by his impression at her jump alone, Selene knew just how woefully unprepared Koji was for the match that came. Even in the underground league most of the boy's were aware of the women's amount of abilities, but a fool like him wasn't the kind you even considered a challenge.

"Well Koji, it's an interesting meeting here. I hope you're ready for the match to come." As she spoke, Selene would begin to bounce from foot to foot, showing a similar, if not more mobile, form of boxing posture. Her form showed more emphasis in her hips and chest, but when he threw his punches he would hit nothing but air as she easily dodged. "You'll have to be quicker than that."

USLMAN




Posts

: 1711


Join date

: 2018-08-13


Location

: Somewhere



Just moments before his attack, Selene had assumed her so-called stance, bouncing on her feet with a low, definitely full of openings guard.
Still, he (and the whole arena) couldn't help being a bit fascinated by that elegant, gracious bouncing...and in particular how it reverberated on the much more accentuated bounce of her huge breasts.
"Too easy", Koji had grinned preparing to attack, though a part of his mind was busy admitting that her melons were astonishingly big and bouncy, even for the AFW standards. Thus, Koji threw his one-two combo of jabs...and miserably missed the target as Selene moved aside, dodging with swift yet teasingly gracious and fluid movements.

How was that even possible??? Ok, he had not really tried his best there, so the chance of having his jabs dodged or blocked was kind of expected: It would just mean that the girl was more than a cute face. But, for himself to being barely able to keep up with her movements...? Could it mean that she really was too fast? No, he decided, there was a different reason for his failed strike:

"Unffh...s-shut up, it's your fault for distracting me with those big... I mean that...bouncing 0///0". Selene would probably not miss the flustered blush of his face as Koji resumed his guard and threw forward for a more resolute one-two combo of hooks, but he hit the air again! "Unff...take this!", he snapped, following up with a spinning kick aimed at the side of her pretty head, bit he missed again as the busty blonde kept bouncing and almost literally dancing circles around him with a carefree smile on her lips.

"Damn you...", he groaned and panted, missing another punch and ending in a crouched stance....but it was just a feint aimed at getting closer to the target. "Hah...got you!", the young fighter grinned, springing forward for a clothesline aimed at her now close bouncy bosom.


wrestleryu




Posts

: 11513


Join date

: 2008-05-07



Koji's strikes were all easy to predict. And with each one, Selene would flow past them as if he was moving in slow motion. And rather towards the situation, he might as well have been with her natural talent for maneuvering.

And her dodging was clearly getting to him, as his strokes would increase in speed and notably force as he would try to hit her. But even then, she was easily dodging him. And when he came up with an excuse to his misses, she couldn't help but smirk. "Oh Koji, you're much more naive than I thought."

When Koji has went in and missed his last attacks, she would watch intently as he would come up for another attack. Anyone else might've been surprised as he tried to faint it into a clothesline. But Selene was more than able to follow him. And as he rose to strike, she'd turn and hit his face with a surprise hip bump to his face, knocking him back with a surprising amount of force before landing and turning back around, resuming her movements like she had done nothing.

USLMAN




Posts

: 1711


Join date

: 2018-08-13


Location

: Somewhere



Koji thought he had her now... and he was right, in a way, as he had her plump butt pressed right onto his face when Selene anticipated his moves ramming her hips onto his disoriented feauters.

"Unnghhff....w-what was...? 0///0", Okami was pushed a few steps backwards, barely keeping his balance from her teasing yet definitely effective hip-bump. "Uh, I mean... g-good strike there. Odd... but still good 0///0".
Shaking his head to get his mind back on track, the young brawler decided that using grappling style would be a wiser strategy against her unpredicatable movements: he needed to get at closer range to prevent her swift evasions after all. And thus, the boy started to cautiosly  move towards the constantly hopping blonde, trying his best to ignore her large bouncing bosom... and mostly failing. "Umpf...naive like a fox!", he would respond to her taunt, supposing to have elaborated a smart attack strategy.

Keeping up with Selene's swift movements and trying not to be hypnotized by her bouncy breasts was starting to bring him to a fatigued state, while the girl looked like she could dance circles around him for hours!
Though, his patient efforts seemed to have earned him a prize finally, as he got Selene apparently cornered.
"Hah...gotcha!", he announced while thrusting forward, aiming at catching the voluptuous blonde into a lockup against the ring post.

wrestleryu




Posts

: 11513


Join date

: 2008-05-07



Koji was setting himself up in a way he had no idea. Even though Selene was the one being backed into a corner of the ring, she was more than prepared for when she was backed to the turnbuckle.

Once there, Koji made the clear preparation of going in for a grapple. But when he went for it, Selene would smile, jumping right over him in a narrow dodge. The moment she landed back on the ground, Selene would wait until Koji would turn back around to her.

And with her back to him, she would send her hips back into his gut, making him hit his back into the corner post. And when he would slightly recoil against it, she'd jump and strike his face with another hip attack. And if he would lose his footing and fall to his ass, Selene would keep her ass on him, starting a stinkface on the boy. "Do you like this Koji?" She'd giggle, rubbing her soft ass across his face.

USLMAN




Posts

: 1711


Join date

: 2018-08-13


Location

: Somewhere



The crowd was getting to know Selene's hip-wrestling style there, showing great enthusiasm as they let out a cheerful roar with each of her hip-bump hit to her flustered male target.

Koji was starting to get more familiar with Selene's wonderful hips too, but he couldn't say he was that much enthusiast too.
Turning around after another failed attack as Selena had escaped from the less expected way, jumping over him, the young fighter turned around as fast as possible, willing to sneak away from the potential trap he had just got himself into.

"W-Wha...? Ummffffh!", But it was too late: Selena's had pressed him right back into the corner with a sexy yet undoubtly strong hip-press to his stomach, crushing the air out of him. Even with his well trained abs, Koji was still induced to slightly double over, which made him a perfect target fro her following hip-bump, aimed right at his flustered face.

With a suggestive smooth sound, her plump buttcheeks had been rammed right onto his face, giving him only a quick moment to admire so closely the peach-perfect shape of her tush before he was slammed into the corner again, this time slumping down along the post in a temporary daze.
"Uhhh...damn you won't.mmghhfff...! 0///0".
No matter was Koji had been willing to object, everything had gone along with Selene's plans as his face was in the perfect position for her to lean backwards and engulf his blushing face into a delicious butt-smother against the turnbuckle.

"Mrrpfffhhh... 0///0". The young Japanese was known to be a resolute fighter but totally unprepared, and easily flustered when it came to deal with sensuous wrestling maneuvers, and the current situation was no exception: Disoriented by such embarrassing womanly entrapment, he had wanted to reply something definat and angry to Selene's teasing questions, but the only sounds he could make were muffled groans that the voluptuous girl was probably appreciating, judging on how she was lovingly rubbing and rolling his trapped face around.

Koji's hands ran blindly along those velvety thighs and curvy hips trying to push off and gain some room for breathing, but the task was easier said than done, considering how the boy's face seemed to be utterly eclipsed by those round smothering hips.

wrestleryu




Posts

: 11513


Join date

: 2008-05-07



Selene would smile as she rubbed her delicious rear across Koji's face. Among her lovely curves, using her ass to dominate boys was probably her favorite method. Being beaten by just a woman's hips and ass was something that was showed how much better they were.

And she would make sure Koji knew it, keeping the smother going. And as he would groan into her rear, she'd humm faintly in enjoyment. His face between her cheeks was a very pleasant feeling, and with her panties barely covering more than a g-string would, Koji would feel her complete ass rub against him.

Soon though, he would begin to try and push her hips away from his face. And rather than keep up the smother, Selene would jump several paces away and turn back around to face the boy. "Done sitting around?" She asked, smiling as she readied herself for a retaliation. Once her seductive tactics were implemented, a boy would either become insulted and predictable or flustered and slower. Either way, she'd have the edge.

USLMAN




Posts

: 1711


Join date

: 2018-08-13


Location

: Somewhere



Page 1 of 10 • 1, 2, 3, 4, 5, 6, 7, 8, 9, 10
Similar topics
---
Permissions in this forum:
You
cannot
reply to topics in this forum