Who is online?
In total there are
31
users online :: 10 Registered, 0 Hidden and 21 Guests :: 1 Bot
acuya
,
kerflubble
,
killcarrion
,
KillerV
,
LunarWolf
,
OmegaVan0
,
Tarantulust
,
Teenwrestler
,
TiefBlau
,
TomboyTsuka
Most users ever online was
390
on Tue Jan 02, 2018 2:02 pm
Champions & #1 contenders
Kawaii Opportunities
Sun Jun 17, 2018 3:04 pm by Daaharu
Hey, guys!
With the kawaii title match at Avalanche taking on an interesting wrinkle with the interruption by the Brat Pack, we are moving forward with the overall kawaii storyline, and at this point I'd just like to take stock of what kawaiis are out there that are interested in participating in a cohesive storyline.
Can't make any promises about titles or what exactly each girl's given role would be. We can talk a little more about the specifics of where the story is going soon, but I …
[
Full reading
]
Comments: 3
Match for Takeichi
Tue Jun 12, 2018 6:13 am by GrandAkumaShogun
So with my other two guys having their own matches I figure I should do something with my first character on here, Takeichi Mori. If anyone is interested feel free to post here or get in touch through a pm so we can plan it out. I can either have Takeichi remain a jobber or begin to work him towards being a more serious competitor.
Comments: 1
Match or RP?
Wed Jun 13, 2018 3:48 pm by Lotuswarrior
I'm just looking to do something while I wait for match replies. Really want to get some characters cemented a bit with a rival or some interactions with other characters here.
If anyone wants to do something hit me up.
Comments: 0
Page 1 of 8 • 1, 2, 3, 4, 5, 6, 7, 8


Wet and Messy Match
Ring Condition: Standard ring with a pool of ankle deep chocolate pudding.
Winning Conditions: First to three hentai falls wins.
The white haired woman who called herself the Northern Queen stood behind the entrance curtains making sure her body wouldn't pop out of them at the first sign of action, adjusting how her large breasts sat within her top before pulling her bikini bottom down just enough to get it out of her ass. She was more than ready for this match against Erica, the woman was beautiful from all the pictures she had seen of her, that made the woman her favorite type of opponent to go up against. What made this even more exciting were the stipulations, a wet and messy match contested in a ring specially outfitted with a shallow pool of chocolate pudding for them to wrestle in. She stood there tapping her foot impatiently until finally her music began to play, A Warrior's Call blasting over the loud speakers as every fan began to cheer and chant her name along side the announcer.
Running out of the entrance she paid no heed to how her breasts bounced wildly as she ran, waving to the crowd until she got to the ring. Reaching up she climbed up onto the curtain and then slid between the middle rope, her feet feeling a little strange inside the ankle deep pudding but just thinking of all the things she could do with it, the possible humiliation involved here, made her grin wickedly. "Oh this is going to be quite the spectacle."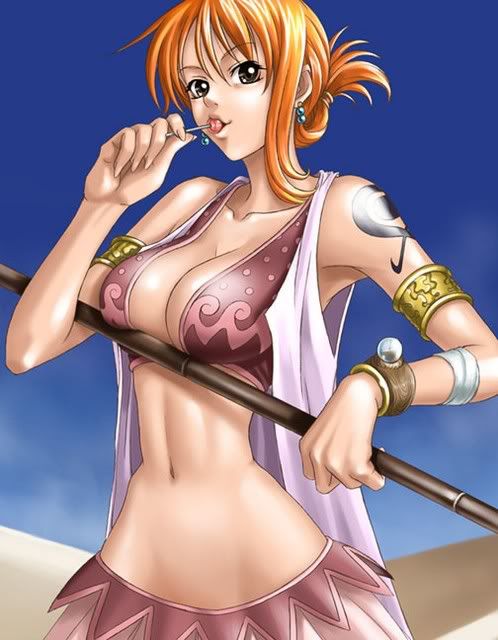 Erica was giggling backstage as she prepared herself for her upcoming match "Oh man, this is going to be fun." Erica said as she adjusted her top and made her way out into the arena. Erica waved to her cheering fans as she skipped to the ring letting her breasts bounce up and down. Erica smiled as she reached the ring and she slipped into the ring with with pudding and waved at Isabella "Hi, i'm Erica lets have a great match ok."
ERica moved towards Isabella and extended her hand towards Isabella "I hope you don't mind if i make you scream my name later." Erica said as she would lean close and give Isabella a quick kiss on the lips before moving back towards her corner to wait for the bell to ring.

_________________
Characters

The Den
Hearing her opponent's music begin to play Isabella stopped waving to the crowd and turned her attention towards the entrance, catching sight of Erica as she skipped out of the back heading for the ring. Isabella's eyes were glued to the woman's own air of massive breasts as they bounced just perfectly within her top, the effect quite like hypnosis as she couldn't pry her eyes away from them until she climbed into the ring and reached out to shake her hand.

"A pleasure to meet you Erica, just from looking at you I can tell this will be quite the show." The handshake was a sign of respect to Isabella, a soft smile coming to her lips as she returned the favor, though she didn't expect her to be so forward as the woman turned that handshake into a kiss. It lasted for only a second but Isabella quite enjoyed it, licking her lips as Erica retreated back to her corner. "Oh if you can truly deliver on that promise then I don't mind at all, but you'll have to earn it Erica, otherwise I believe that will be the other way around. Isabella said as she too began to walk backwards towards her corner, gripping the ropes as she stretched out her legs using the center rope.

The loud ding ding of the bell signaled the start of the match, the pleasant sound long overdue for Isabella as she had wanted to grab Erica the moment she entered the ring. With a wide grin on her lips and a look of absolute lust and desire in her deep blue eyes Isabella took a few steps towards the middle of the ring, stepping cautiously as she didn't want to slip in this tricky ring, her hands raising up to indicate she wanted a test of strength to start things off. "How about a quick game to begin, lets see which of us is the stronger, first to push the other down into the pudding wins. To make things interesting, loser has to remove their top, sound good Erica?"
Erica smiled as Isabella shook her hand "Oh i believe either way we are going to have fun but if i can i will have you screaming my name." Erica said as she moved towards the center of the ring "Well i do love games and i do want to see you out of your bikini top so i say lets play." Erica said as she moved into the test of strength with Isabella. Erica made sure her footing was good, well as good as it could get in chocolate pudding, before she smiled at Isabella and began to push against her.

Erica however wasn't the strongest person around and even with all her effort and her somewaht good footing if Isabella tried hard enough she woul be able to start to push Erica back.

_________________
Characters

The Den
This woman truly seemed like she was after a good time and was perhaps a bit overeager to get it, though Isabella supposed she was the one to talk as she had been wanting to tear the girls clothes off since she stepped out of the ring entrance, Erica's bright orange hair only adding to the allure of the rest of her stunning body, curves most women would die to have. She seemed quite the confident one as well, but then Isabella smiled as she noticed a change in Erica's wording, it was probably nothing but it amused her all the same. "Oh not so sure about that now are we Erica? If I scream your name it will be as you cum for that third and final time for me." She replied with a wicked look in her dark blue eyes, staring deep into the shining brown eyes of Erica as the woman happily agreed to her little request, her plan working perfectly as she locked her hands with hers. "Well thats why were here right, to play a game, a very naughty and delicious game, but a game all the same."

The pudding made it difficult to plant her feet as firmly as she would have liked but Isabella was confident in her strength as she pushed against her, working to wear Erica down enough so she could plant her ass down in the mud for a small win.
Erica smiled at Isabella as they pushed against each other "Well, naughty and delicious are two of my favorite words and i bet both of them define you perfectly." Erica said as she was slowing being pushed back by Isabella "Your going to be a tough nut to crack but i bet my fingers will do the job wonderfully." Erica said as she was pushed back even more.

ERica continued to smile all the time even as she was pushed back in the pudding "Well looks like i'm going to lose my top." ERica said as she was pushed down into the pudding causing it to get all over her butt and backside "Well thats a new feeling." Erica said as she wiggled her butt in the pudding.

_________________
Characters

The Den
Isabella nodded her head nice and slow in reply to her assertion that she was both naughty and delicious, two betters words to describe her not coming to mind as she continued to push down on Erica, knowing this little contest had been decided the moment the woman agreed to a test of strength, the whole thing a bit of a trap as Isabella prided herself on her strength as well as her erotic skills of course. She was quite the confident woman but even Isabella had to admit Erica could likely work magic with those fingers of hers, she would have to try them out after she beat her in this match.

"Oh I bet they have quite the magical touch Erica, you look like someone who can get anyone to cum just by flashing that beautiful smile of yours at them, but luckily for me I can make people cum at will." Isabella teased Erica as she leaned over giving Erica a close up view of her cleavage, her hands moving to her shoulders where she traced her fingers along the straps of her top. "Here, let me help you with this, a bets a bet after all." She replied in her sultry voice, almost whispering into the girls ear as she ran her hands nice and slow down her chest until she was groping her breasts, grinning widely as she slipped her fingers beneath the cups of her bikini top and yanked them upward, the woman's massive tits bouncing free as she freed them from captivity. "Oh very nice, these can't just be DD's either, surely they are bigger than that!"
Erica continued to smile as she sat in the pudding "Oh my mouth can do more than smile, as you will find out later." Erica said with a giggle before watching Isabella strip her "Well i could tell you their size but a woman does have to have her secrets doesn't she." ERica siad as her breasts bounced wildly around after being freed from their prison. "Oh, and don't worry i will be freeing your love pair soon enough." ERica said with a wink as she playfully pushed Isabella away so she could stand up.

ERica stood up and pouted at Isabella before smiling "You got my bottoms all dirty. I'm going to have to make you clean it all off." ERica said as she took some chocolate pudding from her behind and tossed it at ISabella's chest to cover her in some pudding "But don't worry after you scream my name in submission, i will lick every inch of your body clean."

_________________
Characters

The Den
Isabella was really starting to love this Erica woman already, not only was she stunning to look at but every word out of her cute lips was a tease, Isabella practically fed off of such sensual language and was quite enjoying the fight in the orange haired woman. Though that didn't mean she was going to take it easy on her, oh no quite the opposite as she might enjoy such teasing but she always made her opponents eat their words later on, sometimes literally in the case of panties and the like. Looking down at her own large mounds Isabella smiled before glancing back up at Erica while cupping her breasts. "Oh you want to see these beauties huh, I bet you want to cover them with chocolate pudding and lick them nice and clean too."

She gasped in surprise as Erica wiped some of the pudding from her ass and flicked it towards her, looking back down at her breasts which were now sporting a small bit of pudding. Giggling loud enough for Erica to hear Isabella slapped her own tits gently to make them bounce, almost jumping out of her top as they only just remained inside her top. "Don't worry your whole body will soon be dirty. And mmmmm, that does sound tempting, but you'll do as I desire once you're begging for me to put you out of your misery Erica, I can see you now writhing about in pleasure unimaginable to you before, oh you look so cute!"
Erica smiled at Isabella again as she slowly began to circle around her in the pudding "Such a wild imagination you have there Isabella. I can't wait to see what it can think up as i'm making you maon and squirm in this delicious pudding." Erica said before moving closer to her opponent "But i do think i will take that unimaginable pleasure as i'm riding your face after my victory." Erica said as she lunged towards Isabella to swipe her top away from her gorgeous breasts.

"I wonder how long your breasts will bounce once i remove your top." Erica said mid-lunge as she couldn't wait to taunt Isabella some more after swiping her top from her "And i bet they will look real nice covered in chocolate woth my hands all over them."

_________________
Characters

The Den
Page 1 of 8 • 1, 2, 3, 4, 5, 6, 7, 8



Similar topics
---
Permissions in this forum:
You
cannot
reply to topics in this forum