Champions & #1 contenders
Moonhearts Promo intro thread is O p e n.
Mon May 21, 2018 4:21 am by XSirenX
Feeling brave?, lost?, or without a thread to post in?, hit up the newest Moonheart if any of those apply!
CLICK HERE
What Moon has to offer?, many things...:
Comments: 0
The Austrailian Mudslide is Back.
Sat Apr 21, 2018 6:20 am by Softsquad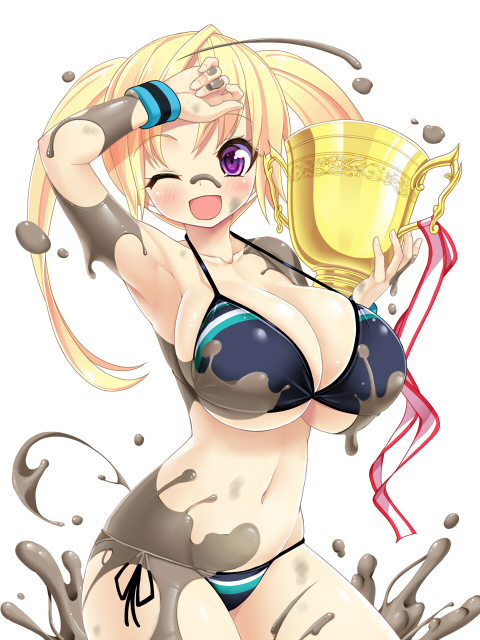 Granted that most of you won't know me or remember me, but I've had a few matches here and there some time ago. Well I think its time to become a regular around here and try to have some fun again, but at the same time keep coming back. Anyway I think its time to jump into some matches with Zoe Taylor, my mud wrestling character from Australia and get her back into the squared circle. Furthermore I will update my characters as I think some proper changes need to happen.
So if anyone would …
[
Full reading
]
Comments: 4
Page 4 of 7 •

1, 2, 3, 4, 5, 6, 7


"Well, look who grew a spine," Suyou chuckled at Diane's sudden display of defiance. "And all without a stupid mask. Good for you!" Suyou would then throw another hard punch straight into Diane's stomach to quell any other defiance she might have.

"I kinda like this mask," Suyou giggled, knocking on the skull mask a bit. "Maybe I;ll keep it. Ugh, what am I thinking. Why would I need something so hideous for?"

Suyou then grinned as she stepped up to Diane again, and brough a clenched fist before her face. "Still, something about it just makes me feel so....primal." And then Suyou would clock Diane right across the jaw with her fist. It was the opening salvo for the full on barrage of punches Suyou aimed at Diane's helpless form, aiming for places like her stomach, her breasts and her face in a merciless onslaught, laughing merrily as she did so.
"Ughh!" Diane moaned again as another punch slammed into her stomach. Her back-chat had certainly been cut short as she was left breathless and reeling. She tried to curl inwards to soften the pain of the blow, but the handcuffs prevented her. She felt sick and scared, and when Suyou brought a clenched fist right up to her face, she could only whimper meekly at what was to come.
Still, the massive punch to the face was a huge shock for Diane, extreme pain shooting through her jaw. Her head rocked back against the hard wooden door, smacking her skull jarringly. She gave an anguished cry, stunned at the brutal impact, her thoughts scrambled.
Hanging by her wrists, Diane made an all-too convenient punch bag, and she could no nothing in the face of Suyouâ€
s sadistic assault. The poor girl just writhed and groaned as her sculpted abs, her luscious breasts and her pretty face began to suffer repeated heavy punches. Suyou could put real strength behind her fists and after the first few blows, the agonised Diane was really panicing. Her body was already sore and beaten, and her skin covered in red whip marks, but this was something else. Hapless Diane was being tenderised like steak as the blonde used her as boxing practice. The abuse went on and on, a dull ache growing through her muscles and bones as her bound body began to be utterly pulverised.
The handcuffs rattled as Diane writhed in agony, grunting and gasping at every punch. The pain was so bad it was hard for her to even swallow, and a thin line of saliva started to mark her chin. Diane groaned pitifully, quivering in fear at the damage that was being done to her, way beyond what any wrestler would endure in the ring. All the while Suyouâ€
s mocking laughter echoed from the skull mask. The pain just got worse and worse for Diane, who was visibly disintegrating under the intensity of the attack. For the first time that night, her soft red eyes began to water, and tears began to form across her features.
The door Diane was hnaging from rattled and shook as Suyou completely laid in to Diane, making a few people on the other side of the door stop and stare questionably at it. They only stopped for a moment though and continued down the hall, preferring not to ask questions in a place such as this. One person curiousity would not be satisfied so easily.

The AFWs resident Queen of Brawl, Sarah Gatt, happened to be walking down that same hallway at that very time, wearing tight jeans with studded belts, and black Pantera t-shirt. She was meeting Rika Smart smomewhere in the building when she stopped at the rattling door. Raising an eyebrow Sarah moved a bit closer, putting her ear to the door as she tried to hear what was going on.

Inside the room, Suyou would finally let up on the punches, stepping back from Diane to get a good look at her, admiring her work a little. "Wow," Suyou said panting, the whole barrage wearing her out a little. "You make a good punching bag. SO firm at first but so tender by the end of it. That let's me know I'm doing all right."

Smirking, Suyou would take a step towards Diane again, looking up at her as she hung there like a piece of meat. She would then take the skull mask off, tossing it aside so Diane could get a goof look at her smiling face. Then, unexpectedly, Suyou would press her lips against Diane, forcing the girl into a kiss. Her tongue would force its way into her mouth, probing and exploring, an Suyou would moan with pleasure.
Diane hung limply after that prolonged beating, heart racing in shock from the blows she had suffered. Every inch of her naked body felt battered and bruised, it hurt to move (not that she could much) and it even hurt to breathe. She was sweaty, dishevelled, utterly distraught, and scared she might not even make it out of here in one piece.
Through the pain and fear Diane was then bewildered by Suyouâ€
s change of pace, lunging forwards for a lusty kiss. The bound girl was too shocked and sore to offer any kind of resistance, passively allowing the blondeâ€
s tongue into her mouth. She was aware how humiliating the forced kiss was, especially as Suyou began to moan loudly, but compared to her treatment as a human punch bag she found it a welcome reprieve. Despite squirming a little she didnâ€
t really resist, though she was too tired and spent to derive any pleasure as Suyou was.
Suyou's tongue explored every inch of Diane's mouth, probing and pushing against her tongue for dominanace, making it clear that Diane belonged to her and that nothing in her body was denied to her. She ran one of her hands through her long white hair, pushing her head deeper into the kiss, continuing to moan with pleasure.

When she finally had her fill, Suyou would pull back from Diane, smiling at her lustfully. "I hope you realize now, Diane," she started, running her hand softly across the woman's cheek. "This is who you are. WHo you will always be. I can cause you pain or pleasure at any given moment, whenever I choose. And you just have to take itbecuase you're too pathetic to do anything about it."

Suyou's other hand would then latch onto Diane's naked crotch in a visious claw, and Suyou would cruely begin to dig her nails into Diane's sensitive flesh, smiling at her all the while.
Diane just hung from her restraints, unhappy but passive, as Suyou kissed her deeply and possessively. She shut her eyes and quietly tried not to think about the awfulness of her position, but it was no use. When Suyou pulled back and told her how pathetic she was, how sheâ€
d always be a slave, it was difficult for the distraught Diane to disagree. Her spirits were so low she thought maybe it was true, that she was fated to suffer at Suyouâ€
s will like this. Not that that notion made the torture any easier to bear.
She was glumly contemplating this when she suddenly felt fingers close around her crotch, intent on causing pain. Her flesh was still quite sensitised from her earlier forced orgasm, and she jolted violently at the unexpected pain, her body jerking almost as if it had been an electric shock. Though all her muscles ached from the pummelling she had taken, this new, sharp agony made her twist and writhe against the door.
"Gahh…. Noo…. Nggg…." Poor Diane whimpered and groaned continually, her face contorted in agony. She didnâ€
t know how long she could bear those nails scratching her womanhood like that.
"Mistress… please…." she breathed in a rasping voice, struggling to manage the pain. "Aghh… Youâ€
re right… Iâ€
m pathetic…. Nyaaagh… worthless… Please…" the bound girl grovelled, blinking water from her eyes. Suyou hadnâ€
t even asked her to say those things, but she was beside herself with pain and desperate to show her submission to the blonde.
Sarah Gatt winced from the sudden cries of pain that now came from the other side of the door, and took a step back in surprise. Whatever was going on in there someone was clearly in a lot of pain. Now Sarah's curiousity was piqued. She wanted to know what was happening, and so she would lean against the wall, waiting for the events of the room to end.

Back inside, Suyou smiled at Diane's pleas. It seemed she had truly come to accept the way things were going to go from now on. If her begging for mercy was any indication.

After a long session of crotch torture Diane would release Diane's naked sex, ending her suffering for the moment. "I;m glad we see eye to eye," Suyou giggled. She would then reach up for the chains of Diane's handcuffs, and then lift them up so Diane would come loose from the hook on the door that held her up. Then Suyou would just drop Diane carelessly to the floor in a heap. Once she did that, Suyou would move herself to stand before Diane, and place her bare foot before the woman's face.

"Kiss it," Suyou commanded, and a smile formed on her face. "And tell me how beautiful I am while doing it."
Poor Dianeâ€
s nerve endings were screaming in protest, her clawed crotch feeling like it was on fire, but despite her pleadings the punishment dragged on and on. Eventually Suyou released her, laughing smugly about them seeing "eye to eye" now. Diane felt so ashamed about her grovelling, about professing her weakness, but there was nothing she could do.
She still felt hopelessly powerless even as Suyou unhooked her from the door and let her crash to the floor. As the aching Diane groaned, shuffling round slowly and painfully so she was resting on her hands and knees, she realised she was technically freer that sheâ€
d been for a while - theoretically she could rise up, butt Suyou in the stomach, maybe make a fight for freedom… but of course by now Diane knew she was too battered and too weak, both physically and mentally, to attempt anything reckless like that. And it seemed like Suyou knew it too, as she offered her foot to the floored girl.
Dianeâ€
s nose wrinkled at the prospect of kissing her tormentorâ€
s sweaty foot - but there was no way out, she would have to do it. Wincing a little, she leaned forwards, and begun by giving the top of Suyouâ€
s foot a quick peck.
"Yes mistress, thank you mistress," the bound girl said obediently, though cringing with embarrassment and self-loathing as she did so. She worked down the foot, planting a sequence of kisses towards the toes.
"Youâ€
re, um, very pretty, and itâ€
s an honour to be kissing your foot," Diane tried her best to grovel as she did so. Though she was surprised at just how hard it was to think of compliments for someone when you hated them with every fibre of your being. She just hoped Suyou wasnâ€
t after any particularly poetic praise, or sheâ€
d be in trouble.
Suyou let out another 'hmmmm' of pleasure as Diane set to work degrading herself further with the simple act of kissing her foot. It was a very empowering feeling having a conquered foe reduced to such a state. And as she laid forced praises on her Suyou felt that her subjecation of Diane was truly complete.

After she felt Diane had worshipped her enough for one evening Suyou would then pull her foot back, and then use it to send a harsh kick directly into Diane's ribs to turn the girl onto her back. "Stay right there or I'll hurt you," Suyou commanded. If Diane complied, Suyou would slip her tumbs into the hem of her bikini bottoms, and then start to slide them off, leaving her completely naked with her prey.

Tossing her bottoms aside Suyou would look down at Diane with a smug grin, letting her admire her towering body for a moment before she would lower herselfg onto Diane. She would move to straddle the girl's face, her naked sex covering her mouth, trapping her in a schoolgirl pin.

"Now how bout putting that mouth to better use?" Suyou asked, and astride Diane's face she would wait for her to get to work, smiling down at her.
Cringing with humiliation, Diane was unhappily but obediently planting kisses on her captor's foot, when suddenly a heavy kick was fired into her ribs. She fell on her back, groaning, shocked by the pain, but also by the fact she was still being hurt even when she was grovelling and subservient. It was so unfair!

"M-mistress?" Diane pouted, clutching at her bruised ribs, eyes wide and body trembling. As she stared up at Suyou, the large blonde slipped her pink bottoms away to stand before her fully naked.

Diane was ashen-faced as Suyou stared down at her with an ominous grin. They held eye contact, both naked, both knowing that Diane's servitude was about to become a lot more sexual. The white-haired girl had known this was coming; as Suyou had gotten increasingly lusty and even eaten her out, it was inevitable she would be forced to return the favour. She squirmed on the floor and whimpered in resignation as Suyou knelt over her head, lowering her naked pussy onto her upturned face.

Of course it wasn't really returning a favour - Diane had hated the humiliation of Suyou's tongue inside of her, and she would hate her next task even more. From beneath the blonde's thighs, her red eyes gazed upwards, in awful contemplation of what she was about to go through. THen, wincing, Diane would tentatively push her tongue up out of her straddled mouth for a taste of Suyou's pussy.

She couldn't believe she was being forced to do this, it was so degrading, but trapped in the forwards facesit it seemed the battered girl had little choice. After a few hesitant laps of Suyou's outer lips, the grimacing Diane began to delve deeper with her tounge, trying her best to satisfy Suyou and get this hell over with. She found her head sinking further in between the blonde's thighs, her nose pushing up and rubbing against her tormentor's clit. She continued to thrust and probe with her tongue, occasionally glancing up at the girl atop her to guage what effect her efforts were having.
Page 4 of 7 •

1, 2, 3, 4, 5, 6, 7


---
Permissions in this forum:
You
cannot
reply to topics in this forum