Who is online?
In total there are
37
users online :: 4 Registered, 1 Hidden and 32 Guests :: 2 Bots
BootsForSpooks
,
Hedgehawk
,
SimplyMoon
,
Yori
Most users ever online was
390
on Tue Jan 02, 2018 2:02 pm
Champions & #1 contenders
Moonhearts Promo intro thread is O p e n.
Mon May 21, 2018 4:21 am by XSirenX
Feeling brave?, lost?, or without a thread to post in?, hit up the newest Moonheart if any of those apply!
CLICK HERE
What Moon has to offer?, many things...:
Comments: 0
The Austrailian Mudslide is Back.
Sat Apr 21, 2018 6:20 am by Softsquad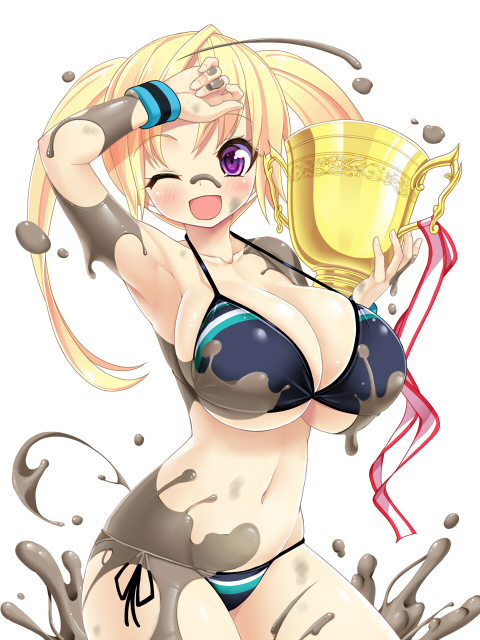 Granted that most of you won't know me or remember me, but I've had a few matches here and there some time ago. Well I think its time to become a regular around here and try to have some fun again, but at the same time keep coming back. Anyway I think its time to jump into some matches with Zoe Taylor, my mud wrestling character from Australia and get her back into the squared circle. Furthermore I will update my characters as I think some proper changes need to happen.
So if anyone would …
[
Full reading
]
Comments: 4
Page 3 of 7 •

1, 2, 3, 4, 5, 6, 7


After teasing Diane's breasts and smothering her with her ass for quite some time Suyou would suddenly scoot her butt forward off of Diane's face, giving her a much needed breath of frash air. "You doing okay down there?" Suyou asked looking at Diane over her shoulder, not really expecting a real answer, only wanting to see her flustered face after the smother.

After ensuring that her captive wouldn't pass out on her too soon Suyou would abruptly cover Diane's face with her ass again, resuming her smother in earnest. It was clear that Suyou was going to be at this for awhile. This time though Suyou wouldn't turn her attention to Suyou's breasts. This time she would reach forward and grab for Diane's helpless legs. SHe take them both in her hands and then pull them back with her until they were pressed against the floor on both sides of Diane's head for a painful and humiliating matchbook pin.

"Very lovely," Suyou said, now having an upclose and personal view of Diane's ass and crotch. She rubbed it sensually and lovingly as if she owned it. "Now if only this thing wasn't in the way," Suyou said with a pout, eyeing the black thong that covered Diane's crotch. Without further ado Suyuo would attmpt to slide it off Diane's crotch so that her sex would be nice and exposed to Suyou. "Much better....."
Poor Diane had been stuck with her breasts being fondled and her face being sat on for an awfully long time. Desperate for fresh air, she started to worry Suyou was going for a particularly cruel knockout. She was getting really groggy when the blonde finally moved up off her, looking down on her bound form mockingly.
"Ughh… no, I… MPPHH!" Dianeâ€
s breathless groan was cut short as Suyou lowered her ass back down for another reverse facesit. The white-haired girl hadnâ€
t been expecting to suffer another fleshy smother so quickly, and hadnâ€
t had time to fully recover her breath. She couldnâ€
t believe she would have to endure a face full of sweaty ass all over again, and with her lungs already aching this second bout would be a lot more gruelling.
With her wrists handcuffed and trapped behind her back, Diane was totally powerless to prevent her tormentor grabbing her legs, pulling them up towards her head. The floored girl gave a muffled moan as she felt her body being folded in half, her muscles straining and stretching painfully as her feet ended up being held either side of her smothered head. Though Diane had a strong, sculpted physique, she wasnâ€
t the most flexible wrestler in the world, and being bent into this compromising position was causing her no small amount of pain.
Worse, the leg stretch made her pussy and ass incredibly vulnerable to the dominatrix sitting on her face, a fact Diane soon realised as Suyou began sliding her strong hands all over them. The white-haired girl winced as the blonde groped her and cooed possessively, before sliding her black thong up off her crotch to further expose her.
Diane was in an extremely unfortunate position now: sat on, smothered, stretched and stripped. She squirmed and squealed helplessly, but all that really did was push her nose even further between Suyouâ€
s butt cheeks. Through the pain, discomfort and misery, poor Diane now felt more vulnerable than ever.
SUyou eyed Diane's naked pusst with ravishing hunger, licking her lips in anticipation of what was to come. "Now Diane," Suyou chided gently. "Why would you keep this dear thing hidden from me? You know I don;t like surprises." SHe would run her finger along the outside of Diane's pussy, tickling it gently as she teased the poor woman.

"YOu know, it's been awhile since I tasted someone as delicious as you," Suyou cooed, tracing her finger in a circle along Diane's sex. "And since we're old friends, wgy don't we just skip the foreplay?"

Licking her lips onme last time SUyou would dive inbetween Diane's legs, licking away at her sex with wanton abandon. She lapped away at it like a kiss, focusing in the sensitive outside for now, and even giving it a light nibble for good measure. When Suyou was ready, she would then slip her tongue right inside Diane's pussy, and would begin to probe it in and out of her.
Diane twitched as Suyou started to tickle her exposed, upturned crotch. With her face buried in the big blondeâ€
s ass she couldnâ€
t see what was going on between her splayed legs, but she could feel everything the other girl was doing, pleasuring her and teasing her in equal measure. Diane felt even more of a response when Suyou began applying her tongue, and the bound girl started to shudder with involuntary excitement. She didnâ€
t want to react this way, she found it utterly humiliating, but the blondeâ€
s tongue was insistent, making Diane more and more sensitive.
Suyouâ€
s teeth pressed gently against her pussy lips for a playful nibble, and for a terrible moment Diane thought the blonde was planning to bite down hard on her womanhood. But that particular threat seemed to pass as Suyou continued to lap sensually away.
Diane felt herself moisten a little as hormones began to kick in. She had no say in this whatsoever, she was as helpless as sheâ€
d ever been. Her arms, head and legs had all been trapped securely by the bigger girl, all she could do was quiver in response, and emit a muffled moan. She really shuddered as she felt Suyouâ€
s tongue plunge deeper between her legs, hungrily thrusting inside her. Her body betrayed her by getting wetter and wetter, but mentally Diane couldnâ€
t enjoy this treatment at all. She felt violated, and with a nasty faceful of ass cutting off her air she was getting dizzier and more desperate. Added to this was the awful knowledge that Suyouâ€
s tongue was starting to get her quite horny. Her sensitivity to being eaten out was increasing by the second, and if it continued then things would get really embarrassing for her.
"Mmmm," Suyou moaned as she continued to lap away at Diane's naked pussy like it was a gourmet feast. Diane was clearly enjoying the treatment no matter how much she didn't want to. Suyou could taste the moistness that was coming from her womanhood the longer this went on. Ti wasn't long before Diane would give in to the feelings of pleasure and orgasm to Suyou's treatment.

Suyou would continue licking and thrusting her wet tongue in Diane's sex while continuing to smother her. She didn't care if Diane passed out before she cummed. Either one was a good show in Suyou's opinion. One thing was for sure Suyou wan't budging from her postion until at least one of these things occured.
Diane was getting increasingly flustered as both the face sitting and the lapping at her crotch went on and on. Her head was throbbing in protest at the prolonged ass-smothering, but even through her groggy panic she felt her hormones pumping, a growing sense of pleasure from her stimulated pussy.
This went on for some time, Diane trying furiously to hold back her increasing arousal. The humiliation was excruciating, and even though she had only been in this painful, compromising position for a few minutes, it felt to the poor victim like an eternity.
As each awful second passed, Dianeâ€
s excitement at Suyouâ€
s incessant tonguing grew, while at the same time she got dizzier and dizzier through lack of air. Panic and lust competed in her anguished head, but eventually she felt her mental defences weakening, and her horniness began to get the better of her.
She gave another stifled, desperate moan, now craving sexual release as much, if not more, than physical release. Silently, she willed Suyouâ€
s tongue to go faster, deeper, to really hit the spot… with a self-loathing grunt she realised sheâ€
d failed to hold herself back, sheâ€
d hit the point of no return.
Her whole folded body began to judder as orgasm built up inside her. It would be so utterly humiliating, but now she needed it none the less… Diane spasmed and jolted as a heart-stopping orgasm gripped her body. Diane had put so much effort into holding her climax back; now it arrived it overwhelmed her completely. The white-haired girl was stunned at how hard she was cumming, her whole body was tense with ecstasy for several long seconds, and she would have been writhing and moaning violently were it not for the stifling pin.
Even as she came Diane was bitterly aware of how embarrassing it was. Being forced to orgasm for her enemyâ€
s amusement, she could derive no real pleasure from it. In fact, as she writhed and moaned, involuntarily rubbing her face deeper into the blondeâ€
s sweaty ass, she realised it would be burned in her memory as the most unpleasant orgasm sheâ€
d ever had.
Extreme unhappiness washed over Diane as her post-orgasmic thoughts began to collect themselves. Spots were forming in her eyes, and her need for oxygen returned even stronger now. The heavy climax had pushed her further towards passing out and she was really struggling to stay concious. She hoped that now she had come her tormentor would at least reward her for it with some air, otherwise she would be in an even worse position.
When Diane's orgasm came Suyou was more than ready for it. Her mouth was open and ready, and when the floodgates opened Suyou lapped it up like a hungry dog. This was what shwe was craving all along. For Diane to cum for her like the slut she was. To be able to make a woman cum by her whim was a trait Suyou was quite proud of. But of course Diane knew that already. She should be well used to cumming for Suyou by now.

After devouring all of Diane's juices and licking Diane's pussy and thighs dry Suyou sighed in satisfaction, licking her lips of the rest of it. "That was enjoyable," she said, and would then unhook both of Diane's legs, releasing her from her painful folded up position. And only then would she finally remove herself from Diane's face to end the facesit.

After standing up Suyou would walk over to her dresser so she could retrieve the keys to Diane's handcuffs. Smirrking, Suyou would go back over to Diane, roll her onto her front and undo the handcuffs behind her back. Of course Suyou wasn't letting her go. Far from it. When she undid the handcuffs she would bring Diane's hands forwars, and cuff them infront of her instead.

"Up we go," Suyou said to Diane, and would take the woman's body and drag her over to the front door, pressing her against it for the moment. She would then take the hands she just cuffed and place them over her head, hooking the handcuff chains over the hook on the door meant to hang clothes. If all went well, Diane would be hanging from the door with her arms above her head, helpless to Suyou's whims.
Diane moaned miserably as she lay in her breathless, post-orgasmic daze, still being smothered by the blonde atop her. She shivered as she felt Suyou languidly lap at her pussy and thighs, still playing with her after her climax. This was excruciating for Diane, her lungs were aching in protest and she just wanted Suyou off of her, but it seemed to take an age.
The white-haired girl was incredibly groggy now, darkness fast approaching her senses, when eventually her tormentor peeled her ass up away from her face. Diane gave a huge, anguished gasp as she was finally let go.
"Ahh… oh god…" Diane moaned as she lay there panting. Her pretty face was now flustered and damp with sweat, and she was clearly reeling from the ordeal she had suffered. She was dimly aware of being rolled onto her front, and the handcuffs around her wrists being removed.
"Oh… th-thank you, mistress," Diane panted as she thought her punishment was over. "I - oh, no…" she groaned dejectedly as her limp arms were bound again, this time in front of her.
Diane was totally spent and could do nothing to resist being dragged up by the blonde. She couldnâ€
t even kick her legs much, the black thong bunched awkwardly around her thighs saw to that. When she came to a little more she found herself hanging from the door, hands over her head. This was a pretty ominous position and Diane was quite scared of what was to come.
"I donâ€
t know what youâ€
re planning, but, please… youâ€
ve had your fun…" she whimpered miserably.
Once again ignoring Diane's pleas Suyou strode to the other side of the room where she had left the effects of their match. She was retrieving Diane's skull mask of all things, the one that transformed her into the mighty Sabre. "So let me get this straight," Suyou said as she strolled up to Diane, looking at the mask in her hands. "You put this on and suddenly you're not a whiny little bitch anymore?"

Smirkingmm Suyou would slip the mask on herself. It was heavier on her head than she thought. "Oga, oga! I am Sabre! Hear me roar!" Suyou grunted in a very mocking impression of Diane. "I am big strong cave girl! But am really just sex slave for mistress Suyou." Suyou then laughed mirthfully, holding her stomach as she openly mocked her prey. "Pathetic."

Suyou would then step forward where she left Diane hanging, and then let fly two powerful punches straight into Diane's exposed stomach.
Diane hung limply against the door as she tried to recover from her ordeal. She was emotionally and physically drained, and could feel an unpleasant cool wetness down her inner thighs to remind her of her humiliation.
Still, as she contemplated what had just happened, she was pretty indignant at being used as Suyouâ€
s 'throneâ€
like that. The blondeâ€
s mocking questions about her wrestling mask needled her further.
"Well… itâ€
s like Iâ€
m a different girl. It lets me escape. Everything feels simpler… easier, you know?" Diane tried to provide an explanation. But any hope of understanding faded as Suyou placed the mask on her head and started teasing her openly.
The bound girl bit her lip as she was forced to watch her tormentor make a mockery of her alter ego. It was clearly upsetting the white-haired girl a lot. When Suyou launched two powerful punches into her undefended stomach, the subservient Diane snapped.
"Gahhh….. Fuck you!" Diane cursed bitterly, groaning in agony. She was so furious at Suyou for disrespecting Sabre. Even though the white-haired girl had taken so many punishments up to now, she couldnâ€
t bring herself to take that insult.
"Sabre kicked your ass!" Diane hissed in defiance as she grimaced in pain. "Take that mask off… youâ€
re not worthy of it!"
Page 3 of 7 •

1, 2, 3, 4, 5, 6, 7


---
Permissions in this forum:
You
cannot
reply to topics in this forum