Champions & #1 contenders
Highfly Flying Out Of Town
Tue May 22, 2018 1:31 am by HighFly
Hello everyone, I just wanted to inform all I have threads with that I will be gone from this coming Wednesday through Sunday. I won't be able to post consistently if at all during this time, but I will try to make up for it next week! I am sorry for the inconvenience to everyone.
Comments: 7
The Austrailian Mudslide is Back.
Sat Apr 21, 2018 6:20 am by Softsquad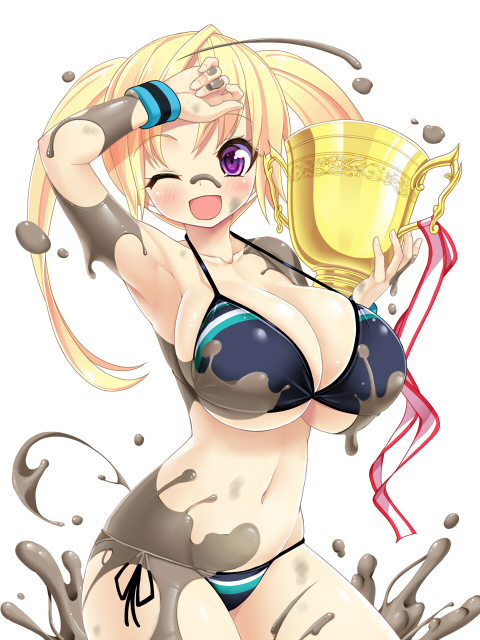 Granted that most of you won't know me or remember me, but I've had a few matches here and there some time ago. Well I think its time to become a regular around here and try to have some fun again, but at the same time keep coming back. Anyway I think its time to jump into some matches with Zoe Taylor, my mud wrestling character from Australia and get her back into the squared circle. Furthermore I will update my characters as I think some proper changes need to happen.
So if anyone would …
[
Full reading
]
Comments: 5
Page 1 of 7 • 1, 2, 3, 4, 5, 6, 7


Hardcore Prisoner of War Match
Victory: Apply a collar or handcuffs to the opponent
DQ: None
Attire: Swimsuits only

Rachel mulled about backstage as she waited for her cue to come about, anxiously talking to herself as she paced about. Yet another one of these "prisoner of war" matches, and even worse, yet another no-holds barred one. Sure, the only normal matches she was in got her pinned, but at least they didn't leave her feeling like she belonged in a body bag. Okay well, one of them did, and the other one wasn't really all that quick, but the point was that there was potential. Rachel wasn't going to win these matches, she had come to terms with that, so the sooner it was over, the better. Her manager had told her that the big, spectacular losses were the highest earning ones, and more and more other wrestlers had actually wanted to face her since she started, and even though she recovered like she had goddamn super powers, it still wasn't a whole heap of fun getting the tar kicked out of you on a regular basis.

This whole "swimsuits only" business was a bunch of bullshit too. Whose idea even was that? They weren't even outside, let alone at a beach! And because she heard about this little stipulation at the last minute, she had to scram out to buy something with only hours to spare. She figured that if the league was going to make her buy an outfit, they'd cover the costs, too, but no, they didn't. Whatever. Despite the shitty circumstances, she did manage to find something in black that fit her, which was nice, even if it was a little string-bikini. She'd normally opt for something a little less easy to disassemble, but she really didn't have the time to be picky. She wasn't sure if "swimsuits only" included her collar, but fuck them, she was wearing it.

Rachel sighed as she prepared herself to go onstage. Still, it is what it is, she thought, and she tried to make the best of it as her theme came on the speakers, and she ran up to the stage, with her arms outstretched for the fans. She didn't know much about her opponent, she heard it was a new girl and figured that was the best information she was going to get. Maybe this time she'd turn things around, or at least make a weird kind of friendly relationship out of it, like she did with Amy. As she climbed up between the ropes, she figured it just depended on who she was facing.
Last edited by Clobber Jobber on Wed Aug 26, 2015 4:51 pm; edited 1 time in total
In the midst of preparing for her match, Hayasui found herself going through the motions of her pre-match rituals almost robotically, as if it wasn't really her in control of her own body, but some mindless, unfeeling shell. The girl took a moment to collect herself, frowning as she shook off the feeling, trying to ignore the butterflies fluttering up a storm in her stomach.

This was to be her first match. Her first step in this new place. Her first opponent. She wasn't entirely sure how her opponent had been selected for her, but trusted the odd man that they'd saddled her with nonetheless. Lightly slapping her cheeks to get herself pumped up, Hayasui jumped slightly when she heard her name being called, knowing that was her cue.

On her way out, the girl caught a glance of herself in the mirror, unable to help a slight blush at the purple bikini that was all that covered her, aside from the light sneakers that had become inseparable traveling companions for her.

In spite of herself, she couldn't help but freeze up a little at the sight of the crowds, the cheering proving to be almost deafening as she made her way towards the ring, her theme blasting through her head doing nothing to calm her nervousness.

Just need to make it to the ring, the girl reassured herself, Just gotta get to the ring...

Her opponent was already there, waiting for her. A head of black hair marked her clearly in the ring. Hayasui found her focus drawn away from the crowds and more towards the other girl as she drew closer, her strides becoming more confident as she drew closer, but still not without that edge of nervousness.

Out of long habit, Hayasui gave the ring a cursory bow, really more a small nod of the head, before climbing up into it, slipping between the ropes as she found her footing once more. The crowds died down to a dull roar in her mind as she bounced around on her feet, getting a feel for the ring floor. Settling down, Hayasui gave her opponent an honest smile before offering her a respectful bow.

"If we're going to be fighting," she said, settling into a loose fighting stance, "Then I'd like to know who I'm fighting. I'm Hayasui."

_________________
My wrestlers:

Emily Blaskowicz

Hayasui Koridae

Sion Eltnam


---


Fur N Feathers

Emily McFlannigan(Changeling)
Rachel wasn't sure what to expect when the music started up, but it was safe to say that the innocent-looking creature coming out the other entrance was the last thing she thought she would see. Her match with Amy showed Rachel that not all the girls here were tough, grim-looking sadists, but if it weren't for the bare-bones clothing Rachel could have sworn this girl had just wandered into the wrong place. The fear she had brewing in her stomach was gone, but rather than replaced by confidence, a sense of worry took it's spot. Rachel rubbed the back of her head as her eyes darted around the ring to the handcuffs and collars that would be used to signify the loser, and she could just tell that one way or another, this was going to be a bit awkward. The post-match business would be even weirder, in a way, but Rachel figured that if she won she could just take this girl out to dinner, or something. Of course, as her eyes measured up the body that was barely concealed by a bikini and a pair of sneakers, she thought of some other things they could do, but for now let's take it one step at a time.

As the other girl climbed in the ring, the first thing Rachel noticed was that she was still a fair bit taller than Rachel herself, which would prove to be a problem. Well, probably. For all the beatings she received, Rachel hadn't really improved her strategy a whole lot, so she wasn't sure what that meant. Still, as the girl bowed and politely introduced herself, Rachel couldn't help but soften up a bit.

"Hey, name's Rachel," she replied a bit nervously. "Look, I did a bit of reading, I know it's your first time. Don't worry, I'll try not to hurt you, okay?" Part of Rachel felt like that sounded demeaning at best, and purposefully insulting at worst, but she really didn't want another girl to join this league as bloodied and jaded as she'd become, and there really wasn't a better way she could think of to communicate it.
Hayasui looked at her opponent, apparently Rachel, for a moment, head tilting ever so slightly to the side as she tried to process what the other girl said, allowing a moment to assure herself that she wasn't just hearing things.

Pity. The one thing Hayasui had found she couldn't stand. Honest empathy was something to be respected, but pity? Pity?!

Allowing a moment to collect herself, Hayasui did what she could to keep her voice as level as possible, unable to stop the frown from creasing her face.

"Actually," Hayasui said, settling back into her stance, "I'd rather you not treat me like some untrained walk-on. If you're going to worry about me, then I would rather you did so after the match and not during."

With that, the girl took a deep breath, trying again to collect herself.

"That aside," she continued, "It's nice to meet you, Rachel. Hopefully we might be able to become friends after this match? If I may be honest, friends are something I've found myself rather lacking in."
Rachel caught the frown that showed up on Hayasui's face, and already she felt a little unnerved. But it wasn't until the "walk-on" comment that a pit really formed in Rachel's stomach. "Nonono I didn't mean-" she started to correct herself, but as Hayasui took what looked like a martial arts stance the reality of the situation started to sink in.

Crap. Another ninja-girl.

The pit of sadness was replaced by a pit of fear in her stomach as she tried to process what she had just set up. Sure, she had come in mentally prepared to receive another memorable beating, but all those barriers came crashing down at the first sight of this Japanese girl's cute little face. Perhaps dichotomy was what had her feeling so nervous, or perhaps she just wasn't as mentally prepared to get hurt again as she thought, but either way, she could hardly speak. Which was a shame, because this girl had just openly stated that she'd like to be friends, and here Rachel couldn't form the words to agree on what a great idea that was. "I-I'd like... uh, I... yeah," was about all she could muster before taking her own stance as the bell rang, her hands up by her face, once again leaving no thought to her exposed midsection.
"Great," Hayasui piped up, just in time for the bell to ring, "But first, let us fight with everything we have."

To Hayasui's relief, her opponent took up something of a stance. At the very least, this one might be promising. The girl's brow then furrowed as she noticed that Rachel's 'stance' left her body wide open.

Not wasting breath on a sigh, Hayasui switched her stance from Kenpo to boxing, hands up close in front of her, and darted in with all the speed her training could afford her, zig-zagging as she closed with Rachel. Once she got in range, the girl would attempt to open up with a feint to the head followed by light shot to the exposed belly. Well, light by Hayasui's standards. Certainly winding for most, but it would do to test her opponent's reflexes and defensive ability.

(OOC: Apologies for the delay, my internet went all wonky)
As soon as the bell rang, Hayasui changed stances and began darting around, closing the distance. Rachel could already tell that her opponent overestimated her by the stance change, but what really had her worried was the speed at which Hayasui moved. Not only was this girl considerably taller than Rachel, but she was damn fast, and she seemed intent on using that speed. The embarrassed, almost shy look on her face when she first entered the ring was gone, and in it's place was a cold determination Rachel did not like one bit. All this said, as soon as Hayasui closed in, she started with a punch aimed straight for Rachel's face, which she was actually prepared to block. Hey, maybe this stance wasn't so ba-

Nope, nevermind. Rachel's world shook as a hard fist collided with her exposed belly. She knew she was forgetting something. Worse yet (well, better in the short run, but worse in the grand scheme of things), for how fast Hayasui was moving, this punch was not nearly as hard as it should have been. It was hard, sure, hard enough to force the wind out of her as she arched her back forwards, but it seemed like she should be off her feet from a punch like that. Maybe the tables had turned and Hayasui was going to take it easy on Rachel, but she had the sinking feeling that this was not the case, and it was only about to get worse from here.
Hayasui frowned internally at how Rachel had taken the bait, hook, line, and sinker. With seemingly no retaliatory strike incoming, Hayasui decided to try again, this time re-chambering the hand that had made the body shot and attempting an uppercut to the chin, taking advantage of Rachel's hunched-over posture. Again, the punch was considerably lighter than it could have been, hardly enough to knock someone off their feet, but considering Rachel's reaction to the light body blow, she wasn't entirely sure anymore.

_________________
My wrestlers:

Emily Blaskowicz

Hayasui Koridae

Sion Eltnam


---


Fur N Feathers

Emily McFlannigan(Changeling)
No. Not this shit again. If she was going to go down, she'd at least put up a fight, or something. From her hunched position, Rachel could see another punch coming, this time straight for her face, and while she wasn't fast enough to dodge it, she was stupid and stubborn enough to keep fighting after she took it. Just as the fist was about to reach her jaw, Rachel reached both arms out, grabbing Hayasui's shoulders to keep from falling back. For someone who could hit so hard, her skin felt as soft as it looked (when not approaching at problematic speeds), and for a moment Rachel almost lost sense of where she was. She gained it just in time to pull back, though, throwing her head forward with intent of colliding it with this girl's face.
To Hayasui's utter surprise, Rachel didn't even try to dodge this punch, instead grabbing onto the girl's shoulders and using Hayasui as an anchor to keep herself on her feet as outright tanked the uppercut.

Wait, you can do-

Rigorously trained reflexes kicked in just an instant too late, as Hayasui felt something comparable to a rather light brick colliding with her face, forcing her to stagger back a few steps, more out of surprise than actual pain. Shaking her head to clear the impact, Hayasui looked at her opponent, already re-evaluating her opinion of the girl.

"Street fighter," she noted with a grin, "Judging by your style, or lack thereof, and your decision to tank that hit instead of dodge."

Oh, this will be fun.

With the momentum of the fight disrupted as it was, Hayasui opted to stay where she was and let Rachel come to her this time, the better to further test her offensive capabilities.

_________________
My wrestlers:

Emily Blaskowicz

Hayasui Koridae

Sion Eltnam


---


Fur N Feathers

Emily McFlannigan(Changeling)
Page 1 of 7 • 1, 2, 3, 4, 5, 6, 7


---
Permissions in this forum:
You
cannot
reply to topics in this forum