Champions & #1 contenders
Looking for matches
Sat Jul 13, 2019 3:15 pm by anime_hentaifighter
Comments: 0
Looking for New Matches
Thu Jul 11, 2019 9:38 am by RadiantKarna332
So, I've been doing some postings here and there these last few days, but I haven't made any new match lately, so I've been thinking if there is anyone interested to have the threads with me. Feel free to PM me here or send me a message via discord, KarnaKarna
#1166
. Looking forward for anyone interested.
Comments: 1

Name
: Toshiro Hitsugaya
Age:
unknown (looks like a young boy but is quite old for the human standards)
Height:
4' 3"
Weight
: 75 lbs
Hair
: Icy white
Eyes:
Turquoise
Race:
Shinigami (god of death)
Powers:
Huge spiritual energy (reiatsu), partly taking the form of a sword, the "soul slayer". Toshiro's blade is called "Hyorinmaru". Though, such powers have been sealed during this training period he is spending in the mortal world so he cannot use his shinigami skills in a match, save for some low level "kidou" (magic based on spiritual powers), consisting in a few defensive or attacking spells.
Position:
Captain of Squad 10 within the parallel world called "Soul Society"
Alignement:
Face but hot-tempered
Fighting Style:
Though Toshiro's soul slayer is the most powerful ice-based sword in the whole Soul Society, he won't used it except to slash down Hollows, therefore he will just rely onon his martial arts background and his lessened "kidou" powers during a match.
Thanks to his lifelong combat trainings Toshiro is very fast and skilled in virtually every kind of martial arts, but his actual strenght is limited by the small size of his young body.
Kido based moves [Bakudou (way of binding) = defensive spells. Hadou (way of destruction) = attacks]:1) Bakudo # 8: Seki (repulse)
= creates a small shiled of energy at the back of the hand of the summoner, aimed at deflecting one single attack.
2) Hado # 1: Shou (thrust)
= adds thrusting power to a wrestling throw, tossing the target away with force.
Finisher: Byakurai palm strike -
Toshiro hits the opponent with an open palm strike, empowered by summoning "Hadou # 4: Byakurai" (pale lightning) = a lightning bolt made of spiritual energy.
Hentai finisher
: "A captain will never indulge in such lewd techniques !!!" >///<
Image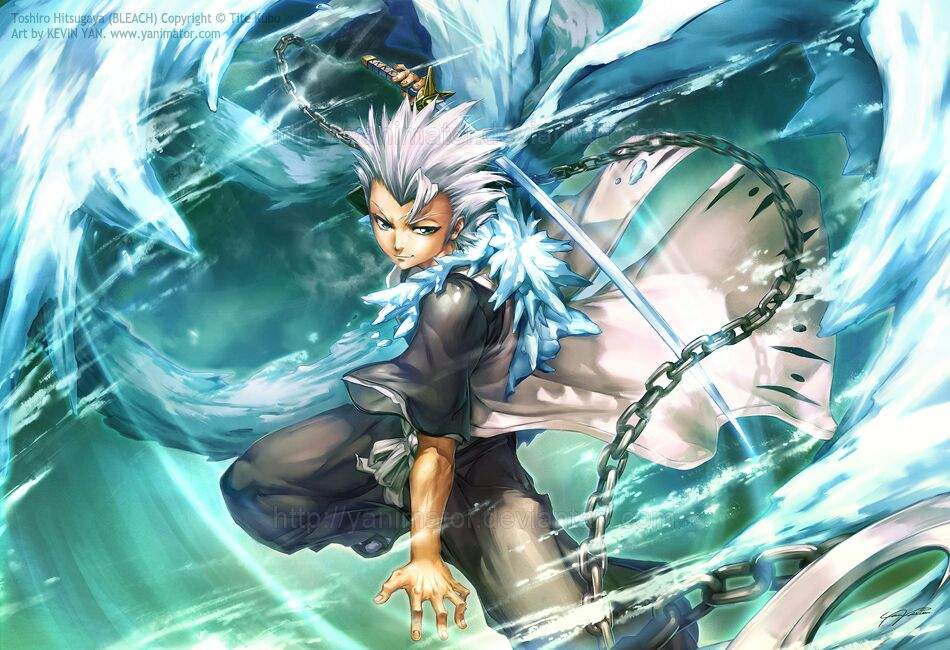 Story:
Toshiro might look like a young boy in his early puberty, but he's actually an adult person by all means, and a famous hero in a parallel world, called Soul Society, being the youngest captain among the 13 Squads created to protect that world.
Toshiro is not a mere human, but a "shinigami" (god of death), one of the guardian spirits charged to protect the real world balance of good and evil, and to guide the souls of humans to the next world after death.
People in Soul Society age very slowly, hence why Toshiro looks like a 12 years old little boy, while he is actually around 90 years old. That is still a very young age for shinigamis' standards.
After the latest tough conforntation against Shinigami's most powerful foes, the "Espadas", Toshiro decided that his small young body needed to be empowered, so he resolved to take a human body form, seal his Shinigami powers and subject his small body to intensive training: for that purpose, he'll search lonely places for his combat workouts, and ocasional strong opponents to test his improvements in endurance and physical strenght.
Personality:
Toshiro's face is often glowering and stern, which might look unwittingly funny on the face of a 12 years old brat-looking boy. He gets easily irritated when people make a joke of his height or treats him like child, acting like if people should recognise his authority even if he's in disguise.
Since even in Soul Society, Toshiro's tall and voluptuous lieutenant, Matsumoto Rangiku, dares teasing and embarassing him because of his young age at times, a secondary purpose of his training period on the Earth will be for Toshiro to learn how to stay cool in presence of taunting/seductive female opponents.
Attire:
As a Shinigami in disguise, Toshiro's appearance will be that of a young kid and his attire will be consequencial: school uniform or teenage clothings.
Being a Shinigami:
As a "god of death", Toshiro can't be killed by Earthlings. His human body can pass out and even apparently die but even in that case, the boy will wake up healed from any possible wounds within few hours. Should his spiritual body be in danger from some powerful magic, his full Shinigami powers would be unsealed for self-defense.



Posts

: 10329


Join date

: 2008-05-07





Similar topics
---
Permissions in this forum:
You
cannot
reply to topics in this forum