Who is online?
In total there are
33
users online :: 12 Registered, 0 Hidden and 21 Guests :: 2 Bots
acuya
,
GrandAkumaShogun
,
Harrier
,
killcarrion
,
KillerV
,
LunarWolf
,
Mystery Dragon
,
Old_Man_Tai
,
Person
,
RadiantKarna332
,
Teenwrestler
,
Yori
Most users ever online was
390
on Tue Jan 02, 2018 2:02 pm
Champions & #1 contenders
Looking for a match
Sun Feb 04, 2018 9:23 pm by GrandAkumaShogun
Hey there everyone I was looking for someone to take on my newest guy Imai. Get in touch if you're interested.
Comments: 5
Back after a long absence
Sun Feb 11, 2018 10:08 pm by Iron Soldier
First off, I apologize to my friends and roleplay partners who've been left hanging. Any desire to cancel old threads is completely understandable.
I've been struggling with a serious health issue the past several months. There was a long period where things would seem to improve only to relapse, delaying things further. All that aside, just wanted to let people know I'm around again and to contact me via PM or Trillian - ironsoldier, if anyone wants to get things going again.
[
Full reading
]
Comments: 9
Offline for next week or two
Tue Feb 13, 2018 11:17 pm by peek6
Comments: 0
Page 6 of 8 •

1, 2, 3, 4, 5, 6, 7, 8


Ace hadn't been expecting that, nearly being knocked out of her chair.

Blushing as she looked down, she tapped Blossom's shoulder.

"Umm...Bloss-uumm..."

Ace stammered, shivering a little as she felt Blossom's warm breath on her breast, reminding Haley that she was clad in nothing but her skimpy underwear.

"Do uh....Do you mind?"


Blossom - quite reluctantly - pulled back from the safety and sanctuary of Ace's breasts. She'd miss them, with their fleshy softness, but she had work to do and animatronic demons not to get killed by. "Sorry, sorry!"
She turned back to the screen just in time to hear the sound of pants and pots rustling.Something was getting close. Too close. Far, far too close.
"Okay, doors down."
Blossom slammed the doors shut on both sides, not taking any chances from here on out. If the doors were locked, she was safe, and she had enough power saved up to ride out the rest of the night. She just had to hand on, ignore the sound of an ominous laughing and footsteps, until....
"Phew!" Blossom slumped back against the chair, letting out a long, exasperated sigh. That just cut off a month of her life.
Ace honestly wouldn't have minded Blossom staying there for as long as she wanted, but preferred it be during a more...fun time, without the risk of robot bunny death.
"Night 2...Night 2!? This idiot went back for a second night!? Creepy Robots are around!"
She exclaimed, the phone in the office ringing a bit before going to message like before:
Uhh, Hello? Hello? Uh, well, if you're hearing this and you made it to day two, uh, congrats! I-I won't talk quite as long this time since Freddy and his friends tend to become more active as the week progresses. Uhh, it might be a good idea to peek at those cameras while I talk just to make sure everyone's in their proper place. You know...

Uh... Interestingly enough, Freddy himself doesn't come off stage very often. I heard he becomes a lot more active in the dark though, so, hey, I guess that's one more reason not to run out of power, right? I-I also want to emphasize the importance of using your door lights.

There are blind spots in your camera views, and those blind spots happen to be right outside of your doors. So if-if you can't find something, or someone, on your cameras, be sure to check the door lights. Uh, you might only have a few seconds to react... Uh, not that you would be in any danger, of course. I'm not implying that.

Also, check on the curtain in Pirate Cove from time to time. The character in there seems unique in that he becomes more active if the cameras remain off for long periods of time. I guess he doesn't like being watched. I don't know. Anyway, I'm sure you have everything under control! Uh, talk to you soon.
"More Active.....AND there's one in the cove!? Why isn't our guy running away!?"
"I have a theory."
Blossom had actually given Haley's particular question a lot of thoughts. Two whole minutes worth! And she'd come to some riveting conclusions while she'd waited for the clock to tick down.
"I think this game actually takes place in an alternate dystopian reality, after a major infrastructure crash. Technology is way advanced, see - that explains why a place like this can afford robots with advanced functions and AI. But all the other jobs in this reality are just so crummy that you don't have a choice. This job is dangerous, but the other jobs-"
Blossom was cut off when she checked Pirate Cove and saw...nothing. Nothing at all. Nobody there. "Wait." She blinked, canting her head tot the side. "Didn't he say that we-"
"Holy shit!" Blossom said her first curse in two years and nearly fell out of the chair, letting out a shriek that almost matched the one coming from the screen.
The game had been unsettling, like Blossom's theory, but moving the camera and seeing seeing something
running
down the hall towards them caused Ace to yelp.
"ChristonanObamamuffin!"
She exclaimed, before letting out a loud scream as the creepy fox popped up in the office, the wide eyed Canadian leaping out of her chair onto Blossom's lap, arms going around her head, shaking with fright as the screen went to static.
Whimpering, Ace looked back at the screen as the static went away, cutting to another screen.
"Wh...What the hell is that!?"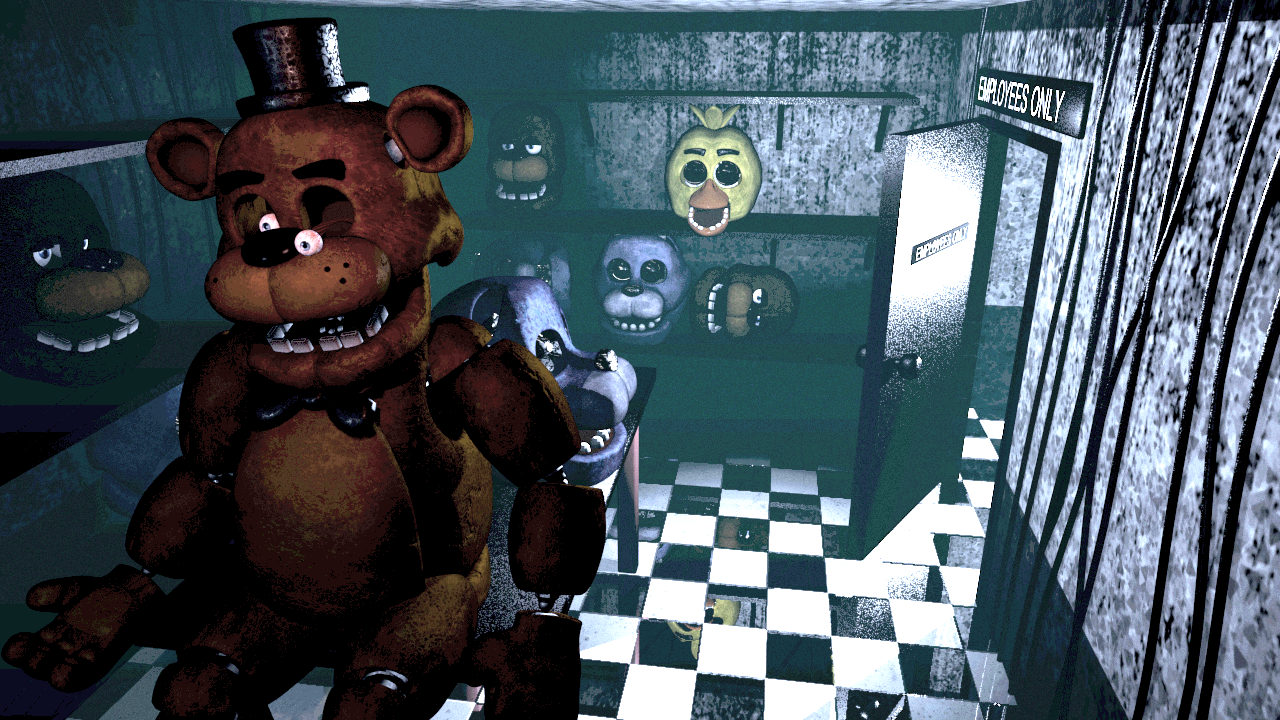 Is that....are those...EYES AND TEETH!? WHAT THE HELL DID THEY DO!?"
Blossom was, all the sudden, much cooler about being mauled to death by a fox robot that looked like it had been made by Satan himself. Having Haley in her lap helped with that immensely. Even when the screen presented her with a shot of her grisly fate.

"Well. That is genuinely disturbing." She gulped, and patted her lap, looking up at Haley with an impish smile. The poor girl looked frightened out of her wits, and Blossom was right there with her. But game rules were game rules. "Your turn!"
"My turn? Ohhh maaan..."

Haley groaned and slowly got out of Blossoms lap as the screen returned to the title screen, the silver haired girl shaking her head before taking the mouse and clicking "Continue" to try night 2 again.

"....it was comfy too..."

She muttered, taking a look at Blossom's lap.
Blossom followed Haley's gaze to her lap, seeing that it and her bottom were meant to be together. She scooted up a bit and swiveled the chair to the side, so she'd make a perfect, comfortable seat for Haley. See patted her thigh and leaned back, focusing on the screen while she gave up some room

"Okay, rule #1: keep your eye on the fox. Seriously." She shook her head and tapped the bottom of the screen. "Careful with the doors, too. Just use the camera until they get close."
Ace's smile could not be brighter as she made herself comfy on Blossoms lap, rubbing her backside against her thighs, the seating arrangement helping her be brave enough to face the computer again.
"Right, check camera's..."
She began scrolling through the camera's keeping a special eye on Foxy, getting the hang of things.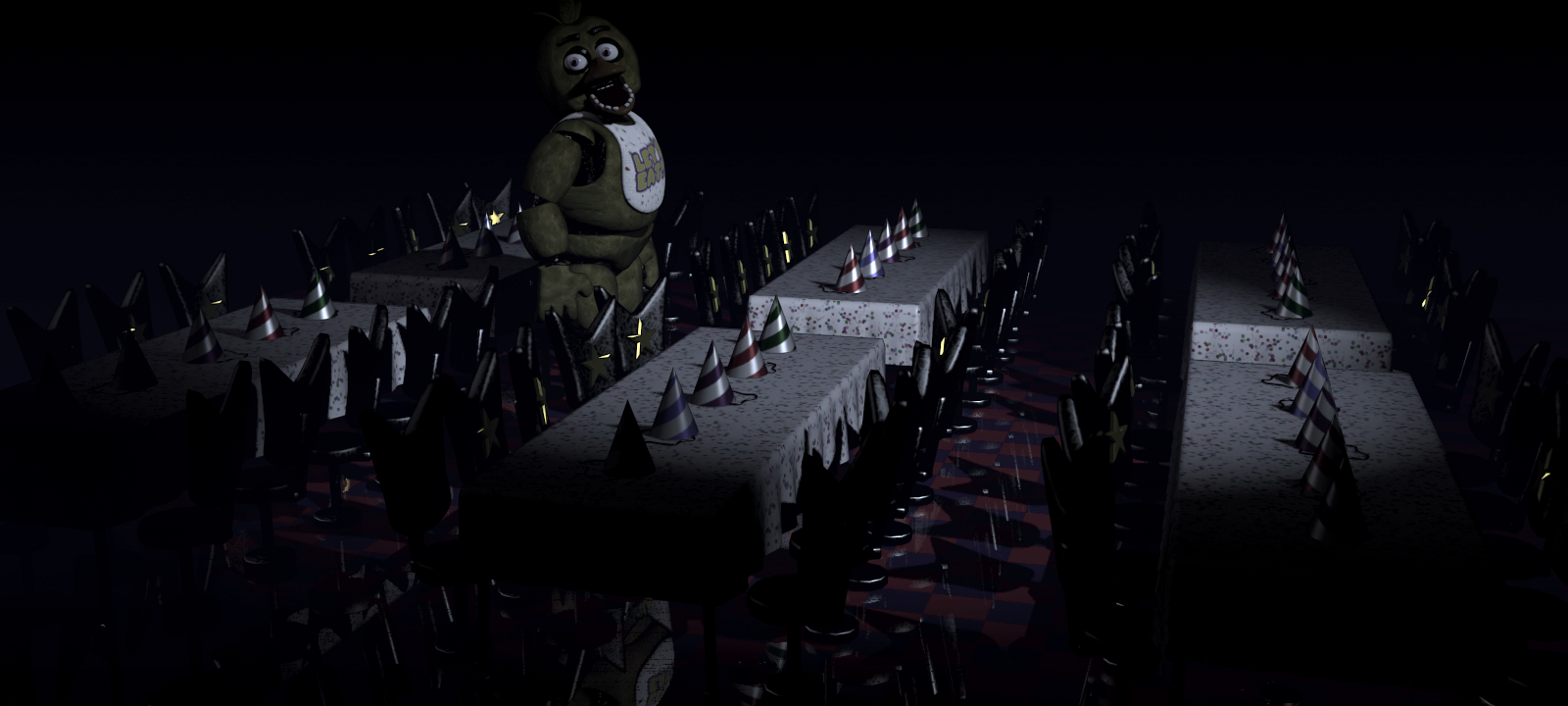 "God, that's just so damn creepy!"
Blossom wrapped her arm around Haley's body and kept her close, then laid her chin on her fellow security guard's shoulder. Haley was quite huggable. Not quite up to Death Bunny's level, but still pretty high. "No escape for you, you're locked in."

She focused on the screen as the previous watchman finished his talk. "Okay, let's focus on getting a strategy, here. There's got to be a pattern, right?"
Page 6 of 8 •

1, 2, 3, 4, 5, 6, 7, 8


---
Permissions in this forum:
You
cannot
reply to topics in this forum