Who is online?
In total there are
38
users online :: 4 Registered, 1 Hidden and 33 Guests :: 2 Bots
Harrier
,
LunarWolf
,
Person
,
Tarantulust
Most users ever online was
390
on Tue Jan 02, 2018 2:02 pm
Champions & #1 contenders
Posting delays
Sun Jun 24, 2018 12:14 pm by Harrier
Dear posting partners and people who are waiting for an reply from me by PM,
I am terribly sorry that you have to wait for my replies for so long.
Maybe the one or another from you knows the situation, you were flying high for some weeks posting wise and then you hit rock bottom again because of some RL BS and then you barely manage to churn out enough creative output for a meager 100 words post in a week and you ask yourself how you could have seriously overextend your supply lines so much. …
[
Full reading
]
Comments: 0
Kawaii Opportunities
Sun Jun 17, 2018 3:04 pm by Daaharu
Hey, guys!
With the kawaii title match at Avalanche taking on an interesting wrinkle with the interruption by the Brat Pack, we are moving forward with the overall kawaii storyline, and at this point I'd just like to take stock of what kawaiis are out there that are interested in participating in a cohesive storyline.
Can't make any promises about titles or what exactly each girl's given role would be. We can talk a little more about the specifics of where the story is going soon, but I …
[
Full reading
]
Comments: 3
Match for Takeichi
Tue Jun 12, 2018 6:13 am by GrandAkumaShogun
So with my other two guys having their own matches I figure I should do something with my first character on here, Takeichi Mori. If anyone is interested feel free to post here or get in touch through a pm so we can plan it out. I can either have Takeichi remain a jobber or begin to work him towards being a more serious competitor.
Comments: 1
Page 5 of 8 •

1, 2, 3, 4, 5, 6, 7, 8


Ace yelped as she was tossed onto the bed, but seeing Blossom enjoy the soft silk sheets and softer pillows, Ace rubbing herself on top of them.

"Yeah, its pretty cushy. Makes getting beaten up in the ring worth it....although..."

Haley brought her hand down, swatting Blossom's skirt covered butt.

"It feels better without the long clothes getting in the way..."

She said, giggling a little.
Blossom let out an impish squeak as her butt was given a spank, wiggling about on the bed a little before she broke into a giggle fit. Haley seemed to really, really want her bottomless, apparently not quite getting enough of it before. Blossom would have to be a good guest and oblige her.

"Fine, if that's what you really want." She sighed with mock-exasperation as she rolled over to her back and started to pull the skirt off again. "This game, though, what's it like? Haven't heard of any good horror games coming out recently. Kind of a dying breed, these days."
Ace couldn't help it, her guest was just so adorably hot!

Sitting up, she ran a hand through her hair as she spoke.

"Well, its an indy game....I heard its like a....micro-management thing. You have to watch all these camera's, and manage some kind of power supply and constantly look around to avoid being killed."

That actually sounded really, really boring, but Haley was being a good host - and a hot one - so Blossom was obliged to check it out. Couldn't be that bad, she'd played some pretty rancid horror games in her day. She still had a bad taste from that Alone in the Dark remake.

"Well, all right, then." Blossom neatly folded up her skirt and laid it to the side. "I'm ready to give it a try or two or three."
Ace nodded, getting of the bed and moving over to her computer, quickly pulling up the game, letting its flickering static intro screen with Freddie Fazbears face staring at her come onto the screen.

Getting up, she turned the lights off, heading back to the computer, motioning to the second chair beside her.

"You ready?"
Ah, lights out. Perfect. Blossom and Haley were so high up that that didn't have worry about many of the street lights below peeking in, making sure that the only real light was the screen before them. Very engrossing, Blossom was loving this already.
.
"Ah, he's cute!" Blossom chirped and tapped the screen. "It's like he's just hiding off to the side or something, like he's shy. You haven't played this before, right?"
New Game, Continue. Pretty simple. Was expecting at least an Options, but this already sounds like an atypical gmae.
"Cute...right...and nah, this is my first time."
Ace replied, wincing a little at the creepy title screen.
Clicking "New Game", the screen faded to black, before fading bac in on a new screen, showing what looked like some kind of control room.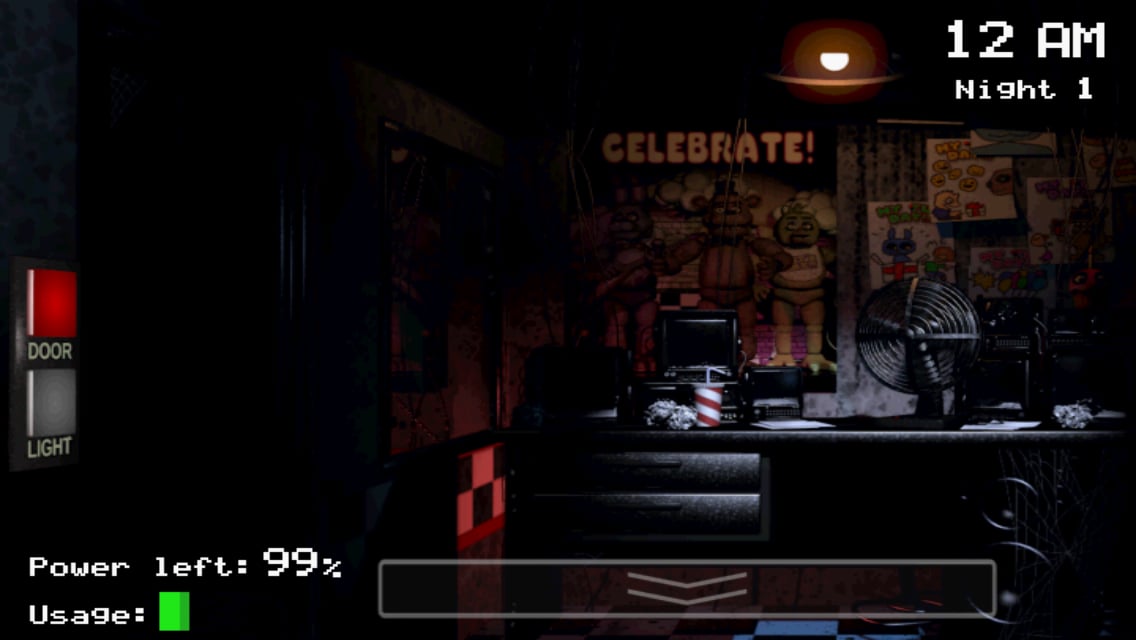 "Huh...that's...interesting."
Ace leaned in, moving the mouse around, the view point looking left and right between different doors, before a ringing was heard.
"Ok....phone...phone...Blossom, do you see a phone in her-Oh! Ok then."
She exclaimed, the issue of the phone sorting itself out as a message began playing.
Hello, hello? Uh, I wanted to record a message for you to help you get settled in on your first night. Um, I actually worked in that office before you. I'm finishing up my last week now, as a matter of fact. So, I know it can be a bit overwhelming, but I'm here to tell you there's nothing to worry about. Uh, you'll do fine. So, let's just focus on getting you through your first week. Okay?
Uh, let's see, first there's an introductory greeting from the company that I'm supposed to read. Uh, it's kind of a legal thing, you know. Um, "Welcome to Freddy Fazbear's Pizza. A magical place for kids and grown-ups alike, where fantasy and fun come to life. Fazbear Entertainment is not responsible for damage to property or person. Upon discovering that damage or death have occurred, a missing person report will be filed within 90 days, or as soon property and premises have been thoroughly cleaned and bleached, and the carpets have been replaced."

Blah blah blah, now that might sound bad, I know, but there's really nothing to worry about. Uh, the animatronic characters here do get a bit quirky at night, but do I blame them? No. If I were forced to sing those same stupid songs for twenty years and I never got a bath? I'd probably be a bit irritable at night too. So, remember, these characters hold a special place in the hearts of children and we need to show them a little respect, right? Okay.

So, just be aware, the characters do tend to wander a bit. Uh, they're left in some kind of free roaming mode at night. Uh...Something about their servos locking up if they get turned off for too long. Uh, they used to be allowed to walk around during the day too. But then there was The Bite of '87. Yeah. I-It's amazing that the human body can live without the frontal lobe, you know?

Uh, now concerning your safety, the only real risk to you as a night watchman here, if any, is the fact that these characters, uh, if they happen to see you after hours probably won't recognize you as a person. They'll p-most likely see you as a metal endoskeleton without its costume on. Now since that's against the rules here at Freddy Fazbear's Pizza, they'll probably try to...forcefully stuff you inside a Freddy Fazbear suit. Um, now, that wouldn't be so bad if the suits themselves weren't filled with crossbeams, wires, and animatronic devices especially around the facial area. So, you could imagine how having your head forcefully pressed inside one of those could cause a bit of discomfort...and death. Uh, the only parts of you that would likely see the light of day again would be your eyeballs and teeth when they pop out the front of the mask, heh.

Y-Yeah, they don't tell you these things when you sign up. But hey, first day should be a breeze. I'll chat with you tomorrow. Uh, check those cameras, and remember to close the doors only if absolutely necessary. Gotta conserve power. Alright, good night.
"....Da Fuck?"
Last edited by Old_Man_Tai on Tue Oct 21, 2014 6:46 pm; edited 1 time in total
"That guy talked for three hours!"
Blossom wasn't even sure what to make of it. She hadn't been paying much attention anything he said. Something about eyeballs and pizza and hearts and frontal lobes. Flavor stuff, nothing important.
What was important were the controls...or lack thereof. She couldn't move. Just look let and right and close the doors and turn on the lights. Clicked on the cup. Nothing happened. Clicked the fan. Nothing happened. Clicked the poster. It...honked?
"Sooooooo I guess we just stay alive? Because they're not doing much."
"Yeah...they aren't moving."
Ace replied, borrowing the mouse and clicking through the various camera screens.
"Hmm...backstage...kitchen, which is blacked out it seems...Pirates Cove...Dining Room...Hallway..."
Ace closed the camera, looking around the office area, clicking on the lights and closing and opening the doors before opening the camera again.
"Damn....looks like just using the camera uses up power...still, 3/4ths should be more than enough, looks like nothing's real-WOAH!"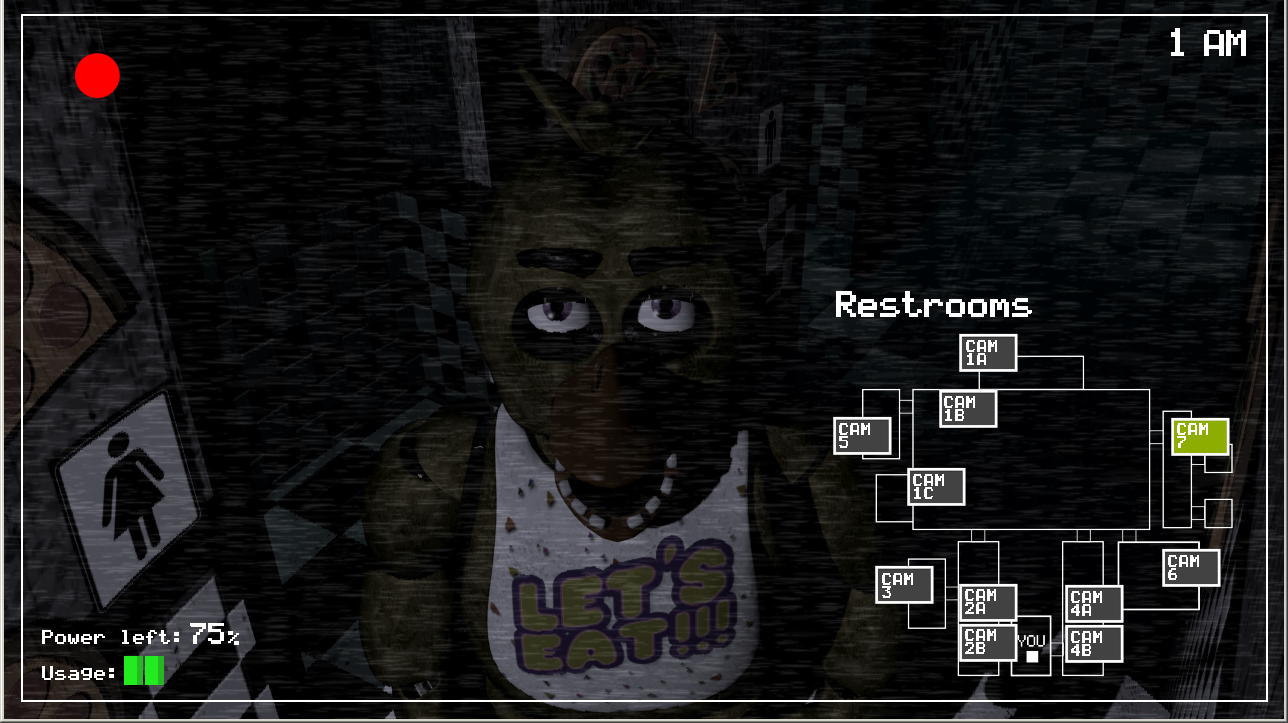 "...What....the hell?"
Ace looked at the screen, then at Blossom, and back to the screen.
"...That is creepy..."
Blossom let out a shrill shriek as the the duck's face just popped up on screen, coming out off, quite literally,
nowhere
. Haley was right. That was creepy. Disturbingly, amazingly, incredibly, pants-wettingly creep.
"Ew, he has teeth! Do ducks have teeth? I am, like, 99.9% percent sure ducks do not have teeth, and-"
"Hey, where'd the other one go?" What, they
both
came off? That was just unfair! They were still both pretty far away, but still. "Where'd the bunny go to. I like-"
"Bwah!" Blossom popped back and buried her face into Haley's breast. Out of fear. Yes. Just fear.
Page 5 of 8 •

1, 2, 3, 4, 5, 6, 7, 8


---
Permissions in this forum:
You
cannot
reply to topics in this forum