Who is online?
In total there are
31
users online :: 9 Registered, 0 Hidden and 22 Guests :: 2 Bots
acuya
,
CybeastGregarX
,
Liesmith
,
LunarWolf
,
Mystery Dragon
,
Nelv
,
RadiantKarna332
,
Vcom7418
,
xalex
Most users ever online was
155
on Sun Oct 09, 2016 8:33 am
Champions & #1 contenders
Looking for a Match: Yuki Onna
Thu Apr 27, 2017 7:22 pm by RadiantKarna332
Currently, I'm looking for a new match for my first character, Yuki Onna. I'm looking for a normal, standard match. If you are interested, feel free to PM me or add my Trillian, radiantkarna332.
Yuki Onna's profile:
http://www.afwrpg.com/t16514-yuki-onna
Comments: 0
Looking for a match for....
Thu Apr 27, 2017 6:16 am by dragonswill
Rebecca Watatsumi!!!!!
yeah im looking for Debut match for my tiny kawaii only requirement for me is the opponent has to be under 5'2"
or at 5'2" lol sorry but she is like tiny

,
Comments: 0
I'm Not Going To Be Here After Tomorrow
Wed Apr 26, 2017 10:13 pm by starvalentine
I am moving house on the 28th and won't have Internet for about a week. I am not honestly sure when I will be back, having a good connection is important, so whatever happens, I hope the people I regularly talk to and RP with will continue having fun amongst yourselves.
Comments: 8
Page 7 of 8 •

1, 2, 3, 4, 5, 6, 7, 8

"Right, pattern...lets see..."
Ace kept scrolling through the camera views, keeping an eye on the fox after every couple rooms, hoping to avoid that mistake, before noticing an absence after a few rooms.
"Huh....where'd the bunny go?"
She asked aloud, closing the camera and looking at either side of the office, clicking the light on the right side and sighing as she saw nothing, moving the cursor to the left-
"JEEESUS!"
and yelping as the bunny's face popped up in the window outside the left door, Ace quickly clicking both doors shut and leaning back against Blossom.
"Ok, doors stay closed!"
Blossom jumped along with Haley, making the chair scoot back and threatening to fall clear off. The bunny was just there all the sudden. Looking at them with his - or her - goofy smile and deep, bloodshot eyes. These weren't just quirky animatronics, oh no. There was malice here. Those metal shells contained pure evil.

"Well, we can't close both doors." She rubbed her head along Haley's shoulder, nuzzling her. "We have to keep an eye on..."

Pots. Pans. Rattling. She could hear it, coming down the hall. "What...what is that? What is the duck doing in the kitchen?"
"I have no idea....but I don't like it. Sounds like she's eating or something...that's just creepy as hell..."
Ace left the left door closed, scrolling through camera views again, checking on the fox, seeing him peeking through his curtain. Flashing back to the kitchen, she noticed something odd.
"It's...gone quiet..."
Closing the camera, Ace risked turning on the light on the right side of the office, to see the hallway
"NOPE! NOPE! NOPE! I AM NOPING SO HARD ON THAT!"
She yelled, clicking closed the right side, both doors now closed, leaving the girls safe for the moment.
Blossom sympathized with Haley. Oh, how did she sympathize. There the duck was, just looking at them with his wide open maw. His teeth. His anatomically incorrect teeth. Actually, Blossom wasn't even sure it was supposed to be a guy. Same thing for the bunny and the fox, too. Robots, obviously, so they didn't have a gender, but she was still curious what they were supposed to be. Did they even have names?

She bit her lip as she looked at the steadily draining power supply, squeezing Ace tight. "Um, so...what happens when it runs out, exactly?"
"I don't know, and I don't want to find out!"

Ace replied, watching the power drain bit by bit by bit

50....45....40..35....30....
15%...10%...5%...

The lights went out. The power shut down. The room was bathed in nothing but a low glow of moonlight, casting everything in long shadows. There was no sound. No laughing. No scream. Only the slow plod of heavy footsteps. Tap. Tap. Tap. Closer. Closer. Closer.

And then the music started.
The music, the creepy creepy music, began playing, Freddy's creepy face appearing in the doorway, only his face highlighted as he sang, Ace whimpering and leaning against Blossom, not touching the mouse, convinced they were dead again.
The song stopped, all went dark, Ace closed her eyes.
The came a sound, a sweet sweet chime, causing Ace to look at the screen and see their savior.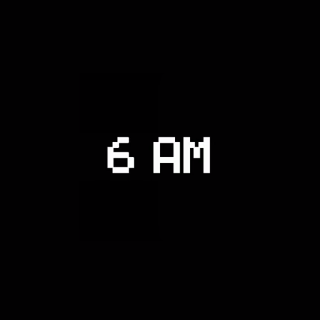 Eyes wide, Ace smiled, then started laughing, a relieved laugh that gave away just how freaked out she had been a few moments before.
"Holy crap! We did it!"
She yelled, so excited and relieved that she turned her head and planted her lips against Blossoms, deeply kissing the shorter girl!
Blossom's eyes screwed shut in raw fear, her breath was held captive in her lungs, her muscles bunched together for safety. She knew what was coming. Any second now, there would be this scream, this blood-curdling, ear-piercing, pants-wettingly terrifying shriek that would cut all the way to her very soul and leave a hollowed out husk in its wake. Any second. Any second. And...

Instead, all Blossom heard was Ace's laugh of joy, and she could have sworn she heard the Hallelujah chorus playing somewhere in the distance. "What?" She opened her eyes and saw the big, bold 6 AM dominating the screen. "We did? Wow, we-"

Blossom's words were caught up in Ace's mouth as she got pulled in for an intense kiss, but she wasn't complaining. She let out a little giggle and hugged Ace around the neck, keeping their faces pressed while she ran their lips together.
Ace broke the kiss a few moments later, blushing

"Heh...uh....sorry about that. I...got excited."

She said, looking surprisingly cute in the process.
Oh, that was just too adorable. Even for Blossom. Apparently, Haley had found a way to siphon her own cuteness away and use it to increase her seductive prowess.

"I did, too." She leaned forward and peppered Haley's neck with teasing kisses. "But I didn't say 'stoooop'." Blossom said the last word in a sing-song voice, letting the humming tickle her ear.
Page 7 of 8 •

1, 2, 3, 4, 5, 6, 7, 8

---
Permissions in this forum:
You
cannot
reply to topics in this forum