Champions & #1 contenders
Reduced Post Rate
Tue Jun 27, 2017 12:14 pm by RadiantKarna332
For those who are currently roleplaying with me in threads, you guys may have noticed my reduced post rate. I'm sorry for being so late to inform you guys about this, but due to some real-life businesses, I have no choice but to post infrequently compared to usual. I'm so sorry about that.
So, I will return to my normal schedule next week, so please don't worry about me not posting. Have a nice day.

Comments: 0
Active Kawaiis
Sat Jun 24, 2017 1:25 am by Daaharu
Hey, guys. I'm hoping to get a sense from everyone of where the active kawaii girls are at. No guarantees or anything, but I am looking to figure out who is out there consistently making matches because we are looking to inject some new blood into the kawaii title scene, and I don't want to have tunnel vision on just the players and characters I know.
So, if you've got a kawaii girl who's had at least one match and is currently active, can you let me know either here or via PM or IM? This …
[
Full reading
]
Comments: 6
Ending RPing
Sun Jun 25, 2017 7:04 am by KillerV
After I finishing up couple of threads, I am officially done RPing here. I apologize to you guys currently with me and even the future ones. But I am just tired of it, not going into too much details as it makes me feel like ranting so much, rather not.
But will still be here just to read n respond, as for Trillian, wont able to contact me soon, rather send PM here instead.
Good luck with everything.
Also, NOT gonna give King, rather not see people using him like
[
Full reading
]
Comments: 7
Page 7 of 8 •

1, 2, 3, 4, 5, 6, 7, 8

"Right, pattern...lets see..."
Ace kept scrolling through the camera views, keeping an eye on the fox after every couple rooms, hoping to avoid that mistake, before noticing an absence after a few rooms.
"Huh....where'd the bunny go?"
She asked aloud, closing the camera and looking at either side of the office, clicking the light on the right side and sighing as she saw nothing, moving the cursor to the left-
"JEEESUS!"
and yelping as the bunny's face popped up in the window outside the left door, Ace quickly clicking both doors shut and leaning back against Blossom.
"Ok, doors stay closed!"
Blossom jumped along with Haley, making the chair scoot back and threatening to fall clear off. The bunny was just there all the sudden. Looking at them with his - or her - goofy smile and deep, bloodshot eyes. These weren't just quirky animatronics, oh no. There was malice here. Those metal shells contained pure evil.

"Well, we can't close both doors." She rubbed her head along Haley's shoulder, nuzzling her. "We have to keep an eye on..."

Pots. Pans. Rattling. She could hear it, coming down the hall. "What...what is that? What is the duck doing in the kitchen?"
"I have no idea....but I don't like it. Sounds like she's eating or something...that's just creepy as hell..."
Ace left the left door closed, scrolling through camera views again, checking on the fox, seeing him peeking through his curtain. Flashing back to the kitchen, she noticed something odd.
"It's...gone quiet..."
Closing the camera, Ace risked turning on the light on the right side of the office, to see the hallway
"NOPE! NOPE! NOPE! I AM NOPING SO HARD ON THAT!"
She yelled, clicking closed the right side, both doors now closed, leaving the girls safe for the moment.
Blossom sympathized with Haley. Oh, how did she sympathize. There the duck was, just looking at them with his wide open maw. His teeth. His anatomically incorrect teeth. Actually, Blossom wasn't even sure it was supposed to be a guy. Same thing for the bunny and the fox, too. Robots, obviously, so they didn't have a gender, but she was still curious what they were supposed to be. Did they even have names?

She bit her lip as she looked at the steadily draining power supply, squeezing Ace tight. "Um, so...what happens when it runs out, exactly?"
"I don't know, and I don't want to find out!"

Ace replied, watching the power drain bit by bit by bit

50....45....40..35....30....
15%...10%...5%...

The lights went out. The power shut down. The room was bathed in nothing but a low glow of moonlight, casting everything in long shadows. There was no sound. No laughing. No scream. Only the slow plod of heavy footsteps. Tap. Tap. Tap. Closer. Closer. Closer.

And then the music started.
The music, the creepy creepy music, began playing, Freddy's creepy face appearing in the doorway, only his face highlighted as he sang, Ace whimpering and leaning against Blossom, not touching the mouse, convinced they were dead again.
The song stopped, all went dark, Ace closed her eyes.
The came a sound, a sweet sweet chime, causing Ace to look at the screen and see their savior.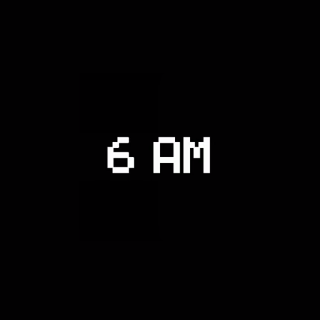 Eyes wide, Ace smiled, then started laughing, a relieved laugh that gave away just how freaked out she had been a few moments before.
"Holy crap! We did it!"
She yelled, so excited and relieved that she turned her head and planted her lips against Blossoms, deeply kissing the shorter girl!
Blossom's eyes screwed shut in raw fear, her breath was held captive in her lungs, her muscles bunched together for safety. She knew what was coming. Any second now, there would be this scream, this blood-curdling, ear-piercing, pants-wettingly terrifying shriek that would cut all the way to her very soul and leave a hollowed out husk in its wake. Any second. Any second. And...

Instead, all Blossom heard was Ace's laugh of joy, and she could have sworn she heard the Hallelujah chorus playing somewhere in the distance. "What?" She opened her eyes and saw the big, bold 6 AM dominating the screen. "We did? Wow, we-"

Blossom's words were caught up in Ace's mouth as she got pulled in for an intense kiss, but she wasn't complaining. She let out a little giggle and hugged Ace around the neck, keeping their faces pressed while she ran their lips together.
Ace broke the kiss a few moments later, blushing

"Heh...uh....sorry about that. I...got excited."

She said, looking surprisingly cute in the process.
Oh, that was just too adorable. Even for Blossom. Apparently, Haley had found a way to siphon her own cuteness away and use it to increase her seductive prowess.

"I did, too." She leaned forward and peppered Haley's neck with teasing kisses. "But I didn't say 'stoooop'." Blossom said the last word in a sing-song voice, letting the humming tickle her ear.
Page 7 of 8 •

1, 2, 3, 4, 5, 6, 7, 8

---
Permissions in this forum:
You
cannot
reply to topics in this forum