Who is online?
In total there are
29
users online :: 1 Registered, 0 Hidden and 28 Guests :: 1 Bot
Extremebrutalryona
Most users ever online was
418
on Tue Jul 30, 2019 9:51 am
Champions & #1 contenders
Watches wanted
Fri Sep 08, 2023 2:25 pm by Midori Hyuga
I have three characters who need matches
Wolfgang Bruan ( tension )
Sasuke Moto ( tension )
Fumiko Hyuga ( fraction )
If you are interested please private message me with a match idea and character you want me to use
Comments: 0
Back and ready for the fun!~
Fri Sep 01, 2023 3:45 pm by Leon564
Comments: 0
Debut match
Sat Aug 26, 2023 5:18 pm by Midori Hyuga
I am looking for midori hyuga's or my other three ( Alexis Jones, Roman Greco, Fumiko Hyuga ) debut match on fraction ( or tension for Roman ) pm me if you're interested, I'm up for any ideas for a match
Comments: 0
Page 3 of 3 •
1, 2, 3
Having managed to claim the top turnbuckle for all her intents and purposes she locked eyes on that michevious grin on their face. It seemed to be fates hand at work that just as she was poised to leap, Eiko would find her atop her new throne, ready to give it up for a chance to take back the reigns and gain some sort of control. She felt she had done just that as that smile turned into a nervous crack. The Egyptian would be lying if she said that she didn't feel anything about it. Seeing them nervous for what came next as she managed to catch her off guard was a little exhilarating. It wasn't until the punkette spoke that Eshe hesitated for a second.

The Tarantulas question hit different to the Egyptian. She couldn't decide if she was mad it happened or mad at herself for getting worked up. In the few matches she's had, no one had made her blush so hard or trip over her own thoughts. Eiko had a dangerous power and if she got ensnared in that web again, Eshe wasn't sure she could get out of it. She didn't respond, she honestly didn't know how to answer her, nor did she come up with anything. Of course, Eshe didn't hate her or anything like that but she was a bit confused on how to properly take what she was feeling. It felt different being the one to get teased or being hit on? Was she being hit on? She hadn't figured that one out just yet but she's working on it. Shaking her head, she clears her thoughts. The only thing her mind needed to do was focus on one thing: Splashing.

With a sonorous war cry, she'd leap off the top rope, stretching out her limbs to their limit. The Violet expected to come crashing down on top of the Tarantula to take her down a peg. She could come up with a plan once she had gotten that far, at least that was the hope. The sudden flinch caught her attention in that split second before her complete descent, but fate dealt her another bad hand. Eiko stepped up, ensnaring her top half in their fanged grasp. A gasp erupts from her lips as she feels her limbs captured, everything came crashing down in her head. Was she about to "eat it"?

In a cruel sense of irony, it was her opponent who could crash, stumbling back with her prey in hand just for Eshe to land softly across them in a lateral press. She'd make an attempt to pull away, checking herself to make sure this wasn't some kind of joke and she actually managed to survive without a scratch. Her tanned cheeks are patted for safe measure as she then checks her midscebtion before breathing a sigh of relief. If she could roll back, the Egyptian would take advantage of the slight bit of confusion created to slip behind Eiko and give her another dose of her strong legs. Her calves sliding to ensnare the Tarantula's neck in between her thighs and squeeze in a headscissor granted she escaped her captor.
_________________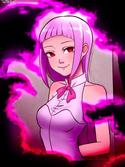 LilyStar




Posts

: 933


Join date

: 2018-02-27


Age

: 27


Location

: Your heart



For someone who went by the nickname "Titular Tarantula", it seemed that Eiko Bando had become all feet! Eshe's body weight wasn't too much to handle on its own, but paired with the Egyptians momentum and the shock she gave Eiko by recovering so quickly was exactly what was needed to topple the purple punk right over! With a thunderous crash, the two collapsed into a rather comical heap. WIth Eiko's arms busy holding onto Eshe, there was nothing to break her rough fall as the back of her head bounced off the canvas like a ball off the pavement.

"OW! Ow ow owie owie ow!"

Eiko couldn't help but suck in air through clenched teeth! The bump on the head really hurt! How could someone so sweet be such a troublesome opponent?

It took the purple punk a solid minute before she realized that her grip on her crafty foe had faltered a few seconds ago! The pain had distracted her again, and once again the Tarantula would find herself being tangled in webs that were not her own! Eiko didn't even get chance to say anything before Eshe had her long, athletic legs cinched around her neck!

"Ack! S…So soft~"

Eiko's hands gripped her opponents crushing thighs, her mischievous nature still bubbling up to the surface even in such a bad situation. At first, it seemed like Eiko was simply squeezing Eshe's thighs…but, it soon became clear that Eiko was also trying to pry them off of her, the Tarantula using her legs for leverage as she tried her best to pull herself out of the fire!

Tarantulust




Posts

: 1775


Join date

: 2018-04-18



Her athletic tan legs snake around that pale neck and tense, locking up her legs while applying pressure with her quads to drain the tarantula in her settled headscissor. Her heart was racing thankful she managed to do that much without much resistance from her single and quirky rival. No matter how hard she tried, Eiko was just an enigma to Eshe, still that didn't mean she was out of this yet and far from it.

"E-Eiko! You can't say that… gosh you're making this so difficult." She whines as she momentarily hesitated to squeeze again after that infectious energy tried to take hold of her again.

With another flex of her legs she was promptly laid out on her back as Eiko pushed up on her own feet. She felt their tendrils gripping her bare thighs, another flash of blush coats her cheeks but it becomes more evident she's not toying with her but trying to break free. She had to give it to them, despite being in her iron trap she was resisting and her hold was coming undone.

The Egyptian flex's her legs again, straining her calves as she manages to slip her right boot under her left to add a lock to her headscissor. Even if she wanted to keep this hold it wouldn't be possible. Her legs were beginning to burn with the exertion and keeping this position wouldn't do her any good. Eshe had to relent otherwise she'd be in to deep.

Without much of a warning, her legs would go limp and uncoil. The violet would make a bid to slip away and rip her legs out of the Titular Tarantula's grip in hopes to form another plan to take them down. In those short moments she'd make sure to put some distance between herself and Eiko. She couldn't let her guard for a second otherwise, the Tarantula would definitely sink her fangs in again, rendering her helpless.

"You're really going to make me work for it, huh?" She'd offer a giggle, knowing full wel the answer.
_________________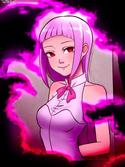 LilyStar




Posts

: 933


Join date

: 2018-02-27


Age

: 27


Location

: Your heart



Despite the fairly intense nature of the match, there was a playful air between Eiko and Eshe. It was in all honesty tough to discern whether they were flirting with one another, playing, or a little of both. While they were sharing banter with one another, neither seemed to lose focus on the fight at hand which ultimately made for a thrilling if somewhat comical clash of wills. Eiko had power, and a personality to match while Eshe seemed to keep the crowd invested with her beauty and grace! Each fighter had their fans, but it was still anyone's fight as the purple punk looked to free herself from Eshe's suffocatingly soft submission!

Eiko continued to pry at the Egyptian woman's steely legs. It was clear that she was having some trouble, but every second that passed Eiko seemed to be making progress. Eventually, Eshe used the opportunity to break the hold of her own free will and roll away to try to escape. Usually, the Tarantula never let her prey slip away, but Eshe's headscissors and her earlier head trauma had made the arachnid a bit airheaded. When Eshe ripped her legs away from Eiko, the purple punk actually stumbled forward a step, then two. Her eyes peered down at her now empty hands as Eshe giggled that Eiko was really making her work for her victory. Eiko didn't respond immediately, looking as though she was deep in thought before peering at Eshe from where she stood waiting. Another grin slipped across Eiko's face as a small stream of red blood rolled from one of her nostrils.

"Now she's so sexy~!"

Eiko quickly wiped the excited blood from her face before moving in quickly! Hoping to ambush the Egyptian with a blitz attack and lock her up into a grapple! This was a gamble, Eiko well aware of how tricky (cute) and quick Eshe could be. Right now, Eiko had to limit Eshe's movements as best she could if she was going to win. And cutting any reaction time out seemed like a good move.

Eiko's arms were once again ready to grapple, looking to snatch Eshe like a predator pouncing its prey! If Eiko succeeded, then she would hope to whip Eshe towards the nearest corner to help entangle her further!

Tarantulust




Posts

: 1775


Join date

: 2018-04-18



Eshe tucked in her legs to fall back with a strategic retreat, rolling like a ball, she'd roll once then twice before she outstretched her legs to plant her feet and palms to the mat. She was definitely surprised she managed to get away, when she looked up, the Egyptian could clearly see why. Eiko stumbled like a drunk, with Eshe's legs practically ripped from their strong grip, she could understand a bit of their confusion. That and perhaps a bit of head trauma courtesy of the violet.

For a moment, Eiko didn't respond as quickly as she had been. Eshe stepped closer, a bit concerned she may have hit their head a bit harder then she realized. That familiar grin taking hold of their face once again reassured Eshe that her concerns were misplaced but then, a faint gleam of crimson caught her attention. A trail of blood drops down their nostril, before the Egyptian could get a word in, Eiko finally spoke. During her match with Arjuna, Eshe could admit she was being a bit more on the lewd side of things, her libido kicking into overdrive through some intense chemical reaction she could only try to explain. But here? She was a blushing mess, her tanned cheeks covered in a Cherry hue once again as the tarantula worked her spell over the violet. Those words ring out in her head, over and over in those split second before the worse would come.

"W-wait, hold on! Are you talking about me!?"

The Egyptian was just dumbfounded, trying to come up with some explanation to understand her situation. But only one question came to mind: Was Eiko calling her.. sexy? Maybe that was a dumb question but it kept her guessing, should she reciprocate? Should she play hard to get? The more she thought about it the less focus she had on the punk now ready for another confrontation.

Reality didn't snap to until it was far too late. The pounding of boots stampeding across the canvas brought her back to the real world from her thoughts, her eyes widen with surprise as Eiko rushed her. She'd put her hands up defensively but her guard was weak, fragile at best, giving Eiko the oppurtunity she so desired.

The violet can't bring herself to overpower the Tarantula as their fangs sink in, gripping her tightly in a rather steel like vice. Suddenly she feels a sharp tug and the pull from an Irish whip, sending her barreling towards the corner post. [color=#6633ff]"Gghhk!"[/colo] A pained cry escapes her lips as her back meets the padded post. She'd slump against the corner, panting as pain began to take over. A pain she could endure but now she was on the defensive again. With how easy it was for Eiko to get a three count, she could only imagine her troubles if the punk decided to make another attempt.
_________________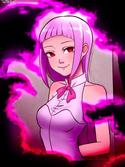 LilyStar




Posts

: 933


Join date

: 2018-02-27


Age

: 27


Location

: Your heart



Page 3 of 3 •
1, 2, 3
Similar topics
---
Permissions in this forum:
You
cannot
reply to topics in this forum