Who is online?
In total there are
28
users online :: 2 Registered, 0 Hidden and 26 Guests :: 2 Bots
Leon564
,
SimplyMoon
Most users ever online was
418
on Tue Jul 30, 2019 3:51 am
Champions & #1 contenders
Melanie needs a Debut♡
Tue Mar 21, 2023 5:29 am by Leon564
Comments: 0
Match search
Tue Mar 21, 2023 12:20 am by GrandAkumaShogun
Looking for a match for any of my three guys. If interested feel free to get in touch and we discuss ideas for a match and either plan out who will win or wing it. If you want info on each the links are below.
Takeichi Mori
Takeshi Kawai
Imai Cosmo
Comments: 0
Friction ( toys ) match wanted
Fri Mar 17, 2023 6:45 pm by Coolgirl1999
Yep! That's right I want my first match to be a toys match! I'm wondering if there's any woman brave enough to take me on!!!
Comments: 0
Page 2 of 3 •
1, 2, 3
The Egyptian could feel a competitive spirit burn from her center. All her opponents had brought something to the table. Giving her their all meant everything to her but normally she tested the waters first, allowed herself to get a feel of their rhythm before giving them every ounce of her power. Eiko managed to drag it out with that contagious personality of hers. Eshe was drawn to fight with everything she had from the get go. Nothing she told herself now could stop her from pushing that momentum to its upmost limit and she liked every second of those thoughts.

The violet may have been to wager in the uptake. She initially thought that Siko would meet her for another lock up for another throw down but instead the pink pulled a surprising flexible maneuver, one her violets didn't pick up on until it was to late. The punkettes arms entrapped around her waist, for a moment, Eshe could feel her body jolt inward as the tarantula sunk in her fangs. Her next moments were filled with anguish as she felt they flex their strength squeezing her tightly in an unruly embrace.

Her palms press against their shoulders as  her body bends again, her legs dangling as she's suspended off the mat. A groan escapes her lips as air is forced from her lungs. Her mind draws a blank as she panics, she can't focus, her legs now flailing as she makes a bid for an escape. Her violets frantically looking for a way out .

It hit her like a ton of bricks, an idea to save herself instantly popped in her mind as she took a second to observe her situation. The sudden modified bear hug surely freaked her out in the beginning but now she had a plan. Enacting it wouldn't be easy, she could sense that Eiko wouldn't just set this up without a way to protect herself but it was just that, that Eshe felt she had a chance. Her left hand would grab hold the best it could, onto Eikos head. She had silky like hair, it was nice to the touch she'd have to a- no, she couldn't lose focus. Her right locks in on itself, exposing her elbow. If she was quick to the punch, the Egyptian would drive her elbow hard into the side of Eikos skull. Her desired outcome was to knock their brain a bit but what she really wanted was to breathe.
_________________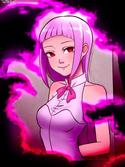 LilyStar




Posts

: 894


Join date

: 2018-02-26


Age

: 27


Location

: Your heart



Eiko didn't like to brag, but she could be rather flexible when the times called for it! Sure she preferred to use her strength to simply bully her opponents around most of the time, but that hardly meant that was the only weapon in her repertoire. Besides, Eshe was still a genuine threat with those submission holds of hers and...well, Eiko hated to admit it. She really hated the thought that lingered in her head, but she really couldn't deny it anymore. Eshe looked like an adorable stuffed plush! The Titular tarantula knew she should take her more seriously, but even enduring what could have been a match ending submission the beautiful egyptian still was as adorable as ever! Perhaps that was why Eiko moved in with a modified bear hug, looking to get some pent up energy out with a deep squeeze!

Eshe was surprisingly light! Maybe it was her athleticism or something, but hoisting her off the floor was hardly a challenge. It didn't help Eiko's idea of her being a soft plush toy, which might have benefited the Purple Punk in the end. It encouraged her to squeeze down on her opponent's back, causing Eshe to squirm about in adorable panic! Eiko didn't bother holding back, having too much fun snuggling up to her adorable opponent with her vice-like grip! All Eshe could do was thrash her legs about as Eiko continued to crank down on her spine!

"Hee hee~ So warm! Your metabolism must be going into over dri-OW!"

Eiko would be interrupted when she suddenly felt an acute blow bounce off the top of her scalp! Immediately, Eiko's focus was shifted towards her scalp, her subconscious desire to protect her head making her loosen her grip as her arms instinctively tried to protect her skull. Her pearly white smile turned into a pained grimace as her bear hug devolved into just a normal hug! Finally, the pain was just a bit too much for the Tarantula to keep her grip! Eiko would finally let Eshe go with a rough shove, looking to soothe the burning goose egg one top of her head!

"Gah! So unfair! I could never hit you in your cute headband!"

Tarantulust




Posts

: 1696


Join date

: 2018-04-17



Eshe couldn't tell what was going on in the Tarantula's head. The bear hug was brutal enough as it was but out of nowhere she felt a more intense pain as they squeezed harder. She figured they add a little pressure but this was a little to much for her to withstand. Her back began to cry out in pain as she struggled and squirmed in their grip, her palms pressed against their shoulders, as if she tried to push them back. Her face went scarlet as they claimed her to be warm, it made her heart skip a beat as she dug her elbow into the dome of their skull. She wasn't sure how she was supposed to react to the compliment but her dark tanned cheeks didn't hide her surprise and hints of embarrassment.

"Y-you can't just say that out of nowhere, Eiko!" The Egyptian softly whines. Her mind was swirling, she wasn't sure what to do next but her elbow strike did give her the freedom she desired.

The bear hug deteriorated into a simple hug, even then, Eshe's body instinctively wrapped her arms around them as the Tarantula set her feet back down onto the canvas and putting some distance between them with a light shove. She was taken by surprise, not only by the shove but the fact she hugged them back like it was nothing. Eshe was having a hard time thinking about her next move. Eiko rubbed their head from her strike making a complaint of her own, she supposed, they had a point but in the heat of the moment, she was desperate.

"Oh, Um, sorry. I didn't expect you to bear hug me like an actual bear, my spine nearly snapped in half." She explains, rubbing her own back to soothe the aching pain in her back. She shook her head slightly to clear her mind and the air about of her of that small exchange. Her heart continued to beat, was this adrenaline? Was she still embarrassed? Eshe couldn't answer but she did know one thing. She had to take this opportunity now. Pushing through her own pain, the Egyptian pounces on her prey, like a cat playing with her spidery friend, she attempts to maneuver the slightly taller woman under her arm, using the her sudden burst of momentum, she tosses their arm of her neck and grabs as much of their bottoms as she can before pumping her knees with a mighty heave to hopeful lift her opppinent up for a vertical suplex.

"Time for a little payback, Eiko." She declares. If her attempt proved successful, she'd waste no time in kicking out her leg to slam the Tarantulas back onto the mat.
_________________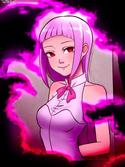 LilyStar




Posts

: 894


Join date

: 2018-02-26


Age

: 27


Location

: Your heart



As cute as Eshe was, the Egyptian knew how to deliver a serious elbow! The burning sensation running through Eiko's scalp was starting to subside thanks to Eiko's self care but that didn't mean she was out of the woods yet. Eiko wasn't totally aware of what she had said to her opponent, the shot to the cranium knocking her head around to the point the past few seconds were a bit foggy. When the Titular Tarantula looked up from her injury, she found a rather red faced Egyptian beauty staring back at her. Was Eshe mad at her? Embarrassed maybe? What did Eiko do?
Lets see...I put her in a bear hug, then I squeezed her…oh!
Suddenly Eshe's red face seemed a bit more understandable. Perhaps Eiko had gone a bit too far in teasing the athletic beauty, but in her defense Eshe was too cute to handle! Eiko's teasing was her way of letting off steam and playing with others, and truth be told Eshe's reddening face only made that mischievous smile curl back on the Tarantula's lips! Eiko had learned something rather valuable in this match. It seemed that Eshe was a rather shy, or at the very least, held back type of woman. The Purple Punk knew she could probably work with that to help her get some leverage on a win! After all, Eiko was practically the face of promiscuous confidence! Getting Eshe to flounder a bit might not be so hard!
"A bear? I was just giving ou my
full throttle!
After all we did agree that neither of us were going to hold back! But that's alright, I'll let you make it up to me by making you sign one of your posters…After I win, of course~"
Just as Eiko was about to move in and bully Eshe some more, the alluring athlete would actually beat Eiko to it! In a rather stunning display of speed, Eshe was upon Eiko in seconds! An arm snaked around Eiko's neck the same time a hand snatched at her bottoms! Eiko could only let out a sudden and confused
"Eh?!?"
as the woman she had hugged so brutally was suddenly lifting her up off the floor and into the air! The world was suddenly flipped upside down. The crowds smiling faces turned into frowns in this opposite world where gravity didn't work. Being in this business as long as she had, Eiko recognized the move as a Vertical Suplex. Thing was, Eshe was just as professional as Eiko was. Because rather than holding the Tarantula longer than she needed to, the Egyptian would simply drop Eiko almost as soon as she picked her up!
WHAM!!!
The results were instantaneous! The ring shook like an earthquake as Eiko practically bounced off the floor! Her revealing outfit did little to protect herself from the fall. A small squeal slipped from her lips before the Tarantula finally rested on the floor. Eiko had a new pain she needed to dispel, distracting her from the fact that Her and Eshe had become nearly cheek to cheek thanks to the suplex! However, that was sure to be used as teasing fodder in the future as Eiko tried to gather about her wits!

Tarantulust




Posts

: 1696


Join date

: 2018-04-17



The Egyptian was confident in her appeal, rocking it in her own accord seemed to come naturally to her but it never compared to compliments or teasing. Eshe was a sucker for it, she was easily flustered by them and it made it hard to write it off as a joke or just someone playing with her. She often thought she was just embarrassed but the more she thought about it the more she could say that more often it came to just being easily flustered by their sweet words or more presumptuous teases that she honestly couldn't handle. She supposed this time, Eshe felt caught off guard or perhaps it was a mix of both.

Looking at the way the Tarantula's gaze eyed her she felt something odd. The miscevious grin that followed, it felt more then just a competitor aiming to conquer. Eshe again felt like they looked at her like kind of new toy, something to play with, a thought she couldn't exactly shake away, not after that exchange in their last embrace. Right the embrace that almost broke her back. Eiko offered an explanation that sort of stung the Egyptian a bit. The bear hug was only that intense because she asked for it, she guessed that one was on her but if the Taratula was seriously that strong, this was going to be a lot tougher then she initially realized and that was saying something. After her bout with Sara, she had to be much more careful but how could she with such an eager opponent like Eiko?

"Oh, right…I did say that. That's on me then, sorry for being so rude Eiko." Hold on did she hear that right? "A poster? Wait a second, I have posters?" Maybe it was a joke but if she was legit then when did this happen? "No! Don't let her siderail you" she thought.

Eshe followed her own advice and immediately pounced on the slightly taller woman with a bit of finesse. She had to be glad for her sudden charge, Eiko was about to be on the live and she knew better then to let up now after that show of strength. She'd throw their arm over her own neck before snaking her ebony toned arm over theirs. She grabbed what she could of their bottoms and with a hefty bounce from the mat, she'd deadlift the Tarantula up in the air for a vertical suplex. This was payback after all and she didn't have the luxury to show off either. Kicking out her leg, the pair fell backward, carried by the pairs combined weight to come crashing down onto the canvas.

A boom thundered as the ring shook, Eiko bounced from the impact releasing a small, cute squeal from her lips as a result. It was so adorable, especially coming from such a tough foe but there was no sense in judging a book by its cover. Speaking of cover, while Eiko attempted to gain her wits, Eshe would roll over to place her center over top of the Tarantula. She leaned over to hook their leg up, her arm caught into the crook of their knee. It was early, too early for a pin attempt but she felt she needed to be a little domineering here, just to prove to Eiko if not herself.
_________________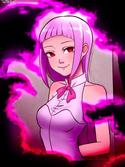 LilyStar




Posts

: 894


Join date

: 2018-02-26


Age

: 27


Location

: Your heart



One thing Eiko could never seem to get used to in all her years in the ring was just how bright the overhead lights were. They were strong enough to illuminate the entire stadium despite only being centered around the ring, and the heat they gave off on the fighters below often made it so unbearable to wear anything like a full suit or mask. Eiko heard stories that was the reason why most people wore makeup rather than fancy masks or decorative suits nowadays. The lights overhead would make the suit feel like you were trapped in a sauna! Eikon couldn't relate to any of that, but the lights that shined in her face felt as bright as the sun. It was a displeasure she only ever got when taken down to the floor, which didn't happen very often. But it was a situation she had come to experience multiple times, and even now she found that those lights were just as annoyingly bright as they were the first time she stepped foot into a ring.
The vertical suplex had done a great job in knocking the Tarantula for a loop! The pain running up and down her lower back really stung more than Eiko expected it would, and the impact jostled any air she had from her lungs. Honestly, it was a bit more than she had expected from Eshe. Eiko never once thought that the Egyptian athlete was a slouch, but the quick ease she seemed to exude when hoisting the purple punk off the floor was frankly impressive. It was like there were two sides to Eshe: Adorable idol of an athlete with some serious talent, and badass wrestler that could get serious when the need calls for it. And quite frankly, Eiko enjoyed them both! The tarantula got to tease her AND roughhouse with her! Cute and cool, it was a match made in heaven!
It was only when Eshe hopped on top of Eiko and hooked her leg for a pin that Eiko actually realized she was day dreaming. The tanned beauty hovered over the tarantula as the referee girl dropped down to check Eiko's shoulders. Eshe's form managed to cut away half of the overhead lights from Eiko's view, replacing it with her own determined expression. There was still just the slightest tint of red on the Egyptian's cheeks, but it seemed like she was trying to get serious! It was too bad Eiko clearly didn't have the same intention!
"You're still blushing, Eshe! You aren't thinking lewdly with my leg in your hand, are you~?"
The referee's hand came down...
"One!"

"Two!"
The three count never came though, Eiko lifting her shoulder off the mat and bringing her face dangerously close to Eshe's own stoic expression. With the pin suddenly broken, Eiko's hands would try to seize her opponent, looking to push Eshe off with a cheerful
"Hup!"
The action would be similar to lifting a heavy weight, with one of Eiko's hands moving to Eshe's chest, the other her stomach. If the punk managed to toss Eshe off, she'd quickly kip up to her feet and turn towards Eshe.
"Now I'll show ya how
I
start a pin~"
With that not so vague warning out of the way, Eiko would fall back down right after getting up. Only instead of simply tumbling, she looked to descend on top of Eshe as though Eiko was a teenager jumping into bed! A very short splash, but one that would probably be rough on the Egyptian athlete should she take it full on!

Tarantulust




Posts

: 1696


Join date

: 2018-04-17



[i]Bam![i]

The sound of her prey hitting the mat after what she could consider perhaps a well executed Vertical Suplex. The Egyptian breathed out with the confirmation of pain with the sound of air escaping Eiko's lungs. The Tarantual was dangerous, in a way that she could sense was very different from her other encounters. It was like she swayed between fun and torturous ruffian, not that it was a bad thing, if anything it added a perspective Eshe wasn't exactly used to with her matches. Still, that wouldn't save her from getting beat by the Violet who had every intention of earning the win. It was comforting though to have the advantage after being handled like a rag doll. It was pressing it that really mattered. In an instant her mind objected to following up with anything to keep the energetic woman down, no instead she choose to make a statement.

As she crawled over the Punkette, hooking up their pale leg, Eshe had to wonder what could a woman like her possibly be thinking. She could assume it was strategies or analyzing her every move but that didn't seem to be just the right mark. No, she knew what that looked like, it had to be something else. As she clutched their leg tightly, her expression hardened, carrying a serious visage, the Egyptian aimed to make them realize even through her faint blush, that she could handle them. It wasn't until Eiko piped in that she felt herself losing her tact, her mettle.

"You aren't thinking lewdly with my leg in your hand, are you~?" those words dang in her head as her cheeks grew even darker. Eshe couldn't think of the right words to say. Her grip loosened as she stumbled over her own thoughts. No, of course she wasn't… right? This wasn't like her match with Arjuna, this was different.. she was different. The Violet couldn't exactly protest, she considered in her subconscious that maybe Eiko was right about her, but she didn't want to believe that. "I-I am not!" Her words stammer out, finally able to protest their claim even if it lacked conviction. "Are you sure you're not thinking like that with me holding your leg?" Eshe fired back. Not much of a retort so much as her grasping at straws. She suspects Eiko is messing her, is that their strategy?

Just as the first and second count passed, Eshe was sure she could at least get to three, better to get a third of the count instead of nothing, she supposed. Eiko had other plans, she threw up her shoulder, coming dangerously close towards her. She couldn't move as Eiko stared at her with those prying eyes. It wasn't until she felt their hands along her frame that she realized what came next: the pop off. With one hand at her stomach the other pressed at her chest, sending her backwards.the Egyptian was completely dumbfounded, confused as to what was really going on here: was this friendly competition of was Eiko playing at something? She wish she knew but the Violet also wished she kept her focus.

The tarantulas words slipped right past her, it wasn't until she dropped down that her gaze fixated on the oubliette but it was to late. The short splash caught her, Eshe took it full on and dipped into the canvas with the impact. She didn't expect that kind of power with hardly any buildup, this was her mistake, the only thing she could do now while she tried to breathe, was figure a way to take back the lead.
_________________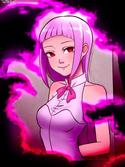 LilyStar




Posts

: 894


Join date

: 2018-02-26


Age

: 27


Location

: Your heart



"I-I'm not!

"Are you sure you're not thinking like that with me holding your leg?"
Lord, what an adorably weak comeback! One that Eiko couldn't really respond to vocally, rather simply sticking out her tongue in a teasing manner. Neither a confirmation or denial of Eshe's cute accusation of the thoughts running through the Purple Punk's head. Still, the arachnids' teasing was poisoning the athletes' all too pure mind much like the venom from her favorite creature's fangs! Eshe was distracted trying to discern Eiko's mischievous nature when Eiko threw up her shoulder and purposefully came close enough to steal a kiss if she wanted. Maybe that's what Eshe was expecting as those cute amethyst eyes stared into Eiko's with a stunned surprise look! But, rather than play the predictable card, Eiko took the chance to push Eshe off of her as though she were just a heavy blanket. Once the cute egyptian was off her, the Titular Tarantula pounced right on top of her next and slammed into her lithe frame!
Certain types of Tarantulas could take down prey much larger than them with just a single bite! Unlike other arachnids, most tarantulas overtook their prey with venom and power rather than traps and webbing! And as Eiko's playful teasing seemed to work its way into clouding Eshe's mind, the next step seemed to be the overpowering part. Those deceivingly powerful arms of Eiko's seized Eshe's wrists as she practically sprawled out on her, their roles completely reversed from what they were just seconds prior! Pinning Eshe's wrists over her head, the two were so very close, to the point Eshe could smell the soft shampoo in Eiko's hair.
Eiko's sharp canines never seemed so prominent in that grin of hers! As sharp and pointed as the arachnid she adored, they almost seemed to gleam as Eiko drew closer towards her entrapped prey. Was this a pin? Of sorts, but it looked almost closer to a sultry embrace. Many of the Tarantula's fans were aware of her promiscuous nature, but Eshe's fan were brand new to the enticing antics of the purple punk! All of them watched and debated if the arachnid was going to kiss Eshe…or bite her as a spider would!
"If I'm being honest Eshe, I
wasn't
thinking any lewd thoughts with your hand squeezing my leg."
A gentle squeeze sent a small sensationt through Eshe's wrists, the egyptian seemingly paralyzed as Eiko's form was just inches away from her.
"But right now I am~"
The Referee would drop and start the count, smacking the mat with every passing second as Eiko's heavy presence held Eshe down like she was trapped in a web. Eiko was
enjoying
this. Not in the way a heel might, more like…how a
fan
would. Eiko had made her thoughts of Eshe rather clear, but no one could be sure if this whole attitude of Eiko's was a sham or not.
"One!"

"Two!"

"Three! Fo-"
Eiko suddenly slipped away, releasing Eshe completely and without consequence! Why on earth would she-?
"ALRIGHT! Someone get me a pen and poster!
Remember our deal Eshe,
you promised to sign my poster of you after I won~"
Everyone in the arena was stunned…well, except for the oblivious arachnid. She was too busy excitedly walking towards the edge of the ring at the announcement table, trying to spy a pen or marker not in use. She was wide open, and the referee almost didn't have the heart to tell her that the match was actually still going. She only did because the audience was too stunned to say anything anyways.
"Uh…Ms. Bando? It's a ten count match…you didn't win yet."
The titular tarantula had been wondering why no one brought her a pen yet when the referee broke the news to her. And first, Eiko seemed to have ignored it. But after a minute or so, she straightened up and slowly turned her head back over to the referee.
"W…what was that?"
Eikos face had never been so red! Even the person in the furthest row in the audience could see her embarrassed expression as a forced smile clung to her lips! Had someone failed to clue her in on the match type, or was she seriously this much of an airhead?
"C'mon, say you're joking!"
The referee shook her head, a small bout of laughter coming from the crowd as Eiko began nervously fanning herself, trying to cool her red face down without paying much attention to her surroundings! Eiko was too busy thinking about what a fool she just made herself look like before finally realizing that she had lost track of Eshe some time ago!

Tarantulust




Posts

: 1696


Join date

: 2018-04-17



Eshe practically pancakes into the mat when Eiko splashed on top of her, she could feel all the air in lungs deflate as she dipped into the mat only to met the tarantulas body again. She grimaced in pain, shutting her eyes to wallow in the hurt and honestly expecting the next wave of pain to come but she didn't feel that. What was coming? Was she stalling? The Violet couldn't help but wonder and worry in her clouded mind. The way Eiko was playing her was not what she was expecting tonight at all. Eshe couldn't exactly put her finger on what their strategy could possibly be. One moment the two of them were going at it; tooth and nail then suddenly she hears those honey sweet words, that dominant touch, that puts her off her game. Was this how Arjuna felt during their match? So mystified by little touches like this that she couldn't resist? The Violet had no idea but she was beginning to feel that sort of pressure faced against the Tarantula.
The Egyptian opens her eyes only a smidge to find the Punkette nestled over her, her wrists slammed overhead. The pale woman looked at her with a smug sense of satisfaction that made Eshe blush again. Her cheeks were warm with the confusion but intrigue of it all. Then those words met her and she froze. God, what kind of torture was this? This woman had game, teasing and taunting her at every chance they got, and all the while she could exactly retort or respond appropriately.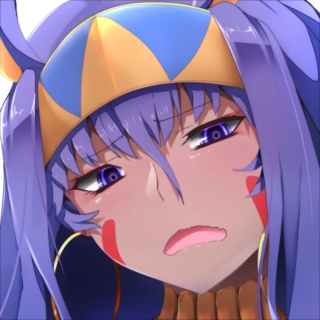 "E-ehh?! Wh-what's that supposed to mean?" she asked dumbfounded. Eshe's mind was swirling without a destination as to where or what it wanted to focus on. She could not stare and blush in bewilderment as the tarantula injected her with venom, leaving her breathless. She wanted to break free at least, her arms flexing with limited power as she tried to break herself free but she was locked good and proper. That squeeze at her wrists sent her heart a-flutter, she couldn't explain or even begin to understand why she wasn't exactly resisting like she would have anyone else. No.. she understood very well why. She was intoxicated. From the very moment they stepped into the ring, she was drawn to that energy and she loved it. The same energy she admired and respected managed to twist her senses and her she lay, victim to Eikos poison. Her knee skids up along the pale woman's side, a soft breathe escapes her lips. Eshe seemed hopeless now.
THREE!
The count startled her, only to have her captor pull away, and heading ringside gleeful for a poster signing she was promised if she won. Eshe shot up, panicking for a moment that she actually lost so easily. That was until she looked up at the referee who was just as confused, the audience looked at each other murmuring their of confusion. Wait, this was a ten count! She was still in this and Eiko was none the wiser. The Egyptian climbs to her feet, she had to redeem herself for that. Had this been a normal match she would have easily lost and that didn't particularly sit well well with the Violet. She snuck away, creeping towards the ropes to slip away on the apron while the Tarantula was busy with her "victory".
The referee soon broke the news but  it didn't seem to click just yet. Eshe waited for the moment Eiko would turn to look for her but by then it would be to late. She'd be well on her way up the turnbuckle, climbing to the top rope to spring in her foe. She was the cat and they the spider or well, tarantula. Lining up her body to catc the woman off guard, she bent her knees to build up the suspension. "HIYAAAAH!" The Egyptian cries, leaping to take the woman down to the mat in a full body splash, hoping to flatten her into the mat just as they had done to her!
_________________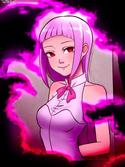 LilyStar




Posts

: 894


Join date

: 2018-02-26


Age

: 27


Location

: Your heart



Eiko couldn't help but be disheartened! Sure, Eshe never said she would sign a poster of herself, but the titular tarantula had a feeling she could egg Eshe on and get that autograph! Maybe even go so far as a little doodle of her opponent on the poster. Eshe had such a line of merch that Eiko had seen one of the Egyptian woman's fan's wearing the cutest shirt of hers wearing Eshe was a cute, tiny little cartoon. Eiko didn't often buy merchandise from her competition, but cute was cute. That was a justification in itself, in Eiko's not too discerning mind. But now that signed poster and bruise free gift shop trip seemed to be just out of reach and Eiko almost wanted to pout in annoyance that she had forgotten the rules stated at the beginning of the match. The tarantula rubbed her temples, trying her best not to let the stress of the situation get to her when a thought popped up in her head like a spider descending from the ceiling.

"Wait a minute…A ten second pin means I can tease Eshe for even longer than before!"

Eiko practically shouted with glee, that mischievous grin appearing once again as though it were a permanent fixture of Eiko's face as she whirled around, looking for the Egyptian athlete. Only, Eshe wasn't where Eiko had left her. Rather, she was rapidly climbing up one of the nearest turnbuckles, already turned around and facing Eiko with a much taller outlook than before. The purple punk already knew where this was going, and that grin of hers took on a more nervous look then it had before.

"I don't suppose you're still mad about the pin earlier?"

Eshe answered by jumping off the turnbuckle and going for a body splash. Eiko flinched for just a moment before stepping forward, outstretching her arms in preparation to try and catch Eshe right out of the air! Eiko's arms snatched Eshe right up, exuding some serious power as the purple punk's arms constricted and trapped Eshe, making the athlete almost helpless as an insect in the tarantula's grasp!

But Eshe still had her momentum! She came down with such force that she gave Eiko a decent bump, causing her to lose her balance! Eiko only stumbled about two steps before falling onto her back with Eshe's weight right on top of her! The catch may have cushioned the blow, but pretty much made Eshe decent an absolutely harmless one.

Tarantulust




Posts

: 1696


Join date

: 2018-04-17



Page 2 of 3 •
1, 2, 3
Similar topics
---
Permissions in this forum:
You
cannot
reply to topics in this forum