Who is online?
In total there are
49
users online :: 1 Registered, 0 Hidden and 48 Guests :: 3 Bots
Extremebrutalryona
Most users ever online was
418
on Tue Jul 30, 2019 10:51 am
Champions & #1 contenders
Tension matches wanted
Tue Sep 26, 2023 2:25 pm by Midori Hyuga
Comments: 0
Page 1 of 7 • 1, 2, 3, 4, 5, 6, 7
Iron man/woman match with no disqualification and hentai allowed
Ataru was standing in the middle of the ring already, waiting for his unknown OPPONENTS. Yes, tonight the Japanese boy was going to face not one, but two new AFW wrestlers. And if he thought that match rules would help in making this challenge a bit more fair, then he'd better think twice: hearing the commentator announce that this was going to be anon dq match with multiple KOs and hentai allowed, Ataru knew that this was going to be an exhausting night.
Ataru:
"Ugh... those damned pirvy showrunners did it again. I definitely must read the fine lines, the next time I sign for a match stipulation". With that said, Ataru tossed his hoody jacket aside wearing his usual wrestling attire made of stretchy white shorts with the Japanese flag on the side and matching boots.
Doing some light stretching to ease the tension off his slim muscles, the young boy looked at the ramp like the rest of the audience: all the spotlights were focuising there, letting everybody know that DOMINATORS were about to make their first Tension appearance.
Last edited by wrestleryu on Wed May 08, 2019 12:14 am; edited 1 time in total

wrestleryu




Posts

: 11513


Join date

: 2008-05-07



Sharon and Kandace were bubbling. They were so excited to finally have their debut on the actual AFW. They had been in many different wrestling companies but none seemed to gain as much traction as the One and only AFW.
The two would be back stage, Sharon sitting in Kandace's lap. The two had been together for a long time so they were acting all flirty and bubbly with each other back stage. People would pass by and think about stopping and staring but the two muscular busty amazons were quite intimidating so people thought twice.
The brave stage hand would stop in front of their one on one time and clear her throat before telling them that it was their time to enter. The two would smile at each other and give each other a quick kiss before standing up. The would link hands and begin walking towards the entrance.
They would stop right before the curtains and listen to the crowd. It was the loudest they had ever heard. They could hear the announcer introducing them.
"NOW I WOULD LIKE TO WELCOME. TWO OF THE MOST BRUTAL BEAUTIFUL AMAZONS AFW HAS EVER HAD THE HONOR TO HAVE... COMING IN AT A COMBINED WEIGHT OF 460 POUNDS... THE DOMINATOOORRRSSS!!!"
The crowd went even louder than before as the two amazons stepped through the entrance with the spotlight right on them.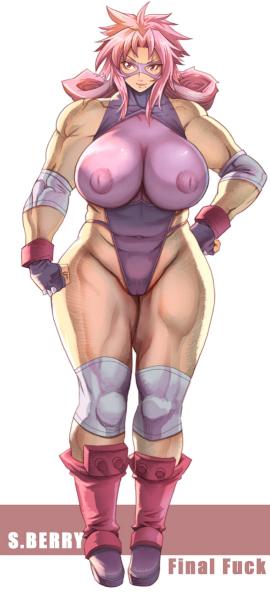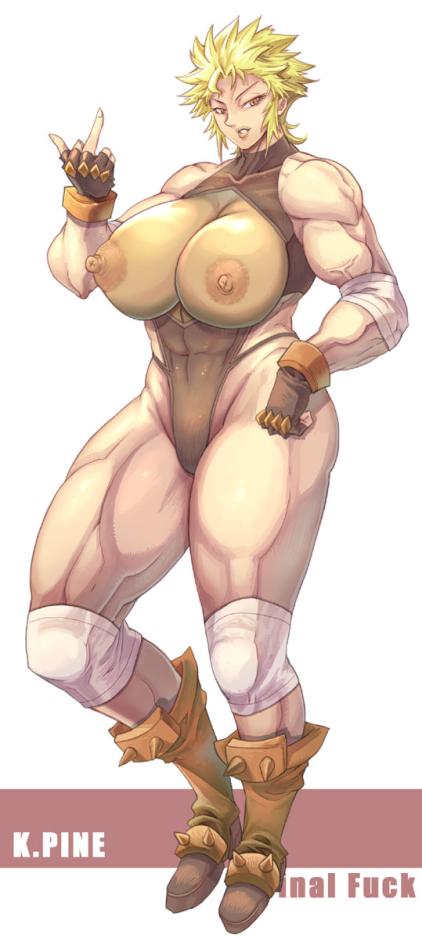 The two still held hands, Sharon giving Kandace's a comforting squeeze. Both would get goosebumps as the cheering seemed to continuously get louder and louder and they decided to play it up. They would stay at the top of the ramp and give each other a long wet kiss, each of them grabbing large proportions of each other's massive rears.
After they had warmed up the crowd a bit, They would begin walking down the ramp. They hadn't even noticed their opponent yet but the person they saw in the ring matched the description they had been informed about. Sharon and Kandace would walk around the outside of the ring a couple times like predators circling their prey. Both keeping eye contact with their soon to be ragdoll. They would get in from opposite sides of the ring, standing on either side of Ataru.
The dominators would begin closing in on Ataru until they nearly sandwiched him between their massive soft bodies. "So... Your Ataru huh? I hope your ready for the experience of a life time..." Sharon would say as she would russel Ataru's hair. Kandace would laugh as she found her girl friend's taunting entertaining. "Let me give you a short preview of how this match is going to go..." The blonde Kandace would say before reaching down gripping Ataru's face between her hands. She would lean down and force her lips against Ataru's for a long smooch before pulling away with a loud smacking sound.
Sharon would give Ataru's ass a slap before both amazons would walk to their corner, waiting for the bell to ring, not taking their eyes off of Ataru once.

shanecawf




Posts

: 864


Join date

: 2017-02-03



The crowd was all hyped up by Sharon and Kandace's sexy presentation, getting a good hint of what kind of wrestlers they was... Which the audience totally loved!

Ataru gulped when the Amazonian beauties walked around the ring like sexy predators stalking their cute male prey. An impression that was only enhanced as they approached him from both sides.

Ataru blushed as two of possibly the curviest, tallest and more buff wrestling females closed him between their flawless towering bodies.

"Yes I am Toranami Atar-mnnghhf... 0///0". Whatever brave speech he was going to speak, it was silenced by Kandace's soft plump lips.
A teasing whack to his firm ass had Ataru yelp as soon as the blonde Amazon released him from her mind-numbing kiss, letting him know what the girls where planning to do with him: whatever they liked!

With the cute flustered boy trying his best to catch his straight thinking, the bell rung and the match was officially started. In spite of his evident disadvantage, Ataru decided that the worst possible choice was to let them have the first move and double team him this early in the match. And so, deciding that Sharon was the nearest one, he tried to engage her into a starting lockup, flexing his slim muscles to try and push her backwards.

wrestleryu




Posts

: 11513


Join date

: 2008-05-07



Sharon and Kandace would stand in their corner when the bell rang. Ataru seemed to go after Sharon first as he would get into a lock up position. "Are you sure you want to do this baby boy?" Sharon would ask in a condescending tone as she would place her hands against Ataru's. Her hands were much larger. Sharon would lace her fingers with Ataru's but she wouldn't push forward at all yet. She would let Ataru flex and try to push her back. There was no effort needed.

Sharon would let this happen for a bit before she would tighten her grip on Ataru's hands, squeezing them hard, before attempting to shove him backwards into his own corner. Sharon would keep going until she squashed Ataru into the corner with her breasts right in front of his face. "That didn't go as planned did it short stuff?" Sharon would giggle as she would jump forward to slam her breasts into her opponents face. She would than back up and Kandace was right behind her, running at the corner to preform a splash as well. Kandace's large breasts nearly engulfing Ataru's face.

Kandace would stay pressed against Ataru for a while so Sharon could preform a splash to Kandace's back, squashing Ataru under all of their weight. The turnbuckle would creak as their weight squished Ataru's into Kandace's breasts.

After a couple seconds, Both dominators would back off, leaving Ataru in the corner. They would stand in the middle of the ring, posing as the crowd cheered for them. "Come on ataru... Come to your mamas." Sharon would say as her and Kandace stood there waiting for ataru to approach.

If he did, The two would catch Ataru and send him off towards the ropes, hoping he springs back to them for a double clothesline with the muscular arms.

shanecawf




Posts

: 864


Join date

: 2017-02-03



Ataru was soon pinned into the corner and smooshed by Sharon's massive breasts. Then it was the turn of Kandace's equally expansive bosom.

After a further avalanche, the poor boy was pinned by both the amazonian women and furtherly smothered.

Not surprisingly, Ataru fell down on his hands and knees when Sharon and Kandace stepped back from the corner. The fans laughed gleefully at their motherly taunts, and Ataru himself blushed in utter embarrassment.

As soon as he stood up, the busty amazons' Irish whipped him into the ropes. "Uhhh... Woaah... Unghhh!" Bounced into forcefully running back at them, the poor boy was welcomed by a vicious double clothesline that left him stunned at their feet.

wrestleryu




Posts

: 11513


Join date

: 2008-05-07



The clothesline hit, meaning that Ataru was stunned at the amazon's feet, Which was not a good position. The dominators would flex and pose for a few seconds to get a loud cheer from the crowd before they began paying attention to their opponent again.

Sharon and Kandace would look at each other and nod before both dropping down for a double elbow drop right onto Ataru's chest. If the move hit, Both would grind in their elbows to add more pain.

Once they were through with their elbow grinding, They would readjust positions. Sharon would sit behind Ataru and sit him up. She would try to wrap her rock hard thighs around the poor Ataru's waist with her hot and moist crotch pressing against his back. Her hands would go back against the mat so she could thrust her hips up to add immense pressure.

Kandace meanwhile stood in front of both her partner and her opponent. "Are you enjoying yourself so far?" Kandace would ask teasingly while squatting down in front of Ataru. Her eyes staring into Ataru's hungrily. "If I remember right, You seemed to enjoy our little introduction right?" Kandace would ask before going to sit on Ataru's lap, wrapping he arms around his neck. She would look deeply into his eyes before going for the second kiss in the match. This time it was sloppy and wet. She would use her tongue forcefully before wrapping her lips around Ataru's. She would bring one hand up and to Ataru's nose, pinching it so there was no way of breathing. She would than begin sucking the air out of her opponent in a smother kiss. The sight was quite hot making Sharon's crotch more wet than it already was. She would tighten the scissors causing her crotch to press harder against her back as well as more air to come out.

shanecawf




Posts

: 864


Join date

: 2017-02-03



Sharon and Kandace used another traditional tag team wrestling move to get their male target more softened, making sure that Ataru couldn't put up a resistance as they prepared him for the real showtime.

"Uuurghhh...". A breathless groan of pain was the most eloquent response to their taunting question, as Sharon's massive thighs engulfed his smaller frame for a boa-constricting body scissors.

"Ughhf... Can't brea-mnggfhh?". The trapped boy squirmed around fruitlessly trying to pry apart her leggy vice, but he would probably have better luck trying to move a mountain.
But that wasn't important, because even his feeble struggles and protests were soon denied by Kandace.

With her body sitting on his lap holding him in place, and her sensually dominant kiss ravishing his mouth, Ataru whimpered in panic as she pinched his nose shut, proceeding to eagerly suck the life out of him with her deadly kiss, assisted by the constant squeeze from Sharon's things.
"Mngffhh...! M-Mnffh... @///@". Before long, the poor boy was light headed from lack of oxygen. His desperate eyes were hopelessly locked into Kandace's lustful gaze, letting him know that she wanted to almost literally devour him in her smother kiss while his vision started to blur. And the most humiliating thing was that his arousal was hopefully starting to rise in spite of the desperate predicament.

wrestleryu




Posts

: 11513


Join date

: 2008-05-07



Kandace and Sharon would continue their tactic, hoping to gain one or possibly 2 points with this hold.

Sharon would laugh as Ataru squirmed and struggled between her solid thighs. The small hands trying to pry apart two rock solid thighs. The weight added on by her girlfriend made it a bit harder to squeeze Their opponent but she didn't mind. "Can't what???" Sharon would taunt as Ataru was cut off by the kiss her girlfriend forced upon him.

The whimpering coming from Ataru were appreciated and basically swallowed by Kandace as she pinched the small one's nose shut, sucking the life out with a succubus kiss.

Kandace would refuse to look away from Ataru's eyes as they were so desperate and almost docile. Kandace would feel a light bump pressing against one of her large butt cheeks and would giggle into the kiss. "So you like being dominated like this huh?..." Kandace would say between kisses. "I'm not sure you've earned anything yet..." Kandace would say in a teasing manner as she would adjust herself on Ataru's lap to arouse him more, giggling as she felt what was beneath her growing a bit more.

"Tap out... And I MIGHT... reward you..." Kandace would say with a hungry look in her eyes. The blonde would lean forward and lick her tongue up Ataru's face in a crude manner, licking him a couple more times while Sharon would add more pressure on the scissors.

Sharon was loving what she was seeing as she tightened her scissors. Her girlfriend was an expert at this kind of stuff and she loved to see her in action up close and personal. She would hear the entire conversation and would squeeze on Kandace's command, hoping to feel a slender hand slapping against her thigh.

If ataru were to tap, the bell would ring, only signifying a point. The two amazons had made sure there would be no grace period or rest time for their cute opponent. either way Kandace was not going to give him what he wanted. Not yet. She wanted to make him wait. She would say "Not fast enough..." Before grabbing Ataru's head and pressing him face down into her breasts for a breast smother. She planned on knocking him out with this to gain a second point. Sharon would help by squeezing with all of her might with the body scissors, hoping to feel him fall limp soon.

shanecawf




Posts

: 864


Join date

: 2017-02-03



Ataru could not be more desperate and demoralized. With only few moves Sharon and Kandace had him prisoner of their massive and soft bodies, reducing him to the choice between tap out or pass out already.

Just when his eyes were starting to roll up and his consciousness about to fade,  Kandace had decided to keep the cute boy around to furtherly humiliate him with her dominant seduction. Each new kiss drained a little more of Ataru's willpower and each intimate rubbing from her hips made him more docile.... While each strong squeeze from Sharon reminded him that he was their prisoner with no way to escape.

It was not like Ataru would trust Kandace's words really...but  being hopelessly stuck in their hold and having his straight thinking undermined by Kandace made the decision for him: Ataru's little hand tapped against Sharon's much bigger thigh feebly but repeatedly, signaling his submission.

***Dominators 1 - Ataru 0***

The first point was awarded to the sexy Amazon's this early, but if Ataru had hoped that they'd let him go... Quite the opposite, the slim boy was furtherly enveloped by their bodies as Sharon kept the body scissor squeeze and Kandace put him into a huge soft breastsmother.
"Uhhh... N-no pleas-mnghffhh... Mpfffhhh...".
Each of her breasts were clearly bigger than Ataru's whole head, enough to swallow it into her cleavage leaving just a small tuft of dark hair showing.
The powerful scent of her pheromones was all he could inhale in there, and his muffled protests only produced small nice vibrations to Kandace's bosom.
All the while, his cute pointless struggles got weaker and slower as the curvy Amazon's methodically kept squeezing and smothering him.
Last edited by wrestleryu on Tue Apr 02, 2019 7:54 pm; edited 1 time in total

wrestleryu




Posts

: 11513


Join date

: 2008-05-07



Sharon and Kandace would cackle evilly as they got their first point, earning a loud cheer from the crowd, and now it was time for point number two. Sharon would quickly shove Ataru's head down into her never ending cleavage until all that was visible was a small tuft of black hair.

"It may be a bit sweaty between there, Feel free to lick them clean!" Kandace would shout, hoping Ataru could hear her. Sharon would be flexing her thighs her hardest, having them shake with the pressure building on.

Kandace would moan slightly as she felt Ataru's small protests vibrating against her massive breasts, making her nipples erect. "Come on... Your not getting out of this. Just go to sleep." Kandace would say. She would begin to bounce on Ataru's lap, hoping to disorient him even more with her large breasts slapping and clapping around his head.

Sharon's legs were getting tired at this point so she would decide to unwrap her massive thighs from around Ataru's waist. At first it may be scene as mercy but it war far from it. With Sharon's legs being some of the strongest in the world, Kandace's were more experienced and stronger.

Kandace would look at her girlfriend and wink before wrapping her own legs around Ataru placing him in her own breast smother body scissors combo. Kandace would lean forward so she would get Ataru on to his back and under all of her weight. She would flex all of her muscles, pressing Ataru's face deeper into her breasts while completely crushing his midsection with her solid thighs. She would roll around a few times, giving each side of the crowd a good view of the total domination. "Don't you worry. This is only the beginning..." Kandace would say in a motherly tone before beginning to sing a lullaby to her cuddled crushed boy. "Go to sleep. Go to sleep. Go to sleep little ataru." She would giggle as she would land on top once again, staying there so Sharon could get involved.

Sharon would walk over, raising her arms to her sides. She would look around the crowd with a big smile on her face before falling straight forward, right onto Kandace's back. It looked like she was performing a splash to her girlfriends back but it was actually an attack on Ataru, adding the total of four hundred and sixty pounds of power to the smothering attack. They didn't plan on moving until he passed out and would stay there for a bit of extra time after he did, earning a second point in record time.

shanecawf




Posts

: 864


Join date

: 2017-02-03



Page 1 of 7 • 1, 2, 3, 4, 5, 6, 7
Similar topics
---
Permissions in this forum:
You
cannot
reply to topics in this forum