Who is online?
In total there are
50
users online :: 3 Registered, 0 Hidden and 47 Guests :: 3 Bots
Diesel_Electric_Razor
,
FreestylePoet
,
Nelv
Most users ever online was
418
on Tue Jul 30, 2019 9:51 am
Champions & #1 contenders
After a long time I return, looking for a match
Thu Sep 16, 2021 11:20 pm by GrandAkumaShogun
Hello all, I would firstly like to apologize for the long periods that I've been away from here. Been taking time away to focus on my mental health but I think I'm ready to return and looking for a match or two to get back into things. All three of my boys, Takeichi Mori, Takeshi Kawai, and Imai Cosmo are up for matches. If you want I can link their profiles so you don't have to search through the roster page. Anyone interested feel free to hmu through private messages. Hope to hear from …
[
Full reading
]
Comments: 4
Request Filled for Now, IGNORE!
Thu Sep 23, 2021 10:18 am by Frodouken
Comments: 3
Aye I'm back. I suck. Wanna wrestle?
Thu Sep 09, 2021 6:54 am by yummybunny
Aye I'm back again, the loser that pops in and out for like 5 years straight.
I know I know, no need for cheers.
Uh, but no seriously I'm feeling pretty good lately and would love to throw my hat back in the ring. If anyone wants to wrestle my losers let me know, I have a few now. Just made a new one in fact.
Queen Bitch:
Other than her I have like...A few others? I forgot who's made on here and who isn't. I WILL say, they ain't that good and …
[
Full reading
]
Comments: 4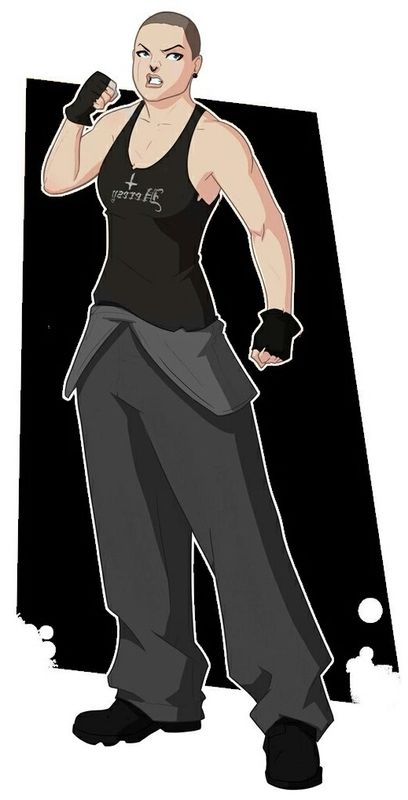 River 'Styx' Stevens
Sex:
Female. Obviously. It's Friction.
Age:
24
Eyes:
Blue
Hair:
Blonde
Height:
6"0'
Weight:
220 lbs
Nationality:
United States of America (Reno, Nevada)
Entrance music:
Lap Dance
by NERD
Style:
Streetfighting, bonebreaking, low-blowing...whatever it takes to win. Styx rarely lets little things like 'rules' get in her way. She likes her fights rough and rowdy, and she'll gladly hurt herself if it means hurting her opponent just a little more. Loves using weapons - is particularly partial to brass knuckles and other easily concealable weapons, and is very adept at using improvised weaponry from the environment. If it's not nailed down or too heavy for her to pick up, assume that Styx will use it as a weapon.
Favored Moves
None, really. While it's not uncommon for her to use traditional wrestling moves like chokeslams and powerbombs, she doesn't really have a list of favorites. She mostly just goes with whatever feels right at any given time, and typically that leads to her throwing her opponents around like a ragdoll.
Signature Moves
Spear:
Styx runs across the ring at full speed and crashes into the opponent with a devestating tackle. Styx isn't known for her speed, but she can move pretty fast in short bursts, and this move hits with resounding force.
SPEAR!:
Flatener:
A goomba stomp from hell. When the opponent is down and on their backs, Styx runs at them, full speed, and jumps on their backs with both of her boots. Since she weighs over 200 pounds and wears heavy workboots, this is
very
effective.
Finishing Moves:
Falling Angel
- A power bomb, though instead of just slamming her opponents down, she tosses them off her shoulder, and typically into something, like the turnbuckle or the referee or just out of the ring.
Chokebreaker
A variation on the chokeslam. Instead of dropping the oppnent onto the ground, she drops them across her knee. If she's in a particularly bad mood, she'll let them lay across her knee and drive her elbow into their stomach.
Illegal MovesBlack Tar:
An illegal move - Styx will occasionally bring the illegal substance to a match and stuff it away, then do something to incapacitate the ref for a minute or two. While she's out, Styx blasts the substance in her opponents eyes, blinding them, and then goes to work dismantling.
The mist is a special concoction of Styx that she can home brew. Not only does it blind the opponent, but it stings like a bitch thanks to the pepper she added into it, and it has a pungent aroma. Strangely enough, it has a minty taste.
Preferred Matches:
The less rules, the better - she prefers hardcore matches. Generally feels that a fight with rules isn't a real fight. Loathes 'soft matches' with a burning passion.
Physical Statistics
Endurance:
★★★★★ - Very tough - Styx simply refuses to stay down.
Strength:
★★★★ While she's not a giant, she's fairly tall for a woman and quite strong.
Speed:
★★ - Was never quick on her feet
Defense:
★★★ - Tends to focus more on dishing out the pain and less on stopping it.
Technique:
★★ - Not much technique to speak of, besides basic wrestling moves.
Wrestling Statistics
Strikes:
★★★★ - Styx is a natural brawler - she throws mean, heavy punches.
Submissions:
★★★ - While not an expert, she knows a few good ones and will apply them judiciously.
Powerhouse:
★★★★★ - She's quite strong, and won't hesitate to bulldoze over opponents.
Aerial:
★ - No. Just...no.
Counters:
★ - Not big on that fancy stuff.
Strengths
Styx's greatest asset is her complete inability to give a fuck. She's very unpredictable, quite strong and tough, and will not hesitate to manhandle opponents.
Weaknesses
A brawler through and through, she lacks finesse and style, and against opponents with a good degree of skill, she tends to falter. At the end of the day, she's a glorified thug, and she fights like one - once you know what she's bringing to the table, she's simple to deal with. She also has a bad tendency to gloat and play with her opponents too much.
Personality:
Styx is weird. Really weird.
She doesn't seem to have any real goals in life - in fact, she seems to despise the very concept of having goals. She just does what she likes at any given moment, and that typically includes violence of some kind. If she wants something, she takes it. If she wants to do something, she does it. If she wants to hit someone, she hits them. She's a creature of whim and vices, just living in the moment and enjoying herself in spite of the world.
Styx also has a very weird way of talking. She tends to oscillate between an urbane, cultured way of talking and speaking like the gutter trash she looks like
History:
You would think that River had a difficult childhood based on her overall demeanor, but the funny thing is that she had a good upbringing. Normal parents, upper middle-class, two brothers, one sister. Smiles all around...except for River.
River hated it. It was so fake. So phony. So false. She never quite fit in with her family, like a puzzle piece that got mixed in from an entirely different puzzle. They wanted her to be something she just did want to be, so when the time was right, River ran away. Just like that, when she was sixteen.
And that was how the legend of River Styx started.
Styx - as she called herself, now - went from town to town, surviving on the streets and, getting by where she could, stealing what she needed. People might call that a bad life, but the truth was that Styx had never been happier. She loved the freedom and the complete lack of responsibility, and it was out here that she also discovered her love and talent for brawling. A big girl, she was easily able to mash around people that tried to fuck with her, and she started to develop a brutal style of fighting. She had a brief stint in underground fighting, but after a close run-in with the law, she decided she needed more legitimate means of feeding her new habit.
The AFW looked good...
Fun Facts
+Styx lives in the AFW arena. Literally. She found a small area that seemed to be an oversight in the designers plans, and she set up her own little headquarters in there. It's a neat little hiding spot that allows her to evade detection when need be.
+Despite her never graduating high school, Styx had a surprisingly sharp intellect, thanks in large part to her spending a lot of days in libraries. They were a good place for her to hang out during the day. Nice, quiet, no one to kick her out, endless entertainment reading books. She's not a genius by any means, but she's more learned than people assume, and she has a great vocabulary.
+Does not like showers. Prefers baths, when she bothers to clean up at all.
Championships/Accomplishments:
Friends:
Jessica Wright:
The two met at a bar and had a very raunchy barfight. While they disagreed on a few points and goals, Jessica's temperment and style are close enough to Styx's that she'd slap the 'friendship' label on it.
Liberty Vella:
After an aborted match, Styx and the hardcore champion, Liberty, enjoyed some steamy time together. Styx enjoyed Liberty's company, and the two of them were planning to do some stuff together that would help up the hardcore content in the AFW, but they mysteriously dropped it for some reason. Enjoy your hentai pool matches.
Allies:
Gwendolyn DuPont Bettencourt:
After they teamed together and won in the Random Tag Battle, Styx signed on a Gwen's hired thug. Since Styx utterly hates Gwen and the feeling is mutal, this is an extremely tenuous relationship.
Rivals:
Enemies:
Odessa Brock:
Teamed up with River in the hardcore tag match, and consequently became Styx's opponent the #1 contender spot. The two have very different philosophies on what the hardcore division should - Styx wants it to be over-the-top, excessively violent, brutally merciless, while Odessa seems to think it should be more refined and respectful. Complicating thing is the fact the Odessa is smoking hot, and Styx is somewhat attracted to her, while simultaneously wanting to bash her skull into the concrete.
Crushes:
Last edited by acuya on Sun Oct 04, 2015 9:16 pm; edited 31 times in total

acuyra




Posts

: 18826


Join date

: 2014-02-14


Age

: 35


Location

: Charlotte, North Carolina, WOOOO!



Record: 6-5-0
YEAR ONE
1.
Styx vs. Cecilia
- LOSS (by submission)
Styx's first match is a doozy - the self-proclaimed Hardcore Queen of AFW.
2.
Styx vs. Liberty
- LOSS (by submission. Sort of.)
Styx makes an open challenge to the newly crowned hardcore champ. Things get weird.
3.
Wretched Hive of Scum and Villainy
Styx takes Liberty back to her place after their match. Not nearly as dirty as that sounds...or is it? No, not really.
4.
Moving Up to Kidnapping
5.
Random Select Tag Team Battle
- WIN
Fate gives River a special new friend!
6.
The Metal Will Live On
River Styx meets a strange girl at an even stranger concert.
7.
Notes From the Underworld
River goes out for a game of cards. As with most things in her social life, this ends up in dirty, steamy sex.
Last edited by acuya on Mon Oct 05, 2015 12:46 am; edited 10 times in total

acuyra




Posts

: 18826


Join date

: 2014-02-14


Age

: 35


Location

: Charlotte, North Carolina, WOOOO!



YEAR TWO
8.
Hardcore Tag Battle!
- WIN (from Odessa, via KO)
Styx teams up with Odessa Brock for a match that's a contradiction in terms, in order to eliminate two contestants for the #1 contender spot.
9.  
Honor and Honour
Styx and Odessa have a little post-match chit-chat about the finer points of hardcore wrestling.
10.
Hardcore 101
Styx has an open invitation for a hardcore match, and gets Danika Gorski!
11.
Styx vs. Danika Gorski
- WIN (By Pinfall)
Styx beats the shit out of Danika Gorski!
12.
Lady and the Tramp
Styx has the world's strangest job interview with Gwen.
13.
Styx vs. Odessa Brock
- WIN (via KO)
Time to fight for the #1 Contender Spot!
14.
Hardcore 102
Fresh off her victory, Styx decides its time to cement her status with another hardcore lesson.
15.
Styx vs. Adrian Kytes
- WIN (via KO)
River Styx and AFW veteran Adrian Kytes go to war!
16.
Hardluck Hardcore
Styx is the #1 contender for a belt that doesn't actually belong to anyone. What to do, what to do...
17.
Styx vs. Brittany Luuve
- LOSS
Styx and the former hardcore champ go at it.
18.
Forcible Entry
It's a small world, after all...
19.
Angels and Demons
Another Styx rant, but this time she gets attention from a very special opponnent...
20.
Styx vs. Angel
- LOSS
River Styx makes her PPV debut against the former Friction World Champion!
21.
Blood in the Water
Styx gets into a little tag team action with her friend, Jessica.
22.
Styx and Jessica vs. the Higurashi Dojo
- LOSS
Styx and Jessica get in a little classic tag team action with the Dojo girls.
23.
Champion Conference 2015 - No Kellys
Styx attends a press conference to say hello to Adrian in her own unique way.
24.
Hardcore 103
There's always a bigger fish.

acuyra




Posts

: 18826


Join date

: 2014-02-14


Age

: 35


Location

: Charlotte, North Carolina, WOOOO!



---
Permissions in this forum:
You
cannot
reply to topics in this forum