Who is online?
In total there are
61
users online :: 1 Registered, 0 Hidden and 60 Guests :: 3 Bots
ARStudios2000
Most users ever online was
418
on Tue Jul 30, 2019 9:51 am
Champions & #1 contenders
fraction match wanted
Tue May 23, 2023 6:46 pm by Rohi Yamin
Comments: 3
Leaving here because of a baby
Fri Jun 02, 2023 4:22 am by Coolgirl1999
Goodbye everyone but I have to leave as I longer will have the time to roleplay as you seen by the title I have recently got legal custody of a family member 3 month old son and I have to focus on him, pets and work now which means I won't be able to do any more roleplay matches for a while, so goodbye
Comments: 1
Tension Match Hunt
Fri May 19, 2023 9:50 pm by GrandAkumaShogun
Looking for matches for my boys
Takeichi Mori
Takeshi Kawai
If anyone is interested feel free to hmu. ty in advance to anyone who responds.
Comments: 2
Page 1 of 2 • 1, 2
It had been awhile since they had been called upon…
The AFW was a strange place. A world of contracts and red tape. As much as Hazuki and Garm hated to admit it, they really didn't have much of an idea just how the paperwork of these places worked anymore. Apparently, they hadn't been getting matches lately because of a legal dispute between what remained of WAS and the heads of AFW. Only a few contracts were in debate, and lo and behold the Head Heel and her bodyguard were two of the unlucky ones. For months, they've had nothing to do but sit on their hands, training for the day they could finally fight again! There was quite a bit of energy left pent up inside, having to earn cash by visiting events and Conventions and not through the grit of a good fight. It was such a pain in the ass! Posing for the cameras, signing papers and various memorabilia from when they first started. Neither woman wanted to look back in the past. Not when they had so much of a future left!
And then the day finally came. They got the call, and once again Hazuki Musumi and Garm Takanashi could fight! Their contracts were signed and sealed! But in  order to ensure such a mess didn't happen again, the heads of AFW passed their contracts on to a manager named Rhein Kazahana. Thankfully, it was just a formality and the two were not directly under the woman. She was just an extension they would have to visit once in a while in order to solve any issues they might have during their time. Thing was, they both had an issue, and they were looking to solve it then and there.
One short call later, the two famous heels were back in the ring! Right where they belonged. Hazuki Musumi had a microphone in hand, constantly tossing it up in the air, only to snatch it back up when it came down. She did this a few times as the excitement of the crowd was so rampant from their return she couldn't be heard even with the speakers. Garm, Hazuki's partner/Bodyguard, stood imposingly behind the patient woman, her massive arms crossed over her chest just waiting for someone to make a move. When things were finally starting to quiet down, Hazuki would finally bring the Microphone up to her lips…
Hazuki:
Garm:
"The Top Tag Team is back~"
And just like that, the crowd went crazy once again!
"It's been too long since Garm and Me have been here, and this place has never been in worse shape! There are too many newbies that think they own this place, but we are more than happy to remind them why we are still the best in the business! It's been sometime since we've gotten the chance. And we're itching for a fight! SO if there's anyone up in that fighter's room that thinks they got what it takes, One of us will be happy to prove you wrong!"
Garm chuckled at Hazuki's taunts as the green haired woman tossed the mic aside and smirked. No matter who came down that ramp, they'd be bagged and tagged so fast their head would spin. The two heels weren't concerned, only happy to be back in action once again!
Last edited by Tarantulust on Sat Jan 08, 2022 8:01 pm; edited 1 time in total

Tarantulust




Posts

: 1739


Join date

: 2018-04-18



Someone that would be challenging them wouldn't be too long to keep the tag team waiting. With slow rise of guitar playing over the stadium, a larger older figure would emerge clutching a microphone in her hands. For the two this figure would be rather familiar as it was none other than the old hand that was Grizzly Yamamoto, a veteran of the old Wrestle Angel company as she  walked out on to the stage. She had definitely gotten older, no longer the younger face that she was before and her time in the AFW had been sparse.
"How about me, I'm sure I can give you one Hell of a match, unless you both are too chicken to face a real bear in the ring?" she called them out from the stage, slowly moving down the ramp then regardless if they accepted or not, "I could use a good warm up as my come back."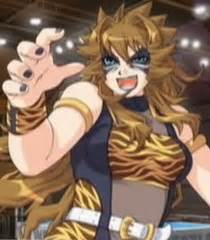 Grizzly stomped around the ring a bit, smiling in a way to try and intimidate. She knew very well that Garm and Hazuki were just like her, heels that'd do anything to win. The only difference was that with Grizzly she didn't need to rely on a dirty trick, it was raw skill and strength all the way and she was going to show them and the audience how much so that was as she went up the stepped up the metal stairs on to the mat. Walking along side she'd continue to stare both of them, watching them for any sort of tricks they might pull before bringing herself into the ring proper.

SimplyMoon




Posts

: 1711


Join date

: 2017-04-25


Age

: 25



The two heels both noticeably reacted to the all too familiar entrance theme, each woman's gaze flicking over towards the entrance ramp. Neither of them were surprised to find their fellow Wrestling Angels veteran walking down that ramp, not when they instantly recognized the theme Grizzly had been using for some time since coming to the AFW. What was surprising was the fact that Grizzly had wandered out at all. Just as they had been gone for sometime thanks to their contract dispute, it had been a good few months since the fearsome woman known as Grizzly had seen the inside of a ring. If either of the two of them believed in fate, they might have thought it was intervening at this moment.

"Chicken?!? HA! You aren't exactly the type to make us shake in our boot before, what makes you think-"

Hazuki would audibly click her tongue, interrupting her bodyguard with the sudden sharp noise. At first it seemed like  deceive gesture, but the thin smirk that appeared on the green haired woman's lips was a subtle signal for the orange

"Grizzly...Haven't seen you since W.A was shut down. Nice to see there are still some skeletons rattling around in this place's closet."

Grizzly watched the two of them carefully. She might have walked out here calling the both of them chicken, but if anyone knew what these two were capable of it was Grizzly. They were fearsome opponents by themselves, and together they were an experienced and destructive duo! It might have been foolish for even someone as fierce as Grizzly to come alone, but for the moment neither of them made a move on her.

"But if you think you can take the both of us on and leave in anything less than a stretcher, then you've got almost as much fat in your brains as you do in your stomach. But that's fine, we came here to mess up some doe eyed losers but I'm thinking we just changed this into a reunion match. Why don't you and Garm go at it for a few rounds?"

"Me? You usually hog all the good fights for yourself and stick me with the cleanup! Why so generous now? I thought you hated me?"


"I do. But it wouldn't be much of a fight breaking Grizzly apart, even in front of a crowd. I think I'll save myself for somebody who really pisses me off."

That single golden eye flashed over towards Grizzly, Hazuki still smiling smugly.

"What do you say Griz? Want an actual chance? Or should we just humiliate you for old times sake?"

Tarantulust




Posts

: 1739


Join date

: 2018-04-18



"Well I do need a good warm up and I do suppose that I can warm up with you Garm, then I can take your little lover girl Hazuki out to the trash that she belongs to," smirking as she threw the microphone that she brought with her aside. The two of them she doubted could taken on at the same time, most likely pushing her to the limit in what would only end as a savage mauling for the Grizzly and not her opponents. Fighting Garm was a much more level playing field, although still a challenging one at that.

She'd begin to stretch, smirking the whole time as she attempted to give a confident and proud look at what would be her opponent for the evening, "Hope that fat ass of yours's Garm is ready to get kicked. It's long overdue," putting an arm behind her head to stretch before going into a crotched position, a typical styled wrestling stance that was definitely collegiate in origin, "Come at me when you're ready. I got all evening to wreck ya silly tonight."

SimplyMoon




Posts

: 1711


Join date

: 2017-04-25


Age

: 25



Instantly, the two women's expressions soured rather aggressively towards Grizzly after she made her passive comment. What had been a rude, but relatively calm pair of Heels now looked like the both might just attack her then and there. It was Hazuki's idea to make it a fair fight, but after that comment, even she looked like she was having second thoughts. The eye patched woman's snarl slowly went back to a sick grin, cracking her fingers before opening up her arms to Grizzly. A not so silent challenge that would hang in the air, even while Garm's massive form remained beside her.

"I'll be more than happy to prove myself against a cub like you Griz! But right now, I think you'll be a decent enough competitor to make sure Garm is up to my specific employing standards! Course, if you prove to be better than I think you are, I'll step in and give you a real fight!"

"Gee, thanks for the bode of confidence."

"Earn it!"

With that, the two heels would separate. Of course, even if Hazuki said it would be a one on one, the chances of Grizzly being double teamed were still high. The green haired fiend rolled out of the ring, but it may as well be a deadly snake slithering back into the tall grass. Grizzly was going to have to be careful and watch her back, though Garm would be a not so subtle threat by herself.

"You sure talk alotta game, Grizzly! Can't wait to knock the words right outta your mouth and make you earth them! But I'll make sure there is enough room for my fist!"

The two fighters would get in their stretches as the bell rang, the veterans facing off once again after so many years had passed was really firing up the fans in the crowd! The bell initiating the fight was like a clash of thunder signalling the two titans to battle! Garm would launch forward like a torpedo, swinging her massive arm forward to try and slam Grizzly's collar and throw her down to the ground!

Tarantulust




Posts

: 1739


Join date

: 2018-04-18



"Jeez, ya think you know a person. But then again, you're nothing more than a snake in the grass. A garden snake after all can't match a grizzly,"she'd respond. Grizzly would then beat her chest with her right arm, pumping herself up as she roared out like her bear like namesake. The crowd was getting pumped to see a classic match of two veterans facing off against each other after a long time away. While the two were classically villains, it was getting apparent that Grizzly looked to be playing more the Face in this, not that she minded it, after all she was going to be getting a good time in knocking Garm around and maybe Hazuki as well.

Once that bell would ring Grizzly would stand firm, forming a traditional wrestlers stance as she met Garm toe to toe, "I'll talk as much as you eat lardo," smirking as Garm attempted to slam an arm against her. In response Grizzly came forward to meet her, shooting an arm out to do the same back, both having what looked to be the same as the two looked like head on collision freight trains, Grizzly gritting her teeth but standing firm as the impacts landed.



SimplyMoon




Posts

: 1711


Join date

: 2017-04-25


Age

: 25



"A garden snake, huh?"

Hazuki couldn't help but chuckle as she slipped through the ropes and left the ring. A part of her was secretly hoping for Garm to fail now, the Green haired grappler's unmistakable smile shining like a drawn blade in a crowded room. Hazuki had every confidence she could handle someone like Grizzly if the situation were to arise, but dealing with small fry like that wouldn't get her anywhere. It had been some time since she had last taken up a match that was actually worth her attention, but that didn't mean she would just jump into the ring because a rookie demanded a fight. No, Garm would be proving herself to Hazuki tonight. A warm up of sorts, to make sure the big lug was still capable of doing the bare minimum of her duties. If not, then Hazuki could easily find someone else to do the job…

--

Grizzly could boast all she wanted, say all the same things everyone else did. She'd end up like everyone else! Beaten and beneath Garm's boot! Griz might have been strong, but Garm was a monster truck of force and power! If she wanted someone taken down, they were going down! End of story! And while Griz was a pro, Garm was looking to prove herself tonight! Like a locomotive, the orange attired bully charged forward, looking to wreck her opponent right off the bat! But it seemed that Grizzly had a similar idea! Because she too would harge forward with an arm at the ready, the pair of fighters SLAMMING into one another with a resounding CLAP! The ring shook underneath them, but despite each fighter trying their best, neither of them crumpled!

""Well, still as sturdy as ever, huh Griz?!"

Rather than wait for a response, Garm would simply pour on some pressure! The giant guard would pull her arm back and, with a swing like a sledgehammer, looked to chop Grizzly's chest with a savage swing! If given the chance, Garm would do so again and again, looking to try and test Grizzlys endurance and maybe find a crack in her tough shell while she was at it!

Tarantulust




Posts

: 1739


Join date

: 2018-04-18



"They don't call me Grizzly for...," she responds back to Garm before being cut off by savage chop right into her chest making her wince in pain. The attempts at a lariat by the two were nothing in comparison to the pain she was feeling now, landing right over the upper portion of her breasts, it was like a whip had been struck on her person. A tremendous blow. It would soon be followed up by another, staggering her as it looked like the Grizzly had bit off a bit more than she could chew with Garm.

Another strike would hit, stumbling her back as the strike sent pain through her body and yet it seemed to an extent she had barely budged beyond the step back she had done, "Gruuhh!" she let out as another hit, the last straw as immediately she'd send out a toe kick against Garm, hoping to catch her off guard with a strike right into the gut.

SimplyMoon




Posts

: 1711


Join date

: 2017-04-25


Age

: 25



The smack across Grizzley's chest was loud enough to radiate out into the audience, causing them all to react with a disgusted withdrawal! Even the sound of the smack was enough to give them the idea of how much it hurt, and it came back again and again at least three more times! Grizzly retreated one single step the first time, but amazingly held her ground for the rest! The veteran was clearly in pain but Garm didn't let up for a second as she continued to punish her opponent as savagely as she could!

And just as she was winding up for  yet another chop, Grizzly would finally take the initiative and strike out with her leg! A kick wasn't super rare in wrestling, but with women such as Grizzly and Garm, their hits were more effective with two feet on the ground rather than one. And with Garm on full offense, Grizzly would see that there was little in the way of blocking her kick, as it sunk into Garm's guts and forced the woman to retreat a step!

"GUH!"

The strike caused a slight pause in the fighting, but not a very long one. Garm would shoot Grizzly a glare before charging forward to try and spear the animal to the floor, looking to take this fight down and dirty!

Tarantulust




Posts

: 1739


Join date

: 2018-04-18



The kick smashed into Garm, right into her gut and making the woman retreat back for the time being. Of course Grizzly knew that her opponent wasn't going to just be brought to heel just because of one measly kick. She was just as tough an old bitch as she was and wasn't going to be taken down without a proper fight to beat her. That was easier said than done as before Grizzly could even really manage to be able to take advantage of the kick Garma was at her again and this would take both of the groups down to to the mat with a spear.

"Grahh!!" she'd spurt out as she landed down with Garma a top her. The attack has shaken the large woman, the spear taking the air out of her with it's unexpected strike, "Damn..."

SimplyMoon




Posts

: 1711


Join date

: 2017-04-25


Age

: 25



Page 1 of 2 • 1, 2
Similar topics
---
Permissions in this forum:
You
cannot
reply to topics in this forum