Who is online?
In total there are
48
users online :: 3 Registered, 0 Hidden and 45 Guests :: 2 Bots
JoggingJokes
,
killcarrion
,
skip-stop
Most users ever online was
418
on Tue Jul 30, 2019 4:51 pm
Champions & #1 contenders
fraction match wanted
Wed May 24, 2023 1:46 am by Rohi Yamin
Comments: 1
Tension Match Hunt
Sat May 20, 2023 4:50 am by GrandAkumaShogun
Looking for matches for my boys
Takeichi Mori
Takeshi Kawai
If anyone is interested feel free to hmu. ty in advance to anyone who responds.
Comments: 1
Looking for Friction Hentai debut match
Wed May 24, 2023 3:50 am by SigmaMorgan
Comments: 3
*Adopted from Tai*
Name: Grizzly Yamamoto
Sex: Female
Age:  46
Eyes:  Green
Hair: Brunette
Height: 5'6"
Weight: 190 lbs
Nationality: Japanese
Alignment: Heel
Entrance Theme - "Edge of Seventeen" by Stevie Nicks
Wrestling Style:  Grizzly uses a mix of classic wrestling technique's mixed with a impactful power style.
Attire:  Same as pic:
Favored moves:  Punches, kicks, stomps, big splashes, body slams, powerslams, body splashes, suplexes, throws, powerbombs
Finishers:  
Piledriver: The most classic of classic wrestling finishing moves, and one that has served Grizzly well throughout the years. Simply bend the opponent over, slide her head between her legs, hook her body upright and jump down, planting her opponents head into the mat.
Grizzly Bomb: A Sit Down Powerbomb
Personality:
In the ring, through her early career, and years of fame in Wrestle Angels, Grizzly has always been a tough and imposing opponent. She is viscious, and is more than happy to throw her opponents around, crush them in painful submissions, and slam them to the mat with powerful slams and bombs. No matter what her opponents age or size or gender is, she shows no mercy, willing to use whatever violent tactic or move she needs to get the job done, though strangely enough, she's never been known to actually cheat, or intentionally injure an opponent.
The main reason for this, is that her viscious "Grizzly Bear" image and mentality in the ring is a gimmick, a character she willingly plays. Grizzly considers what happens in the ring to be nothing more that "just business" and created a hated heel character in her youth in order to gain more attention from fans and independent promotions across Japan. She acknowledges that her style is very aggressive and painful, especially whenever she gets put against smaller opponents, but handwaves it, saying that all matches are painful, that its what competition is, and while she pulls no punches, she never goes out of her way to intentionally injure anybody, never cheats, and doesn't do anything before or after the bell.
Outside the ring however, Grizzly is a kind, warm, giving, and, especially in WA as she started getting up there in years, motherly woman. She is quick to check on her opponents backstage to make sure they aren't seriously hurt, is happy to play around and joke with then and interact with them outside of the ring and arena. Given her lack of marriage or children of her own,  she has developed a tendency to treat much younger wrestlers as if they were her own, offering advice and care towards their daily lives and issue's, as well as advice for their outfits and career and life options.
History:
Grizzly has spent her entire adult life as a professional wrestler, catching the sport on television at a young age and becoming a fan, to wrestling in high school, to moving from her hometown of Aomori, Japan to the big bustling city of Tokyo at 17, spending three years at a dojo, where she was worked mercilessly, trained by wrestlers who would work stiff against her, force her to work her body to the point of sheer exhaustion, build the ring with the other "young boys/girls" in the dojo, watch endless matches and tapes to study, and work out and exercise.
It was finally three years later, (taking an entire year off to return home to care for an ailing family member) at the age of 20, that she finally was allowed to start working real, not training, matches in the ring and focus on her style. Following the old school tradtion, (one that the rise of AFW has sadly eliminated) after her first couple years of matches, she was sent to wrestle in the west, spending a few years wrestling in Mexico, America, (which THRILLED her, as most of her favorite musicians had come from that country and were still active, allowing her to see them live in another country as well as in Japan) and South America before she was finally sent back to Japan, having gained immensely valuable experience and, more importantly, having developed a character for herself, of an aggressive and rebellious girl, as influenced by her female rock idols.
For the next two straight decades, Grizzly wrestled all over Japan for various promotions, winning and losing various major and minor titles, teaming with various tag partners, suffering various injuries, and both reaching large amounts of fame and main events and falling to opening match obscurity.
It around 14-15 years into her career, when years of injuries and getting older caused her to pack on more weight and change her style to a more powerhouse one, that she joined Wrestle Angels, a company just starting up, that ended up becoming, at the time, the most high profile and famous company she would work for, showcasing some of the best talents from all over the world to a worldwide audience.
Grizzly stayed with Wrestle Angels for the entire duration of its multi-year run, acheiving a level of fame and respect she had never had before, and, despite the viscious and powerful character she portrayed on camera, gained more friends than she ever had before behind the scenes, thanks to her kind, motherly nature gained from reaching middle age and not having gotten married or had kids of her own, and her excellent cooking skills.
By far her biggest moment in the Wrestle Angels league came when, after carving a path of destrcution and building up a fair winning streak, she defeated Chigusa Yuuki to become the WA World Champion, a moment that still makes her proud. She was a short lived champ, only defending the belt successfuly once before being defeated for it by Mighty Yukiko herself, the company's main star.
But all good things come to an end, and eventually, with rival promotion AFW gaining rapidly in popularity, due in no small part, Grizzly felt, to the erotic hentai matches the company regulary put on, Wrestle Angels began losing fans, losing merch sales, losing money, and began losing wrestlers as well, as several stars jumped ship to AFW or retired. Grizzly stayed though, all the way to the end, even competing on the very last show the company put on, wrestling for the WA World title against the final champion, Chris Morgan, in a losing effort, injuring her leg in the process.
With Wrestle Angels gone, and a leg injury keeping her sidelined either way, Grizzly, at the age of 43, and with 23 years in the business at that point, decided to retire, spending the next couple years at home taking things easy. It wasn't until she saw a video package on The rise and fall of WA, where it metioned the last show and had a small segment mentioning Grizzly as now being a 25 year wrestling veteran, that she started wondering if maybe, now that her leg had long since healed, she should get back in the ring.
It was during this period that she finally starting watching AFW, discovering that it had changed since her days in WA. Things she disliked, like the rampant sexuality and small Kawaii's, had been scaled back, and there was some great wrestlers, and even several of her former friends were still wrestling there.
Watching the action and competitiors...started to make her feel an itch, a drive to step back in the ring, compete again, show the world that she still had it in her to get things done.
With that, she made a few calls to a few former WA backstage employee's that found themselves working backstage in AFW, and within a matter of months, she was training again, getting back in shape, and had signed a contract to join the Friction League.
Misc. Facts:
Grizzly is a fine cook, and often brings snacks and meals to catering for other wrestlers to enjoy.
Back in her Wrestle Angel days, Grizzly would invite any wrestler she was friends with to her home on any major holiday, birthday, or just days she felt like it, for a big home cooked meal to enjoy, a tradition she hopes to continue in AFW.
Grizzly, when she first started her career as a young woman, was a slim and fast high flyer. However, a 25 year in ring career, multiple injuries, and the general pains of becoming middle aged have caused her to bulk up considerbly in muscle and weight, leading to her adopting the powerhouse style she uses now.
Grizzly is a huge fan of the rock music of the 70's and 80's that she grew up with, and her entire outfit and makeup design is based off her favorite female rockers from that era.
Grizzly is well aware of her status as an "relic of the old school" and that the modern era, in terms of media and entertainment and wrestling fans interests, have mostly passed her by and that things that her outfits, theme music, (and musical interests overall) and moveset is considered heavily outdated, meaning she'll never be someone the AFW league is willing to promote, but ultimately she doesn't care.
Indeed, all she really wants is to be able to enjoy herself in the ring while she's still able, and show the world that she shouldn't be discounted just because she isn't some 18 year old in a bikini doing hentai matches, and that the old school style still has its merit in the modern era.
Grizzly's entrance music, "Edge of Seventeen" by Stevie Nicks, is not only a personal favorite, but holds a great deal of meaning to her, as she started her wrestling training at 17, which started her entire career, everytime she hears it, she gets shivers from all the memories of her career running through her head.
Match Record:
0 wins/2 Losses
Wins:
Losses:
Adrian Kytes defeated Grizzly Yamamoto via Pinfall (Fus Ro Dah Superkick)
Jessica Wright defeated Grizzly Yamamoto via Pinfall (Queenmaker)
Timeline:
1.
Grizzly makes a surprise debut!
LOSS
2.
Grizzly has her second match in AFW, against a member of WAR! Jessica vs Grizzly!
LOSS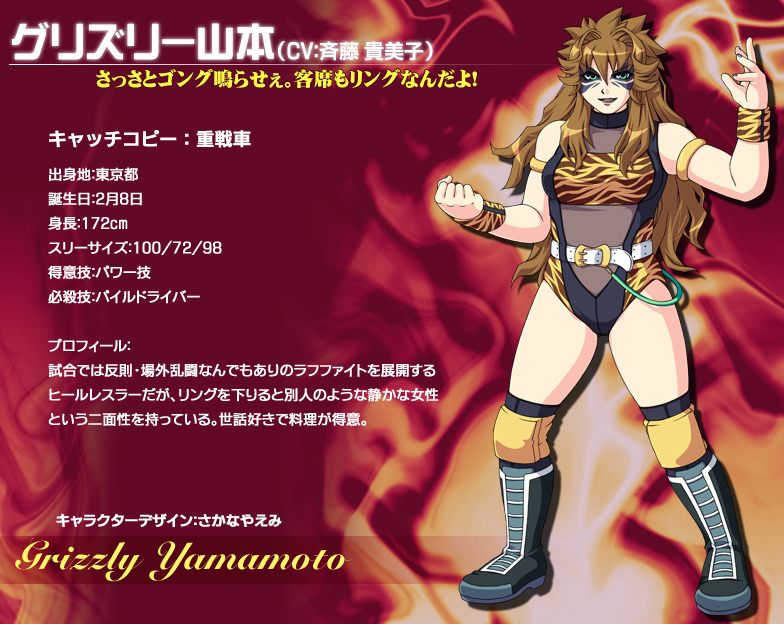 message.txt
11 KB

SimplyMoon




Posts

: 1709


Join date

: 2017-04-26


Age

: 25



Similar topics
---
Permissions in this forum:
You
cannot
reply to topics in this forum