Who is online?
In total there are
29
users online :: 1 Registered, 0 Hidden and 28 Guests :: 2 Bots
Deblod100
Most users ever online was
418
on Tue Jul 30, 2019 9:51 am
Champions & #1 contenders
Melanie needs a Debut♡
Tue Mar 21, 2023 10:29 am by Leon564
Comments: 0
Match search
Tue Mar 21, 2023 5:20 am by GrandAkumaShogun
Looking for a match for any of my three guys. If interested feel free to get in touch and we discuss ideas for a match and either plan out who will win or wing it. If you want info on each the links are below.
Takeichi Mori
Takeshi Kawai
Imai Cosmo
Comments: 0
Friction ( toys ) match wanted
Fri Mar 17, 2023 11:45 pm by Coolgirl1999
Yep! That's right I want my first match to be a toys match! I'm wondering if there's any woman brave enough to take me on!!!
Comments: 0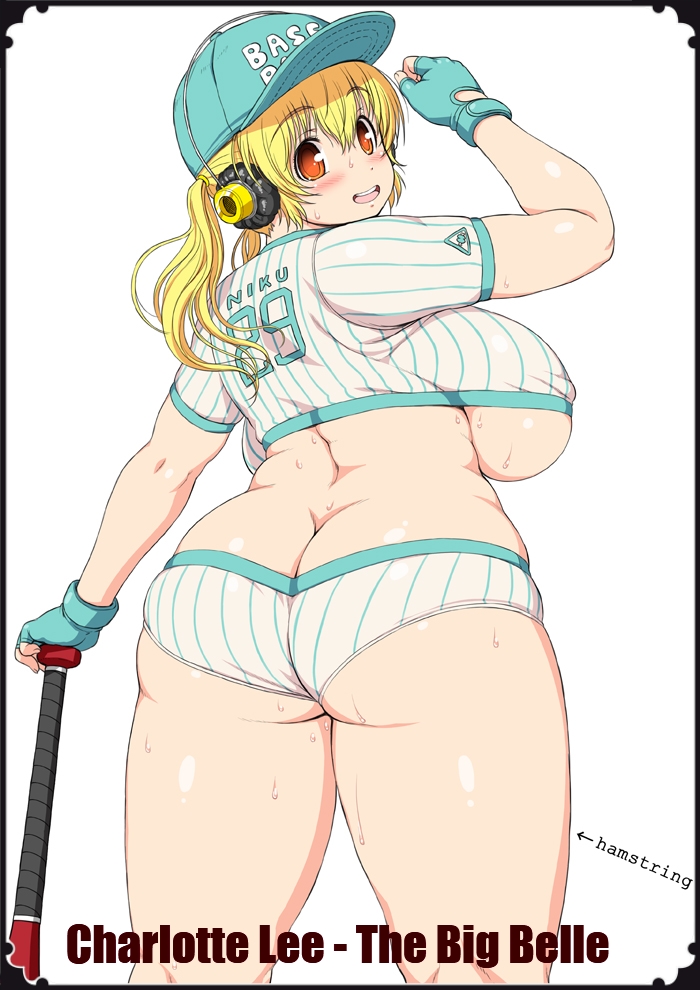 Real Name: Charlotte Lee Age: 29 Eyes: Red Hair: Blonde Height: 6'1"
Weight: 307Lbs Sexual Preference: Men... Only Men! Ok, maybe Women... but only to try!
Alignment: Chaotic Neutral. Nationality: American, Rural Texas.
✙✙✙✙✙✙✙✙✙✙✙✙✙✙✙✙✙✙✙✙✙✙✙✙
Wrestling Information
Strategy: For serious opponents, Charlotte will go all out and crush them with her weight and power. For lightweight opponents, Charlotte likes to take her time. She may even let her cute opponent get in some offense.
Style: Sensual Powerhouse.
Strengths:
Charlotte is presumably unliftable and therefore immune to most power moves.
Charlotte's weight makes her submission moves extremely potent.
Weaknesses:
Charlotte herself is very vulnerable to chokes, and suffocation-based submissions due to her nonexistent aerobics and stamina.
Physical Stats
Endurance:
5/5 (Charlotte is like a punching bag. Most wrestling moves are negated at least partially by her generous proportions.
Strength:
5/5 (Charlotte has a wide and strong foundation for lifting, shoving, or launching even the heaviest wrestlers.)
Speed:
2/5 (Charlotte struggles to gain momentum. When she does, she becomes unstoppable like a train off its tracks.
Stamina:
2/5 (Charlotte gets winded quickly. She doesn't do well in slow-paced matches.)
Intelligence:
2/5 (Charlotte is a simple, sweet country girl. Strategies?, plans?, Tactics? They all seem like a bother!)
Finishing Move set
The Lasso Lariat:
Charlotte grabs her opponent's wrist, locks their arm behind their back, and pulls them into a devastating lariat. Ver.2
Texas Tall Uppercut:
Charlotte uppercuts a standing opponent or launches them before her uppercut. Ver.2
Southern Comfort
Charlotte puts her opponent in a loose sleeper hold; ensuring the knockout takes as long as possible. Ver.2 / Ver.3 / Ver.4
Texas Torque
a grappling clinch hold and the stand-up grappling position where the arms are wrapped around the opponent, either around the opponent's chest, midsection, or thighs, sometimes with one or both of the opponent's arms pinned to the opponent's body. The hands are locked around the opponent and the opponent is held tightly to the chest. Ver.2 / Ver.3
Stampede!!!
Charlotte slowly gains momentum and then smashes into an opponent preferably already racked on the turnbuckles. Shell follow this by giving her staggering opponent a big boot to the face. Ver.2 / Ver.3 / Ver.4
Timber!!!
Charlotte bounces off the top ropes and aims to slam into her standing or prone opponent.
Welcome Down Yonder
Charlotte smothers her opponent with her immense behind. No air or light can escape her ass. A different variant involves Charlotte slamming her massive buttox into her opponent's face. Ver.2 / Ver.3 / Ver.4
Bronco Buster
Charlotte mounts her opponent's neck and shoulders while they're sitting against the turnbuckles and rides them like a wild bronco.
Cradle To The Grave
Charlotte applies a front face lock to the opponent, then lifts the opponent into an elevated leg-trap body scissors position and finally fall backward driving the opponent head first down to the mat. Ver.2 / Ver.3
Death In Texas
After placing her opponent in what one might assume is a 69 position the big gal plops to her knees, Spiking her opponents head into the mat. Ver.2 / Ver.3 / Ver.4
Rack Attack
Charlotte places her opponent in a torture rack position before dropping to her knees and breaking her opponent in half. Ver.2 / Ver.3
Preferred Weapons
Rope.
Cattle Rod.
Any food laying around.
✙✙✙✙✙✙✙✙✙✙✙✙✙✙✙✙✙✙✙✙✙✙✙✙
Personality
Charlotte is simple, sweet, and sedentary. She is torn between the strict rules of her faith and her ravishing gluttony for food, Men, and other sacrilegious things. Charlotte was brought up on conservative and religious principals that she desperately tries to adhere to. Living such a stifling environment has made her a closeted deviant; constantly twisting the rules of her faith to pursue her cravings. Above all else, Charlotte's most shameful desire is for young petite girls.
Careful about what comments you make about her body or country ways; it is an easy way to earn her ire.
History
Charlotte was born and raised on a ranch in rural Texas. She spent her days among all manner of cattle and farm hands, toiling in the hot Texas sun. This lifestyle has made her unafraid of getting rough and dirty in a wrestling match. Though she enjoyed ranch life Charlotte eventually grew bored of it and decided for a change of pace. One night Charlotte was witnessed outside a bar beating up three would be assailants to a pulp. The person who witnessed this happened to be a recruiting agent for a wrestling faction. One quick contract signing later and Charlotte was ready to tour the country.
-Fun Facts-
Charlotte likes to use overly long and convoluted texas sayings.
Charlotte is a hugger. Friends, enemies, doesn't matter she'll hug just about anybody.
If you wanted to find her try the bar or any local bbq joints.

SimplyMoon




Posts

: 1686


Join date

: 2017-04-25


Age

: 25



---
Permissions in this forum:
You
cannot
reply to topics in this forum