Who is online?
In total there are
38
users online :: 2 Registered, 0 Hidden and 36 Guests :: 3 Bots
Lilybell
,
USLMAN
Most users ever online was
418
on Tue Jul 30, 2019 9:51 am
Champions & #1 contenders
Looking for matches
Fri Nov 25, 2022 8:50 pm by Void Effect
Comments: 0
Looking for fun Fights
Wed Nov 23, 2022 1:55 pm by Leon564
Hi hiiiii
Hope you are well my fellows! Happy holidays to those that celebrate. Though some of you may indeed be busy, some of you might be bored and alone. Well I'm here as well bored and alone
So same boat. But not always the same tastes.
Anywhoooooo I've got my two characters available for some battles. James is decently flexible on whom he fights. But Melanie is strictly for the men. She can't get enough of'em
Take a gander at them and hit me up either with a …
[
Full reading
]
Comments: 0
Free Face Claim
Thu Nov 17, 2022 6:11 pm by Void Effect
Three of my character is getting Axed, just ya guys want em, just let me know in DM
https://www.afwrpg.com/t20236-ellie-haise-kaneki#543253
https://www.afwrpg.com/t20341-satella-the-witch-of-envy
https://www.afwrpg.com/t20571-eveline-lector-the-cruel-rabbit
Spoiler:
Spoiler:
Spoiler:
[
Full reading
]
Comments: 0
Page 3 of 3 •
1, 2, 3
Her legs of steel seemed to coil around Natsu's waist, locking her in tight as her fangs threatened to sink in. She wasn't exactly sure how long she could hold onto this hold for but she could see bit by bit, how much body scissor was taking the fight out of the upstart. She smiled but not out of satisfaction but from the joy of fighting an opponent with resilience and the aptitude of the arts. They denied the referee the chance to end things here and despite that small tid-bit of frustration, Làn was more then welcoming to continue this match. She wanted to see more of the Arisawa style not to mention she wanted to put her training to good use, the struggle was becoming real as both women went to great lengths to overcome the other.

Hearing about the highschooler's friend, she couldn't help but think of Qing-Yuan again. Thinking back to their younger days when the two of them sparred together and became rivals in their world of Chinese martial arts. "This friend of yours, Nami? She sounds nice, I'm sure I'll like her if she's anything like you." The snake replied.she was a sucker for cute things, she just had to dote on them the next chance she got.

All that would come to a schreeing halt as she felt a sharp pain in her midsection. Her fingers instinctively scrunch up in pain, her face contorts along with them. Her gaze shifts from the back of Natsu's head to the elbow ramming back into her center again. A rough grunt escapes her lips as she attempts to hold onto her submission advantage but as the third elbow dug into her ribs, she was forced to drop back to the mat. Her legs still locked like a Vice it wasn't until that back fist came barreling towards her face that she was knocked away. Her legs uncoil as if the Snake Queen had been pushed back from a bite. She rolled onto her stomach, curling up as her stomach and ribs aches. Her hands slide to cover her wounds and she laid their motionless. She could hear her father now, scolding her for dropping her guard and allowing herself to fall victim to the oldest truck in the book.

Làn would roll back to her knees, covering her wounded center, her forehead presses against the canvas, and slowly she tries to push herself up. If she knew anything about Natsu, she definitely seemed like the type to bounce back quick. She grits her teeth, going for another attempt to get to her feet, she needed to get back into stance before she felt the wrath of Arisawa. "Yup, I'm definitely going to be feeling this tomorrow…" She mutters.
_________________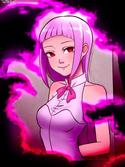 LilyStar




Posts

: 894


Join date

: 2018-02-27


Age

: 26


Location

: Your heart



Although the Chinese prodigy and herself were practically becoming closer friends by the minute in between attempting to knock the other's daylights out (which was much more common in the world of martial artists than you might realize), the jury was decidedly
out
as to whether Làn-Fen would warm up to
Nami
in the same manner as with Natsu. Her high school friend Nami, whom teachers back in school often described as somehow being even more of a spastic troublemaker and inept at schoolwork than Nattie, has been known to ruffle even the most unflappable of feathers. But Nattie would definitely give Làn-Fen the opportunity to see if she could whether her rambunctious whirlwind of a friend. Well, just so long as there's nothing invaluable, easily shattered, and preciously treasured to Làn-Fen in their immediate vicinity whenever the meetup occurs.
For now, though Nattie was
soooo
very grateful to Làn's accidental assistance in the scrappy schoolgirl earning her cherished freedom from the pinching leg scissors. In perhaps a testament to Nattie being a fighting prodigy herself, she apparently proved herself a quick study by overhearing Lan's tutelage about making an opening and immediately
takin' a whack at it
in a real life scenario. Lan's breadbasket being tenderized from consistent elbow strikes until she slackened her posture with the side of her face getting creamed with one
helluva
backfist. Being unbound from the Snake Queen's tightened coil was akin to being allowed to breathe again. Natsu huffing out through puffed cheeks as she flopped over to her knees, except huddled completely over with spastic coughs as she shielded her breadbasket. Tip-toes of her Converse sneakers frantically tap-tap-tapping against the canvas all throughout.
The schoolgirl fighter inadvertently mimicking Làn and now acutely understanding of just how her adversary earned her serpentine moniker. She was being sapped of her energetic vitality at an unreal pace in those legs of hers, that is until the Snake Queen would see fit to
sink her fangs in
with a paralyzing submission that a lifeless Natsu ain't gonna be escaping this millennium. In spite of this, she started soldiering back up to some semblance of verticality. Quivering legs beneath her with haggard breaths and one arm covering her midsection, but spying Làn-Fen off in the distance and making her own headway in standing back up. The schoolgirl smacking her cheeks to hype herself up, and proceeding to sprint towards her friendly foe just as she started turning around. At the very last second she'd tuck herself into a ball, and levy her feet against Làn's abundant breasts for a cave-in stomp known as her
"Early Spring"
maneuver. But slumping down with the momentum to have her bloomered backside be seated with a bounced jiggle on Lan's squished boobs, legs extended in an exhausted but nevertheless legal pin attempt.
"1!"
_________________

killcarrion




Posts

: 5926


Join date

: 2013-04-14


Age

: 35



The rib shots were effectively cracking her guard, making her hands keeping her up shake. Her hold was loosening and getting knocked away with that back fist really put the nail in the coffin. She laid flat on her stomach, panting, attempting to catch her breath as it escaped. In a weird way, she felt she was fighting her old self, one with the energy to combat her experience. Perhaps her mental state was a bit scrambled from the shock in her jaw but that was besides the point. She was enjoying herself and the work she had to put in to keep an upstart like Natsuo down. It made her realize she still had so much left to give and fight for and that gave her the motivation to keep learning and training.

Despite those feelings, she didn't expect such a turn from her hold but given the oppurtunity she would've done the same thing if she was in their shoes. With her left covering her wounded center, she uses her right to push and prop herself up to at least hold her form upright. Her breathing was slow as she makes a third effort to get to her feet. Slipping one foot under her frame, she pushes herself to stand. The serpentine queen could really feel those shots, her guard was chipped away more so then she thought and her defense was shabby at best. She didn't particularly think her "scales" could be shattered to this point but here she was, absent minded and slow to get into stance. Turning to face her opponent, it was far to late to counter.

Her chest explodes with pain as she feels those converse sneakers, plow into her. Làn can't even manage a cry in pain as she's forced down to the mat with the momentum. Her body comes down hard, knocking the back of her head against the canvas. Splayed out eagle style as she pants, noticing a weight on her chest and her arms pinned at her sides. She opens her eyes to find Natsu sitting atop her chest, going for a lazy but legal pin. Her mind began to race as she heard the first count ring out. She couldn't let it end like this, nor could she allow herself to give up from pain or the thought that this was a mountain she couldn't climb.

TWO!

The second count rings out as she musters up the strength to break. Pulling her legs in, she presses her Tai Chi shoes against the mat, building the tense in her leg muscles. Her upper half remains flat as she prepares to push. With a sharp cry, Làn would bring her body upward to buck the high schooler up and off her chest, if she managed that, she'd roll onto her side and pull back, pushing herself backwards to roll up in her feet and gain a bit of distance from the upstart. She opts not to get into stance just yet, she felt comfortable letting Natsu get back to her feet this time, she was going to chip away with all her might and take the win no matter what it took. Her eyes sharpen, as she lowers herself, given they got up to face her. "You almost had me there." She notes, Natsu had made the first bid to end things, that wasn't something she'd take lightly. "I hope you're prepared for what comes next."she warns.
_________________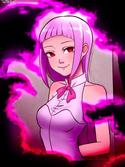 LilyStar




Posts

: 894


Join date

: 2018-02-27


Age

: 26


Location

: Your heart



Not that there was ever actually much reason for debate on the subject, but Làn's slithering nickname couldn't have been more appropriate even if her attire included her wearing a snakeskin dress and matching crown. Natsu's abundance of inflamed fighting spirit and determined willpower were being gradually snuffed out by what felt like pincers snapped onto her waist. It felt like she were in the scaled coils of an python, each breath being squeezed out of her like the last bit of toothpaste in an already flattened tube. Except instead of a viper's poisonous fangs to seal the deal on their entangled prey, it was Làn's dulcet voice and humble cordiality when conversing with Natsu which were lulling the schoolgirl into a false sense of security and making her forget she was in the Snake Queen's clutches. And the scary part was that it was just a regular ol' body scissors. Natsu would rather not imagine what Làn's more advanced submission holds feel like.

Fortunately, Natsu's tried and true method for nigh all of life's problems bailed her out in the end. Which was sheer brute strength and savagely pummeling the problem until it went away. Hey she never said it was a "brilliant" strategy, but it got the job done, didn't it? Not only that, it got the brawling schoolgirl in perfect position to take the scrappy fight right back to the martial arts prodigy herself. Natsu's tucked in stomp being somewhat of an innovation of hers that is a rarity in the wrestling world and practically impossible to predict, even for a capable fighter like Làn. Unorthodox spontaneity and a breakneck pace to her offense were what made her shine in the ring, but right now she was more about catching her breath than shining. Sitting her bloomered rump on Tam's swelled abundance made for a super comfy seat as she spread her legs out and leaned back with her hands braced on the canvas. Natsu breathing out an exhale while wiping some sweat from her brow...

...and not noticing she was actually pinning the elegant Chinese beauty until she'd been rocked from her horse by a bucking uptick that had Nattie yelping out as she came to settle on her hands and knees above Làn. She was quick on the uptick and realized her accidental win attempt, but chose to play it cool and pretend she'd planned it all from the beginning. Natsu's ascension being marginally quicker than her foe's but allowing Làn the same courtesy shown to her by giving Làn time to collect herself. "Heh...probably not. I'm kinda used to getting in way over my head when it comes to situations like these." Natsu quipped back while scratching the back of her head with a flummoxed smile and hunched over in exhaustion, sweat drops tapping the canvas from her forehead before she reasserted her own fighting stance. "Still, it's an honor just knowing I could possibly be an equal to a fighter as skilled and...beautiful, as you Làn. Just promise me that you won't hold a grudge against me if I win~..." A competitive fire burning once more behind her grinning smirk.

_________________

killcarrion




Posts

: 5926


Join date

: 2013-04-14


Age

: 35



Page 3 of 3 •
1, 2, 3
Similar topics
---
Permissions in this forum:
You
cannot
reply to topics in this forum