Who is online?
In total there are
38
users online :: 1 Registered, 0 Hidden and 37 Guests :: 2 Bots
Leon564
Most users ever online was
418
on Tue Jul 30, 2019 9:51 am
Champions & #1 contenders
fraction match wanted
Tue May 23, 2023 6:46 pm by Rohi Yamin
Comments: 3
Leaving here because of a baby
Fri Jun 02, 2023 4:22 am by Coolgirl1999
Goodbye everyone but I have to leave as I longer will have the time to roleplay as you seen by the title I have recently got legal custody of a family member 3 month old son and I have to focus on him, pets and work now which means I won't be able to do any more roleplay matches for a while, so goodbye
Comments: 1
Tension Match Hunt
Fri May 19, 2023 9:50 pm by GrandAkumaShogun
Looking for matches for my boys
Takeichi Mori
Takeshi Kawai
If anyone is interested feel free to hmu. ty in advance to anyone who responds.
Comments: 2
Page 3 of 3 •
1, 2, 3
Her legs of steel seemed to coil around Natsu's waist, locking her in tight as her fangs threatened to sink in. She wasn't exactly sure how long she could hold onto this hold for but she could see bit by bit, how much body scissor was taking the fight out of the upstart. She smiled but not out of satisfaction but from the joy of fighting an opponent with resilience and the aptitude of the arts. They denied the referee the chance to end things here and despite that small tid-bit of frustration, Làn was more then welcoming to continue this match. She wanted to see more of the Arisawa style not to mention she wanted to put her training to good use, the struggle was becoming real as both women went to great lengths to overcome the other.

Hearing about the highschooler's friend, she couldn't help but think of Qing-Yuan again. Thinking back to their younger days when the two of them sparred together and became rivals in their world of Chinese martial arts. "This friend of yours, Nami? She sounds nice, I'm sure I'll like her if she's anything like you." The snake replied.she was a sucker for cute things, she just had to dote on them the next chance she got.

All that would come to a schreeing halt as she felt a sharp pain in her midsection. Her fingers instinctively scrunch up in pain, her face contorts along with them. Her gaze shifts from the back of Natsu's head to the elbow ramming back into her center again. A rough grunt escapes her lips as she attempts to hold onto her submission advantage but as the third elbow dug into her ribs, she was forced to drop back to the mat. Her legs still locked like a Vice it wasn't until that back fist came barreling towards her face that she was knocked away. Her legs uncoil as if the Snake Queen had been pushed back from a bite. She rolled onto her stomach, curling up as her stomach and ribs aches. Her hands slide to cover her wounds and she laid their motionless. She could hear her father now, scolding her for dropping her guard and allowing herself to fall victim to the oldest truck in the book.

Làn would roll back to her knees, covering her wounded center, her forehead presses against the canvas, and slowly she tries to push herself up. If she knew anything about Natsu, she definitely seemed like the type to bounce back quick. She grits her teeth, going for another attempt to get to her feet, she needed to get back into stance before she felt the wrath of Arisawa. "Yup, I'm definitely going to be feeling this tomorrow…" She mutters.
_________________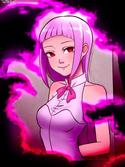 LilyStar




Posts

: 919


Join date

: 2018-02-27


Age

: 27


Location

: Your heart



Although the Chinese prodigy and herself were practically becoming closer friends by the minute in between attempting to knock the other's daylights out (which was much more common in the world of martial artists than you might realize), the jury was decidedly
out
as to whether Làn-Fen would warm up to
Nami
in the same manner as with Natsu. Her high school friend Nami, whom teachers back in school often described as somehow being even more of a spastic troublemaker and inept at schoolwork than Nattie, has been known to ruffle even the most unflappable of feathers. But Nattie would definitely give Làn-Fen the opportunity to see if she could whether her rambunctious whirlwind of a friend. Well, just so long as there's nothing invaluable, easily shattered, and preciously treasured to Làn-Fen in their immediate vicinity whenever the meetup occurs.
For now, though Nattie was
soooo
very grateful to Làn's accidental assistance in the scrappy schoolgirl earning her cherished freedom from the pinching leg scissors. In perhaps a testament to Nattie being a fighting prodigy herself, she apparently proved herself a quick study by overhearing Lan's tutelage about making an opening and immediately
takin' a whack at it
in a real life scenario. Lan's breadbasket being tenderized from consistent elbow strikes until she slackened her posture with the side of her face getting creamed with one
helluva
backfist. Being unbound from the Snake Queen's tightened coil was akin to being allowed to breathe again. Natsu huffing out through puffed cheeks as she flopped over to her knees, except huddled completely over with spastic coughs as she shielded her breadbasket. Tip-toes of her Converse sneakers frantically tap-tap-tapping against the canvas all throughout.
The schoolgirl fighter inadvertently mimicking Làn and now acutely understanding of just how her adversary earned her serpentine moniker. She was being sapped of her energetic vitality at an unreal pace in those legs of hers, that is until the Snake Queen would see fit to
sink her fangs in
with a paralyzing submission that a lifeless Natsu ain't gonna be escaping this millennium. In spite of this, she started soldiering back up to some semblance of verticality. Quivering legs beneath her with haggard breaths and one arm covering her midsection, but spying Làn-Fen off in the distance and making her own headway in standing back up. The schoolgirl smacking her cheeks to hype herself up, and proceeding to sprint towards her friendly foe just as she started turning around. At the very last second she'd tuck herself into a ball, and levy her feet against Làn's abundant breasts for a cave-in stomp known as her
"Early Spring"
maneuver. But slumping down with the momentum to have her bloomered backside be seated with a bounced jiggle on Lan's squished boobs, legs extended in an exhausted but nevertheless legal pin attempt.
"1!"
_________________

killcarrion




Posts

: 6056


Join date

: 2013-04-14


Age

: 36



The rib shots were effectively cracking her guard, making her hands keeping her up shake. Her hold was loosening and getting knocked away with that back fist really put the nail in the coffin. She laid flat on her stomach, panting, attempting to catch her breath as it escaped. In a weird way, she felt she was fighting her old self, one with the energy to combat her experience. Perhaps her mental state was a bit scrambled from the shock in her jaw but that was besides the point. She was enjoying herself and the work she had to put in to keep an upstart like Natsuo down. It made her realize she still had so much left to give and fight for and that gave her the motivation to keep learning and training.

Despite those feelings, she didn't expect such a turn from her hold but given the oppurtunity she would've done the same thing if she was in their shoes. With her left covering her wounded center, she uses her right to push and prop herself up to at least hold her form upright. Her breathing was slow as she makes a third effort to get to her feet. Slipping one foot under her frame, she pushes herself to stand. The serpentine queen could really feel those shots, her guard was chipped away more so then she thought and her defense was shabby at best. She didn't particularly think her "scales" could be shattered to this point but here she was, absent minded and slow to get into stance. Turning to face her opponent, it was far to late to counter.

Her chest explodes with pain as she feels those converse sneakers, plow into her. Làn can't even manage a cry in pain as she's forced down to the mat with the momentum. Her body comes down hard, knocking the back of her head against the canvas. Splayed out eagle style as she pants, noticing a weight on her chest and her arms pinned at her sides. She opens her eyes to find Natsu sitting atop her chest, going for a lazy but legal pin. Her mind began to race as she heard the first count ring out. She couldn't let it end like this, nor could she allow herself to give up from pain or the thought that this was a mountain she couldn't climb.

TWO!

The second count rings out as she musters up the strength to break. Pulling her legs in, she presses her Tai Chi shoes against the mat, building the tense in her leg muscles. Her upper half remains flat as she prepares to push. With a sharp cry, Làn would bring her body upward to buck the high schooler up and off her chest, if she managed that, she'd roll onto her side and pull back, pushing herself backwards to roll up in her feet and gain a bit of distance from the upstart. She opts not to get into stance just yet, she felt comfortable letting Natsu get back to her feet this time, she was going to chip away with all her might and take the win no matter what it took. Her eyes sharpen, as she lowers herself, given they got up to face her. "You almost had me there." She notes, Natsu had made the first bid to end things, that wasn't something she'd take lightly. "I hope you're prepared for what comes next."she warns.
_________________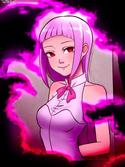 LilyStar




Posts

: 919


Join date

: 2018-02-27


Age

: 27


Location

: Your heart



Not that there was ever actually much reason for debate on the subject, but Làn's slithering nickname couldn't have been more appropriate even if her attire included her wearing a snakeskin dress and matching crown. Natsu's abundance of inflamed fighting spirit and determined willpower were being gradually snuffed out by what felt like pincers snapped onto her waist. It felt like she were in the scaled coils of an python, each breath being squeezed out of her like the last bit of toothpaste in an already flattened tube. Except instead of a viper's poisonous fangs to seal the deal on their entangled prey, it was Làn's dulcet voice and humble cordiality when conversing with Natsu which were lulling the schoolgirl into a false sense of security and making her forget she was in the Snake Queen's clutches. And the scary part was that it was just a regular ol' body scissors. Natsu would rather not imagine what Làn's more advanced submission holds feel like.

Fortunately, Natsu's tried and true method for nigh all of life's problems bailed her out in the end. Which was sheer brute strength and savagely pummeling the problem until it went away. Hey she never said it was a "brilliant" strategy, but it got the job done, didn't it? Not only that, it got the brawling schoolgirl in perfect position to take the scrappy fight right back to the martial arts prodigy herself. Natsu's tucked in stomp being somewhat of an innovation of hers that is a rarity in the wrestling world and practically impossible to predict, even for a capable fighter like Làn. Unorthodox spontaneity and a breakneck pace to her offense were what made her shine in the ring, but right now she was more about catching her breath than shining. Sitting her bloomered rump on Tam's swelled abundance made for a super comfy seat as she spread her legs out and leaned back with her hands braced on the canvas. Natsu breathing out an exhale while wiping some sweat from her brow...

...and not noticing she was actually pinning the elegant Chinese beauty until she'd been rocked from her horse by a bucking uptick that had Nattie yelping out as she came to settle on her hands and knees above Làn. She was quick on the uptick and realized her accidental win attempt, but chose to play it cool and pretend she'd planned it all from the beginning. Natsu's ascension being marginally quicker than her foe's but allowing Làn the same courtesy shown to her by giving Làn time to collect herself. "Heh...probably not. I'm kinda used to getting in way over my head when it comes to situations like these." Natsu quipped back while scratching the back of her head with a flummoxed smile and hunched over in exhaustion, sweat drops tapping the canvas from her forehead before she reasserted her own fighting stance. "Still, it's an honor just knowing I could possibly be an equal to a fighter as skilled and...beautiful, as you Làn. Just promise me that you won't hold a grudge against me if I win~..." A competitive fire burning once more behind her grinning smirk.

_________________

killcarrion




Posts

: 6056


Join date

: 2013-04-14


Age

: 36



Bucking Natsu to clear the Pinfall was successful but looking up to see the sweat covered brawler was surprising. Làn could feel her own exhaustion begin to settle in, the feeling of a hard fought battle began to take its toll on her muscles and stamina. It was with times like these that she could appreciate being in fights like this. It showed her advantages, her disadvantage, it opened up passages blocked by her own progress. Even now The Serpetine Queen could see where she needed improvement and the road to her fairing was still left unfinished. Natsu would have her gratitude for that but this was an.. unforeseen position to be in. "I have to say, having someone so cute and adorable on top of me wasn't in the horoscope for me today." She teased, still her declaration wouldn't go unpunished.

Làn wasn't angry nor was she frustrated. Matches we're nothing more then a chance at improvement, a test of skill, an oppurtunity to witness. The Highschool Brawler showed her much of what she could hope to see more of in her line of work and the training that would come with it. "A fighter should always know when they've bitten off more then they can chew. A beast can't hold all its offerings through spring and expect to last through winter." retelling the verbatim her father would always spew during her practice, she realized what it meant. She smiled as her ascension was slow, Natsu was honorable to allow her to get up on her feet even through their own exhaustion, she could respect that. "You flatter me, Natsuo but don't forget you're beautiful as well. A Sakura's petals are just as lovely as the tree itself. Don't worry about a grudge, those are for the past, and I only look towards the future. I only hope you won't hold a grudge once I've won." She shoots back.

To say she was enjoying herself would be an understatement, but that didn't take away the mood or the tension. Natsu was aiming to end things sooner then she had hoped and with that, Làn would do the same. That burning competitive spirit she sensed seemed to bleed over into her as well. Her gaze locked on target as she analyzes her possibilities. Lowering her body, Làn's legs would spread out apart; leaning into her front leg instead of back with her initial stance. She posed herself as a snake that had already struck but this was a ruse. If Natsu dared to step even an inch close, she'd learn that lesson hard. Using the momentum of the lean, she'd shoot forward but using her forward leg, her forward push would launch her again, this time sending her upward as she kicked up oner her adjacent foot.

Lán would use this to gain some distance in the air. She suspected that Natsu was readying herself from the ground but snakes could coke from the branches too. If her feint surprised the highschool brawler, the serpent queen would extend her knee to collide with the girls midsection if she had been successful this far. She'd make a bid to drive the bone into her fleshy gut with a technique her father had used to turn the tide in his own bouts. He solemnly named it: The Cobra's Lash.
_________________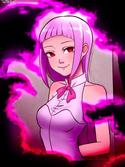 LilyStar




Posts

: 919


Join date

: 2018-02-27


Age

: 27


Location

: Your heart



Patiently officiating a matchup or serving as a professional analyzer from the sidelines wasn't exactly Natsu's typical forte. Whenever she'd spy a brawl transpiring between two capable fighters at her favorite skatepark she'd find herself becoming more hyped up by the second and incapable of standing still from how jubilantly giddy she was. At times even calling dibs on fighting the winner as if she was plunking down quarters to challenge the local arcade champion. But if the schoolgirl had to summarize this match so far and gauge their respective fighting prowess...she'd say they were about even Steven in terms of fatigue and how banged up they were. But in terms of honed skill level, she'd totes give the slight edge to Lan. The fluidity of her exhibited attacks made it feel like Natsu was squaring off with someone made of water, showcasing a degree of discipline towards her fighting style that Nattie sorely doubted she could match anytime soon. Just ask her older brother, who'd have to help clean up whatever mess Natsu made when losing her balance and pratfalling from her stance training.

Even after accepting this though, Natsu was ready and raring to get back to squaring off with the Snake Queen. Nattie patting down her skirt and tightening up her beloved bandana as she readied herself in mind, body, and spirit. Smiling brightly as she pulled down on her crimson gloves and wiggled her fingers in their readjustment. She considered it an honor to be in this position. Asserting the depths and testing the limitations of her own fighting prowess by exchanging fisticuffs alongside polite pleasantries with an absolutely superb fighter. Graceful, elegant, well-mannered, sophisticated, capable of reciting wise sayings...basically the Anti-Natsu. Small victory through it may have been, and relevant to absolutely nobody aside from herself, but just taking the fight to Làn and establishing herself as a fellow fighter of equal skill to the Chinese martial arts prodigy would have been enough to send Nattie home pleased as punch. Even if she were inevitably sporting a bandaged face with nothing but a week of recouping to look forward to.

"...*giggle*...aw, come oooon. You keep callin' me beautiful and you're gonna win this fight because I died of embarrassment..." Natsu shyly responded while scratching the back of her calf with her other foot and her hand situated on the back of her head, sporting a slight blush but adopting her brawling stance right afterward though. Eagle-eyed intensity from the schoolgirl as she motioned ahead enough to spring Làn's coiled trap and witness the serpentine fighter take to the sky. Natsu balking in hesitation, but recognizing patterns thanks to having already endured an earlier knee strike to her breadbasket that she was still aching from. A nimble hop in her athletic step allowing Natsu to leap upward and snag the hems of Làn's shirt around her shoulders. Serving as a weighted fulcrum to yank her foe back down, but proceed to barrel roll backward in tandem together once hitting the canvas. The spinning momentum would continue for a few rotations with her feet tucked against Làns abdomen until the schoolgirl would thrust an upside-down Snake Queen against the corner turnbuckle by extending her legs out.

_________________

killcarrion




Posts

: 6056


Join date

: 2013-04-14


Age

: 36



Làn was enjoying herself despite the pain that lingered and made itself very known to the snake queen. Even as she endured to push forward and take on the high schooler she felt every ache, every tinge of muscle pain. Studying Natsu carefully she'd taken just as much as she gave, it was the making of someone with potential. The snake queen could see it. Their strength, the brawlers technique, she had the making to become special. It only made the prodigy's heart flutter even in the circumstances she found herself in. That would stop her, nothing would except the darkness of unconsciousness or defeat and she'd rather choose the former then the later. Defeat in her eyes meant giving up, and that was one thing she could never take again.

Before she'd launch herself, Làn giggles herself from the highschool brawlers comment. Surely someone as cute and adorable as them received compliments like this all the time. "You can't go dying on me yet, Natsuo. Who else will I spar with after?" She jokes, settling into her stance as the friendly banter came to an abrupt end. With her technique looking to dive into their chest, she was impressed and surprised when the dainty girl jumped and grabbed hold of her Chenogasm top. She felt the bottom of their shoes pressed to her stomach and then her world began to roll.

Their momentum carried them for what seemed like three cycles, just for the upstart to push her legs out and send the Chinese woman flying towards the turn buckle.

The sudden throw shocked the Snake but this could be her chance. With gravity slowly taking its course, Làn would tuck herself inward, almost balling herself like a python as she rolled once, twice; her back meeting the turnbuckle's bottom padding and ropes. She unfurls with a pained grimace but this was it, now all that was left was to lure her for close, like a cobra charmed by its charmer, she'd have to convince Natsu to get closer for her fangs to sink in.

With a pained groan, she slowly pulls herself upwards with the help of the second rope. Her gaze glued to brawler, making her ascent slow to prover her own pain but it was also a ruse. If Natsu took the risk to challenge her in the corner, she'd work fast. With a scream from her legs, the Snake Queen would step out of her den, her hands sharp like fangs as they straighten ready to strike. She'd launch them forward; one high, one low, her attack looking to dig in to any soft spots their match had created aptly named: Venom Fang. a stunning type technique that required her fingers to be strong enough to pierce through wood, recalling the training made her shiver but it would be all worth it had she connected.
_________________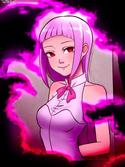 LilyStar




Posts

: 919


Join date

: 2018-02-27


Age

: 27


Location

: Your heart



In spite of what her Earth Science and Japanese History teachers might attest towards in regards to Natsu's exasperating inability to retain even the most basic of lesson plans, the academically inept schoolgirl was nevertheless certain that her memory retention was A+ where it counted. Not that recollecting what happened a few minutes ago would earn her scholastic accommodations and a coveted place on the school's honor roll or anything. But Nattie's honed fighting instincts and split-second remembrance of her adversary's individually unique coiled stances were what prevented Làn from once again taking the wind out of Natsu's sails with another savage knee strike. The serpent themed striker having sunk her metaphorical fangs into Nattie's breadbasket earlier on in the match already and quite frankly she hasn't exactly been breathing one hundred percent properly ever since...

Stands to reason than that Natsu would politely elect to succinctly shut that shiitake mushroom down quickfastandinahurry. Namely via unexpectedly sprinting directly towards the slithering threat she deftly evaded and hopefully taking Làn off-guard in the process before clutching onto her foe's elegant cheongsam dress. Barreling the duo backwards as if they were a well-choreographed circus act except Natsu was the only one in control and assumingly the only willing passenger on this spirited merry-go-round. Ask Nattie what master martial artist taught her such a dynamic and proficiently effective technique...and she'd just stare at you blankly considering she just sorta made it up on the fly just now. The schoolgirl naively unaware of how abnormal it is to concoct new techniques square in the middle of such a competitive fight. A testament to her own concealed potential...or perhaps a less flattering indication of her abject lack of discipline and direct tutelage.

...well whatevs. The Blossoming Brawler was on a literal roll and thankfully far too accustomed to rocking out on rollercoasters herself to be hit with pangs of dizzied vertigo once the ride was over with Làn's booted ejection from her seat. *Alright...S'now or never!!!* Nattie's thoughts mirroring her actions once she'd taken a knee and spied the Snake Queen cornered, defenseless, and ripe to be defanged. Competitive resolve in her narrowed glance as she had taken a sprinter's stance and dashed straight ahead with cocked fists locked and loaded...but breathlessly gasping in mid-stride from Làn springing her trap. Python hands striking true directly into Nattie's core and the back of her seifuku billowing upwards to signify the strength behind her foe's mentored family technique. Milliseconds before thrusting the hollowed schoolgirl with spittle flying back to the middle of the ring onto the back of her head and shoulders. Bloomered backside displayed until whatever strength she had left was dedicated to wearily ascending with rasping breathes onto quivering legs...

_________________

killcarrion




Posts

: 6056


Join date

: 2013-04-14


Age

: 36



She wasn't sure if Natsuo would even take her bait, she could feel the beads of exhaustion dripping down her forehead, threatening to take away what life she has left. Làn keeps her focus, hesitation means her end, a split second decision could spell her doom. She's patient, her gaze locked on her taget as they approach. Her foot pivots slowly, as if making room to pull herself to her feet from sheer exhaustion but the highschool brawler made her final mistake: stepping into her range. Làn hands immediatly straighten and lock poised to strike. In the milliseconds that would follow, Làn would bound forward, using her legs to close that gap between them and striking the girls core with every fiber of her being that she could muster. In hindsight, there may have been another way to take back the lead in this match but with uncertainty and a knack for surprises, Làn wasn't taking the chance.

The impact seemed to blast the poor girl back, their seifuku billowing as her strike's impact blast through their body. She'd hate to share how to learn it, her own body remembers those tremors, the pain that followed and the overwhelming drain of energy. It was her fathers gift to her, a gift earned and practiced.

The Chinese snake realized that she wouldn't have much time herself if she just stood there. Venom Fang did it's job but now it was up to her to finish the job. In her mind fills in desperation to put the brawler away. She muses over her techniques but all require the energy to sustain her strikes. Her situation seems so bleak but then her eyes meet the corner again. Natsuo was megerly getting to her feet, recovering from her strike that it seemed…possible. She clenched her fist, it wasn't perfect yet but maybe it'll work, maybe this time she'll get the desired effect.

Làn goes for it, steeped in her resolve, she back pedaled towards the corner, Natsuo so kindly sent her flying to. Her heels dig into the teethed of the ropes as she ascends, climbing up the perilous steps to her one chance. It was risky, if she misses, there is no coming back, ther is no second chance, only the shame would remain. Making her way to the top, the world looked so different. Like a snake making it's way to the top branch of the tallest tree to feast on the songbird that stayed just out of reach. Natsuo looked so small from here, but she wouldn't dwell on the serenity of the new view. She closes her eyes, asking her father to guide her. With a bend of her knees, the ropes relent to her will, her heart is pounding in excitement and danger, the thought that she was using her own secret technique filled her with such glee she couldn't hide her smile. With a night leap, the snake launches herself from the branch, her target was the songbird below.

While mid-air, she tucks her legs in, brandishing her knees before her legs then split. If Natsuo was still groggy from her earlier impact, her soft, fishnet covered legs would catch those pinchable cheeks between them. Làn would use gravity to capitalize on her moment and take the highschool brawler down with her secret technique: Heaven's Moon. If she managed to do that, she'd lean forward breathing harshly, surprised with herself. She wouldn't bother hooking a leg, this would be more then good enough to count in her eyes.


_________________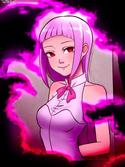 LilyStar




Posts

: 919


Join date

: 2018-02-27


Age

: 27


Location

: Your heart



Page 3 of 3 •
1, 2, 3
Similar topics
---
Permissions in this forum:
You
cannot
reply to topics in this forum