Who is online?
In total there are
19
users online :: 1 Registered, 0 Hidden and 18 Guests :: 2 Bots
Old_Man_Tai
Most users ever online was
418
on Tue Jul 30, 2019 9:51 am
Champions & #1 contenders
fraction match wanted
Tue May 23, 2023 6:46 pm by Rohi Yamin
Comments: 1
Tension Match Hunt
Fri May 19, 2023 9:50 pm by GrandAkumaShogun
Looking for matches for my boys
Takeichi Mori
Takeshi Kawai
If anyone is interested feel free to hmu. ty in advance to anyone who responds.
Comments: 1
Looking for Friction Hentai debut match
Tue May 23, 2023 8:50 pm by SigmaMorgan
Comments: 3
Page 2 of 3 •
1, 2, 3
It was good seeing her hard work pay off. She always thought she was good from a certain stand point but to see herself improving and showing off the fruits of her labor had a satisfying feel to it. Làn couldn't begin to describe how rough she had it the last two years after returning home. Her father although proud of her first victory in Japan against Priscilla, he was not pleased with her sloppy technique. He senses she had dulled and thus formulated a new, grueling regiment to "whip her into shape." For a while, the training took so much out of her, perfecting the Cobra Fang Strike to the degree she managed was a feat all its own but managing to also add the Fanged Snake with this amount of speed was also no easy feat. As she chipped away at her rival with precision and dexterity, her senses detected something.
It was said that martial artist could hone the ability to sense danger, almost like a viper. The Xia Snake style honed this technique through many hours of concentration and training. Làn was still in training for this skill, although she had gained a bit of insight, her reflexes and the knowledge of where the danger was coming from was still out of her reach. With that said it was no surprise when her eyes practically popped from their sockets when the Flower Fighter, used the ropes to bounce herself up from the mat, extending those legs to send her flying back from the sheer force of their flying kick to her chest. 
Air expelled from her lungs like a ballon, her father made it very clear that a warrior never lays on their back. As she flew back, she curled herself into a ball, rolling to put some distance between the two before she rolled onto her knees, coughing as she attempted to breath. Làn didn't underestimate Natsu but, she didn't expect such a maneuver with hardly any build up. She couldn't deduce their style from just the axe kick and then the jump kick. It would be foolish to think they solely used kicks in their style. She had to be cautious. She feared she had made her style already to noticeable. The Xia Snake style relied heavily on footwork and positioning, a target for leg submissions and the like if she wasn't careful. Slowly standing to her feet, the Snake Queen had to admit: she was enjoying this. Despite her constant training, it had been a while since she felt pushed like this, not since her match with Priscilla anyway. Cupping her chest, her forearm would rub the wound slightly to massage the pain away, she needed to get back into stance if she was going to attack. 
_________________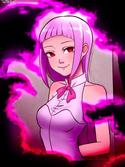 LilyStar




Posts

: 916


Join date

: 2018-02-27


Age

: 27


Location

: Your heart



*Adaptability when in the thralls of adversity...* Jyust one among numerous mantras reinforced within Natsu's family dojo whenever training was in session. She could practically recite the entire tome of wise old sayings her older brother had crammed into her noggin whenever she was attentive enough to actually retain his teachings. Hyperactive though she could have been in her training sessions, this particular pearl of wisdom shined brightest whenever Natsu found herself in dire situations. A typical occurrence given the sheer abundance of scraps she'd punch her way into back in her schooling years. Street punks never being ones to necessarily fight fair on the best of days, and noticing a nearby fire extinguisher when surrounded and backed against a wall was only one example of that teaching saving her bacon. And stamping the air out of Lan's lungs was most definitely going to be another.

Natsu breathed a sigh of relief upon her feet falling back down to the canvas, but afterwards quaked with a recoiled shutter from the lightning-fast salvo of sniping snake bites she was broadsided with. The precision and accuracy of those nerve strikes was unreal. Thrusting stabs further debilitating her until she'd been rendered a flaccidly lifeless shell. A body made of jelly that was quivering and wriggling with each fanged snap and appearing as if the schoolgirl had no answer for the famed Cobra Fang Strike style, that is until she'd become aware of how far deeply she'd been ushered against the ropes. An indented curve that helped Natsu think to use that elasticity to further catapult those sneakered feet of hers into Lan's bodaciously squishy boobs...n-not that Natsu was jealous or anything. She was perfectly content with what she had going on...awkward, side-eyed glances at how Lan's gigantic pair swayed not withstanding.

Fatigued though she was, the debilitation from the nerve strikes eventually started wearing off, but not quick enough for Natsu to resort to her typical offensive of pummeling gut punches and uppercuts. But that was totes cool, cause Nattie still had a nice strong pair of legs. A sprinting dash taken towards Lan as she started standing upright again with a nimble hop having her perched atop the prodigy's shoulders. The peppy schoolgirl balancing as best she can with her tongue sticking out the side of her mouth, which was kinda tough given where she's sitting and considering she has her foe's head stuffed up her skirt. With those young and strapping thighs strongly tightened around Lan's head, ankles crossed alongside an emphatic faceful of Natsu's crimson red bloomers, an agile flourish backwards would be attempted in a hurricanrana meant to have her adversary become flipped out of her shoes and hopefully thoroughly discombobulated. Although Natsu would just be happy with getting Lan dizzied and twirled about, it's cool if she still has her shoes on.

_________________

killcarrion




Posts

: 6055


Join date

: 2013-04-14


Age

: 36



Làn was slow to her feet, the kick to her chest had more impact to it then she initially realized. Air wasn't filling her lungs properly as she panted. She was surprised she managed to roll to her knees rather than be blown backwards onto her back still, this wasn't the ideal position to be in regardless. Her pools shifted upward as her foot slips from under her knee to give her a push. Natsu was feeling her strikes, as would anyone when the nerves were the focal point of her attack. It was bothersome that she didn't penetrate their nerves deep enough, her strikes may have been fast but it wasn't the ideal speed she would've wanted. During her training she knew she could be faster, more potent with her strikes but for now, this was the best she could manage. She'd more than likely have to continue training even harder if she wanted results like her father. Had she been effective from the get-go, Natsu would've taken a few more seconds to recover but that wasn't the case. Already she showed no signs of the weariness she expressed after taking her flurry of Fanged Snake, she was resilient if anything, perhaps she might have found a sparring partner for the future, she wouldn't mind humoring the thought of training young blood.

Her thoughts were interrupted as Natsu rushed forward. Làn had just managed to get up to her feet, her reaction time was cut in half, her body still having not recovered from the drop kick. It was a no brainer that, with all the following considered, she couldn't get into stance in time. The next few moments were probably some of the most confusing, yet embarrassing moments of her life. The pumped up schoolgirl jumped with the grace of a swan in flight, but their skirt left much to the imagination as she got a second peek at their red bloomers, what she didn't expect was to catch a face full of it as they tightened their thighs for their next maneuver. The Chinese woman's palms instinctively went to the underside of the Japanese girls legs, attempting to pry her off in a panic. Her pools were widened to the max surprised at what was to come but honestly at the thought of provoking any explicit response from the onlookers.

Làn didn't get a chance to voice her concerns. She suddenly felt gravity work it's magic, Natsu using her hands placement on the mat as the fulcrum point to spin the Snake Queen's feet from the mat. Her cry of surprise was muffled as the dome of her skull hit the mat. Now released from the red and peach toned prison, she laid flat on her stomach, cupping her aching head in pain. A shrill of disapproving grunts escapes her lips, she needed to think, getting into stance now was out of the question. She hated to admit it, but if this was the kind of power she was up against, letting her guard down again like this could very well end her. "Stop!" She told herself. "Don't panic, just think. Remember our mantra: Be the river, not the stone." All she could do now was calmly assess, one hand held her head as she pushed up with her other. She had to flow with Natsu, not brute force her way. That was the way of the snake. The way of the river, to flow with the stream, not resist the current.
_________________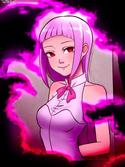 LilyStar




Posts

: 916


Join date

: 2018-02-27


Age

: 27


Location

: Your heart



Alright Natsu admits that Lan losing her shoes in mid-tumble would have made for a pretty awesome visual, or perhaps even that flower headdress of hers. She has no earthy idea how it stays so firmly situated there all the time...but anyhoo, one thing that Nattie can confirm is that Lan totally makes it work for her, like a harmonious Chinese Princess who blissfully tends to her garden fields just as elegantly as she can strike down adversarial behemoths with sniping nerve strikes and nothing else. Strikes that Natsu can attest to their potency considering that her battered arms were only just than starting to overcome that brief paralysis and regain full responsiveness. Spots of numbness still dulled them down though and therefore made her incapable of serving Lan any of her patented knuckle sandwiches and rocketing uppercuts...but somehow, Nattie showed zero signs of discouragement in spite of being briefly robbed of the techniques she'd been relying on to score her victories in some of her more career defining matches all this time. On the contrary...she was positively stoked at the prospect of being presented with such a thrilling challenge like nuthin she's ever faced up until now~...

A competitive fire lit ablaze within her upon swiftly springing to a settled landing square upon her beauteous adversaries shoulders with a mushed squeeze of her snug thighs against Lan's cheeks, which was a balancing act unknowingly aided moreso by Lan herself via her gripped hands situated upon the backside of her legs. The crimson rose of her sporty bloomers occasionally being the last alluring visual thugs and gang members can remember before being kayoed promptly thereafter by what came next. But Nattie knew for certain that a dedicated martial art prodigy like Lan was made of sterner stuff than that as she twirled around while pitching herself backwards. The crown of the Snake Queen's cranium getting rocked upon the canvas with jostled reverberations as the schoolgirl landed in a seated position beside Lan but with her legs bent at the knees and arms propped behind her to keep herself balanced as she exhaled with puffed cheeks in childish relief.

"Phew!!! Did not want to imagine what woulda happened if that didn't work out~..." Natsu giddily commented while wiping some sweat from her forehead with the back of hand, afterward soldiering herself back up to a vertical standing beside the languishing Chinese prodigy. She couldn't believe she'd managed to overcome her cornered setback against what felt like hundreds of debilitating snake strikes and briefly outfought the prodigy, but all advantages were momentary...as her older brother taught her, anyway. Nat knew that allowing Lan to collect herself and reattain that honed family fighting stance of hers would practically have her chances of winning become snakebit...pun, kinda intended. So she attempted to gingerly guide the Snake Queen back up to her own feet by yanking on her arm, Nattie being far too respectful and admiring of Lan to tug on her hair. A gesture Lan may appreciate, but she may not appreciate having two knee strikes plowed into her breadbasket with Nat's hands cupped behind her neck, and a headlock clamped onto shortly thereafter.

_________________

killcarrion




Posts

: 6055


Join date

: 2013-04-14


Age

: 36



She was a bit dazed with the her head unceremoniously spiked into the mat, the impact was something else altogether but she had to give credit where it was due. Natsu was making it apperant that this would be a whole new kind of fight for her but that wouldn't stop Làn from recovering and it wouldn't stop her from taking this win tonight. She was slow to her feet, a choice she wish she didn't have to make. Although the Chinese woman had endured more than her fair share of bumps in the head, she had to properly recover from a spike to the brain. Her head practically throbbed with pain but not so much that Làn couldn't think. The Snake began to picture her next move, the possible movements that her young opponent could possibly consider and what to follow with after. Never once in her life did she ever think she'd ever get a face full of bloomers before either, she supposed her father was right in saying "expect everything but be surprised by nothing." A task easier said then done.

As Làn pushed herself up slowly beside Natsu, she'd pant and turn to face them. "I could do that part for you, but I don't think you'd like the outcomes." She advised, joking of course but had she had those moments to think and act, Natsu would mostly definitely be the one attempting to recover right now. Her arm was gathered up and yanked upward, she slinetly grunts with pain but this was an equal opportunity. Làn was on her feet and now she could offer them a taste of another dose of the Xia family's style. The Chinese woman leaned back with the pull, her aim was to unbalance Natsu and make her follow her own lead, perhaps she was stirring the current of the river but she was no longer the stone. If the upbeat high schooler followed her motions, Làn would fire a knee square into their center. A bit barabaric in her mind but, this was her fathers own technique. Her never properly named it so she took that liberty for him. If Natsu didn't resist her motions, Pit's Fang, would hungrily dig into their abdomen.

Despite the move being somewhat simple, it's effectiveness in regaining the momentum was rather superb in her arsenal. It took the right conditions to execute and even more so to use it fully. Làn hoped her strike softened up her ecstatic opponent, their energy was much more explosive then she had come to realize.
_________________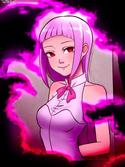 LilyStar




Posts

: 916


Join date

: 2018-02-27


Age

: 27


Location

: Your heart



It should come as no surprise to anyone, especially Natsu's exasperated teachers who constantly jostled her awake from mid-class slumber with pieces of chalk thrown with pinpoint accuracy, that the youngster effectively had the attention span of a rattle. Nothing quite captured her imagination outside of anything having to do with physical activity, and even in those cases she was perpetually at risk of an errant thought whisking her off from matters at hand. Like...wondering just what does Lan wash her hair with to bring out such a cascading flow to it, and was that lilac-berries scented perfume she caught a whiff of? The schoolgirl assuming that whatever product Lan's uses was scores better than whatever basic shampoo she chucks into her basket without so much as a second thought. The martial artist's classy vernacular, statuesque posture, and stylish grace were in sharp contrast to Natsu's unkempt scruffiness, plus the differences were even more apparent once they officially started sharing strikes and getting up close and personal. Perhaps a tad too personal from Lan's up skirt perspective throughout the head thwacking frankensteiner, but Nattie sure couldn't deny its effectiveness as it briefly turned the tables on the dazed and battered martial artist gingerly attempting to arise alongside the peppy schoolgirl.

Natsu breathed a panted smile as the two shared a brief moment of camaraderie between fellow fighters. The schoolgirl relieved that no hurt feelings or animosity was so far felt on one another's part after they both sampled eachother's fighting style and what they were capable of bringing to the table. But it was a moment that couldn't feasibly last for long given the circumstances, and ending the night on congenial terms could only ever be a second priority against what they were both here to settle. Nattie springing up to her feet at a sprightly pace compared to Lan's labored motions, and for a second she thought her adversary may actually be grateful being aided up by her short-skirted foe yanking on her arm like a kid tugging their parent to the next ride at an amusement park. Except those thoughts of gratefulness were expelled from her mind right along with the air in her lungs as the Chinese woman shifted back and brought Nattie into uncoordinated stumble with a fanged knee strike smashed right into her bread basket. Widening her eyes and deflating her like a sad balloon from her puffed out air, arching herself over with a quivered wiggle to her thighs before her legs gave out again as she fell onto her knees. Shielding her abdomen with one hand and hacking up gasping breathes with a hoarsely voiced "...*gasp*...Y-Yep...s'bout as painful az I figured it'd be..."

_________________

killcarrion




Posts

: 6055


Join date

: 2013-04-14


Age

: 36



Làn managed to score her much deserved jab to the schoolgirls bread basket with her technique. Pulling the girl into the attack seemed to really do more then she thought but she was rather thankful after that Frankenstein she managed to take head on. Finally getting a chance to stand up in her own without Natsu getting in another shot, she's look down at the downed high schooler, cradling her chest. "Sorry about that, just thought I'd show you how it felt is all." She replies. Maybe she was coming off a bit more vindictive then she meant to but she felt she made her stance clear. Làn felt this was an oppurtunity to switch up the martial arts for moves of a different nature. In her time with training she'd learned to be a bit more proficient with her wrestling moves on top of her martial arts training. After all this time, she managed to gain a better understanding and on top of that, she felt she had more proficiency with her timing and power behind them.

If Natsu stayed kneeling over, the Chinese woman would step in, clasping their head under her arm. Her left hand pressed against their back. Làn would lean forward slightly before attempting to spike the girls head into a snap DDT. It felt only reasonable to press her afacanteg from this point and go for the most optimal choice. If she managed to make contact, she'd sit up on her knees in hopes to find a downed Natsu mewling in the canvas. She'd take a moment then to recover her senses. Her head was still aching and not addressing it seemed like a foolish thing to do. For now she felt she needed to keep them down and manageable. "You're tough you know that? That last move of yours really did a number on me." She claims, sliding over to pile on the pressure.

If Làn could continue to press her advantage, Làn would snake her legs around the high schoolers waist. Her leg strength had improved from her first match, this was her first body scissor after all this time. She'd lock her ankles as well to apply more weight to her scissor to drain Natsu of her strength. A part of her wanted to weaken them for the win but the other wanted to show the high schooler that she saw them as an opponent to go all out on and take her to the limit. Like a snakes grip she tightens her hold on Natsu aiming to take their breath away and chip their fight away bit by bit.
_________________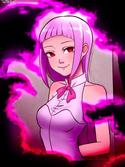 LilyStar




Posts

: 916


Join date

: 2018-02-27


Age

: 27


Location

: Your heart



No No, it's alright. This whole misunderstanding was totally Natsu's fault anywho. She perhaps should have emphasized this earlier when she showcased genuine curiosity in ascertaining just what it felt like to be on the receiving end of one of Lan's flawlessly executed strikes. Ones that look like they could shattered wooden boards to splintered confetti...however, Natsu was not so curious as to willingly subject herself to one of those steel toned deliveries. Particularly because she didn't believe she'd yet honed her body to the point where she could tank through strikes of those caliber and still have the capacity to dust herself off soon afterward with every intention of getting back into the fray. Although her older brother, Goto, was jacked to the gills and had long since attained that level of mastery. He'd even offered to coach Natsu through some of his endurance training, but there was only so long the schoolgirl could withstand meditating underneath freezing waterfalls before tapping out mid-session at risk of catching hypothermia. And it looked like Natsu unfortunately guessed correctly, because the schoolgirl felt utterly wrecked by that sole knee strike which had her hugging her caved in midsection. In spite of all that, Natsu still had the driven desire and dogged determination to not allow one setback dictate the match's outcome so early on into their bout.

Her youthful vigor straight up wouldn't allow it, and she was positive she could rebound soon provided her gut-checked helplessness wasn't immediately capitalized upon-"Huh?..." Natsu internally spoke too soon, offering zero resistance from Lan snagging the schoolgirl's scruffy-haired head into a front headlock. One that she squirmed around in with a feeble and staggered shimmy of her legs as she struggled a bit until the Chinese martial artist motioned her backward before bringing the proverbial boom. The rattled schoolgirl remaining inert upon being crowned with her bloomered backside shamelessly sticking into the air until, to the fan's ogling dismay, she'd flop to the side in a spread-eagled and swirly-eyed stunned state. Afterward awoken to what felt like steel pincers clutching her stomach, only to find herself trapped within a python's grasp. She scrunched her face and scooched herself up to be seated, hands clenching upon Lan's thighs but overall remaining put with rasping breaths. "Heh, th-thanks. Can't have been all that bad though, you went back to whoopin my butt no problem...ngh...like, wow. I think you might be as strong as my brother...hng...Ya still have him beat in the beauty department though. No way he could pull off a dress as good as you I bet." Nattie uttered with a wincing smile, unexpectedly having some girl-talk with her foe sat beside her.

_________________

killcarrion




Posts

: 6055


Join date

: 2013-04-14


Age

: 36



Làn forced down her desire to stop and breathe, pain was only in her mind, that's what her father always told her. Her body in the other hand would like to disagree. Each throw of her weight, every executed move, or the boom of the mat exploded her head. She wasn't lying about hlthe number the schoolgirl had laid on her, she could only thank her training that she wasn't laying out crying of a headache. Still, the snake Queen pushed through and managed to capitalize on her savage knee, Pit's Fang, and land another hit in the form of a Snap DDT that seemed to go off without a hitch. She welcomes the reprieve as her legs ensnare the young woman's waist, purposefully interlocking her ankles to lock them in place and torque their waist. The Chinese woman had to admire their tenacity, even clutched into the Vipress' coiled hold, they fought hard trying to pry themselves away. Their hands pawing at her thighs to free themselves just before they started some friendly chit-chat.

She softly chuckled, she may be back in the fight but to say she was still in peak condition would be a fools dream. "Trust me, you've done quite a bit. The only reason I got back into the flow so fast was you made an opening. It's a mantra, maybe I'll tell you when this is over." She tenses her legs to add a bit of extra pressure to the hold, she liked the conversation but she couldn't let up either. "It's kind of you ti say that, I'm not sure if I'm on your brothers level just yet but given the chance I wouldn't mind the thought. You remind me so much of my best friend. Her name is Qing-Yuan, I think you'd like her, she's very cheerful and hyperactive." Làn explains, suspecting Natsu was making progress on her, she'd push up on her hands to slightly elevate the two of them a bit off the mat in an attempt to keep the match in her favor. She was stupid to think that she could hold Natsu here forever nor did she think she could keep up her hold for long either.

She'd have to work with what she had, if Natsu escaped she can only back away and try to find another opening. This was the way she'd been taught after all but Làn always found the danger of possible failure enticing. Risking her own success in a gamble that may or may not grace her with the fruits of her labor did have its merits. Her father didn't think so and would always discipline that idea, still it lingered in her mind up until and she had an oppurtunity to even consider it. Should she take it? All this thinking made her head begin to hurt again, using to much mental energy could only lead to disaster if she wasn't careful.

Làn shifts up on her fingers, giving her a bit more height to her submission maneuver. She considers her options thinking lightky in her next step she feels she doesn't have much choice but to let Natsu struggle for escape: Be one with the rivers flow, not the rock. A lesson she sometimes found hard to follow but one she'd come to acknowledge with its own prowess in her bouts and matches.
_________________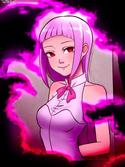 LilyStar




Posts

: 916


Join date

: 2018-02-27


Age

: 27


Location

: Your heart



Coping methods for stressful situations tended to vary from one individual to the next, whether it was rhythmic breathing exercises or squeezing the bejeezus out of those rubber balls. Natsu herself knew about this particular method since it was liberally utilized by her Chemistry teacher whenever Nat would set accidental fires with the bunsen burner and create small chemical explosions from seemingly non-combustible concoctions. Stands to reason than that one of her instinctive responses to anxiety was, well, gabbing like a schoolgirl. Although not about fashion trends or whatever boys they were crushing on, but more often than not flattering small talk sprinkled in with whatever's currently on her mind. Or in this case, what was snatched down on her waist so ferociously she couldn't even think straight. Having just been knee-stricken right in the old breadbasket didn't help her breathing efforts either. Haggard breathes not accounting for much in this dire situation but they were the best she could muster at the moment.

The match's momentum ground to a stilted halt what with both competitors merely sitting in the middle of the ring together and exchanging pleasantries. Except with the momentum so too went Natsu's offensive capabilities, which tended to rely on her sprinting speed and volleying assaults once on her feet. Practically the exact opposite of her current predicament. The spry schoolgirl feeling anchored to the canvas and further sapped of energy with every second spent at the mercy of the Snake Queen's apparently merciless coils. The Vipress's legs snaking around Natsu's midsection to steadily begin squeezing the resistance right out of her. Nat's sneakered feet squeaking against the canvas as she struggled through gnashed teeth to free herself until Làn started kipping up and balancing herself on her hands. Subduing the schoolgirl with just a stiffened flexing of her smooth thighs as she slumped over with struggled gasps and a head shaking "No" whenever the referee started bothering about asking for a submission.

"...Oh, Oh yeah?...Love to meet her someday. You...you might actually like my friend Nami, than. Just imagine me...nngh...but somehow more impulsive an' adorable." Natsu uttered with a strained smile, but not exactly in a situation that warranted much jubilation. This was bad. As a matter of fact this kinda sucked. Being tied down to the canvas between the thighs of a slithering submissionist was one plight not easily overcome, and one that continued onward as Làn opted not to transition into a following maneuver. Natsu writhing meekly until becoming more docile with drawn out panting, knowing she needed to think of something or find an- *..opening.* The schoolgirl recalled what her adversary said as she peeked in her direction through lethargic eyes, not knowing why she didn't think of this sooner. After first unhanding Làn's steeled legs, one elbow strike after another would be impaled within her foe's stiffened midsection. If allowing the Chinese Martial Artist to crumple back down to be seated, a cocked backfist will culminate Nat's striking bid for freedom.

_________________

killcarrion




Posts

: 6055


Join date

: 2013-04-14


Age

: 36



Page 2 of 3 •
1, 2, 3
Similar topics
---
Permissions in this forum:
You
cannot
reply to topics in this forum