Champions & #1 contenders
Highfly Flying Out Of Town
Tue May 22, 2018 1:31 am by HighFly
Hello everyone, I just wanted to inform all I have threads with that I will be gone from this coming Wednesday through Sunday. I won't be able to post consistently if at all during this time, but I will try to make up for it next week! I am sorry for the inconvenience to everyone.
Comments: 7
The Austrailian Mudslide is Back.
Sat Apr 21, 2018 6:20 am by Softsquad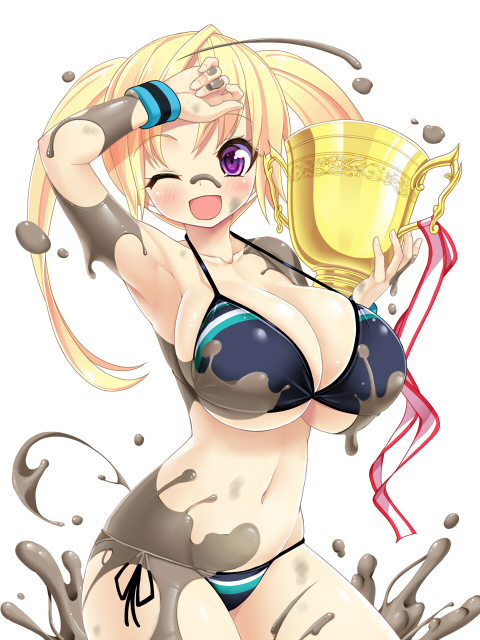 Granted that most of you won't know me or remember me, but I've had a few matches here and there some time ago. Well I think its time to become a regular around here and try to have some fun again, but at the same time keep coming back. Anyway I think its time to jump into some matches with Zoe Taylor, my mud wrestling character from Australia and get her back into the squared circle. Furthermore I will update my characters as I think some proper changes need to happen.
So if anyone would …
[
Full reading
]
Comments: 5
Page 1 of 4 • 1, 2, 3, 4


Toyko Big Site seemed like a dumb name for an awesome place to Taylor. The inside of it was packed with long rows of booths run by merchandise vendors, both AFW and other related things, randomly placed arcade games and loads of little Kawaii division girls roaming around playing concierge and taking pictures with fans. Everywhere she looked there was a massive screen with slick produced AFW promotional videos playing on a loop. Every 90 minutes there was a performance by some group of 12-year old singer-girls, and Taylor cringed a little every time. She'd never got used to that corner of J-Pop.

Various Friction and Tension people were filtering through to sit at booths and sign autographs and take pictures with fans, though for the most part the bigger names weren't making an appearance until later, if at all. One of the mid-afternoon events was a chance for a group of randomly selected fans to train with AFW wrestlers. Taylor was asked to be one of the two "trainers", and of course she said yes. It sounded like fun. She was a recognizable name now, so fans would be excited to get up close with her and do what she does, but she wasn't so big that doing it was beneath her.

Taylor was already warmed up when the time came to visit the giant open training floor. She was met with cheering when she emerged from a door on the side of the room, wearing blue gym shorts with a white stripe down each side and a white tank top, her blue hair up in pigtails. She gave the crowd an enthusiastic wave and a big grin and a wink.

Then the crowd erupted into a bout of cheers way bigger than what Taylor got. She was confused at first, unsure of what got them all excited, but a look over her shoulder answered that question. The other trainer on duty was Chigusa Yuuki. Sure the fans just loved her, but they'd never seen Taylor bare-ass naked. Taylor was fully comfortable with the trade off.

The last time Taylor had seen that girl, she had trash talked her way into a sparring match with her that as far as she remembered she won. That day had nagged at her for a long time, she just wasn't at all comfortable with the way that she'd acted... She was tired and stressed and not in a very good place at the time. Maybe today she could get a fresh start.

Then the group of trainee-fans showed up, mostly dressed and ready to workout in workout clothes sporting the AFW logo. They were divided between Taylor and Chigusa, and Taylor did her best to send all the guys to Chigusa's team. Most of them wanted to be on her team anyway, though Taylor was somewhat surprised at the attention she received from them, even with Chigusa standing right there. Once their teams were set, about 8 people on each, they had the first 20 minutes of the 45 to get their trainees warmed up while cameras roamed around to film the whole ordeal.

"This is exciting, right?" Taylor shouted at her group. The girls grinned bashfully and started trying to limber up a bit. All of them looked really unsure of themselves. Taylor would just have to work that out of them. Taylor remembered her manners and bowed to them. "Alright guys, I'm just going to do some circuit training with you to start, the sort of thing I start my workouts with. Sound good? Let those guys stand around and stare at Chigusa-chan's ass, we're gonna get to work."

She started slow with some stretching and gentle warmups, but then by halfway through she lead her group through a brutal, intense circuit of interval training and isometrics. Many of her trainees began to regret being put on Taylor's team as they gasped for air, red faced, their legs burning and arms shaking. Taylor laughed her way through it, though in her workouts she was all business she had a lot of fun prodding and cheerleading her trainees through the exercises, shouting encouragement and bouncing around like a crazy person.

She looked over at Chigusa and gave her a grin and a sly look. They weren't competing, not really, but Taylor didn't care. She wanted to outdo Chigusa for no reason other than that's what she did. Their next stop was to bring their people into the practice ring to put them through some token wrestling stuff. Taylor put her hands on her hips while she cooled down and caught her breath and strolled over to Chigusa's side.

"What's up, Yuuki-san? Are you training your poor people to be slutty, lip-syncing, ass-shakers?" Taylor grinned. That probably sounded more offensive than she meant it. "Your guys don't really look like they'd do very well with that. I think they'd be happy leaving that to you."
Being an idol often meant taking part in large fanbase events to drum up excitement and support, and being forced to do things that might not be so much fun. It was a responsibility and part of the job. When the AFW fan expo was annouced, Chigusa Yuuki expected to give a live performance or two, since that would definitely draw large crowds of fans to the event and increase awareness. And she was told to do that. But she also had several other things forced upon her, one of which was to participate in a "training" event for potential new recruits. Despite her protests, it wasn't too difficult for the GM and commissioner to browbeat her into doing it.

So here she was, standing on the training floor with Taylor Parker, dressed in her green t-shirt and maroon shorts, with a group that consisted of mostly guys training with her. Taylor seemed really into it, forcing her group of mostly girls through her usual grueling training regimen that was neither healthy nor beneficial in Chigusa's opinion. Chigusa, despite her misgivings, was doing her best as well, keeping the guys busy on their toes with her standard workout. They seemed rather weak to her, in her opinion. After only fifteen minutes they were all running out of breath, while Chigusa was completely fine. She sighed a little inside, knowing that most of them were amateurs and hadn't been training for as long as she had. So, unlike Taylor, she decreased the intensity a little, making sure that after the 45 minute warmup they all still had breath and energy.

"Good job guys!" she said, smiling to them. Her group all smiled back, the six guys a little off-put at how they were only barely able to keep up with Chigusa, and the two girls elated for the same reason. Of course, they didn't know that Chigusa was deliberately going easy on them, "Now it's time for some fun sparring practice. Go and pair yourselves off and find one of those empty rings!"

After they all left, Chigusa pulled off her headband and wristbands, rubbing them a little to let her body air out a bit. This place wasn't the gym, with it's nice circulation. It was pretty awful forcing these newbies to work out in this kind of heat. She drank half a bottle of water, pouring the rest over her head to cool down. Then Taylor came over.

When the punk girl taunted her, Chigusa rolled her eyes, her back turned to the girl. Taylor never liked her very much, and Chigusa was fine with that. So long as they didn't cross paths too often they could just ignore each other. But now they were stuck together for the rest of the day, and Taylor seemed rather eager to beat Chigusa at whatever was going on. Not that it mattered to the idol. Taylor's type rubbed her the wrong way, but Chigusa knew she could take the higher path out instead of going to her level.

"No, I don't think I am," Chigusa responded as she grabbed a towel and began to dry off her head. She tossed it aside a moment later, turning around to face Taylor. "It definitely is best to leave all that to me. Most people aren't cut out for performing."
Taylor made a surprised, amused face and turned back to her group. "Jeez..." She muttered under her breath. She got the distinct impression that Chigusa had just taken a shot at her, and she didn't want to test her patience if she was already that prickly. That could have gone better, all around, Taylor thought.

She herded her group up into a practice ring and paired them off to warm up some kicks and then took them through breakfalls. They mostly needed lots of instruction, and she skipped up and down the line, enthusiastically correcting technique and joking around. The two guys that ended up in her group did their very best to look like they weren't as tired as they were, but it was not use. Taylor's speed and endurance-focused workouts only got harder the more muscle someone had.

She spared a few glances over at Chigusa's group just to see what they were doing, and then once her group was sufficiently limbered up and practiced, and had recovered enough with the easier ring work, she moved on to their next assignment.

"Okay! The next lesson in the Taylor Parker School of Awesome Wrestling is... the DROPKICK! Woooooo!" The group had a mixed reaction to the idea, but it was the cornerstone of everything Taylor did in the ring. It was a good place to start them, and she only had time to give them a couple easy things to work on and have fun with.

"Alright, everyone pay attention, I'll demonstrate." She grabbed the bigger of her two guys by the wrist and pulled him out to stand in front of her. She motioned for him to put his hands behind his back, which he did with slight hesitation. She took a two step approach and jumped up easily into a smooth dropkick, giving the guy a stiff nudge with her feet, and landed on the mat without much noise.

She began to break down the move, explain the different approaches to take, and demonstrated it over and over while they watched. Finally, she had each of the four pairs in her group begin trying out the move. Most of them couldn't do it, only one could get her feet up to the target area, the chest, reliably. She had them run the move over and over and over with the sort of crushing repetition and perfectionism that drove her own training. She corrected and demonstrated and explained as well as she could, and made a point to give out encouragement and praise.

The next thing she knew, their time was up. She'd used every minute of their time in the ring on one technique, and while she was a little disappointed she wasn't really surprised. Her group looked like they were just glad it was over.

"Alright, great job guys! Now just imagine doing that twice a day, six days a week, and that's the glamorous life of a Friction wrestler!" It was true. She did very little other than train, and on her days off or her periodic mini-vacations she often didn't know what to do with herself. As repetitive and drab as the lifestyle was, the glory and the lights and the adrenaline when in the ring made it all worthwhile.

She rolled out of the ring and went off to find a towel to dry off with. Chigusa wasn't far away... she thought she'd make another attempt with her.

"That was fun, right?" Taylor had found that she really liked teaching, though she wasn't sure she was any good at it. "So do you know what's up for the rest of this thing? I imagine they've got you and the Spice Girls taking over for the 12-year olds on that stage at some point. They didn't tell me very much, I don't think. Most of the details and stuff were in an email, and I'm... bad... at email."

Taylor generally had no idea what to do with a computer. She'd only recently bought one, and was apprehensive when her AFW contact told her that she'd email her the necessary info on the event. She read about half before accidentally deleting it. She was retarded.
Chigusa hadn't meant her words to come out the way they did, though Taylor did seem put off and left her alone. Chigusa sighed, wishing that these foreigners weren't all so moody and crazy. None of them had any sense of honor in her opinion, and that bothered her greatly. Even Drake was too different from the regular Japanese people for her to feel completely comfortable around. They did things that she could never understand the reasons to. Like that little outburst of Taylor's. Was that how they greeted each other in America? She could understand why the rest of the world hated them if they were all like that.

But it was back to business. She went over to her group, who had all paired off quite nicely and were about to take over the other ring. She slid in as they were talking, clapping her hands to grab their attention. She was just going to go over the most basic stuff with them, since she knew their only real experience with wrestling was seeing it on TV. None of them had the proper training to pull off the things Chigusa could do, not yet anyways.

"So everyone, before we start I want you to know that whatever happens here, there will be no hard feelings," she said, "And that this is all just going to be for fun, alright?" The group all nodded. "Good. Now, I would tell you guys to pair off and start practicing against each other, but I feel like you guys need some inspiration first." She took a deep breath. This was going to be a gamble.

"So here's my proposal," she continued, "Each one of you will come at me with the intent to hurt. I will demonstrate the proper way to protect yourself in the ring. If you can't protect yourself properly, then you will never be able to hurt your opponent." She waved her hands at them, and they quickly formed up into a line.

Chigusa looked the first guy in the eyes. He was nearly half a foot taller than her. "Alright, ready?" she said, the guy nodded. "Go!" The guy ran at Chigusa, an arm cocked back as if trying to slug her hard across the face. Chigusa stood her ground, then suddenly sidestepped at the last moment, letting the fist whizz past her. Her hands shot up and grabbed the guy's wrist, holding it in place, before she turned around and flipped the guy over her shoulder. He landed with a grunt of pain. "Next!"

The second and third guys came in the same way and ended up the same as well. Then, before Chigusa called for the fourth, he suddenly came at her. She had to think fast, ducking to the ground and grabbing him in a drop toe hold to send him crashing to the mat. "That was good!" she said encouragingly, "Smart thinking there-"

Then suddenly the fifth and the sixth guys were upon her. The fifth grabbed her arm and attempted to pull her up, while the sixth came in with a punch. Chigusa thought fast, jumping up and catching the one who grabbed her with a kick to the forehead, making him release her, before turning around and tossing him into the guy coming at her. The two of them crashed ungracefully to the mat. Chigusa stood looking at them with her hands on her hips. "Not bad you two," she said, "Though next time, think it through a little bit better."

All that remained were the two girls. Chigusa turned around, ad beckoned them to come at her. The two girls looked at each other for a moment, then one of them stepped out and came at her. She came in slowly, not rushing in like the guys, but then quickly stepped in to deal her blow. Chigusa ducked under the blow, grabbed her hand, and tossed her to the side, sending her crashing down with a yelp of pain.

Then she turned to the last girl. The girl had a confident look in her eyes, despite the look of misgiving on her face. Chigusa could tell she was acting. The girl was a good actor. And she was good looking too, long blonde hair and green eyes, a little taller than Chigusa. The girl held herself well, like someone trained to dance. Perhaps she was like Chigusa? A performer of some kind.

The girl stood closely, circling around Chigusa, keeping just out of her reach. Chigusa held herself low, watching for an incoming attack. Then suddenly, before Chigusa could react, Chigusa felt someone grabbing her arms from behind. She turned her head to find the other girl grabbing her, suddenly pulling up and holding her in a full nelson! Chigusa was about to break out but suddenly the blonde girl came at her, jumping in and kneeing Chigusa hard in the gut! Chigusa's eyes widened, her knees giving out as she fell down, holding her gut. She gasped for a moment, then pushed herself up, one hand on her stomach, smiling at the two of them.

"That was good," Chigusa said, "You two, what are your names?"

The two girls looked at each other. "Miki," the blonde said. "Yoriko," said the other girl. Chigusa nodded, stepping in and grabbing their hands. "Good job," Chigusa said, nodding and stepping back.

"Alright! Now all of you pair off and get practicing!" Chigusa said. She slipped out of the ring, still rubbing her gut where she got kneed. Soon Taylor came over again. Chigusa blew off some steam with that workout, and she was feeling a bit calmer now. Plus Miki and Yoriko really surprised her with that teamwork. Those two just got to know each other and yet they pulled off that move. It kinda reminded her of how she and Megumi fought. So she was feeling a bit better, despite getting hurt a bit.

"Yeah, it was pretty fun," Chigusa said, turning around to see Taylor again. "Yeah, I'm gonna probably have a performance, but much later on. Not right now though. There's gonna be a lot of smaller events though, more fan stuff in those booths over there." She gestured at the rest of the expo hall. "That's probably gonna be all for the afternoon."
"Oh, okay. I didn't, uh, get the memo about this whole deal. I'm gonna hit the showers, are you coming?"

Taylor was trying, goddammit. She was going to have a pleasant exchange with Chigusa if it killed her. All that catty nonsense had to stay in the past where it belonged.

"Wait, no, I mean are you going to... I didn't mean... uh, I'm straight. I'm not... you know." Taylor's faced flushed hotly and she felt dumb for embarrassing herself like that in front of the ever-composed idol. It kind of freaked her out that Chigusa was like a lesbo-nympho-porn star skeezebag.

She tried again. "I'm going to shower, are you gonna to sign some autographs and do the panel thing over there?" She asked. That was better. She couldn't get over how tiny Chigusa was. She had such a stage presence on TV with her little girl-band that she always figured she'd be taller or something, but standing next to her Taylor felt big. Chigusa was shorter and with a tiny tiny build... She was small for a Japanese wrestler, Taylor was small for an American one. She felt a little awkward around her.

She did her best to give her a friendly smile, though it still came across with a bit of a punk edge to it.
Seeing Taylor so flustered all of a sudden really broke the tension between the two. Chigusa blinked for a second, then coverer her mouth to stifle a giggle, knowing Taylor wouldn't take someone laughing at that too well. She quickly regained her composure, though this time she wasn't so hostile. Taylor was willing to be friendly, so Chigusa would respond in kind. Perhaps the reason their encounters were so awkward was because neither of them were willing to be civil to one another. Hopefully they could get over some of that animosity, though Chigusa had no idea really why Taylor didn't like her. She had a smile on her face as she spoke to Taylor once more.

"Nah, I'm not going to sign autographs while I'm still gross like this," Chigusa replied, "Lets go shower off."

She reached over and grabbed Taylor's wrist to pull her along. "And don't worry, I'm not nearly as bad as you think I am," Chigusa said, knowing that inside Taylor's head she was definitly thinking about the more dubious aspects of her career. With any luck, she could get Taylor to see past that.
Last edited by 265 on Mon Mar 12, 2012 12:53 pm; edited 1 time in total
Being led off by the wrist, Taylor, in a rare moment in her life, was the shy one. She did one of several things when she was nervous: in this case, she babbled at a high rate of speed.

"Hey, c'mon, don't make me make my boyfriend beat you up. I know you're all megalesbian chick, and ya know I'm pretty hot myself so I don't know if you'd be able to keep your eyes off me if we had to nude up with each other and stuff and I know how one thing leads to another with you guys like when Akashi and the girl that tried to kill me did... whatever they did, like, I guess they just-" For god's sake, stop talking! "Um... Okay."

Maybe she had Chigusa wrong from the start. That would be awful, with how much of everything she'd said and thought about her she'd have to take back, but if she had to do that she'd do it. She was done being the crazy bitchy psycho chick. It was time to put that chick to rest. Taylor was an adult and had to start acting it, controlling her big mouth and doing adult things...

Like showering with some international porno superstar. She couldn't get the thought out of her head. She was not just uncomfortable with knowing Chigusa's sexual persuasion and having to shower with her, it was... something else. Whatever it was, it made her nervous. Maybe it was that Chigusa would be all lesbo and check her out and she wouldn't measure up to her finely tuned lesbo-standards.

"So, like, how's stuff, anyway? Win any matches this decade?" Some of her snark crept back out to compensate for her lack of confidence.
Hearing Taylor babble on and on made Chigusa feel like giggling some more, but she held it back. The girl was pretty funny when she was flustered. Chigusa knew why, sort of. It seemed odd to her that a girl who was strictly against the more sexualized aspects of this wrestling league would be here, but she guessed that kind of stuff was what Taylor was expecting. Chigusa wasn't planning for any of that to happen.

But then Taylor reverted to snark, and hit upon a raw nerve. Chigusa knew full well her match history recently hasn't been very great, and she was running on a pretty bad losing streak. Luckily for her it didn't matter whether she lost or won, since her fans seemed to like seeing her lose just as much as seeing her win, which bothered her a little bit. But it still hurt her self-esteem a bit, since she was considered quite a fighter in the past. Her smile left her face for a moment, her pace slowing down as she struggled to remain calm. Taylor liked pressing people's buttons, she reminded herself. She couldn't let that bother her.

"Not... recently..." Chigusa said, "Not without Megumi's help..." She swallowed hard, her mouth going dry. Why did this bother her so much?

By this time she had stopped, and was focusing really hard on not being angry. She realized this, and quickly put on her mask, acting like her usual composed self. "Come on, let's go get cleaned up so we're ready for the afternoon's events!" she said, letting go of Taylor and practically running down the rest of the hall to the shower and change rooms, grabbing a towel and disappearing inside.
Taylor cringed. Yet again, Taylor had said something and managed to upset Chigusa. It was a damned curse. Everything that came out of her mouth made people angry, which was great when she was trying to, but not so much when she wasn't.

Chigusa seemed particularly upset at this one, though not in the usual talking trash sort of way, but like she'd inadvertently hit on something that actually hurt Chigusa. Concerned wrinkles formed on her forehead and she slowed her pace to fall a step behind Chigusa.

"Hey, I..." Now that she thought about it, she was pretty sure she remembered Chigusa losing a lot of matches lately. Taylor watched lots and lots of AFW video, so after a while they started to run together and became tough to keep straight, especially when watching late at night. A losing skid was tough for anyone to handle, Taylor knew that much, especially when the person was already a well established and successful wrestler.

She had to say something. Something encouraging, like 'hang in there'... She should tell her how everyone loses sometimes, and losses will only make you tougher and a better fighter, and they don't mean that you're any less of a fighter, even though if she was honest with herself Taylor didn't really believe that. She had to do something, but it was so hard to reach out to someone who already hated her, and if she made a total fool of herself in front of Chigusa she might puke.

Here goes nothing, Taylor reached out with one hand to give Chigusa a reassuring pat on the shoulder, but before she could the girl took off running for the showers. Taylor's hand hung awkwardly in the air for a moment, and then dropped back to her side. She bolted down the hall after Chigusa at full speed, and almost slipped on some water and died by the door to the locker room. She grabbed a towel and tried to gather the nerve to do this next part without doing something incredibly dumb.
Last edited by 1167 on Tue Mar 13, 2012 3:57 am; edited 1 time in total
Chigusa paused for a moment after running inside the changing room, leaning against the wall of empty lockers to catch her breath and try and force herself to calm down. Her eyes were feeling wet, she struggled not to cry after that. Taylor's words really hit a painful spot. Chigusa kept up a bright outlook, but with Lukretia and the administration determined to keep her under control, and the rather depressing losing streak she had been on for the past year, it was weighing down hard on her. She closed her eyes, sucking in a deep breath and rubbing her palms on her cheeks, squeezing her face a little before getting up, her feelings under control for now.

She just took her shirt off when Taylor came in, looking rather unnerved by all this. Chigusa turned around, presenting her back so Taylor wouldn't feel so uncomfortable, looking at the girl for a moment over her shoulder. "Are you all right? I thought I heard you fall," she said, "Listen, I know you're probably not used to something like this... but don't worry. I'm not going to do anything to you." "And I don't know why you'd assume I would," Chigusa thought, but she kept that to herself.

She continued to undress herself, kicking off her shoes and pulling off her socks, then off came her shorts. She stood a moment in her underwear, a white sports bra and matching panties, before pulling those off as well. She stood a moment, fully naked in the room, letting her body air out and feel free from the moist clothes, before remembering Taylor was here and quickly grabbing her towel, wrapping it around herself before heading to the showers. Never once did she look at Taylor, keeping her promise.
Page 1 of 4 • 1, 2, 3, 4


---
Permissions in this forum:
You
cannot
reply to topics in this forum