Champions & #1 contenders
Highfly Flying Out Of Town
Tue May 22, 2018 1:31 am by HighFly
Hello everyone, I just wanted to inform all I have threads with that I will be gone from this coming Wednesday through Sunday. I won't be able to post consistently if at all during this time, but I will try to make up for it next week! I am sorry for the inconvenience to everyone.
Comments: 7
The Austrailian Mudslide is Back.
Sat Apr 21, 2018 6:20 am by Softsquad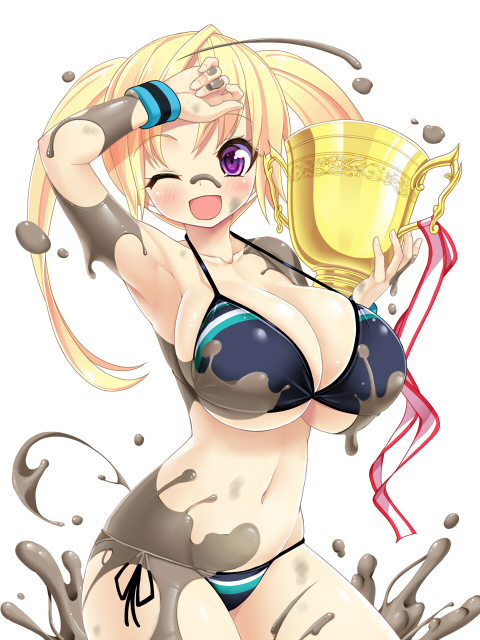 Granted that most of you won't know me or remember me, but I've had a few matches here and there some time ago. Well I think its time to become a regular around here and try to have some fun again, but at the same time keep coming back. Anyway I think its time to jump into some matches with Zoe Taylor, my mud wrestling character from Australia and get her back into the squared circle. Furthermore I will update my characters as I think some proper changes need to happen.
So if anyone would …
[
Full reading
]
Comments: 5
Page 1 of 4 • 1, 2, 3, 4


For the past few weeks, Eka had kept her head down. In the literal sense, in that she was studying, revising and researching with a newfound focus, and in a more figurative one: the Georgian girl felt like she was ten feet under the surface of a deluge of losses. She was a long way from Birmingham and a longer way from Georgia, so she knew that this was not going to be easy. But she had no idea why it had to be this hard. The women she faced here were an order of magnitude stronger, tougher, and meaner than any woman or man she had faced previously and even with a few wins under her belt, Eka felt like she was entirely unprepared.

A long dark shadow was cast over the usually jovial girl. All of her professors and peers commented on that and Eka ordinarily replied that she did not have to be happy all the time. She wasn't particularly happy at the moment, despite the fact that she had a wonderful cup of coffee in front of her. Every few seconds she would cast a furtive look down at her phone, hammer the refresh button and be disappointed that her last grade had not come in yet. She had taken five classes this semester at Tokyo University, and had gotten 3 As and a B so far. Physics, even in English, was a complete mystery to her but she struggled through it and scraped a solid B out of the muck. It made her GPA drop, but whatever. She didn't need physics anyways.

The ravenhaired girl looked up from her phone. She was in her favorite coffee shop, hardly two blocks away from campus and observed the milieu. It was mostly fellow students, mostly laughing and carrying on or commiserating over unacceptable grades. Only Eka was alone. But Eka, like everyone else, was dressed in a modern way. Her lithe and athletic figure was adorned with an almost professional looking blouse and her long spindly legs were kept warm by a fashionable pair of blue jeans. A book sat on the table in front of her, unopened and completely ignored, with the words Religion in the Late Roman Empire written on the cover. A professor recommended it to her and she had gotten about halfway through it before grades started coming in and from that point on Eka simply could not focus on anything else anymore. She told herself she was going to read it, but the best plans of mice and men blah blah blah.

She took a long sip of her coffee. One of the things she loved about Japan was that they did not add sugar to everything. It was black as her hair before she added some milk to it and even though she loved the taste it only exacerbated her anxieties. Eka sighed. This seemed like yet another thing she had no control over. A long spindle of her dark hair fell in front of her face and she brushed it aside.
Although not technically a student at Tokyo's university, her Master's being done via the magic of the internet at a university back home, Alicia still found herself drawn there. For one thing, the internet might be magic but she still needed books and there was no way she'd even been able to bring all hers from home. Nor did she have the cash to buy everything she needed – academic books were expensive and that went for history books as much as science books. Fortunately, Toyko's library did have a lot of the books she needed and in English too otherwise, well, she'd have been in a bit of a pickle.

To say the very least.

Today therefore hadn't been the first time she'd headed down to campus to check a few things out, nor was it the first time she'd found herself in this particular coffee shop afterwards. It was one of the few places she'd risked trying their tea and found it acceptable – Alicia was a bit of a snob about her tea and didn't really care who knew it. Quite often when she was out, she'd end up having coffee instead just to avoid disappointment. Here it was acceptable, hence the gently steaming cup cradled in her hands as the big redhead looked for a place to sit. But that was proving tricky. While it was always busy in here, suddenly there were students everywhere…

Not that Alicia stood out any more than normal, dressed as she was in a strappy black top under a light jacket and jeans that clung to the curvature of her wide hips and strong thighs, a backpack hanging off one shoulder. Her dark eyes flicked from table to table, each as full as the next – she was by no means shy but that didn't mean she wanted to be the third wheel on a table where everyone already knew each other.

She didn't want to have to stand either.

Casting her gaze over another couple of tables, Alicia was about to move on when a familiar book cover caught her eye.

Religion in the Later Roman Empire – not strictly in her wheelhouse as far as research went, but it'd been a fascinating read regardless.

"I remember this one," Her comment was absent, musing, before she remembered and glanced up at the book's owner with a rueful grin twisting her lips. The young woman at the table was by herself which would have been good enough at this point even if she didn't have some taste at least in her reading. "Mind if I join you? This place is bedlam today…"
_________________
Friction -
Alicia Wells
- Kickboxer, Mixed Martial Artist and Scissor Queen
Friction -
Samiya Kusanagi
- Submission Specialist, The 'Schoolgirl Assassin'
Eka was looking down again. The hustle and bustle of the busy little cafe had become background noise to her. Once again she hit the refresh button and once again there were no results. The same grades that she had seen a thousand times before were still there, and the one she so eagerly awaited was still floating around in the internet, ready to be summoned forth by a professor with an enter button. Then something strange happened. Someone talked to her. It was English too, which was a delight to Eka. The Japanese language was something that occasionally slipped away from her and required her complete concentration which is something that the Georgian girl simply could not do at the time.

She looked up. There was a girl unlike any she had seen on campus. Her red hair made her a signal fire that could be seen from the farthest mountain, and her thighs were as big as Eka's waist. She blinked. The look on her face appeared to suggest that this woman knew something that Eka did not, although her doubts told her that this woman probably knew lots of things Eka did not. The worried look on her face dissipated into smile that was more polite than mirthful and she sat up straight. Her morbid mood made her slump a lot, and Eka was going to have to force herself to sit with proper posture.

"Yes, you may." Eka motioned towards the seat across from her. She looked back down at her phone before a realization came over her. This was a social situation now. That meant she had to stop worrying for half a second and try to talk. Her big blue eyes found the woman. "It is useful, but the prose is dreadful, yes?" She loved history but was not interested in most historians. History ought to have been the most interesting subject, but teachers and professionals made it a horrid slog through charts and dates. Maybe she could actually talk about history with this girl and get her mind out of the dumps.

"You are a student here?" Not only did she have a hard time in wrestling, but she had a hard time making friends. Irene was lovely, and she knew a few people, but by the time she really knew anyone their cliques had already formed and left Eka out in the cold. The redhead was even smiling.
"Thanks."

Placing her cup of tea down on the table gently, Alicia divested herself of her backpack which she set besides the chair before pulling it out and taking a seat. She used the opportunity to have a better look at the young woman – her own age or near enough she thought – who was sharing her table with her. Raven-haired, blue-eyed, fine of features and obviously not Japanese were her initial thoughts, though the table made it hard to judge much beyond that. The brunette looked athletic under the blouse but again hard to be sure.

She couldn't immediately place the accent either.

The big redhead wasn't a 'people person' in the same way as some but she didn't need to be to note that the other woman's smile wasn't reaching her eyes. Oh well, too late now. And she was talking so, whatever it was, Alicia hadn't intruded too badly.

"You're going to laugh," She continued, taking a sip of her tea with a pleased hum, "But I read it for fun. I'm really working on the late Republic but this looked like it'd be interesting and…"

Alicia shrugged and laughed.

"Well, I guess it makes a good paperweight. At least the author knew his stuff but I seriously need to learn to choose my light reading better."

She took another sip of her tea, her expression settling down a bit.

"And not really. No, actually. I'm writing my Master's but it's for a uni back home. I moved here not that long ago for… work-" Well, it was her work and while she was happy talking about her wrestling and fighting, that was another whole conversation to have. "-And I'm using the library here because shipping books from the UK would cost me both arms and legs. How about you? History?"

Alicia was going with 'yes' as an answer to both of those, but it didn't hurt to be certain. And she couldn't help but hope it would be. It'd been far too long since she talked history with anyone other than her supervisor.
_________________
Friction -
Alicia Wells
- Kickboxer, Mixed Martial Artist and Scissor Queen
Friction -
Samiya Kusanagi
- Submission Specialist, The 'Schoolgirl Assassin'
Eka perked up. This woman's appearance made her seem interesting but the fact that she had a fascination with history made her downright compelling. She put her phone face down on the table and did her best to forget it. Plus this redhead seemed like a cheerful person as evinced by all the laughing and smiling, and Eka needed a little bit of cheer. The Georgian girl adjusted in her seat and leaned forward. Her bright blue eyes were twinkling for the first time in a while.

"Yeah, the history I like is a little different. I usually study the early Soviet Union. Ask me anything about the New Economic Policy," she said with a shrug, "but my advisor said that I should know it. I haven't had enough time to read for fun in a while." Eka's tone became wistful. "What with work and all. But it doesn't matter. History is more fun than how much I read, yes?" Eka's face betrayed the fact that she was joyful again. Enthusiasm was something that came to her naturally, but not something that had been coming to her lately.

"I know a little bit about Gaius Gracchus and the Annonae Cura," Eka was speaking quickly, too quickly to recognize her mistake, "but I don't know enough about Rome. The country I am from was on the periphery of the empire, and it is so important to know your history, yes?" The more excited she got, the more obvious her lilting accent was. It bounced up and down like a trampoline. "So you are from the UK. I am from Georgia, like the country." The addendum at the end was probably understood, but Eka wanted to make sure.

"I am a student here, and I study history. International relations, too. Oh, and I am Eka." Her smile was warm and genuine.
The other woman was brightening up now, which definitely leant some weight to Alicia's theory about her being a history student. Certainly she was looking pretty interested. It'd been a while since her lessons on the USSR but…

"That was the one step back to take two steps forward one, right?" She asked, trying to dig back to those classes on Russian history. "And you've got a point there. I just like reading about anything, really. The Cold War, the Reconquista, the Ottoman Empire, you name it. So long as there's politics and military stuff, I'll take a look at the least."

And Alicia nodded along as her new friend brought up the Cura Annonae, enthusiasm sparking in her violet eyes as well.

"The corn dole, right." No need to correct her, that was pretty close all things considered, "The Gracchi, Marius and Sulla, Caesar and Pompey… How it all led to the Principate – that's what I'm looking at, generally. Oh, and the Social War. I used to think that was a stupid name for a war. What's so social about a war anyway…"

Alicia shook her head, snickering, before she sobered up.

"Anyway. They do say those who don't learn from history are doomed to repeat it. So pretty important, definitely." She hid her grin behind her cup as she took a sip, "I don't think I've ever met anyone from Georgia before. Certainly, I didn't expect to in Tokyo. Nice to meet you and I'm Alicia."

The redhead frowned thoughtfully, setting her tea down again.

"Georgia and the early USSR though – that's got to be a bit… controversial? It's kind of why I like Roman history. Everyone's been dead for a couple of millennia. Less politics."
_________________
Friction -
Alicia Wells
- Kickboxer, Mixed Martial Artist and Scissor Queen
Friction -
Samiya Kusanagi
- Submission Specialist, The 'Schoolgirl Assassin'
Eka, who had for so long been on unfamiliar ground, was not playing defense any more. History was one of the things she was very passionate about, like wrestling. But history was something that was going way better. The smile that spread across her face bordered on patronizing and she raised her finger as if chiding someone who was not there. "History is supposed to be controversial. Tendentiousness is not a vice when it comes to history, only ignoring facts is. If you do not say controversial things, then be quiet, and make all the people who can not recognize real history maintain their sleepy ignorance. Controversy is simply a given when it comes to things that really matter." Her tone was professorial as opposed to the informal voice that the situation called for, but Eka was on a roll. "The 'tactical retreat from communism' has effects that last to this day. Arguments will arise of course, but reasoned and informed debate is a good thing." Eka began to show some self awareness and hunched over a little bit. "That is what I think at least."

The coffee that Eka drank gave her new life and the Georgian girl was going to do her best. "It is not that controversial, I don't think. Of course Stalin was right," Eka loved reading about Stalin but understood that many people did not understand her appreciation for the Man of Steel. The pause was pregnant with doubt, "to abolish it. The Five Year Plans were categorically better." The end of the sentence was said with little consternation. This was something Eka knew better than almost anything else. "Politics is not a four letter word..." The Georgian Girl's voice trailed off at the end. She had stepped off the imaginary lectern for a little while.

"But I have spoken too much, yes? I have little knowledge of the Social War." Eka's voice was back to normal for her. When she got going she thought less about quashing her accent and the roller coaster ride that formed her passionate speech was over. She sank into some vowels too deeply and of course rolled her r's, but for the most part sounded pretty normal. "What can you tell me about it?" Even though she was confident in her knowledge, she always had a thirst for more.

"Georgia is not such a big country." She said with a shrug. "But we are everywhere if you look for us," her demeanor was back to playful now.
"Ok, true," Alicia conceded, not taking any insult because she probably sounded exactly the same when she hit a roll, "I just like my controversy to be safely academic and not too recent. Don't get me wrong, I've got no problems saying what I think but…" She shrugged, "It's easier for everyone to stay reasoned and informed when it's not so personal."

But the redhead had to laugh at what her new friend had to say next. "I've got to say, and I'm not disagreeing with you, but that isn't something I hear often. Stalin was right, I mean. Probably not enough, given all the sacrifices the Soviet Union made in World War 2."

Alicia raised her cup in a toast.

"To the Red Army, without which we wouldn't be sitting here."

She was, for the record, entirely serious.

"No reason why you should have," Now it was Alicia's turn to adopt what she thought of as her classroom voice, "It was a war in the early first century BC between the Romans and their Italian allies – that's why 'Social War' because the Latin for allies is Socii – caused because of Italian resentment for Rome. They were expected to provide soldiers for Roman armies while being third class citizens, with no say in politics, no right to vote, the best land taken by Roman Senators…"

The redhead waved a hand in a 'and so on' gesture. "It lasted about three years and, in the end, Rome had to make serious concessions to win involving opening the citizenship to most of Italy. That's the short version, at least. It's complicated because it ties into the Cimbri invasions, the rivalry of Marius and Sulla, the Mithridatic War, the first civil war… Not to mention it ties right back to the Second Punic War and the Brothers Gracchi. We'd be here for hours if I tried to explain it all."

First century BC Roman history had a nasty habit of all tying back together, making it harder to explain one bit at the expense of the rest.

"Actually, you've maybe heard of Mithridates? He was King of Pontus but his son in law was Tigranes, King of Armenia. Not that far from Georgia."

Alicia wouldn't really be surprised either way, to be honest. Her knowledge of Georgian history was pretty limited.
_________________
Friction -
Alicia Wells
- Kickboxer, Mixed Martial Artist and Scissor Queen
Friction -
Samiya Kusanagi
- Submission Specialist, The 'Schoolgirl Assassin'
Eka knew of the sacrifices of the USSR in the Great Patriotic War. Her grandfather had regaled her with stories of the time period. Georgia was just outside of the scope of the war, but her people knew sacrifice and what it took to purge the fascist excrescence from the Soviet Union. She gladly raised her cup of coffee to the Red Army, which is not something she had done in her life and something she doubted she would ever do again. If Alicia had said those words with even a hint of irony, Eka never would have agreed to it, but the redhead seemed sincere. Sincerity was a trait that had become increasingly rare, and the Georgian girl appreciated it where she found it.

The ravenhaired girl showed rapt attention as she listened to her partner speak. She knew the vague outlines of what her conversation partner was saying but the specifics were lost on her. The Georgian girl knew enough to keep up however and her eyes narrowed as she focused her concentration on what her new friend was saying. The coffee she was drinking was still hot and went down nice and smooth.

Eka smiled. "I have nowhere to go," she shrugged, "and it is nice to talk history with someone who is not grading me." The desire to check her phone once more for her grades came once more and subsided. "I believe I follow. So we are talking before the empire began to really consolidate and before Carthage fell, yes?" Eka drank again.

"I know very little of this king," she said, trying to lie and pretend she knew anything about this king, "He was of Greek origin, yes?" Mithradates sounded Greek enough to her, and she was far too arrogant about her smarts to ever completely admit that she did not know something. "They were on the periphery of Georgia, so I cannot say I know the full measure of their greatness," Eka took another swing, and hoped he wasn't a complete asshat.

"My father has a few denar...denarii? Denariuses? And he is very proud of them. He said that it shows the Georgian people have always been valued, going back to the times of Rome. It is nice to have history in your hand, yes?" Eka tried to pivot this conversation back to ground where she didn't feel like a complete imbecile.
The Soviet Union may not have been the greatest regime to live under, and that probably wasn't a toast Alicia'd ever expected to offer either. But it seemed the thing to do and given Eka promptly raised her own cup in salute, clearly she'd got something right there. And the Red Army had sacrificed tens of thousands of lives to beat the Germans.

That ought to be remembered.

That was definitely a sentiment that Alicia could get behind, which she showed by a firm nod of agreement as Eka spoke. Not that she didn't enjoy talking about her thesis with her supervisor but she couldn't quite forget that it was work not for fun. So she could appreciate where the Georgian was coming from there.

"Sort of. Carthage fell in 146 BC, so it's about fifty, sixty years after that. But it's before the shift to the empire, yes. The Social War started in 91 and went on until 88. Well, or 81 if you include Praeneste and the Samnites fighting against Sulla at the battle of the Colline Gate. Either way, after Carthage. It's just that one of the reasons was to do with the Senate stopping giving Italians Roman citizenship, which they did after the Second Punic War – that's the one with Hannibal."

She added the last part just in case, though she was fairly sure that anyone who'd heard of the Brothers Gracchi had to know which the Second Punic War was. But just in case.

"Mithridates was… half Greek. I think. Pontus was on the south coast of the Black Sea, basically. So very Hellenised, but with Persian ties too. He's mostly remembered today because he drank a mix of poisons every day to build up an immunity to him. Then, when he was in danger of being captured by Roman soldiers, he tried to take poison to kill himself so of course it didn't work and he had to get his bodyguard to kill him with a sword."

Alicia shrugged. "That's the story, anyway. He was also responsible for having all the Romans in Asia Minor massacred. He sent a letter to all the cities telling them what to do and when, so none of the Romans or Italians would have any idea what was coming. Not exactly a nice guy, but it took the Romans three wars and twenty five years to beat him so great's probably fair."

"Denarii," she confirmed with a nod. "It's amazing how far those ended up going. I don't suppose you know how old they were?"
_________________
Friction -
Alicia Wells
- Kickboxer, Mixed Martial Artist and Scissor Queen
Friction -
Samiya Kusanagi
- Submission Specialist, The 'Schoolgirl Assassin'
Page 1 of 4 • 1, 2, 3, 4


---
Permissions in this forum:
You
cannot
reply to topics in this forum