Champions & #1 contenders
Summer Splash interest in Natasha Loclear?
Mon Apr 09, 2018 11:30 pm by daemongirl
Well my girl hasn't missed a summer splash yet, would anyone be interested in a match with her? Open to just about anything match wise, just pm me!
Comments: 1
Been Out with the Flu
Sun Apr 22, 2018 7:47 pm by daemongirl
Just letting those I have threads with know I've been out with the flu since early last week, but I will be back to posting tomorrow.
Comments: 0
The Austrailian Mudslide is Back.
Sat Apr 21, 2018 6:20 am by Softsquad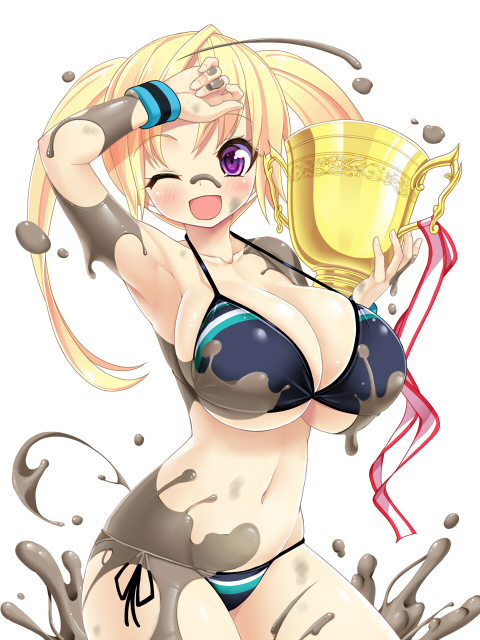 Granted that most of you won't know me or remember me, but I've had a few matches here and there some time ago. Well I think its time to become a regular around here and try to have some fun again, but at the same time keep coming back. Anyway I think its time to jump into some matches with Zoe Taylor, my mud wrestling character from Australia and get her back into the squared circle. Furthermore I will update my characters as I think some proper changes need to happen.
So if anyone would …
[
Full reading
]
Comments: 0
Page 3 of 4 •

1, 2, 3, 4


After that interview, Chigusa went back to the expo hall, mingling among the fans and talking with them. A ton of them mobbed her the second they saw her reentering the main floor, causing quite a stampede and quite a job for her two bodyguards, who kept the bulk of them at bay. The crowd eventually became ordered and thinned out a bit, allowing Chigusa some breathing space. She was furiously signing autographs when a coordinator came over and told her she was supposed to be at some Q & A panel.

"Eh?" Chigusa said, "I'll be over in a second!" Dropping her marker back into her bag, Chigusa began making her way over to the panel table, with guards and crowd in tow. She was actually quite irritated at this, since it made her seem far too full of herself to arrive with an army of fans, like she was rubbing her popularity in the faces of everyone. With that in mind, she told her guards to get the crowd to disperse, which they did with fierce glares and some pushing. Many people left disappointed, but at least Chigusa felt a little bit more peace.

Chigusa sighed. She wished sometimes fans would be easier to manage, but it was always like this. She decided to forget about it and focus on what was at hand, which was the panel. Along the way, she bumped into Taylor, who was being mobbed by a fairly large group of fans and reporters herself.

"Hey Taylor!" Chigusa called, "Aren't you supposed to be at that Q&A panel already? Come on!" She didn't hear Taylor's comments about her, which was for the best. They didn't need another reason to fight one another. Chigusa quickly hurried on over to the room where it was all supposed to take place, taking her seat as people began shuffling in, first a group of reporters, and then the throngs of fans...
"Huh? Oh, okay. Sorry guys, gotta go." Taylor said as she disentangled herself from the group of fans around the booth and headed off after Chigusa.

"How do you deal with fans, man. I've got like, five of them, but the whole freaking country followed you around. My fans are better, though. I'm not famous enough to have mainstream fans. I only have cool ones." Taylor joked, though she really didn't know what the hell she was talking about. She was just filling in the silence while they walked.

There was a long table with seating for three and a microphone on a stand on the table in front of each chair. There was a smallish seating area set up facing it, where press and bloggers were seating, with fans filling out the back seats. Taylor sat down on one side. The middle seat was occupied by some AFW suit, who leaned into her mic and addressed the crowd to get started.

The first blogger spoke to Taylor. "Parker-san, you've-"

"It's Taylor." She corrected.

"Gomen, Taylor-san, you've recently captured the Entropy title and defended it against Lia Cross and Adrian Kytes in a match that ended with some controversy. What are your thoughts about Adrian's actions during the match, and will you be facing her again soon?"

Taylor shifted in her seat. They were really getting right into it. She made a face. "Man, um... She did what she did, ya know, I dunno... I don't wanna say that she knew she couldn't cut it without cheating like that, because really I think she just wants to kill me. I guess she's just crazy, but yeah, I'd love to fight her so I can put a dent in her squeaky-clean record."

The next question went to Chigusa. "Yuuki-san, it seems that lately you've been less successful in your matches than what your fans have become accustomed to. What are your plans for 2012, and how do you plan to break your losing streak?"

Taylor squirmed some more. It seemed like an uncool question to ask.
"I had fans before they were cool to have," Chigusa shot back, matching Taylor's hipster cred with even more hipster cred. Joking around a little bit with her didn't seem bad, since in a way they were getting along a bit better. Though Taylor and Chigusa still had a contest of egos going on. But when you put two people like them together, this kind of posturing was bound to happen.

Sitting on the other side of the table, Chigusa realized that they deliberately set this up so it wouldn't be easy for the two girls to get at each other should things devolve into a fight. It was a smart choice, though Chigusa couldn't say she liked it. It was as if they didn't give either of them enough credit to act like responsible adults. But given their histories, and the fact that they still didn't like each other very much, and that the crowd was pretty antsy and willing to hurl some nasty questions at them, it was probably for the best.

The first question visibly made Taylor uncomfortable. Chigusa understood where it came from, she fought Adrian once before and lost badly, but Taylor and Adrian had some seriously bad blood between them. In truth, she couldn't see either girl as a bad person, just seriously misunderstood. And they needed a match where they could settle things properly, once and for all, in her opinion. But it would have to be a fair match, and Adrian wasn't known for playing fair...

Then the second question came, directed at her. Hearing it made Chigusa's eyes widen a bit in surprise. She almost sucked in a startled breath, but held herself back. She had to act composed in front of this crowd. These reporters seemed eager to really tear into them. "Ah... I..." Chigusa said, not sure of what to say for a moment. She closed her eyes and composed herself.

"Well, that's an easy question!" she said, all bright and happy once more, "I plan on winning, of course!" She flashed a smile at the crowd. "Now, just because I've lost a few matches recently, doesn't mean I'm less successful... The talent in Friction is getting better every day, and I only fight against the best. The matches I've had were intense, brutal, but most of all entertaining. I'm glad I lost those times, since all it means is that when I win, it will be because I'm strong enough to beat the best!"
Taylor relaxed a little bit. Chigusa seemed to handle that pretty well.

The next question went to Taylor. "Taylor-san, what has winning the Entropy belt meant for you and for your career? Do you see yourself holding the belt for a long time?"

Taylor didn't need to think about that. "It's been good. Really good... I mean, it made my career and everything. It's the biggest thing I've done so far. And... I really didn't want to care about it at all, because it's not the one I'm after, but... I think it's actually meant a lot to me. I've always thought I didn't belong here, or anywhere," She breathed a laugh. "But I guess this is like proof that I do. I don't think I'll hold it long... The matches are kinda crazy the way they're set up, so I'll probably get screwed out of it sometime soon. Or maybe I'll drop it when I go after the Friction title. Who knows." She grinned, only half joking.

The reporter thanked her and the next one stood up. "Yuuki-san, given the decline of your wrestling career, have you considered retiring altogether and focusing on your much more successful wrestling ca-"

"Hey, what the fuck, man!" Taylor interrupted, leaning forward into her mic. "Whatsa matter with you guys? Maybe you don't know since none of you have what it takes to be a fighter, but there's always got to be a winner and a loser and sometimes it's you. It doesn't matter, man, it happens and losing a couple in a row doesn't mean you're washed up. You guys are just trying to stir the pot and shit, so why don't you sit the fuck down and make room for the professionals, a'right?" Taylor angrily laid into the reporter, angry enough that her New York accent peeked out a little.

The reporter, unfortunately, looked almost unphased. "I'm sorry, Parker-san, I wasn't aware of the relationship you two have. Yuuki-san stated earlier that," He consulted his notepad. "Quote: She models her fighting style a lot after mine, and the master never loses to the pupil. I can beat her, sure. Have you gone to Chigusa in the past for training or guidance? What is your reaction to this?"

Taylor got quiet and closed her mouth. Her eye twitched. "She said what?"
The reporters seemed to not give up on bugging Chigusa with questions about her flagging career, which made her extremely uncomfortable. She was about to tell the reporters to stop asking when suddenly Taylor exploded, and gave him quite an earful. Chigusa felt quite relieved from that, hoping that would shut the reporters up a bit. Hopefully it meant that they could get along a bit better now considering how Taylor stood up for her.

But the reporter suddenly turned around and dug a bit deeper, bringing up the rather inciteful words Chigusa said before in the interview, where she was putting on a strong front for the camera. This obviously infuriated Taylor, whose demeanor changed from sticking up for Chigusa to an enemy in a heartbeat. Chigusa swallowed hard, taking a deep breath now. She hoped Taylor wasn't so mad she was going to start a fight. That would be a disaster for both of them.

"You have no right to bring that up!" Chigusa said. She looked to Taylor, knowing that there was nothing she could say that would defuse this situation. If anything, Taylor was extremely proud. And any challenge to her, especially one like this, would never be unanswered.

"I won't lie and say I didn't say that," Chigusa said, "And I won't apologize and take it back. I'm sure Taylor has said the same thing about me. She means what she says as well. So we're stuck. And the best thing to do here is to simply agree to disagree." She crossed her arms. "Does that satisfy you, reporter?" Chigusa said, her voice dripping with derision, "I won't be baited into a fight for your convenience, and I'm certain Taylor won't either."
Taylor put a hand to her forehead, struggling to bottle in her attitude and not make a scene. She needed to not be a jerk, but those were fighting words, and Taylor compulsively could not back down from a fight. Taylor modeled her style after Chigusa? Really?

"Yeah." She muttered. "I'm cool. Why would I want to pick a fight? Especially with someone I so obviously was just trying to copy. Am I right?" She leaned forward to look over at Chigusa. "We're professionals, come on. Next question, alright?"

After a pause, the next reporter spoke up. "Taylor, do you have any idea who you will be defending your title-"

"She should be so lucky, okay?" Taylor interrupted again, unable to contain herself. "There aren't enough hours in the day to spend at the gym to... yeah. Right. What was the question? Sorry."

The reporter soldiered on and began to repeat the question. "Do you know who you will be facing next to-"

"Have you seen her matches?" She burst out again. "Fuck, most of her style is laying on her back moaning. Here's a question, who do you think would win in a fight? I guess you know what we think, let's hear from some of you."

She couldn't help but feel like she was blowing the whole thing out of proportion, but the part of her that had always protected the rest of her couldn't back down.
Chigusa was glad Taylor seemed to be taking it well. That is, until Taylor's composure began to fray little by little, and she couldn't help but speak out more and more and get steadily more and more worked up. Chigusa was honestly afraid that she might slowly build up to start a fight right here. When Taylor posed that question to the crowd, the crowd began muttering, as if everyone was consulting their neighbors as to who really was the better fighter.

"Taylor's gonna win!" someone yelled out.

"Yuuki-sama's the best!" someone else countered.

"Chigusa Yuuki can't fight! She's just a big poser!"

"Taylor's a poser!"

"You're a poser!"

Suddenly the entire crowd boiled over as some idiot threw a punch, and a mass fight started in the back of the room. The reporters and bloggers quickly packed up and ran as the mob of fans began fighting and essentially rioting, with people getting punched and chairs being thrown around. Security quickly ran in to calm everything down, but there were only a few on hand and several hundred fans fighting. It would've been quite a spectacle had it not been so dangerous.

The AFW bigwig bolted when someone threw a wall fixture at the table, leaving the two girls he was supposed to be in charge of alone. Chigusa was a bit stunned at the sight, to see her fans devolve into rabid animals and start a big fight like this over something so small. She snapped out of it quickly enough, quickly turning and grabbing Taylor. "Lets get out of here!" she said, before pulling her over to the back door.
Taylor watched wide-eyed as the carnage unfolded in front of her.

"Whoa..."

She watched, speechless, and it took a moment for her to realize that Chigusa was pulling her away by the arm. "Dude! This is ridiculous, don't you want to see?" She protested, but nevertheless got to her feet and followed after Chigusa. "I wanna see!"

She stumbled while watching over her shoulder and grabbed onto Chigusa's arm to stay up. "Where are we going? What even just happened? I wanna know whose side wins!" She laughed. "Maybe we can do a 50-person tag match, me against you with all of our militant fans. Wouldn't be fair, though. Maybe we can do me against you and Eclipse, that'd be more like it."
Despite Taylor's protests, Chigusa pulled her away, knowing that it was for her own good. The girl didn't know how to handle a rioting crowd too well. As they ran out the back door, several more security guards ran in, to control the situation. This wouldn't last long, only a few more moments.

Chigusa pulled Taylor over to a corner, where they would be hidden. "Why did you do that?!" Chigusa said, "Listen, Taylor, I know you're new to being this famous and all, but you gotta get some common sense. You never ask a big group of fans questions like that, not unless you're trying to start a fight!" She took a deep breath, straightening up and getting back her composure.

"You've gotten famous enough to get a strong following," Chigusa said, "You gotta be responsible. Those are people that look up to you and respect you. They will do what you ask. And if you provoke them into starting a fight, they will. So don't do it!"
Taylor started to get defensive. "What? I didn't... Shut up, how was I supposed to know they'd get all crazy and stuff?!"

Chigusa continued, though, and gave Taylor something to think about. She'd only just started to get used to the idea that there were people who knew who she was and wanted to see her perform. She had never thought about what sort of responsibility that required of her... It wasn't the sort of thing she'd ever had to deal with before.

"Wow..." She said as she thought it over. "I guess... Well, you're probably right, 'cuz, ya know, you would know about dealing with fans and stuff. But... I never thought about it like that. Man, what should I do? Should I go apologize? Should I... Oh, I know. Okay, I got it. I'll take care of it once we get back out there."

There was nothing else to do but wait around for a moment, and Taylor suddenly didn't know what to do with herself. She looked all around, but ended up standing still with a blank face.

"So..." She began awkwardly. "I really didn't try to copy your style or anything. You've seen me right, right? We're not that similar. But... ya know, it's good that there are smaller, speed-based chicks that are successful in here. There's a lot of girls that..." She couldn't say it. Though she'd never back down from a fight against anyone, there were certain girls that she figured would just kill her. Big girls. Too big for Taylor to handle. Maybe that thought would change with time, as she gained experience and confidence.

She filled the silence with an uncomfortable smile.
Page 3 of 4 •

1, 2, 3, 4



Similar topics
---
Permissions in this forum:
You
cannot
reply to topics in this forum