Champions & #1 contenders
Sophie Salts first RP match.
Fri Aug 17, 2018 9:06 pm by WrestleMind
Looking for a match for my character 
Sophie Salt.
I'm open to hearing almost any offer. Overall id prefer a female opponent for her but I'll hear out male offers as well.
(
Elizabeth Brooks
 is a secondary but equal option.)
Comments: 0
Semi-absence
Fri Aug 03, 2018 7:32 am by Old_Man_Tai
So, let me start by apologizing to those I'm in threads with. Thank you for your patience.
I've been kinda off an on last few weeks, and, much as I hate to say it, that might continue. Fell into a little financial trouble (Red Light Camera's are fucking bullshit I tell ya!) so been working a lot more to compensate, life's getting busier and more hectic, and my great grandmother, 102, is on Hospice, so the families been meeting in her room every night to be with her, in case its her last.
…
[
Full reading
]
Comments: 14
Rookie Avalanche Event
Mon Oct 09, 2017 4:37 pm by Person
Rookies of AFW, are you trying to get your character in big events?  Well look no more, we have an event for you that will start in Avalanche.  What kind of event you ask, well we do have some ideas but we want your feedback as well.  I will be giving out suggestions but these are just suggestions, if you guys want to do something else, we can do something else.  For those of you who are wondering what is considered a rookie, anyone who has been around for less than two years or has less …
[
Full reading
]
Comments: 31
Page 1 of 2 • 1, 2


STANDARD RULES

ONE FALL

There's a kind of hush as the lights of the stadium begin to dim, the crowds raucous applause lulling to a soft murmur of occasional golf claps and hollers.
A powerful, staticky, robotic voice breaks the silence.
"We have liftoff in three...two...one."
The opening synths and guitar of "Set Your Controls" by Star One begin to blast out over the arena speakers and when the leads come in the fans erupt as an orange spacesuit begins to walk out from the gorilla position, silhouetted in a bright blue spotlight and looking positively cosmic and ethereal.
He's here.
Lt. Scott
"Buzzy" Armstrong
of the U.S. Air Force is here.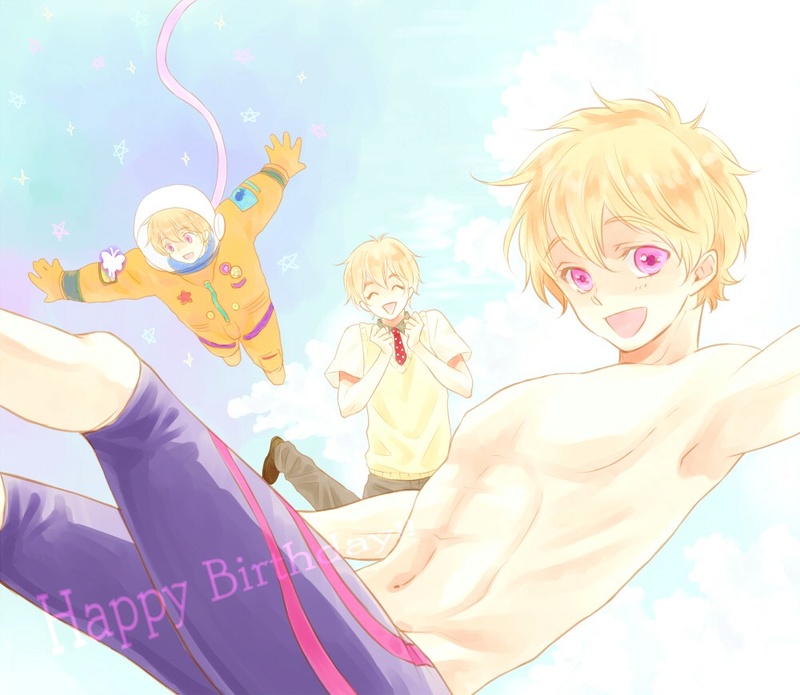 His hands move to his helmet, unscrewing it as he looks at the crowd with a jubilant grin, the glare from the spotlights glistening off of his striking purple eyes. A goofy smirk cracks over Buzzy's lips as he begins to monologue. To his helmet. It's kinda his thing. "Ooooh...Sure are a lot of people! Look at them. Tiny beings from the tiny place called Earth, who would sit on their couches and in these seats and watch me take the giant step across the sky to the question marks that sparkle and beckon from the vastness of the universe only to be imagined. Good people! Ah, this is AFW, is it? Bright lights. A place to shine. I think this place will do. Awesome! Okay! Let's get to it!" The helmet gleams under Buzzy's arm, lovingly polished as the oblique surface captures the reflection of the crowd and lights. It looks like a panorama of their screaming faces pulled through a wormhole reflected in it's faceplate.
The Babyfaced Astronaut breaks off into a sprint, running far faster than the added weight of the flight suit should allow him to before leaving the mats with an easy vertical leap, boots landing on the apron as he grabs the rope with his free hand, holding himself up on the tops of his toes before rolling his shoulders and putting himself under the ropes, one handed. The level of dexterity he shows is both cat-like and totally impressive as he gives the fans a wink. His grip sliding against the rope as he rolls his shoulders and slides between them, still holding the helmet under his other armpit.
No sooner than having entered the ring, Buzzy gallivants to the corner places the helmet over the rounded top of the cornerpost before slowly taking off his flight suit, leaving himself in a pair of tight boxer/brief style MMA shorts, striped with blue and white, the little guy scantily clad but his body a testament of physical fitness. He folds up his space suit gently, taking his time before placing it at the foot of the corner before sliding his hands over the ropes and stretching his shoulders, waiting for his opponent to arrive.
Zoey had fought many rookies and quite a few were unique, she had faced people from all sorts of backgrounds and professions so as she waited backstage and watched the live feed over a Tv she would expect her opponent to be a nervous wreck and someone without much presence. The scot would realise she had been wrong pretty quickly though, when she heard his theme and saw her opponent appear on screen...wearing a space suit.

This was usually when Zoey would point out the stupidity of her opponent, latch onto anything she could to try and belittle them even if only for the slightest thing, but the bluenette would be so taken abback by his appearance that she would watch intensely without certainty in how she was meant to respond to it. " Is he taking the piss?" The Scot would say aloud, before shaking off her shock and getting ready to spend some time in the spotlight. Zoey rarely found herself curious or excited about an opponent, but this was an odd enough situation that she would happily make an exception. She had encountered many wrestlers with different occupations in the AFW, in fact she had even fought two bartenders, but this was for sure her first time wrestling what seemed to be an astronaut.

Upon the spaceman's otherworldly theme grinding to a halt there would be a moment where the buzz of the fans would take over, before another song would boom over the Arena, the Scottish lasses somewhat recognisable theme blaring through-out the arena, the speakers blaring " Danger Zone " as the lights dimmed somewhat.

Zoey would appear in front of the crowd looking as pretty as ever and wearing her newest attire, she liked to switch things up often but had gotten quite used to her current one. The bluenette's thin curvy body would be mostly on show for the crowd, in stark contrast to her opponent's space suit Zoey's outfit revealed her stomach, abs, thighs and shoulders. Truthfully it was a somewhat shameless outfit, the lass wearing white tights that only covered her crotch and most of her behind, usually showing off her inner thighs in their fullest glory, it wouldn't help her case much that her top could easily just be mistaken from a bra, one which barely contained her chest but was fairly secure with elastic straps going round her shoulders and being attached to her fairly stylish collar.

Zoey would be carying something which had almost been completely forgotten about until she remembered it in a recent match, in one hand she would be holding this object which would be her baseball bat she stole from another wrestler. Usually it would be easy to see that she has spray pained a Scotland flag, or at least her best attempt of it across the bat, but in an admittedly overkill manner Zoey had wrapped her Scotland flag around the bat and would be holding it high at an angle where the spray paint would barely be visible.

The crowd reaction would probably reveal to Buzzy that Zoey wasn't what she seemed, since rather than getting the usual response a nearly naked woman would be expected to get the bluenette would get something much different. The fans would be yelling towards Zoey, imitating her Scottish accent as they bellow both hate and encouragement at the bluenette, something which would clearly irritate Zoey and prompt her to throw away all restraint as she yelled back. " Fucking shut up! I've had enough of you entitled Twats, you're not getting a reaction out of me!" Zoey would yell, which would then lead to the fans chanting Twat back at Zoey. The bluenette clearly letting the fans rile her up despite her words.

The Scot would yell a few things back at the fans, even arguing with one or two on the way down towards the ring, before putting her overly decorated bat at the side of the ring and proceeding to roll under the bottom ropes, finally turning her attention to Buzzy as she leered right over at her opponent. " Hey, blondie. Sure you showed up at the right place? I could launch your ass across the ring, but I don't think you'd get to where you're expected to be " Zoey would joke, looking over at her opponent's folded up space suit as she said the last part, a grin clear on her face as she couldn't wait to see what kind of person took a space suit to a wrestling ring, and even moreso was excited to see how much it took to rile the man up.
"Twat! Twat! Twat!"  

"Ah, gosh, that don't sit right." The crowd's staccato chanting of the crass insult causes a ruffle in Buzzy's forehead. It doesn't seem right. Not at all. This chick is three inches shorter than he is, dressed like some kind of a stripper, carrying a Scottish painted baseball bat. So, she's proud of her country. Big deal. Nothing to dislike or malign somebody over. Heck, he's proud of his country too. They put him in an aluminum tube and sent him into space. Maybe her rep as a pain in the ass is overstated. No need for him to be anything but a good sport.

The spaceman's large purple eyes blink, like two amethyst gemstones under a flashlight before he reaches out to the timekeeper, calling for a mic. Upon it's delivery, he holds it up to his mouth, his eyes not leaving the scantily clad Scot. He addresses the crowd with a raised palm lulling them into silence. "Ladies and gentlemen, I don't believe the name calling is necessarily. Let us not judge this woman by whatever past sordid reputation she's achieved, but rather her actions to come. Ms. Hamilton is somebody's daughter. Perhaps someday she will be a mother. Using words like 'twat' doesn't really help any of us, does it?"

The crowd erupts, cheering his sportsmanship. "BUH ZEE! BUH ZEE! BUH ZEE!" Winking in response, he continues. "Sorry, got kind of a thing about respect. Now, Ms. Hamilton..as far as launching me..you can't expect that a crack like that would get under my skin. I've been launched into space. It's actually quite a wonderful experience. After we get this physical business out of the way, I could tell you things...well, awesome things..things you would find hard to believe. Y'see, I don't feel we really have to be brutal enemies, m'am. There's plenty of space for us here, just like there's plenty of space in space, heh. Why don't you and me put on a show? Entertain these good people? I think you'll find I'm tougher than I look. Just keep it clean and we shouldn't have any problems. Whaddya say?"

The Babyfaced Astronaut smiles and tosses the mic in her direction, awaiting her response as he grabs his knees, moving his hips from side to side and stretching out his back.
Zoey would watch as her opponent requested a mic, perhaps she should start doing the same thing when exchanging insults with the crowd but she figured using such a tool in a battle of voice would be cheating. Soon enough Buzzy would set himself apart from Zoey though, giving in depth reason for why he had a problem with their treatment of Zoey, and briefly mentioning her 'sordid reputation' which would earn a glare from her which would alleviate a tiny bit as he continued on, but didn't fully dissolve even after he defended her.

Then the man would go on to talk about space, for a very long time. Zoey didn't know much about space, but she did know millions of conversational holds to devour an unexpected innocent man such as Buzzy, who clearly didn't know just how unbelievably and proudly petty the bluenette was.

When Buggy threw the mic towards Zoey the bluenette would catch it with a quick whip of her arm, snatching it right from midair as opposed to gently catching it like would probably be expected. Zoey would then hold the mic closer to her hand before taking a slight breath, and then yelling " SHUT THE FUCK UP " at the top of her lungs towards the audience and causing the mic to spike for a moment which would surely not be appreciated by the front row or her opponent.

Much to Zoey's displeasure her yell wouldn't entirely silence the audience but instead earn a mix of boos and cheers from people who had been waiting for her to scold them. Truthfully Zoey just wanted to be treated like a big bad, but unfortunately some fans had latched onto her over the top tendencies pretty quickly and decided to either support her like some kind of crowd pandering idiot or make a joke out of her words as if she were some pantamine villain.

" You've been to space?" Zoey would then say in a curious friendly tone, shifting her focus to Buzzy as she looked over at him with a poorly hidden smirk on her face as she clearly was about to continue her point. " Then that explains everything! The reason you're so out of touch is because you've been stuck in a shuttle for years. Your stupid outfit, your stupid attempt to appeal to the fans, and most of all your stupid assumptions that I would want to be a mother, I guess I'll let all that pass since you must be socially inept after spending so much time alone on this planet, never mind up in the all so glorious space." Zoey would rant out, her voice projecting more and more sass as she went on, before the woman finally took a moment to breath before continuing on.

" Surely it was wonderful being launched into space, such a vast place it must really have been overwhelming. But I'm going to lift your ass off the mat and direct your path all over the ring. You seem to really be stuck on how repetitive and your vast irrelevant space is, so let me just tell you that when I beat your ass you're going to love seeing all the unique ways I can make you want to go back to your original job, you goody two shoes amateur. " Zoey would say, spitting out the last little insult as she was finally done with her speech, although she would continue to stare directly at Buzzy, taking a moment to let that all sink in before gently throwing the mic in the air at an angle which would likely make it land just in front of the astronauts feet.

Zoey couldn't wipe the grin from her face as she watched his reaction, waiting to see if that was enough to make such a sophisticated guy break. The bluenette too pleasure in humiliating and verbally breaking down an opponent and she had never felt quite as proud about the later as she did now, she was going to watch this scene over and over after the match just to see the stupid look on her opponent's face when the woman he defended ran right through him mentally, hopefully before them running through him physically.

With that Zoey would walk towards the middle of the ring with a smile that made it look as if she hadn't just launched a verbal assault on her opponent's character. Now that the informal 'fuck you buddy' was out of the way Zoey would extend her hands out forwards, inviting Buzzy to a test of strength, although as usual it was likely Zoey had some kind of plan and the fans would make that evident by going earily quiet as she did so. Zoey couldn't help but frown for a moment, not only were they ruining her image but now they were even making her tricks even more obvious than they already were.
There's a bit of a blink, as the smile doesn't fade from Buzzy's face yet we can something very small breaks inside his stoic facade. A small eye twitch. A nervous half-giggle.

Maybe it was the dying hope that he wouldn't have to have knock down and drag out fight. Some semblance of sportsmanship fading away. Looks like the bluenette is going to have to get flipped, stretched and jumped on. Again and again. Manners are important. He can't look like a bitch now.

"Ah, well. That's a shame. Real shame. Darn rude for such a pretty gal. Anyway, let's get started, shall we?"

Buzzy brings up his hands, positioning for the test of strength, ready to interlock. He's never been great from this kind of position, but he knows that he's got leverage...and well, center of gravity (*cough* astronaut *cough*) on his side. His fingers slip between hers, her palms soft against his fingers, leaning in, his chest pressing against hers as they arch their bodies together. The astronaut is still smiling but his previously warm purple eyes are steely, gritting his teeth as he takes a breath. "C'mon, Scot."
Zoey would link hands with the man, being somewhat surprised with his strong grip but not being intimidated, since she herself was quite surprisingly powerful and she had confident she could at least be on par with him for a brief period of time, which is all she needed for what she had planned.

Zoey would let out a slight growl as she tried to force forward against her opponent, pushing her smaller chest up against his and trying to put all her weight down on one leg which would be positioned slightly in front of the other in order to get a slight vantage point to make up for the admittedly overwhelming height difference.

As the bluenette's breasts squished against Buzzy she would hear the man say something, although truthfully she barely had the opportunity to respond without outright losing her limited control in the lock up. However Zoey wouldn't abide him getting his part him without the Scot herself having something to say, so she would let her body language speak for her as she pushed her head forward against his chest, feeling the warmth of her opponent for a moment before she would suddenly pull her head back and try to drive it right into the dome of her opponent in a powerful and hopefully surprising headbutt.

If that was successful then Zoey herself would need to recoil for a second, muttering a curse and holding her head with one hand. Luckily enough though the Scot was incredibly adept at headbutts, she wasn't exactly skilled at much but she had been in so many street fights and utilised her hard head enough that she could recover from dramatic blows to it much easier than others could, in general her endurance and durability was impressive but the amount of damage her thick skull could take was certainly something to write home about.
The headbutt sounds like a croquet mallet hitting a ball as Buzzy stumbles back before doing a Ric Flair-like flop on the mat, kissing the ground and spasming his legs out like a freshly prayed insect. Zoey may be half his height but she managed to drop him like a bag of old laundry. He lies facedown, comically, like a cartoon character.

"H-Houston? We-we have a problem?"

Buzzy whimpers, his voice very spacey as he plants both of his palms on the mat, pushing back up, back arching like a cat.

"Y-you're not a very nice lady."

Like a human spring, his pushes up off of the ground, onto his feet, and then up to a standing position, rubbing his jaw.


"I see that now. I ain't fighting a lady."


His arms jut out, going for a collar and elbow tie up. If he can, when his hands grip her elbow and collar, he'll snap her head down and try to respond with a snapping European uppercut, more quick then brutal, trying to let her know he can play her game too if he has to. If not, he just opened himself up to give Zoey a window of oppurtunity.
Zoey had put a little bit more power behind that headbutt than intended, instantly covering her cringing face and letting out a low mumble that would most likely be cursing, although unarguably there was no one to blame for the sudden pain other than herself. " Fuck..." The bluenette would grumble moving her hands to glare down at her flailing opponent.

At this point the cocky Scot would realise just how much damage she had dealt with the headbutt, her face slowly transitioning into a bold smirk although it was still somewhat obvious she was pained. " You think so?" Zoey would respond to the first comment, somewhat not used to being called a lady and seeing it as the perfect chance to tease her opponent. the bluenette would also be watching as Buzzy made his way up to his feet and she would get into something that could somewhat be called a wrestling stance as she watched him, a stance which like Zoey's style was unrefined and rough.

Then Zoey would hear a comment that didn't sit well with her, and with a slightly wavering smirk would sacrifice some of her focus and stance to make sure the opponent could hear what she said next. " Hey, what's that meant to mean space freak? Well by the looks of things it seems I'm the one wrestling a La-" the bluenette would mouth off, before Buzzy approached Zoey again and cut off her retort by forcing a lock up, causing a somewhat surprised Zoey to try and recover for lost time as Buzzy had control of the hold.

" Gah!" Zoey would cry out, clearly not being quick enough to match her opponent's pace when the man immediately after going for a lock up whipped his arm upwards into the Scot's face, earning the Scot's pained cry in response and causing her to stumble backwards a step.

Zoey wasn't about to let herself be taken abback by such a weak and speed focused strike though, she fought on the streets and had came up against much harder hitting opponents in the ring never mind back when she was fighting without a cause. The bluenette wouldn't be too quick in her response, but it may be somewhat surprising that she'd go right in for a strike rather than pull back which would likely be the most obvious choice for someone in her situation.

Zoey would try to retrace the step she had stumbled backwards from and try to grasp onto the back of Buzzy's head with one hand and turn her body as she tried to throw herself into the opponent, trying to drive the side of her hip and knee into the astronauts admittedly toned abs. The bluenette would also try to somewhat pull the opponent towards her, it was moreso to try and make her blow more likely to land that to add much power though, since if she did take more time to do something with the positioning of her arm the quicker wrestler would likely find some kind of escape route without even the slightest struggle.
Zoey's hip and knee crushed into Buzzy's abs, causing the speed-based grappler to fold over her like a Salvador Dali clock, as he lurches back his mouth, letting out a soft gasp as he crumpled into his short, Scottish opponent. The astronaut groaned as his arms slunk around her waist, snug at the wrist, as he hugs her momentarily to keep from collapsing, before bringing a leg up over her head, showing a display of flexibility unheard of. If he can, he'll grab her arm and try to snake his opposite calf around hers, transitioning into a standing octopus stretch!
Last edited by JohnnyFlash on Tue Apr 25, 2017 10:19 pm; edited 1 time in total (Reason for editing : Looked like shit)
Zoey would let a satisfied grin invade her face as she managed to achieve the desired effect of bending him over her knee. The bluenette was surprised to find Buzzy try to fight through the pain as she hugged into her though, prompting her to struggle against him for a moment before the man showed surprising flexibility and quickly trap her in an octopus stretch.

The Scot could hardly even let out a yelp as Buzzy trapped her head under her leg, before then locking his leg around hers, holding the bluenette in place before then using his position to stretch the woman out. " Agh... Y-you don't look like the gymnastic type " Zoey would groan out, seemingly still quite keen to hear her own voice.

Zoey hadn't exactly been prepared for such a complex hold at the start of the match so it did somewhat take her back, however the bluenette would still do her best to alleviate the pain. The stubborn Scot trying to push against her opponent's side with her hand, while trying to raise her head as much as possible in an effort to make the hold harder to maintain than it would be worth.

Zoey certainly wasn't flexible or strong enough to break out of the hold without a struggle, but she certainly didn't plan to take it sitting down.
Page 1 of 2 • 1, 2



Similar topics
---
Permissions in this forum:
You
cannot
reply to topics in this forum