Who is online?
In total there are
51
users online :: 9 Registered, 0 Hidden and 42 Guests :: 1 Bot
Cirno
,
Daaharu
,
I_care_not_till_I_must
,
killcarrion
,
KillerV
,
Lobo
,
LunarWolf
,
TiefBlau
,
Yori
Most users ever online was
390
on Tue Jan 02, 2018 2:02 pm
Champions & #1 contenders
Match for Takeichi
Tue Jun 12, 2018 6:13 am by GrandAkumaShogun
So with my other two guys having their own matches I figure I should do something with my first character on here, Takeichi Mori. If anyone is interested feel free to post here or get in touch through a pm so we can plan it out. I can either have Takeichi remain a jobber or begin to work him towards being a more serious competitor.
Comments: 1
Kawaii Opportunities
Sun Jun 17, 2018 3:04 pm by Daaharu
Hey, guys!
With the kawaii title match at Avalanche taking on an interesting wrinkle with the interruption by the Brat Pack, we are moving forward with the overall kawaii storyline, and at this point I'd just like to take stock of what kawaiis are out there that are interested in participating in a cohesive storyline.
Can't make any promises about titles or what exactly each girl's given role would be. We can talk a little more about the specifics of where the story is going soon, but I …
[
Full reading
]
Comments: 2
Match or RP?
Wed Jun 13, 2018 3:48 pm by Lotuswarrior
I'm just looking to do something while I wait for match replies. Really want to get some characters cemented a bit with a rival or some interactions with other characters here.
If anyone wants to do something hit me up.
Comments: 0
Page 1 of 3 • 1, 2, 3


Katori Kimura
Versus
Chizuru Nagahara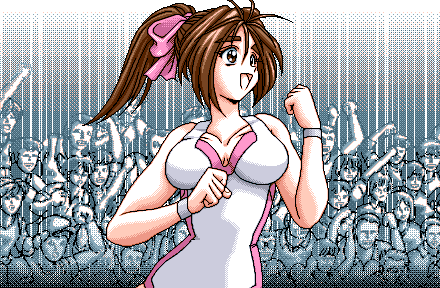 Match Type-
Normal, Non-title
Ring Type-
AFW Standard
Win Conditions-
Pinfall, Submission or Knock Out
Rules-
Standard Rules
Beast- Nico Vega/Vicetone Remix
Chizuru Nagahara entered the ring in her white and pink singlet, her original costume from when she started Wrestle Angels for the occasion. Her music played loudly as she walked down the ramp, step by step in her white leather, shin high wrestling boots. She also wore white wrist warmers and white kneepads, the short wrestler smiled as she waved at the crowd. Some of the crowd was confused why she wasn't wearing her usual outfit but some die hard fans got the reference.
Slipping into the ring, Chizuru awaited her opponent to make her arrival. She began to stretch and think about all the former wrestlers she used to know. Many of them such as Megumi and Yukiko had come and gone, others like Rei and herself had decided to stay at AFW. It was kind of sad how the old group was scattered, she wondered if there would be a time where all of them would come together again. Until then, she would at least enjoy Katori-chan's company in their match to see how mcuh she's improved. She knew how much the girl idolized Yukiko.
Yukiko...
Memories...:
Come to think of it, I don't think I ever beat her. Wait... There was that one time.
That One Time:
"Stupid Rei..." She let out a sigh, if Katori wanted to fill on Yukiko's shoes that was indeed a tall order. Despite all her training and improvements since the last time Yukiko and her fought, she wasn't confident at her odds. She turned her attention to the ring entrance and waited for Katori to make her entrance!
Katori was taking deep breaths to help herself remain calm as she was getting ready in the locker room, as tonight was very important to her in more ways then one. It was a match against an old colleague of hers from Wrestle Angels, Chizuru Nagahara, not only will Katori have a good fightfelt reunion with an old friend she will get to properly test her skills further against a worthy opponent to see how much she's improved since then when WA went under.

It took everything she had to not burst into excitement as she needs to save her energy for the fight. "Breathe in..... breathe out.... and repeat." She said as Katori took her breaths before standing up from the bench and putting on her lavender short jacket over her lime one-piece then going over towards the entrance to the arena to await for her time.

As Furanme of the Phoenix began to play Katori entered the arena energetically, taking a pause on the stage to wave to the audience before heading down the ramp as they welcome the Mighty Successor with cheers. Before Katori went down she spotted Chizuru in the ring and noticed she was wearing her original outfit from before the Survivor series of Wrestle Angels. Seeing this look made Katori smile as nostalgia hit her good and is reminded of the old days, such great times.

But now is not the time for remembrance, only action! Katori runs down the ramp towards the ring and gives the fans high-fives as she goes, jumping onto the ring's apron then grabbing the top ropes to vault over them with style. The young girl keeps her eyes locked on Chizuru with her smile still on her face, and instead of going to her corner Katori goes to the center of the ring on her side, already wanting to share some banter with her opponent and colleague before they duke it out.
Last edited by CybeastGregarX on Thu Aug 04, 2016 12:10 am; edited 1 time in total
Chizuru smiled seeing Katori take her entrance to the stage in original costume. She blinked realizing her opponent was making deliverate eye contact. Leaning against her ring post with her arms crissed, she straightened and let her arms fall to her side. With a hand on her hip, she met her fellow colleague in the center of the ring. The two former wrestle angels wrestlers stood toe to toe ready to throwdown at the drop of a hat.

"You got something to say to me before I kick your butt rookie?" Chizuru said not breaking eye contact. She said this with a sense of endearment not made to psyche herself up or demoralize her opponent.

Katori kept her eyes on Chizuru the whole time while standing in the ring's center as she waited for her to come over to her. All in this, the girl was remembering more of the Wrestle Angel days, and at the same time wishing they'd have continued on forever and that AFW didn't make them shut down. Again, good times.

Once her opponent came up to her, with both girls keeping eye contact and smiling at each other, Katori can only smile more after Chizuru spoke to her with care. "Yes, I do have something to say." The successor said back as she holds her right hand out to Chizuru inviting for a handshake while holding her left arm out to the side to invite a hug at the same time. "It's really great to see you again, Chizuru-san."
"It's really great to see you! Look at you, Yukiko-san would be proud." Chizuru chuckled and walked up and gave Katori a hug, she smiled and embraced her. She giggled a little as she squeezed her before pulling away at arm's length while placing her hands on Katori's hips. She looked at Katori from head to foot as if scanning her for any changes. The girl had always been athletic and had good coordination but that wasn't why the Mighty Yukiko chose her as a disciple, it was Katori's dedication to improve. There was no doubt Katori had improved since the last time she saw her. From what she could remember Katori, the girl had a tendency to utilize high flying techniques, strikes and was highly technical. It should be an interesting match up as Chizuru was known for her strength and her devastating German Suplexes. The question was which of them one would catch the other first followed by who would break first.

"How have you been? Where have you been? What have you been doing? Still playing Basketball?" Chizuru asked grabbing Katori and shaking her by the shoulders giddy with excitement.

"Hahaha... yeah, Yukiko-senpai would be." Katori said, slightly surprised and embarrassed when Chizuru just went up and gave the girl a big affectionate hug to which she hugged her colleague back. There was nothing wrong with that of course, she loved the affection and friendship that part the family of Wrestle Angels shared together, but it's just she just ignored the subtle approach that Katori offered with a handshake and a light hug. But this was good too though, very good.

When Chizuru pulled away from the successor and eyed her thoroughly while keeping her hands on the girl's hips, Katori eyed back but kept eye contact still with a smile. She looked on her fellow angel herself, seeing no changes to her as well minus that she is wearing her original outfit. As memory recalls, Chizuru Nagahara was part of a three person team back in WA, with her friends Rei Tomizawa, Reiko, and Cutey Kanai, Mika, they were just as an iconic group as much as Megumi Mutoh and Chigusa Yuuki were back in the day. Just as when Katori was about to ask her colleague about herself, she is again suddenly grabbed by the shoulders and was shook by Chizuru as she asked about how the Successor been while she just laughs awkwardly while being shook. She waited until Chizuru stopped shaking her so she can properly answer.

"Hehe, in order. I've been peachy, I've been at my neighborhood, I've been making regular gym visits to keep my wrestling skills from going rusty for the day I might come back into the game, and yes of course I still play Basketball as it's like my third nature with wrestling being my second."

"So what about you?" Katori will start to ask with a friendly smile as she puts her hand up on Chizuru's shoulder and gives it a few pats. "You still hang out with the cosplay dork and the cutesy princess?" She finishes up, wondering if even after all this time that Chizuru still sticks around as the brawn of the three cute goofballs from Wrestle Angels.
Chizuru giggled excited to hear Katori was doing well for herself. For the most part, she didn't seem to have changed all that much. Wrestle Angel Veterans were a dying breed nowadays and it was good to touch base with a friend form the good old days. There were still a good dozen that were active at AFW but with how huge the AFW roster was, it was still had to see each other. She bit back a full out laugh at the description of their trio.

"The dork and I see each other once in a while. After she finally beat Minami and with Megumi and Chigusa retired, she's kind of been... distant but who knows what goes through our fearless leader's head sometimes." Chizuru said as if contemplating something before stepping back and locking her hands behind her back.

"It's funny you mention Kanai she has been MIA for a while but I heard that she's finally decided to comeback!" She said cheerfully. "I think you and her would put on an exciting match being high flyers and all. That is. After, I beat you."

Chizuru smiled at Katori challenging as they stood in the ring alone, minus the ref. Obviously, the brunette seemed eager to teach Katori a lesson.
While the crowd does want to see the match start now, they were patient for it as it was nice to see Wrestle Angels reunite and catch up before they put on a good show. Katori listened with interest as Chizuru tells how her posse has been, she was definitely surprised to learn that Rei had beaten Toshimi Minami after all this time in AFW, although Toshimi will still be officially the Venus of Submissions. It was a WA thing and since it's gone that title will be forever stuck with Toshimi to the point that she'll take it to her grave.

As for Cutey Kanai, the fellow angel was glad to hear that she's finally coming back herself as well after a long time of being out of the game. It would be nice for the whole group to come back together, they'd might even be able to make a big name for themselves again in AFW. But what intrigued Katori the most, however, was the suggestion Chizuru made of the successor and the princess going at it as they have similar fight styles.

That made Katori already imagine it and get excited, and of course she wanted it and started to say. "That would seem like a good match up, me and Mika-chan duking it out. Although I hope she's finally gotten over those complexes she has, call her a crybaby or mention her small chest and she'd go into a frenzy." Katori giggled at that last part then winked at a camera and stuck out her tongue, showing she intentionally made that jab for fun and to tease. But she quickly looks up and puts a a finger to her chin after just thinking of something. "Although actually, Kasumi Tsuji had more of a berserk button when it comes to her chest. Heh heh, she beat up a photographer half to death when he mentioned that during a bikini photo shoot..." She giggled nervously, remembering the gruesome sight before refocusing on the here and now.

Katori smirked at Chizuru competitively after that last challenging remark towards the successor. "Oh really? Beat me? We'll see about that, Chizuru-san." She said back in a challenging manner, taking a few steps back herself as she's now ready to rumble with her colleague. "Let's give it our all tonight, with me taking you down!" Katori said again, hopping on her feet a few times then getting into a stance as she awaits for the ref-girl to call for the start of the match and ring the gong.
"Shhh... She's probably stomping her feet right now and is issuing you a challenge as we speak." Chizuru said leaning in conspiratorially, her one hand cupping her mouth and the other pointing at the camera. The brunette's expression was rather amused with her eyes narrowing and her smile tugging at the corner of her lip. Katori's mention at Kasumi-chan made Chizuru try to stifle a splutter of laughter, her hand coming to her mouth at the mention of both of them. It was nice to hear from her and that somethings never change.Her eyes flashed to the ref who seemed to be tapping her foot rather impatiently.

"Well I'm right here aren't I?" Chizuru said with a grin opening her arms with an open challenge.

The German Suplex Specialist got into a basic stance. Hearing the bell ring, she would circle Katori, her eyes flashing down to her arms, to her feet and to her eyes looking for an opening. After a moment, she would attempt to grab a hold of Katori eager to grapple with her. She knew all too well it wouldn't be so easy though, Katori was nimble, quick and knew getting into a grappling contest with Chizuru would not play to her strengths.
Before Katori got ready in her stance for the match to begin, when Chizuru covered her mouth and shushed her while pointing at the camera, she couldn't help but giggle at what Chizuru said. And the funny thing is, Katori can see it happen, with Kasumi Tsuji having a red hot fit from the remark and wanting to challenge the Mighty Successor because of it.

Reminiscing aside, back to the present moment. As Chizuru got into her stance and the gong rings, Katori slowly comes up to her while also circling her opponent. She made sure to keep her guard up and keep her eye on the woman. Among the three goofballs of Wrestle Angels, Chizuru Nagahara was the "brawn" of the trio, so getting caught by her would not end well for Katori in many ways.

Thankfully, the bluenette was quicker then Chizuru, and that gave her a bit of an advantage. So when the German Suplex otaku came in to grab the girl, Katori ducked and sidestepped out of the way. "Haha! Too slow!" From there, she'll attempt to punch Chizuru in her side and then follow up with a high kick to her back.
Page 1 of 3 • 1, 2, 3



Similar topics
---
Permissions in this forum:
You
cannot
reply to topics in this forum