Who is online?
In total there are
43
users online :: 17 Registered, 0 Hidden and 26 Guests :: 1 Bot
acuya
,
Berial
,
Chaos
,
Daaharu
,
GreatForce
,
Jaystar
,
LunarWolf
,
M.J.Caboose14
,
Mechassault Man
,
Old_Man_Tai
,
Panda
,
ReikoH
,
Tarantulust
,
Underdog21
,
WrestleMind
,
wrestleryu
,
Zithpith
Most users ever online was
390
on Tue Jan 02, 2018 2:02 pm
Champions & #1 contenders
ReikoH looking for opponents!
Fri Mar 22, 2019 5:29 pm by ReikoH
Hi there. I figured I'd do one of these to put my name out there. I kinda-sorta promised a match to one person in particular but thought I'd put both my characters here for consideration. I might make a third today at some point to help have two characters doing stuff at a time (probably not all three to avoid overbooking).
My characters are in my sig now! Should be working, but a quick summary.
Reiko Hisashi
, a highly skilled technical wrestler with a hint of speed and physicality, making …
[
Full reading
]
Comments: 1
Finally getting into this.
Tue Mar 19, 2019 6:48 pm by GreatForce
Alright guess I should start to actually rp and get into the game!
So
Shibita
is pretty much ready and roaring to go for her first match if anyone is interested.
As for
Kogeki
my sumo girl! I kind of want to introduce her more gradually to the AFW. Instead of just throwing her into a match right off the bat. Maybe a backstage or gym rp showing her the ropes around the AFW and maybe even gaining a friend or enemy!
Hit me up with a PM if your
[
Full reading
]
Comments: 1
A new fighter has emerged...
Fri Mar 15, 2019 8:51 pm by Cicilia
Heya! I'm looking for people interested in fighting my newest character Raul! His character profile is at the bottom of my signature AND, just a note, he does not do hentai. regular wrestling is on da table though x3
Comments: 9
Page 1 of 4 • 1, 2, 3, 4


Standard Match won via pinfall or submission
In the back Chuang was getting ready for his match tonight, in truth he thought Tension had pretty much forgotten about him. Today he had been working at his part time job at a restaurant and he got the message after it to come down, he had come to Japan more or less on a whim to see what all the fuss was about when Qi sent him letters. He didn't have any plans after high school, and it revolved around fighting. So it was fine by him, and it had one big upside to it too when he got to Japan.
Mr Lingixan had met a lovely woman by the name of Mikoto Kusanagi, who as it turned out had been a part of an old wrestling business by the name of wrestle angels. And was at Friction too, meeting Mikoto was certainly one of the best things to happen for Chuang. He'd stayed during the winter till the last week before Christmas to help her with her family shrine, gone back to China and back to Japan. One clear way to show the influence Chuang's girlfriend had on him was his hair, while the Chinese warrior certainly couldn't obtain Mikoto's lush and long hair. He had now grown his hair out, with it now being a small ponytail.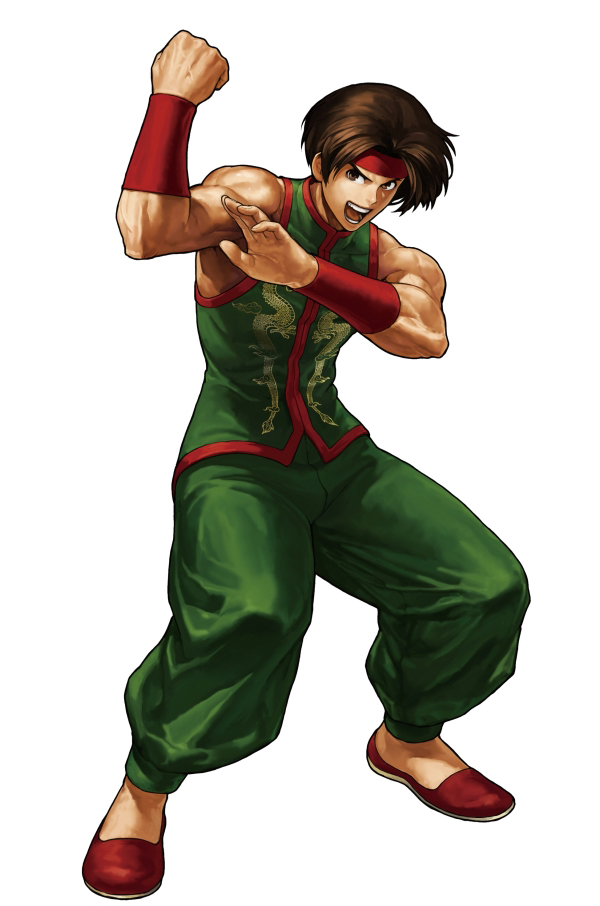 Chuang at least had time to dress himself into the outfit he would wear for tonight's fight, it was crafted by a neighbour back home. One of those kindly old spinsters types as her way of saying good luck, Qi was busy doing her own part time job so she wasn't going ringside for this one. Though she at least texted him good luck, a backstage hand informed Chuang it was time to get going.
With that the young man made his way to the entrance ramp, as he waited for his cue. Sure enough the song that he had picked out blared from the speakers, Kyokugen Training - Mountain Seclusion. Chuang hadn't really heard of his opponent tonight. But then again he had been rather out of touch with current events unless it concerned those close to him, but Chuang was confident he'd be fine. After all he was pretty good at reading people, came with the way he grew up.
Once the Chinese warrior got into the ring he'd move to the far right corner, and do some light stretching. If there was one thing Chuang learned was stretch before fighting if you could, if Mr Lingxian fought he didn't want to lose on account of having pulled a muscle. That was on the level of defeat via pebble tripping, the young man looked to the entrance ramp to see who this chick was.
_________________
Check out my wrestlers
here
, but PM me for match requests.
Solaire of the AFW.
Catelyn was a bit surprise that she got a match so soon following her next one. It came at such short noticed too that she had to actually call in a favor from Cecilia to tend the bar for her. Something that Catelyn wasn't even sure if it was a good idea, given how Cecilia could drink. To give her the position of bartender and manager for one night might just end up with most of her drinks gone.....
Nah, she wouldn't do that. Still now Catelyn had a match to take care off tonight and she was planning on doing her best. While her gig here in AFW wasn't exactly full time as she was splitting it between doing her bar-tending and taking care of a business and all. She still took it all very seriously and for that reason wanted to do well.
Not long after her opponent for the night had made his way down the ring, the redheaded bombshell from America, with Irish blood running through her veins came marching down the ramp.
Spoiler:
Her music started to blast out of the speakers and with it came the Irish lass who jogged down to a rather warm reception. It was by no ways shaking the arena but there was still a good number of people who liked the beautiful redhead, if not for who she was then maybe just cause of how she looked.
After jogging down to the ring Catelyn wasted no time in just getting up into the ring and waving to the fans a bit. She'd pump her fist every now and then and then turn towards her opponent a rather wide and goofy looking grin on her face as she'd greet him. " Ey! Let's have a nice match, kay ?!" Catelyn spoke out as she'd try and step up towards the center of the ring.
Chuang was waiting for his opponent tonight, the young man bouncing in place to keep himself ready for what was to come. He hadn't really heard of his opponent, but Chuang thought it'd be alright. Once the battle got underway the Beijing warrior would have a better understanding of who he was dealing with, heck Chuang was about to see what Catelyn looked like in just a little bit. Namely due to the different music that was blaring from the speakers, not bad at all.

The first thing Mr Lingxian picked up on was the hair, a very vibrant ruby red it seemed. Which prompted Chuang to glance down at his own outfit, that had emerald green adorning it. She looked quite energetic too, that was something the Chinese fighter could appreciate. He liked it when those who he was going up against had pep and energy like him, made it more fun after all. Upon having a closer look Chuang noticed she had a couple of inches in height over him, thought the fight would most certainly prove that little difference was irrelevant.

Chuang smiled as the opponent grinned at him, he could certainly respect the energy. And the request for a good match too, the Beijing warrior walked to the centre of the ring and offered a handshake to the redhead while saying "Heh sure thing, name's Chuang Lingxian. Looking forward to what you can do!"

After the greeting Mr Lingxian would jump backwards into his corner, grabbing the top ropes with both hands. He was looking rather calm, but inside he was already beginning to feel his heart beat as it so often did before battle commenced. Before the bell rung Chuang gave one small bow of his head in respect. And when the bell rung that was the signal that it was time to battle. The Chinese warrior would start as he normally did, going full blast from step 1. With a rushing jump kick aimed right at Catelyn's midriff, strikes was how Chuang rolled and he was going to do it right out the gate.
_________________
Check out my wrestlers
here
, but PM me for match requests.
Solaire of the AFW.
Catelyn nodded her head when she saw Chaung start to move up towards the center of the ring and offered that handshake. Which she would take up in a hardy manner. Shaking the hand and smiling at him with a wide smile. " Hah! Well glad to meet you Chuang. I'm Catelyn Cormac, though you can call me Cat." The busty redhead answered as she would then drop the handshake and take a step back. " Looking forward to see you handle what I can do." She replied with a teasing grin on her face as she'd back up to her corner.

Once she was there the Irish-American would nod her head to herself and do some light last minute stretching of her shoulders and arms. Getting ready for this bout. To Chuang's bow Cat would respond with a light nod of her head again. Now that the bell rung the redhead would take a few steps out from the corner only to see Chaung coming running at her! Surprised at the rather hasty and impatient move of Chaung she was caught off guard as he came in and smacked that kick right into her toned midriff. "GuhH!" Catelyn cried out as she staggered back and doubled over slightly.
Chuang did what he always did in a battle, he came swinging right out of the gate. He didn't know anything about this Catelyn woman, so he defaulted to plan A. To beat someone you didn't know, just go full blast from step 1 and knock em senseless. It served him many times in the past during his fights in Beijing, where it was often very heated and fast affairs. So Chuang learned to rely on raw speed to get his shots in, and it worked in the opening stages of tonight's bout. First hit had gone to the warrior from China, he had been a blur of brown hair and emerald green.

Mr Lingxian had hit the mat with a light thud, before proceeding to put his hands on the mat and move up and put his legs backwards to get to a vertical position. It was how he preferred to be, keeping combat as vertically inclined as possible. Where he could have an easier time in delivering his offence, Catelyn had been sent reeling of course. Wasn't downed though, good. That could work for Chuang, what with the aforementioned verticality preference.

Chuang would attempt to get in close towards the redhead, sticking with that close combat nature of his. Catelyn had doubled back slightly, and the Chinese warrior would bust out into a quick spin in the hopes of clipping Ms Cromac with a right handed spinning backfist. Staying on em, that was the gameplan of the Chinese Warrior.
_________________
Check out my wrestlers
here
, but PM me for match requests.
Solaire of the AFW.
Catelyn was caught by surprise, this Chinese fighter was a bit different than most people she had faced off against, he was all about moving in and doing as much damage as he could with his strikes and it seemed as if he was planning on keeping up his assault on the beautiful redhead, not letting her get a second of rest.

Chuang went in hard and threw a powerful spinning backfist right onto Catelyn's pretty face, snapping her head to the side and forcing the buxom redhead to stagger backwards into the corner, where she kept herself upright by placing her arms against the top ropes. " Ugh...well that could have gone better.." she let out under her breath as she eyed her foe.
If Chuang got things going then it was going to be him trying to rush at the enemy and keep firing, all guns blazing. It had served the young man well back home, where Beijing had some tight and narrow streets. So it was oftentimes fights there were quick and dynamic, if you slowed down then chances were you were going to lose. Therefore the strategy that Chuang had come to use that as soon as the battle started the way to go was to blast on in, and knock em silly.

Catelyn was certainly left reeling from the explosive offence Mr Lingxian was starting off with, having been sent right into the corner that the redhead started off in! Chuang hadn't planned on trying to box in Catelyn, but it seemed to be a good side effect of trying to stay on the opponent with the young man's rushdown. It certainly seemed to be making a good impression with the crowd with the sounds of the hits thus far, Cat was upright though.

Which was fine by Chuang who had taken a couple of steps back after the spin, a light pant escaping his lips due to the exertion of his moves. But his youthful exuberance was telling him to try and capitalise on his attacks, Chuang would seek to try this and begin to take a step forward and try to deliver some right handed shots to the cornered Cat. Still though his approach was clear given that the proverbial wall was behind the lovely lass.
_________________
Check out my wrestlers
here
, but PM me for match requests.
Solaire of the AFW.
Catelyn had been driven into the corner rather early on in this match, she hadn't exactly expected her opponent to be of the variety that he was and it was making it difficult for her to react to what was first thrown at her, but now that she had a bit of an idea what he could do and how his approach seemed to be, the Irish-American would try and shake off her current state...only to see Chuang throw his fist forward towards her.

The redhead would attempt to block the fist against her arms and then push forward, trying to push out of the corner and get in close, trying to wrap her arms around Chaung's body and press her chest against his, quickly she'd attempt to lift him off of his feet and take a few steps out of the corner before spinning around and trying to throw him down with a belly to belly suplex!
Chuang was nothing if not honest with how he fought with using his raw speed and relentless attacks, and where the enemy was meant that his approach had decreased to a single and linear course. Perhaps though this worked to the advantage of the enemy, after all they could easily see the Chinese warrior coming a mile off and his bright emerald green attire was eyecatching. And this predictability was going to be a downside for Chuang, he had been feeling pretty confident given that his opponent had gotten knocked silly thus far.

Still Ms Cormac managed to block Chuang's offence and made a bold attempt to get herself out of the corner, which she'd need to have done if she hoped to change the situation to her advantage. And Catelyn then proceeded to quickly get her arms around Chaung's waist, sadly the Chinese warrior's arms were out and leaving his sides exposed. And she then boasted some good strength as she'd hoist Chuang off his feet and send him crashing down to the mat!

"Guah!" Chuang yelled out, the air had been taken out of his sails. Things had been going pretty well until that, with the early start in this match though the Chinese warrior still had plenty in the tank. But that move certainly rattled him well enough.
_________________
Check out my wrestlers
here
, but PM me for match requests.
Solaire of the AFW.
Catelyn huffed out after she threw Chuang down with that belly to belly suplex, quickly she acted to get up to her feet, pushing herself up to a stand as she'd try and move up to Chuang and grab a hold of his right arm, trying to pull the Chinese warrior up towards his feet so he was facing Catelyn.

The Irish-American would attempt to rear back her right arm, to try and throw a hard right hook aimed right at his face, following it with another right hook and then trying to go for a quick left jab toward Chaung's stomach, looking to keep him on the defensive and perhaps get in some good hits by showing off her own striking capabilities with her impressive might packed into each punch!
Page 1 of 4 • 1, 2, 3, 4



Similar topics
---
Permissions in this forum:
You
cannot
reply to topics in this forum