Champions & #1 contenders
Summer Splash interest in Natasha Loclear?
Mon Apr 09, 2018 11:30 pm by daemongirl
Well my girl hasn't missed a summer splash yet, would anyone be interested in a match with her? Open to just about anything match wise, just pm me!
Comments: 1
Been Out with the Flu
Sun Apr 22, 2018 7:47 pm by daemongirl
Just letting those I have threads with know I've been out with the flu since early last week, but I will be back to posting tomorrow.
Comments: 0
The Austrailian Mudslide is Back.
Sat Apr 21, 2018 6:20 am by Softsquad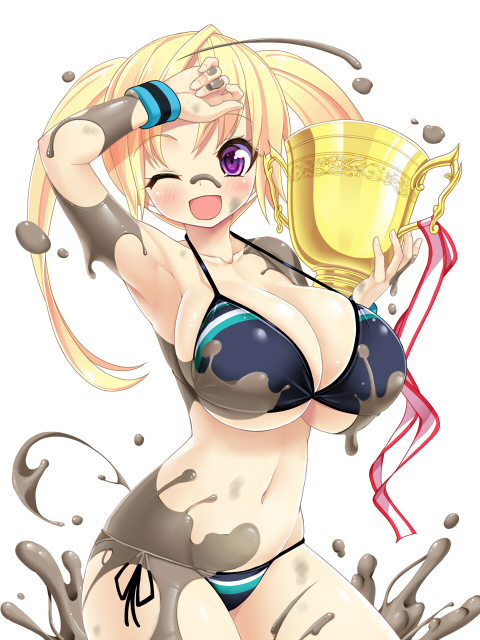 Granted that most of you won't know me or remember me, but I've had a few matches here and there some time ago. Well I think its time to become a regular around here and try to have some fun again, but at the same time keep coming back. Anyway I think its time to jump into some matches with Zoe Taylor, my mud wrestling character from Australia and get her back into the squared circle. Furthermore I will update my characters as I think some proper changes need to happen.
So if anyone would …
[
Full reading
]
Comments: 0
Page 1 of 2 • 1, 2


Standard match won via pinfall or submission
In the back was a young man, clearly Chinese from his features and attire. His name was Chuang Lingxian, a young and aspiring martial artist from Beijing. This was supposed to be his debut match in Tension, and to be honest he was a bit nervous. It was a feeling that that Chuang wasn't used to, he had several fights in the past with various people. And he was chalking it up to this being something new.
He was in Kyoto now, and Chuang had been exploring the city. Certain to say he had no dull moments thus far, in fact part of him wished he had gotten here sooner. Win or lose Beijin's warrior had a feeling that this would be something to remember.
Qi was with him, Chuang's Sister. She had been scoping the foe that Chuang would be fighting tonight, and looked like a huge fangirl of Kinniku. The Lingxian siblings never really got into that, but there were friends of there back in Beijing who swore by it. Speaking of stuff like that.....
"I keep telling you, Game of Thrones is awesome!" Qi said as she stood up. She wasn't fighting tonight, so she kept things simple. A pair of white sneakers, blue jeans. A black shirt and red and white leather jacket.
"That may be true Sis, but I still like Romance of the three Kingdoms! That fight scene with Lu Bu against the three sworn Brothers was epic!" Chuang retorted as he looked himself over in his fighting attire.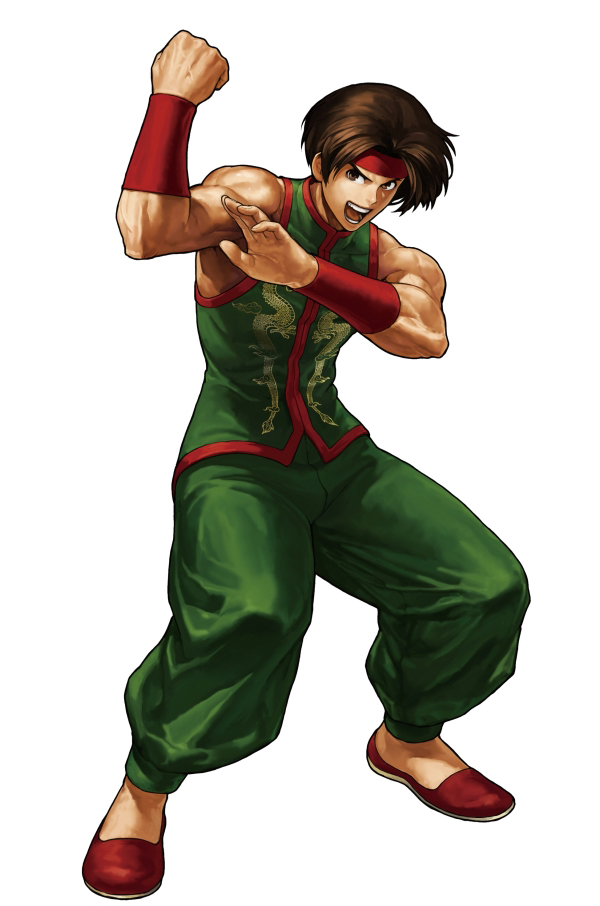 Chuang wouldn't lie, sometimes he felt a bit inferior to Qi. Typical sibling stuff though, but now wasn't the time to be contemplating that. Now was the time to be ready for battle, don't think and just fight.
The Lingxian siblings made their way over to the entrance ramp, and the arena's lights went out. As Chuang's theme song KOF UM 2002: Art of fight began to play. Qi and Chuang lept out to the arena as orange fireworks blasted forth, the Lingxian siblings bowed to each other before running down the entrance ramp.
They expertly slid into the ring and stood up, the pair then did a martial arts kata side to side. It was practised and focused, the crowd clearly displaying it's admiration of the skill that the siblings possessed. Chuang then stood at the far ring corner, Qi slid out the ring and stood by the ring post ready to morally support her Brother in battle.
_________________
Check out my wrestlers
here
, but PM me for match requests.
Solaire of the AFW.
This is gonna be a real interesting match for Kinniku Woman, she is up against a Martial Artist from China, wow. Reika never ever fought with anyone using a different style of fighting that wasn't wrestling related so this will be a first for her tonight. So while this will be a bit strange a first, it will also be something of a learning experience for her to see different styles of fighting and how to deal with them later on, so Reika best pay attention during this match to get a good understanding of this.

Soon after which, the arena goes dark with the spotlights shining on the entrance as smoke fills the area. Kinniku Woman's theme begins to play and she emerges from the smoke once again with the crowds cheering for her. She walks down the ramp towards the ring while high fiving many fans of her on the way, all while taking a look at her opponent who definitely looked like a Martial Artist.

When she arrives at ringside she quickly climbs the apron before leaping over the top ropes, eyeballing her opponent with a confident and competitive grin while going over to her corner. Kinniku Woman climbs up the turnbuckle and throws her arms high up as the crowds cheer louder for her, and then she poses to imitate the "We can do it!" propaganda poster thing from World War II while patting her bicep. All before jumping down from corner, hopping a bit on her feet, then turning to face her opponent.
Chuang stayed quiet as he sized up who he was facing for his match, doing some light leg stretching to get himself ready. The first thing that the young man noted was the woman's hair, he had seen people who had dyed their hair different colours.

But pink was something he hadn't seen in hair, although she was pulling it off quite well. The outfit and the mark on her forehead, it all looked quite interesting. Certainly the warrior of Beijing hadn't seen anything like that in his hometown, it seemed like his opponent was a pro.

Once Chuang's opponent entered the ring he gave a smile and nod back to her, he let her turn around and wave to the audience. Chuang looked to Qi at ringside, who gave him a nod and said "What do you reckon bro?"

"Let's see...." Chuang muttered back, when Kinniku Woman jumped down from the corner and faced Chuang he approached her. He decided to do a bit of pre match banter, try to take a look at who he was fighting tonight.

"Hey there, the name's Chuang Lingxian. I look forward to this match, nice to meet you." Chuang was taught by his parents to be respectful towards his opponents in battle, and he would show this by smiling and offering a handshake to his opponent.
_________________
Check out my wrestlers
here
, but PM me for match requests.
Solaire of the AFW.
Contrary to popular belief, Reika's hair is naturally pale pink like this and not dyed. Back to reality, Kinniku Woman leaned back into her corner with her eyes on his Chinese looking opponent, also just noticing that he brought someone with him. His girlfriend, manager, or cousin? She'll worry about it later.

She waited for the match to start, thinking that this man might just want to instantly start the match into the fight. But clearly Reika was wrong. Seeing him walk out of his corner towards her brought a smile to her face, and so pushes out from her own corner to meet with the Martial Artist at the ring's center. With Kinniku Woman really hoping to start this match on a good note before it starts.

This boy was really polite, introducing himself and wishing for a good match with a smile and a offer for a handshake. Already Kinniku Woman liked this, she smiles again and accepts the handshake with a firm grip, to give Chuang a little bit of a taste of how strong she was and what he'll be dealing with later on. "Kinniku Woman, I look forward to seeing what you're made of."
Well it was good to know that Kinniku Woman wasn't going to jump Chuang when he offered a handshake, the people that Mr Lingxian usually fought didn't bother with that. Usually they were too busy already trying to beat him up, so a bit of common courtesy like that went a long way. More so considering that Chuang was new here in Tension, so getting some fellow wrestlers as friends of his would be awesome.

Her firm grip didn't go unnoticed by the warrior from Beijing, he had returned it also. Chuang could tell that she had good strength, but that was also the domain of the Chinese marital artist. A feeling of excitement was in Chuang's belly, he could already tell this would be fun.
"Same here, I can already tell this'll be good. May the best win." Chuang said, giving a friendly grin to his opponent.

The warrior of Beijing moved back to his corner, doing some last minute stretching with his arms. Giving a nod to Qi, his Sister responding with a smile. Chuang then looked out in the crowd, scanning for someone. He had hoped the person in question was Mikoto Kusanagi, a woman who Chuang had met at the beach recently and had taken a fancy to. And had also done plans to have dinner with her later down the line, the young warrior was hoping the priestess might be in the crowd. Didn't look like it though, but Chuang didn't mind. He had a good fight up ahead after all, the warrior could tell the wrestler angel about it later.

Taking one last deep breath Chuang turned to his opponent and settled into his stance, it was the same one that Qi adopted. Left hand balled into a fist and close to the navel, the other hand open with the palm facing the opponent and outstretched. Once the bell rung to start the match Chuang did what he did best, and that was get right into the fight. The warrior of Beijing rushed right at Kinniku Woman, spinning as he did so to try and fire out his right elbow at her gut.
_________________
Check out my wrestlers
here
, but PM me for match requests.
Solaire of the AFW.
Feeling Chuang do the same thing of giving a strong firm grip in the handshake made Kinniku Woman grin and raise an eyebrow, feeling pretty impressed with this kid's strength already. "Likewise kid, give it your all tonight." She'll say before breaking the handshake, her grin widening as her excitement grew before the match even started.

Before Reika even arrived at her corner when she went back she raised her arms up behind her head and tilted her shapely body from side to side to stretch her own body the sides of her abdomen, and then doing some squats upon getting to her corner. She looks back and sees that Chuang was also stretching. The best thing to do before a match was to make sure your body is warmed up and ready to get into intense action so it wouldn't cramp up or fail to do a maneuver at the worst time.

She kept her eyes on her opponent while she did her own stretches. Upon him turning to face her, Kinniku Woman did the same and crossed her arms with the grin still on her face. As the gong rings, she raises her arms up and gets out from her corner. What she did not expect was the kid already going to rush at her, bad idea. Kinniku Woman side stepped and spun herself behind Chuang, then launching herself at him to wrap her arms around his waist and lift him up to slam on his shoulders with a simple backdrop.
"Kid? Figures....." Chuang muttered under his breath with a small roll of the eyes, well okay he'd give it that. But he was gonna be 20 soon, one day he too could go about calling people kiddo and sport. That wasn't to be thought about right now however, battle awaited. Ring or in a street combat was something Chuang was no stranger to, he was trained to fight from a young age after all.

Chuang was hoping to rely on his speed and get the first hit in, from there he could probably set up a series of rapid fire moves. Stick and move as the saying went, the young hero was no boxer but he knew about that term from watching American TV. But in the motion of Chuang's assault his vision was off his opponent, it was a slim window. However it was enough in this case, sadly for Mr Lingxian.

Because suddenly Chuang felt a pair of strong arms wrap around his waist, and suddenly he was brought up into the air and slammed back down. The Chinese warrior only had time to go wide eyed before the impact came, and Chuang grunted loudly in response to it. Well the first successful hit went to the enemy, and that was a doosy too.

"D-Damn....." Chuang muttered out before trying to wriggle around in the hopes of getting himself loose. This Kinniku chick had the wrestling advantage here, a solid reminder to him.
_________________
Check out my wrestlers
here
, but PM me for match requests.
Solaire of the AFW.
After that simple but mighty slam it already got the crowd going and has Kinniku Woman's blood and heart pumping with adrenaline. Her arms were still locked on Chuang's waist after landing the backdrop but she quickly releases him and stands back up just as quick. She'll throw a fist into the air, prompting another cheer from the audience before getting back to the match. Kinniku Woman will reach down to grab the martial artist by the shoulder and his head to force him back onto his feet, then throw a knee to his abdomen to weaken him slightly.

"Ready for a ride?" She'll say to Chuang as she grips onto one of his wrists then spins around to send the boy running with the Irish Whip towards the ropes. But the Kinnikuman fangirl wasn't gonna stand in wait, right away after throwing him she'll dash backwards to the ropes behind her to rebound off of them. And on the way back towards Chuang if he is either coming back to or stopped at the ropes, she'll raise her arm up and attempt to nail him with a hard Clothesline!
Chuang was wondering how this match was gonna go down, the first hit went to the enemy. Never a good thing there as usually it meant they could dictate the pacing, at least that's what all the fights over the years growing up had taught Chuang. Perhaps it was because of how dynamic combat tended to be back home, regardless though Kinniku had shown that there was power behind that frame.

That didn't deter Chuang at all though, he'd fought people bigger than him in the past. Still that slam did sting though, but the fight just begun and therefore the warrior from Beijing was still fresh. Chuang's opponent proceeded to promptly stand back up, and then take him along for the ride. A knee to the abdomen was given to him, Chuang grunted as it hit. Strikes was something he was used to however, the Chinese warrior braced for impact on it. However it did still hurt though, but at least Chuang was back on his feet which was how he liked things.

Chuang didn't response verbally to Kinniku's question, but he went with the motions of the Irish whip and turned around to bounce off the ropes. He quickly moved back to his opponent who went for a clothesline, a strike. Chaung's reactions kicked in and he promptly ducked and ran to the other ropes, where he went into a handstand. So that his legs bounced off the top rope and on the rebound the warrior from Beijing then quickly spun around and moved to fire off a lighting fast jumping lariat at Kinniku with a loud "SHAAA!!!" yell from Mr Lingxian as he delivered a strike from Shanghai!
_________________
Check out my wrestlers
here
, but PM me for match requests.
Solaire of the AFW.
With the 2 dashing fighters running at each other like trains about to collide, Kinniku Woman had her arm up and ready to smack it hard against Chuang to bring him down painfully. The crowd knew it was gonna be hard to look at when it happened and so were on the edge of their seats despite it being early in the match. As Kinniku Woman got close enough she swung her arm fast and hard at her opponent, but it missed as he ducked underneath it. The quick motion made it feel like her arm was burning and so shook it a few times.

Kinniku Woman quickly turned around to see Chaung running back at her, she braced herself for whatever was to come and watches him jump up while letting out a battlecry with his arm out. Immediately recognizing it as a Lariat, the woman took the moment to lower herself down and do a little somersault to both dodge and get behind the kung-fu boy.

"Whoa, not bad." She'll quickly say before pushing herself up to run up at Chaung and attempt to grab him from behind. She'll attempt to wrap her arms around his arms to keep them locked for a bit to give him a chance to squirm in her grip, and after that Kinniku Woman will suddenly let go of him then throw her arms under his to put Chaung in a Full Nelson with her hands clamped behind his head.
Page 1 of 2 • 1, 2



Similar topics
---
Permissions in this forum:
You
cannot
reply to topics in this forum