Who is online?
In total there are
33
users online :: 9 Registered, 1 Hidden and 23 Guests :: 2 Bots
acuya
,
Cy_Man
,
Gator_Tooth
,
killcarrion
,
LunarWolf
,
Person
,
shanecawf
,
XSirenX
,
Yori
Most users ever online was
390
on Tue Jan 02, 2018 3:02 pm
Champions & #1 contenders
Back From Hiatus
Fri Jul 13, 2018 12:34 pm by Gwyndolin
I mentioned awhile back that I was expecting to be absent from this site for 2-3 weeks as I worked to finish my last college semester. That pause turned into two
months
due to some extra tasks that kept me busy, but I finally have the free time to roleplay again! Grades for the last quarter turned out great, so it looks like I'll graduate as I hoped I would once my degree is certified.
I'll update my ongoing roleplays shortly. Glad to be back!
Comments: 6
Matches?
Fri Jul 06, 2018 3:38 am by LtLukas
Hey there. You want to have a match? What's that? You want to have a match with the best goddamn RPer on this site? Well, then go ask acuya or Alexandra (RIP) because you are going to be stuck with me. But you should still sit the fuck down because I am about to slap your bitch tits with some awesome shit, whether you like it or not.
Eka
is a nice girl. She has stamina for days, and can submit an alligator. She is really sweet though, but if you want to see her get real unsweet, well, why …
[
Full reading
]
Comments: 1
Away for a vacation
Sun Jul 08, 2018 12:51 pm by TomboyTsuka
From tomorrow to July 18th, I will be away from AFW as I will go on a summer holiday to Shanghai, China. I'll see you pals again on July 19th. Have fun everyone!!
Comments: 2
Page 1 of 3 • 1, 2, 3


Standard match via pinfall or submission
Chuang Lingxian was preparing himself for this upcoming match, he'd admit that he hadn't had the best track record here in Tension. Qi hadn't been doing any matches as of late either, but the pair were doing part time jobs to make ends meet. As well as of course following their martial arts regime to the day, Chuang had felt like he'd grown as a person. This match offer was taken up with enthusiasm, Chuang had left the apartment with a keychain that said "Be the best that you can."
The young man was in one of the locker rooms, Chuang had gotten changed into his attire for this fight. An outfit made for him by a neighbour from his home town of Beijing, after getting this on Chuang took out a hairband and tied it around his hair. Since meeting his girlfriend Mikoto Kusanagi the young man had started to grow it longer, a subtle indicator of the influence she was on him.
Inwardly Chuang resolved to win this fight, he needed to prove this to himself. Mikoto had trained with him often, her wrestling and judo background serving to make her a good tutor. In more ways than one~ A student and mentor in love. Chuang's childish nature was more subdued, in place was a confident smile as he readied himself.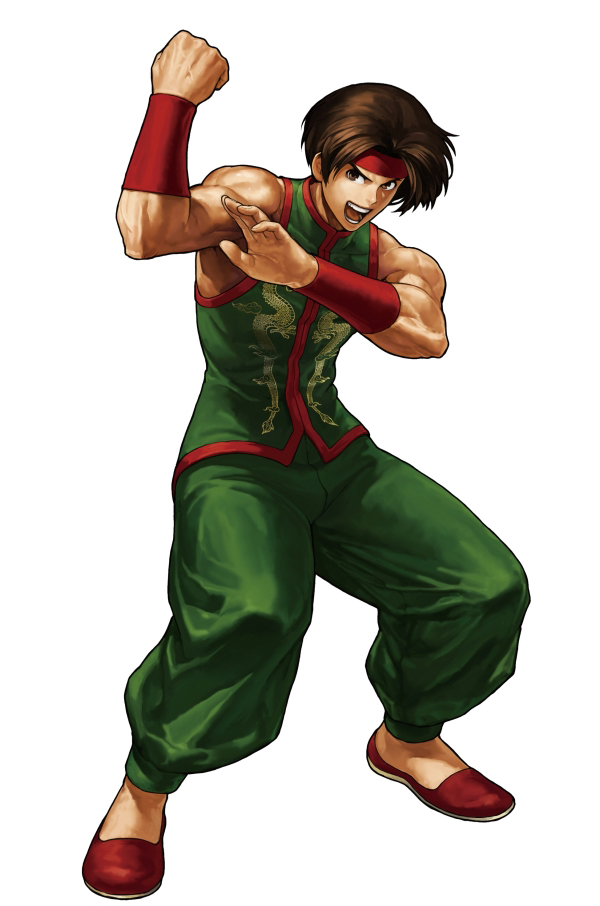 A backstage hand told him it was time to get ready, wordlessly Mr Lingxian nodded. He promptly made his way to the entrance ramp, just before the song Ai ga Tarinaize blared out from the speakers. To which Chuang walked out as the lyrics hit, he waved to the audience in attendance before quickly running down the ramp leaping up to the apron thereafter.
Grabbing hold of the top rope Chuang pulled back on it before leaping over them into a perfect front roll, with him then standing in one of the corners awaiting his opponent. The man only went by the name of Kane, Chuang hadn't heard of the person. But Chuang readied himself to defeat this man in combat, to show how he had developed under Mikoto's keen tutelage. The warrior began stretching to prepare for this upcoming bout......
_________________
Check out my wrestlers
here
, but PM me for match requests.
Solaire of the AFW.
Some time has passed since Kane jumped into the ring the last time. But tonight it was finally time for him to step between the ropes again and face a new opponent. For the first time since he joined the afw he wouldn´t face a woman… this time his opponent would be a male as well. But ther French Boy didn´t cared about this so much… all he saw when he stepped into the ring was an opponent no matter what and he was always bringing 100% in every fight. He wanted to win the fights he was in showing the world his talent and his hard work… He wanted to become one of the best fighters in the world… and this meant giving all he got all the time.
Now the young man was walking through the backstage area directly to the entrance ramp to get down to the ring. The boy was wearing a pair of black shorts, and light shoes, his hands where taped tightly. He would let his arms circle a bit trying to get his shoulders to relax being flexible and fast from the start. He couldn´t allow himself to do any mistakes. Then he would reach the entrance ramp and just as soon as he arrived he would be giving a sign that he would be up directly to enter. So suddenly the boy heard I just wanna run . And to this sound he would step out into the open. The lights would shin down to him and she would stop on the top of the ramp looking around with a bright smile on his face.
The fans would give him a warm welcome while he was standing on the top of the ramp. He would start showing of a bit by doing some shadow boxing, he would throw a handful of fast jabs into the air. After he was done with his short showing of he would start walking down to the ring. At the last few meters he would stop for a slight moment, before speeding up and sliding into the ring under the bottom rope. Kane would jump back up to his feet directly smiling at his opponent.
"hey there you must be Chuang Lingxian, I am Kane your opponent for this night i hope we can have a great match together!", he said while offering his opponent a handshake.  
Chuang hadn't done any looking up on his opponent for tonight, largely because he hadn't really watched Tension or Friction due to his personal life. If it involved Mikoto he would though, get a front line seat and flowers and everything. Besides not knowing the opponent made it a bit more fun Chuang reasoned, there was also a good way to get one over them too. Just go full blast right from step 1!

Sure enough Kane entered the arena, the Chinese warrior was in a crouched sort of stance as he sized up his opponent. A confident smile on his features as he assessed the enemy, seemed to be a bit taller than Chuang. No matter most guys around here tended to be anyway, but that never deterred the martial artist. Kane displayed some shadowboxing on his way down, with some pretty fast strikes thrown out. So the guy could hit, well again Chuang wasn't worried. He was confident in his ability to outstrike Kane, it was his bread and butter after all.

Still no way of knowing what other tricks Kane had in his back pocket, he was built and rather wiry. Could probably high fly too, Mikoto's mentoring of Chuang had taught him to assess his opponent's early actions as they made their way to the ring, they could provide a clue to their style. The ring mentality was far different from Chuang's fights back in Beijing, but he was starting to like it.

"Hey there Kane, yeah I'm Chuang. Let's have a good match!" Chuang said as he shook Kane's hand after walking up to him, he seemed like a good enough guy. The Chinese warrior would then move back to his corner, looking around briefly to see if Mikoto was anywhere about. No sign, but she had to be watching surely.

Before the bell rung Chuang bowed slightly to his opponent in respect before entering his stance, his calm features belied the already quick beat of his heart. Once the bell rung the warrior would instantly be on the attack, seeking to rush straight at Kane and let loose with a quick dropkick aimed right at his chest!

_________________
Check out my wrestlers
here
, but PM me for match requests.
Solaire of the AFW.

Kane shacked the hand of his opponent while having a smile on his face. Seemed like he finally got a friendly and not so rude opponent. After the two separated Kane was walking slowly towards his own corner letting his shoulders circle a bit trying to relax them to start the match of smooth. He was turning around leaning into his corner just waiting for the bell to ring.

While waiting he watched his opponent across the ring closely. Without any problems Kane could see that Chuang was looking through the crowed. Not to watch the mass, instead it more looked like the Chinese boy was looking for someone, maybe someone special for him… Kane didn´t have the slights idea who it could be… maybe his girlfriend. But it seemed like she wasn´t here, so much could Kane tell from the looks of his opponents face. But that wasn´t something the French boy should care about. Instead he needed to focus on the upcoming match.

As soon as the bell rung Kane wanted to step forward, trying to walk into the center of the ring to meet his opponent there. But it seems like Chuang had other plans. The Chinese boy was heading towards him, running at him before setting a dropkick right against the chest of the French boy. This took the boxer from his feet and send him flying backwards into his own corner before he came crashing down onto the floor holding his back, moaning out loudly.

Chuang was known for his fast paced, attack or be attacked approach to combat. Soon as the start happened he was from A to B in a flash, Chuang's personality matched his style of fighting it was clear. Given how the young man wore his heart on his sleeve, while it did make him obvious Chuang's explosive offence meant it didn't really matter. Least to him. And Kane probably got that drilled right into his gut with that opening strike delivered by the Chinese warrior, that was a surprising move. In a couple of seconds Chuang zipped from his corner right to his opponent and blasted him like pellets straight from a shotgun.

Mr Lingxian's ponytail flew wildly in the air as he shot himself right into Kane, knocking the man right into the corner he came from. Chuang always loved getting the first hit in, helped to do one thing. Make it so that he could set the pace of the fight, which was usually fast paced and kinetic and left the opponent in a smacked silly state. Chuang grunted after landing on the ground after making his impact, still though the young man didn't remain grounded for long.

Chuang would flip himself upright and then seek to lunge straight at Kane, mounting the middle rope with his legs and preparing to start raining down some hard shots right onto the guy's noggin. Sure with the corner position it would be glaringly obvious to Chuang's attack strategy. But he hoped his speed would get him into this chance....

_________________
Check out my wrestlers
here
, but PM me for match requests.
Solaire of the AFW.

Hanging in the corner Kane´s head was spinning wildly. That dropkick hit him directly and without any holding backs. It almost knocked the life right out of him. The French boy was pretty surprised that his opponent was going for such an first attack. By the looks of hit he thought that Chuang would first try to test him out before for going for anything real. But looks like Kane got this wrong there. Looks like his opponent was way more agressiv than the thought he would be. He should keep that in mind for the rest of the match.

With a surprisingly agility Chuang jumped right back onto his feet after he fall to the mat. Standing in front of Kane, which head was still spinning and he was unable to pull himself out of the corner, so he was wide open to anything that the Chinese man would do to him next.

Kane saw his opponent climbing up the ropes to mount him. Kane would look down to his now bigger opponent with his eyes wide open. Before he was able to do anything or say something a fist came down hitting him right at the forehead, making his head snap backwards a bit. And then there came the next one hitting him again right against the skull. Each punch got a lot of power behind it dealing out some heavy damage to the French boy, he knew that he couldn´t take to many hit´s like this. After that second hit, Kane would try to get his arms up and between his head and the Chinese boy, trying to guard this head from future damage. He hopped being able to block any more punches fired at him. Kane couldn´t fight back, yet. He needed to wait for an opportunity to turn this thing around.
 

Chuang was certainly making an impression here tonight in his opening gambit against his opponent Kane, both in a figurative and literal sense considering that he was now raining down some hard shots on top of his opponent's head. This was going to help set the tone of the match, fast paced and explosive assaults on the part of the Chinese warrior.

The young man was a believer in that the best defence was to have an overwhelming offence, knocking Kane silly with attacks to soften him up for the later part of the match which was going to involve other attacks. Since training under his girlfriend Chuang had learned to be more proactive with his ring awareness, using the corner to his advantage to keep Kane boxed in and ensure his attacks would connect.

The crowd had started chanting with the number of strikes, which had of course gone from 1 to 5. After the sixth Chuang would jump down, going for the ten shots this early in the match would be likely countered by Kane. Hence Chuang mixed things up, grabbing Kane's arm and trying to fling him across the ring with an Irish whip. If Chuang managed to pull this off he'd try to top it off with a lunging lariat to stay on the boxed in offence gameplan.

_________________
Check out my wrestlers
here
, but PM me for match requests.
Solaire of the AFW.

Kane was trying to block as many punches as he could, But the Chinese fighter was sending one after another and to many were coming through is defense and hit his head directly making him totally dizzy. But luckily for the French boy his opponent didn´t kept this going forever. Instead Chuang would jump down from the ropes after some time standing in front of Kane. The beaten boy would use this chance to grab his own head trying to hold it, hopping that it would stop spinning soon. But before this would happen the Chinese was on the attack again. Kane felt how is arm was grabbed, by two strong hands, before he was torn right out of the corner. In the next moment the hand pulled at his arm forcing him to speed up, when they leg to he was whipped right trough the ring. He would smash right against the opposite corner. Kane would hit it back first and sink in a bit, again hanging in the corner. The back of the boy was already hurting from the last time he was send in the corner from the drop kick but every time he hit a corner it was only getting worse. Kane was moaning out loudly while he was hanging there.
Strange he was spending more time in this wrestling match in the corners then he did in his boxing matches.

Unluckily Chuang wasn´t done with him there. The Chinese man would head right after Kane. And the arm for the martial artist was smashed right across the chest of kane, driving a loud scream of pain out of him. Kane would hold his chest before he was falling forward down to the mat.
 

Chuang was feeling like a new man since learning under Mikoto, his friends and parents back home had commented on how Chuang seemed different somehow. Like it wasn't just his hair, it was more the way he carried himself. The young man had come further into honing his true potential, and this was being demonstrated in his opening offence. He had learned to see that the ring was to be used to one's advantage rather than something that got in the way, Mikoto taught him that. Chuang had to admit that having a cute girlfriend being his mentor was probably the best thing that happened to his life.

Kane was getting smacked silly and hard in this opening rushdown done by the Chinese warrior, this had really set the tone for what the match could become. Chuang knew that he preferred getting the fight's tempo decided by him, it reflected his overall demeanour after all. Back home Chuang would run into the fight and then go from there, even with his changes that had still rang true.

The opponent fell down to the mat with a heavy thud, Chuang had stepped aside just in time. He gave a slight sigh before attempting to change things up a bit, grabbing Kane by the neck Chuang would hope to lift him up a bit and get him into the middle of the ring for a basic side headlock. In comparison to Mikoto's excellent submission holds Chuang's were basic at best, but he had been trying to mix things up with his gameplan to some extent with her. Though it'd be possible for a counter to happen, again his submission style wasn't really much beyond a basic level......

_________________
Check out my wrestlers
here
, but PM me for match requests.
Solaire of the AFW.

When kane was falling forward he suddenly felt how something was grabbing him and holding him up, so he wasn´t falling down to the mat. When he looked up he saw that the Chinese fighter get his neck and hold him tight. Kane couldn't react in time before Chuang was able to put him into a side headlock. Now his chest was hurting and the other boy got him in a side headlock to cut away his air supply. This match just started of pretty bad for the French.

Kane was trying to fight back, pulling himself closer to the ropes again, when Chuang was pulling him towards the center of the ring to bring him away from this easy escape way. But Kane wasn´t in any good position to decide which direction the two fighter would go and so Chuang didn´t have much problems pulling him closer to the center. But if Kane wasn´t able to force a rope break he would need to break out another way.
After trying to breathe in deeply Kane would reach out with his arms putting them around the legs of his opponent. Then Kane would try to kneel down a bit for a moment, before trying to stand right back up, hopping being able to lift up Chuang over his shoulder, performing a teardrop suplex, brining Chuang down to the mat in the hardest way possible. That should make the Chinese fighter make let go of the neck of the French as well giving kane an punch in as well in this match. Until now Unluckily Chuang was the only one dealing out any punishment. But Kane planned to change that a bit.
 

Page 1 of 3 • 1, 2, 3


---
Permissions in this forum:
You
cannot
reply to topics in this forum