Champions & #1 contenders
Summer Splash interest in Natasha Loclear?
Mon Apr 09, 2018 11:30 pm by daemongirl
Well my girl hasn't missed a summer splash yet, would anyone be interested in a match with her? Open to just about anything match wise, just pm me!
Comments: 1
Been Out with the Flu
Sun Apr 22, 2018 7:47 pm by daemongirl
Just letting those I have threads with know I've been out with the flu since early last week, but I will be back to posting tomorrow.
Comments: 0
The Austrailian Mudslide is Back.
Sat Apr 21, 2018 6:20 am by Softsquad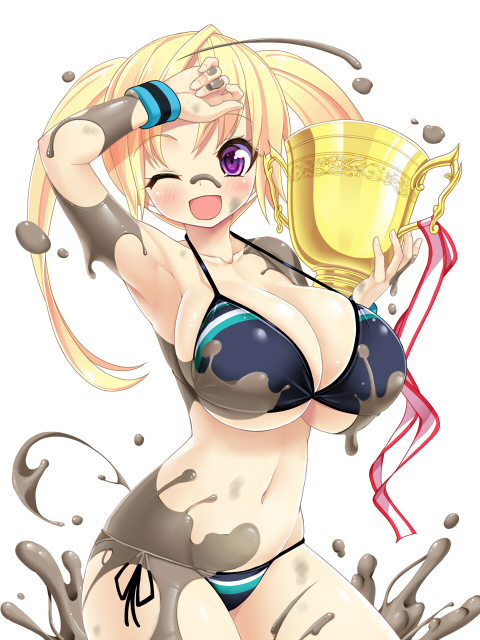 Granted that most of you won't know me or remember me, but I've had a few matches here and there some time ago. Well I think its time to become a regular around here and try to have some fun again, but at the same time keep coming back. Anyway I think its time to jump into some matches with Zoe Taylor, my mud wrestling character from Australia and get her back into the squared circle. Furthermore I will update my characters as I think some proper changes need to happen.
So if anyone would …
[
Full reading
]
Comments: 0
Page 2 of 3 •

1, 2, 3


While not quite sharing Jessica's enthusiasm for whatever inebriated misadventures the night would hold for them, D.B. nevertheless begrudgingly pulled up the rear as she trudged into the barcade. Kelly didn't quite answer her entirely justifiable question as she would have liked, but following their ignoble leader into nonsensical situations was already a recurring theme by this point anyway.

The cacophonous sounds of computerized jingles and dazzling lights from the various arcade games brought that encompassing feeling of sensory overload meant to capture the attention of those with a short attention span and a childlike mind. Working splendidly in this case as Kelly seemed to take to this place rather quickly. Her grandiose entrance diverting more attention to them then D.B. appreciated, honestly taken aback by the sudden round of applause and cheers to their name. Apparently even if you're a member of one of the most reviled organizations in the industry, a celebrity status will get you the same amount of attention no matter whose bones you break or dreams you shatter. Or maybe they were honest to God fans who wanted to see the dojo and all their morals go up in smoke...

...this is weird.

"Gee, I wonder if Kelly is worried about Brittany leaving the group..." D.B. scoffed sarcastically in response to the numerous times Kelly mentioned their former partner, nudging Talia in the shoulder in the direction of the bar Kelly was posing on before stepping in that direction herself."...Come on, if I didn't need a drink earlier, I sure as shitfire need one now..."
As the group entered the barcade, Talia was expecting a loud, but isolated, night of drinking and w/e constituted for games for these people. But then Kelly quickly, and in hindsight predictably, turned all the attention to them. People seemed to appreciate her...as much as any drunken crowd of noisy bargoers appreciated a group of hot, if odd, young women. Had to love Japan. The one thing Talia could agree with Taylor was how delusional Kelly was. She really did think she was Kanye West.

"I can see why she likes this bar," Talia muttered just loud enough for DB to hear. What a narcissist. "Yea...I could go for a drink too." She followed the bunny-eared woman to the bar, ignoring the posing champion and leaning forward. "Give me a cherry chuhai."

"What about you, what's your poison??"
D.B. scanned the crowd of arcade enthusiasts on her way to the bar, noticing it primarily consisted of intoxicated Japanese business men and teenagers gaping wide eyed at them when they weren't hopelessly glued to their fighting game cabinets...geeks, basically. Geeks who D.B could tell were slowly mustering up the courage to make the first move on the quartet of lovely ladies drawing all the attention to them. Fending off awkward advances from adolescent teenagers and drunken businessmen was sure to be one of the highlights of the night if things went down that way...

"Guiness Draught here..." D.B. ordered as she sat on the stool adjacent from Talia. Peering towards her while they waited for their drinks, D.B.'s first impression of Talia was, well,...that she was short. But her second impression was much more informative. Painting Talia as someone more who probably had a lot to say but kept to herself nevertheless. That type of reservation was a breath of fresh air after having only Kelly to associate with in the group, probably why D.B. was hanging with her more than the others.

"I caught your appearance on that Conway show. Figured you'd be in the mood for something stronger considering the raw deal life's been dealing you..." D.B. remarked as the bartender served them their drinks, her stout mug towering over Talia's alcoholically fruity beverage before she grasped it in her hand. "Didn't sound like it took much for Kelly to get you join the cause, considering all that beef you have with the Church of Taylor Parker over there.." D.B. quipped in regarding the dojo.
As Talia sat at the bar, the height difference was a little less noticeable between DB and her. They were almost eye level. From her appearance, Talia imagined she was just another...well for lack of a good term she chose to think of nothing so she didn't accidentally say anything.

The drink she ordered looked far more menacing and substantial than hers, and Talia was just fine with that. She didn't really get beer. Not that there was anything wrong with people who did. It just seemed so...inefficient at getting you drunk. And it didn't taste good either. Not to her at least.

She listened to the bunny girl's analysis while sipping her chuhai. It was refreshing. And so was her drink.

"Yea...I don't drink hard stuff anymore. Last time I had something strong, mistakes were made." And Taylor kissed her. Talia rubbed her jaw as if by reflex. It was getting better but it was still clicking on occasion. She thought she'd gotten over it after a year away from the action, but thanks to the blonde...the enemy one...not the narcissist, arrogant jerk one that was getting most of the attention nearby. "To be honest...she didn't have to do any convincing at all. I've always wanted to bring a little humility to the stupid dojo. All of them."

Talia took another sip of her chuhai. It didn't taste like cherry, but considering all the noise she was fortunate she got what she did. "What about you? Why are you on board with Heartless up there?" She knew that she couldn't have been the only one Taylor and co brushed the wrong way the last few years. She was curious, though, just how everyone else fit into that.
Downing about a quarter of the frothy pint as Talia said her peace, D.B. took a few seconds to appreciate the bitter tang before setting it back down. A more inquisitive, detective-esque mind could have surmised from her choice in beverage that D.B. was as Irish as a freshly plucked shamrock. She was practically brought up around the foamy beer and gravitated to it as her default drink simply for that reason and for the fleeting, nostalgic warm and fuzzies.

"I...can't really fault you on that one..." D.B. looked off and to the sides to briefly reminiscence on the last time she went on an all-night bender, downing a never-ending stream of sake shots with Akashi. Not the greatest of ideas in hindsight considering who she was drinking with, and one that predictability led to some frisky groping from the inebriated sumo when the drinks had gotten the better of the both of them. But not in the way you'd be thinking. D.B. would rather not reflect on that night for fear of raising questions in the group about her loyalties and why she was cavorting with the enemy, and because that night Akashi was turning her on like nobody's business...

"Why am I backing the American Hero over there?...Hmm...That, is an excellent question." D.B. needing another swiff of her drink to ponder that excellent question before continuing. "Technically, after Kelly's incontrovertible championship match that I had absolutely did not have a hand in..." D.B. remarked sarcastically before finally getting serious. "...I was in the free and clear in terms of our initial arrangement. But now I...have my own reasons for seeing this through to the end. Conway has no idea how deep of a hole she's digging right now. Plus the more I saw of this dojo of there's, the more it all just rubbed me the wrong way. Funnily enough, I had no qualms with the dojo until I got wrangled into all of this. And then I got to know them..."
Jessica had nothing to say. Well, that wasn't really true. She had lots and lots of things to say, but not right here, not right now. As fun as this little team building activity thing was, the Violent Violet didn't particularly care about the two other girls' motivations, whatever they may be. What was in their head was not particularly interesting. What they could do with their bodies, well, that was a fascinating question.

The Violent Violet surveyed the scene. Dweebs all the way down. There was something comforting in the bright flashing lights and Jessica did not begrudge them that. She did begrudge them their weakness, their over the top humility and their complete disgusting lack of pride. One would spot Jessica in a crowd any day of the weak in Japan, and the Violent Violet tended to think that was everyone else's problem.

Her problems were a little bit more internal. She was half listening to her two allies conversation. A Guinness Draught, that was respectable, but whatever the fuck a chuhai was must have been a mediocre sorority girl drink. So, bunny girl just agreed to terms with Kelly, while Talie just appeared to hate Taylor. Both were fine reasons, she supposed. No one in hell was Jessica going to tell them her reasons. She had never met them before and had no particular reason to trust them with such a closely guarded secret.

She thought about that. How much closer was she, really? It was so tantalizingly near her, yet so agonizingly far away. Luckily, the solution to all difficult problems was right in front of her. She ordered four shots of bourbon and walked between the two girls.

"Here," she said, offering a drink to both girls. When Kelly was done making a fool of herself, she could have one too. And if she didn't, well, then Jessica was going to start off with a double.



Posts

: 3512


Join date

: 2014-05-26


Location

: The Dreadfort



Kelly thought nothing of her team making themselves comfy. That was exactly what she wanted! She just wished Haruna could be here... Nonetheless she was happy her crew was at the bar now.

"GUYS!" She barked from atop of the bar with her hands on her hips as she interrupted their conversation.

"It's time for our Team Trust Exercise!" She exclaimed as she turned her back to the crew while the crowd looked on, wide eyed and very concerned.

"BUNNY! TALIA! JESSICA! ........Catch me! I.... Trust you guys!" She hesitated saying the last part, if this didn't work it was going to hurt really bad. "We are a team! So in THREE you're going to all catch me!" She ordered as firmly as possible as she extended arms out.

"ONE... TWO... THREEE!" And with that, Kelly fell off the bar.



Posts

: 9633


Join date

: 2009-08-19


Age

: 25



Talia continued to sip her drink. If she could read minds she could've related to DB's sake experience with Akashi. That was exactly like hers, only she greatly regretted it. It was a time in her life that she was very vulnerable and desperate. And Akashi took advantage of her. Not that the sumo really treated anyone else any different. But as a normal woman in what she perceived as a world of sluts, Talia took it personally. As she did everything.

And she felt a little comfort that DB wasn't as pro-Kelly as she might have thought. She pretty much gave Kelly her title. That was probably one of the biggest middle fingers to the dojo that they could pull off. But there wasn't much tying her to the champion anymore. Talia was more or less in the same boat but she wasn't naive. Kelly got her back in friction, she could probably find a way to get her out of it if she bailed now.

As the other girl brought the two shots, Talia raised an eyebrow and sipped her chuhai. Yea...No. And Kelly was being...well ridiculous to put it lightly. She casually looked at the other two, wondering if they were considering just letting her drop. Talia didn't want to stroke any egos more than they needed to be, and Kelly's was ready to burst. As the champion counted down, Talia grabbed the shot. And on three, she downed it, reaching out with one arm in a half-assed attempt to catch her.

Because as much as she detested the idea, they couldn't have the champion concussing herself before her match.
About halfway into downing her bitter lager, D.B. remembered how uncharacteristically chatty she could get with the right drinks in her system and in the right environment. Certainly one of the main contributing factors that led to the clingy encounter with Akashi that could have become a night of mistakes if not for the timely interruption of some woeful street gang members. She'd rather not feed into the stereotype, but being from the Emerald Isle may have given her a predilection towards relaxing and opening up when at a tavern...which this barely qualifies as.

"Hm?..." The shot glass of bourbon being served in front of her took her by surprise, as did by who it was coming from. The other purple haired member of the group not really making her presence known until the opportunity to order a round of shots came around. "Usually you take shots when there's a cause for celebration..." D.B. picked up the glass and pondered on what that reason could be for this group before Kelly's rendition of Coyote Ugly came to an end and she obnoxiously called for their attention.

D.B. swirled the bourbon in her glass and envisioned with a smile on her face how funny it would be to let events proceed naturally. But there was one little flaw with Kelly's Team Trust Exercise. Namely that if the person falling puts themselves in mortal danger during the fall, people would catch you specifically because they don't won't to be charged with involuntary manslaughter. So after downing her shot in tandem with the three count just like Talia, D.B. would shoot her hand out catch Kelly behind her waist and groan from shouldering the majority of Kelly's weight, especially if it was just her and Talia doing their part...
The ridiculous bunny girl was right. There wasn't a whole lot to celebrate tonight. There had been no victories, not greatness, no anything. Just some girls trying to pretend like they liked each other. The Violent Violet eyed Kelly warily as she teetered on top of the bar. Jessica fully anticipated that she would do something somewhat inane but she did not quite anticipate this. Jessica downed her two shots at two and a half.

If Kelly fell doing something stupid, then she fell doing something stupid. She had had enough of idiot cousins saying hold my beer and then doing something moronic. There was no saving them, and Jessica knew it. Jessica wanted to save herself and that is precisely what she did- she cast the two glasses aside and threw her arms over her head. Kelly's intended flight path was a crash course into Jessica, and she wasn't about to risk injury on Kelly's account. She tried to catch her upper back and it looked like she would have some help.

Jessica sighed. Maybe it was time to find a new stable. Who the hell else would have to do this bullshit. Did they have to do this shit at the Dojo? Were there any other factions she could joins? She pondered these questions as she prepared for the warm sack of potatoes to fall on her.



Posts

: 3512


Join date

: 2014-05-26


Location

: The Dreadfort



Page 2 of 3 •

1, 2, 3



Similar topics
---
Permissions in this forum:
You
cannot
reply to topics in this forum