Champions & #1 contenders
Moonhearts Promo intro thread is O p e n.
Mon May 21, 2018 4:21 am by XSirenX
Feeling brave?, lost?, or without a thread to post in?, hit up the newest Moonheart if any of those apply!
CLICK HERE
What Moon has to offer?, many things...:
Comments: 0
The Austrailian Mudslide is Back.
Sat Apr 21, 2018 6:20 am by Softsquad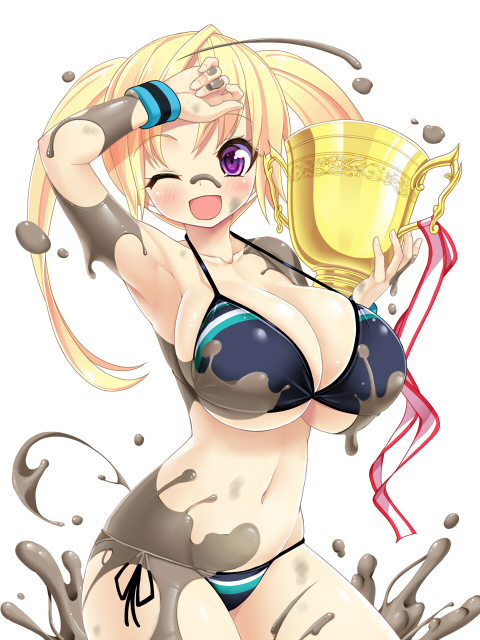 Granted that most of you won't know me or remember me, but I've had a few matches here and there some time ago. Well I think its time to become a regular around here and try to have some fun again, but at the same time keep coming back. Anyway I think its time to jump into some matches with Zoe Taylor, my mud wrestling character from Australia and get her back into the squared circle. Furthermore I will update my characters as I think some proper changes need to happen.
So if anyone would …
[
Full reading
]
Comments: 4
Page 1 of 12 • 1, 2, 3 ... 10, 11, 12


Kohaku & Hisui Tokaji vs Emily Blaskowicz & Neske Alapo
Tag Team Hardcore Match
Weapons may be used but wrestlers must still follow regular tagging in rules

Kohaku and Hisui had finally just finish getting changed in their locker room.  The two decided to inspect each other uniform.  Hisui would start off first by scanning the top part of Kohaku uniform before working her way down.  "Everything seems perfect on this side, Oneesan." stated the younger sister as she would then circle around her older sister to make sure she had not missed anything.  "You look so good in that, Imouto." stated Kohaku as the sisters would now switch roles.  Kohaku would begin to inspect her sister uniform.  "Everything is perfect, just like usually." stated the older sister as she gave a smile.
"Are you nervous, Oneesan?" asked Hisui in a slightly nervous voice as she then gave a worried look to her sister.  It was their first match in AFW, this is where they would make their debut as wrestlers and Hisui was feeling the pressure of it. "Don't worry, everything will be fine, Imouto.  Were going to win our match and start our great wrestling career here.  Our opponents won't know what hit them and the crowd will... well they will hate us since we cheat but who cares if we win?" stated Kohaku as she gave a smile.  In truth like her sister, she was nervous as well for her debut match but she needed to keep up a strong appearance for her sister sake.
Then a knock was heard on the door before Akiha entered.  "Hi, it's time for you two to start your match." stated Akiha who was their current manager.  The two maids nodded their heads in union and made their way to the entrance but not before Kohaku grab a bottle.  Now standing just outside of the entrance, the two waited for their theme song to play.  Kohaku and Hisui then heard their theme song play as they then grabbed their hands and made their way out.  The two were greeted by a massive crowd that cheered.  Individually the two might have allowed their fear to show or get the better of them but they had each other to rely on.  Not wanting to disappoint the crowd or themselves, the two hop cheerfully to the ring as they waved while still holding hands.
The duo soon arrived to the ring, Hisui would sit on the middle rope so that it would be easier for her older sister to enter.  Once Kohaku was in the ring she would then return the favor by holding the middle rope down with her hand.  With the two sisters now in the ring, they would each climb two opposite turnbuckles and raise their hands in the air before getting down and making their way to their corner.  Kohaku would then go cross over the ropes and lean forward on to them while Hisui rested on the turnbuckle as the two waited for their opponents to arrive.
Neske waited in an isolated corner of the locker room, headphones in her ears blasting dance music. For her first match, she showed no signs of nervousness or real worry, she was just completely absorbed in her own little world. And even beyond that, she didn't see much point in worrying about her upcoming match. This wasn't her lifelong dream, or destined career, or really even that different from the brawls she had with her brothers at the orphanage, in her mind. It was nothing more than a scrap, except instead of with a bunch of growing boys at a playground, it was with a few beautiful girls in front of thousands of people, and if that was something for her to get nervous about, she certainly didn't show it.

There was one other difference here, too: she had a partner. While this was technically her debut, she had already gotten into an impromptu fight with one of the wrestlers here (although admittedly that was a guy, and she really had little warning ahead of time), but the fact that this was a tag-team match meant that things would automatically be different here, she had someone she could count on to get her out of trouble. That also meant she had to actually be bothered to read up on the rules, which was an infinitely less exciting proposition. Anything that meant a whole lot of work ahead of time was tedious to Neske, but she at least took the time to brush up on the basic idea of pinning, submissions and tagging. A tap on the shoulder from her partner (Emily, was it?) signaled her to pop the headphones out and get ready to head out, and so, without saying anything, she did just that.

The music the duo had for their entrance wasn't exactly Neske's cup of tea. It wasn't terrible, but since they were a one-time tag team it was more generic stuff, meant for getting the wrestlers and audience pumped, then the stuff she had picked for herself, which was just music she liked. As they walked towards the ring, Neske gave a curious look to the cheering fans strewn about the stadium. The excitement and energy almost confused her, she never really valued athletic displays as much as artistic performances. Still, she was glad that she was putting on a good show for these people, or at least she hoped she was. When she slipped into the ring, she didn't give a second thought to holding the ropes for her partner, or really Emily's existence at all. She was aware she was the first of them to fight, and so all she really considered was getting herself ready. On the opposite end was another pair of redheads, pretty small girls by the looks of things, but cute. Grappling with them would be a welcome change from her dirty, smelly brothers, although hitting them might not be as fun. Either way, Neske just leaned back into her corner, waiting for the bell to ring.
Tag team match, eh? Emily mused to herself as she got ready backstage, And the only rules we have to follow are those related to the tag-in/tag-outs. This ought to be fun.

Emily sat there, waiting as her partner, a fairly dainty looking girl not too much shorter than Emily herself. The girl seemed to be nodding off to what sounded vaguely like dance music blasting from her headphones. In spite of herself, Emily could feel butterflies fluttering about in her stomach. While this would hardly be her first wrestling match, much less her first match with an audience, she'd never performed in front of an audience that was quite this massive. Taking a quick breath to calm herself, Emily took a moment to remind herself that the crowd wasn't what mattered here, it was their opponents.

Just then Emily heard their cue, tapping her partner (Neske, if she recalled correctly) on the shoulder. The other girl looked back at her and strode out without a word. Feeling a twinge of annoyance for her partner already, Emily followed her out, knowing that there was no point in getting to the ring ahead of her. According to what few rules they did have to follow for this match, Neske would be going first anyway.

Emily followed her partner out into the deafening noise of the crowds, all of them seemingly eager for whatever happened tonight. Emily could help but feel a little small in the face of all this. She did her best to not let it show, however, striding confidently behind her partner as they made their way to the ring, the fairly generic music still managing to get Emily's pulse pounding as they drew near. Emily allowed a moment to eye up the two redheads already waiting for them in the ring.

Well, those two look like they'd be fun to play with...too bad this isn't quite the place for that sort of thing...

To her surprise and further annoyance, Neske didn't even bother holding the ropes open for her. Frowning, Emily climbed up to her position next to the turnbuckle, waiting for the match to begin.



Posts

: 957


Join date

: 2015-08-23



The two sisters looked at the their two opponents, as the their theme song began to play.  They looked to be pretty serious but their didn't seem to be any sort of synergy between the two.  "Oneesan, it looks like they don't really seem to know how to work together." stated Hisui to her older sister as she watch the other two red heads make their way to the ring. "Yes Imouto, we shall take advantage of that to win the match." stated Kohaku as she gave a devilish smile.  The younger sister would then nod her head, agree with Kohaku plan.

The two Japanese wrestlers watch as their opponents entered the ring and could see that the larger opponent was not happy that her partner didn't help her in the ring.  Kohaku and Hisui continued to observe them as one of their opponents rested on the turnbuckle while the other one stayed near the turnbuckle, just outside of the ropes.  Hisui would make her way to the center of the ring before offering her hand to be shaken.  "Greetings, I am Hisui, I hope we can have an exemplary match." stated the younger sister in a neutral tone.  That being said, the handshake was a trap.  If her opponent shook her hand, Hisui would then pull on her arms before trying to Irish whip her to the turnbuckle that her sister was at.  If successful, Kohaku would then attempt to wrap her arms around the wrestler neck and head, trying to wear down her sister opponent and leaving her open to an attack.
As one of the two girls on the opposite end of the ring headed towards the center, Neske figured that was her cue to do the same. As the girl extended her hand out for a handshake, Neske simply stared at it, for a moment. Normally she wasn't one for etiquette, she just wanted to get the fighting started already, but then again... maybe this was some sort of unofficial, but required step. Finally, she took the extended hand, with not much more of a reply than, "Ehhh... yep."

Of course, she was more than a little surprised when her hand was jerked backwards, sending her stumbling towards the opposite corner with just enough time to turn around, her back hitting the turnbuckle rather harshly. She didn't really have much time to figure out what the hell was going on, though, as one arm wrapped around her face and the other around her neck, constricting and blinding her all at once.
Hisui kept a neutral expression as she saw her opponent accept her handshake.  Her trap was working and thus she pulled back with her arms and Irish whip her opponent to the turnbuckle with her older sister waiting to prey on the foreign wrestler.  As her opponent hit the turnbuckle, Kohaku would join in by wrapping her arms around their unlucky red head opponent while giving a smile.  During this time the crowd began to boo at seeing such unsportsmanlike behavior from the two maids.  

"Hehehe, you fell right into our little trap." stated Kohaku in a friendly taunting manner as she kept the pressure up on the smaller opponent.  Hisui would now start to run towards the foreign wrestler who was still being grappled by her sister before attempting a drop kick in hopes of trying to sandwich her in between the turnbuckle and her kick.  If her opponent didn't escape, Kohaku would release her at the last second just before her younger sister impacted her.
Though she tried to pry herself free, Neske was far too confused and overwhelmed to get any sort of headway on getting her vision back until it was too late. By the time her face was released, the first thing she saw was the girl that "shook" her hand, flying feet first right for her body. Both boots collided with her sternum, forcing a harsh cough as she was slammed against the turnbuckle, damaging her body on both ends. For a moment she slumped into the corner, before pulling herself back up in hopes of returning the favor. It was always Neske's understanding that the match started with a bell, but either that didn't seem to be the case here, or these girls didn't care, in which case neither did she. It was also possible that the bell had rang and she just spaced out, which was jut another reason to get fighting.

Whatever the case, however, that dropkick seemed to be a good start, for as soon as she started to lean over to retaliate, a pain jolted through her ribs and spine. Neske reached her hand over her rib, and straightening her back had corrected the pain, but she lost precious seconds doing so. And, to top it all off, as soon as she was ready, the distinctive sound of the bell brought her attention back to the world around her. Cheating bitches.
Kohaku could feel the foreign wrestler trying to break free but she kept her hold tight that was until her sister came charging and did a drop kick, in which case the older sister let go just before Hisui kick connected with her prey. This caused the enemy red head to slump on the turnbuckle while the crowd reeled back before continuing to boo the two maids as Hisui quickly got up. Being sisters and having wrestled against each other often in practice, the two maids could do combo attacks and setup traps without even talking to one another as they knew what the other was thinking.

Now with their opponent pulling herself up, the two would once again try to gang up on her as the bell then rang. The older sister would attempt to grab the foreign wrestler arms in hopes of keeping her lock down at the turnbuckle. "Your not getting out of here that easily." stated Kohaku as she continued to speak in a friendly voice. Regardless if Kohaku managed to actually grab their opponent arms, Hisui would attempt a quick knee strike straight into her opponent gut.
Just as Neske was about to take the offensive, she found herself restrained around the corner once more. It was just as well, too, as Hisui seemed to roll back to her feet in about an instant. Neske was pretty sure she didn't like where this was going, but the taunting from behind her was that much more annoying.

Neske squirmed and growled as she addressed the girl restraining her. "You again? Why don't you le- BLUH!" Her words were cut short as a knee came crashing into her stomach, knocking the wind out of her as she bent over as far as possible with her arms held back. As it was, she was pretty much a sacrifice to these two, until they released her or she could squirm her way out of their grasp.
Kohaku smiled as she managed to grab her opponents arms before hearing her words.  Yet they were quickly silence by her sister who managed to strike her in the gut with a brutal knee strike.  Kohaku took a moment to look at her opponent partner, who seemed to be both disappointed and mad and why wouldn't she be?  The two sisters had cheated and were double teaming her partner but that was all part of the match.  The older sister would then quickly focus back on their foreign opponent that they were double teaming.  "What kind of older sister would I be if I didn't help her out?" stated Kohaku in her regular happy voice as she kept teasing her opponent.  

Kohaku would then let go of her opponents arms as Hisui would then try to grab her head.  If successful, she would then try to place it in between her legs.  The younger sister was trying to setup one of her favorite attacks, a package piledriver.  Though early in the match, Hisui felt confident in pulling off this attack, after all she had her sister beside her to help her out.  Speaking of which, if their foreign opponent did try to resist, Kohaku would attempt to hit her back with her elbow.  If everything when to plan, Hisui would try to grab her opponent arms and lock them in before going for her legs.  Assuming nothing went wrong, she would then try to lift her opponent up before jump up and slamming the poor red head into the ground, thus executing the package piledriver.
Page 1 of 12 • 1, 2, 3 ... 10, 11, 12


---
Permissions in this forum:
You
cannot
reply to topics in this forum