Who is online?
In total there are
15
users online :: 0 Registered, 0 Hidden and 15 Guests :: 1 Bot
None
Most users ever online was
418
on Tue Jul 30, 2019 9:51 am
Champions & #1 contenders
Looking for matches
Fri Nov 25, 2022 8:50 pm by Void Effect
Comments: 0
Looking for fun Fights
Wed Nov 23, 2022 1:55 pm by Leon564
Hi hiiiii
Hope you are well my fellows! Happy holidays to those that celebrate. Though some of you may indeed be busy, some of you might be bored and alone. Well I'm here as well bored and alone
So same boat. But not always the same tastes.
Anywhoooooo I've got my two characters available for some battles. James is decently flexible on whom he fights. But Melanie is strictly for the men. She can't get enough of'em
Take a gander at them and hit me up either with a …
[
Full reading
]
Comments: 0
Free Face Claim
Thu Nov 17, 2022 6:11 pm by Void Effect
Three of my character is getting Axed, just ya guys want em, just let me know in DM
https://www.afwrpg.com/t20236-ellie-haise-kaneki#543253
https://www.afwrpg.com/t20341-satella-the-witch-of-envy
https://www.afwrpg.com/t20571-eveline-lector-the-cruel-rabbit
Spoiler:
Spoiler:
Spoiler:
[
Full reading
]
Comments: 0
Page 2 of 3 •
1, 2, 3
She smirked at the thought of getting a run for her money but she could play that game. Rachel was confident in her skill that she could put her money where her mouth was. "My, my. Even if you are, I won't lose so easily. When I show you how to play, I hope you won't be upset when I beat you again and again. Just know that something will happen with each loss~." Her words rolled adding emphasis to her intentions, coming with their glass of red. The German listened intently, she was rather interested in hearing about her younger years but she could agree with her first statement. Even when she had started training about AFW. How it was this big league with a roster so monumentous and matches that she had never seen. It was certainly something she wanted while she was on her dominant wrestler trend.

Taking a seat beside the Brit, Rachel swirled her wine as she thought about her answer. She wasn't enthralled with sports at a young age. "Youre right about that. I don't think I didn't hear anyone not talk about AFW when I started my training." She explains. "I got started a few years ago. It was during a photo shoot for "Magna Sports" magazine. They had a segment about the rise of Women's wrestling. I managed to get the part and I got to practice with the trainer doing the camel clutch, the abdominal stretch. Mostly just submissions. I think it was there that it clicked for me, like this was something I wanted to do." She admits. Taking another sip as Ellie took hers. She leaned a bit closer, her hand running to cup the woman's knee, she pressed her shoulder against their own, with a longing gaze in her pearls. "I actually wanted to talk to you about something." Rachel sets her glass on the table, her black and red strands glossing over the Brits leg as she stared.

"I um…I wanted to apologize." She wanted to get this point across first before they indulged in each other, she wanted to be upfront and honest. "I feel like I took your chance at a win tonight…I don't regret what we did but I..I just wanted you to know that." The German never wanted to live with any regrets. She didn't question what they did in the ring and even now she didn't. What wa son her mind that she felt she took that from Ellie. Her fingers lightky dig into their fleshy leg. She was genuine, the model's tone was sincere.
_________________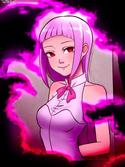 LilyStar




Posts

: 894


Join date

: 2018-02-27


Age

: 26


Location

: Your heart



"You won't lose easily, but you will lose." Ellie mused softly, turning the German's own phrasing against her with a small smirk. She found it hard not to enjoy Rachel's brash and confident nature, really enjoying how much the woman seemed to like to take charge. It didn't take much to win over the Brit after their tussle in the ring, perfectly fine with accepting whatever might be waiting for her at the hands of the model if she lost… not that she would lose on purpose or anything. She just had a realistic expectation the woman with home field advantage might be better at a video game than she was.

Ellie blinked as the other woman set a hand on her knee, fidgeting a bit out of habit. When Rachel leaned in, she found herself holding her breath, unsure of what the model had in store for her. She stared back, melting under the other woman's smoldering gaze, a pleasant rosy blush on her cheeks. "Oh?" Ellie inquired innocently, mind wondering about all the playful or delightful things that might come her way, a bit eager with a smile. When it was an apology, she tilted her head, appearing genuinely surprised. It wasn't that Rachel being so genuine was a shock but the fact she felt the need to say she was sorry was a baffling prospect to the Brit.

Ellie remained quiet and respectful, letting the other woman talk. Once she was sure the German had finished she took a long drink from her wine glass. Not that she hadn't enjoyed their time in the ring but thinking about everything that was going to come her way at the hands of such a humiliating loss wasn't what she wanted to really dwell on so she hoped Rachel would debate her on the final details when she spoke up. "That's just the nature of competition. For someone to win, someone else has to lose. In our match… that was me. I lost. You didn't steal anything from me. I not only underperformed, but I also didn't perform much at all really. I am still coming to grips with some… things as of late so our encounter was a bit… well it wasn't a good showing for what I can do in a ring. Perhaps a rematch down the line so I can prove just how capable I can be, but for now I'd like to just leave it be. Okay?"

Ellie gave Rachel a soft smile with hits of sadness, her eyes drifting down to her wine glass for a moment. With a long sigh, she raised her gaze back to Rachel and leaned to push her shoulder up against the other woman with a playful shove. "I appreciate the sentiment, and that was very sweet of you… but that won't get you out of my trouncing you in that game."

Yori




Posts

: 4566


Join date

: 2017-11-19



"Maybe with confidence like that. I could but you're talking to a master after all." of course she couldn't be one hundred percent assured of her own victory but she couldn't let the off chance she lose threaten her mind. No, Ellie was playing a game of her own, a bit different then she expected from the modest Brit but she rather liked it. It was adorable, she couldn't help but pin Ellie's name to the word and it was more than likely she'd keep saying it until she had more words of cute to use.

The younger woman fidgeted with her reckless touch, she wanted to get past dinner, to have her dessert instead but she didn't want to push them yet, not yet. When she spoke up about her apology, she felt stupid for thinking about it the way she had. Ellie was right, her point was sound and it made the German think. Her digits squeeze the woman's knee again, slowly trailing up their thigh. She was becoming comfortable, perhaps to comfortable as they spoke. It made her feel better about what happened and Rachel was more then willing to oblige the thought of a rematch. She offered a soft giggle as she leaned in to their neck. "I feel so stupid. I honestly didn't think about it like that. I guess I still have a lot to learn with sports spirit of competition. Perhaps it'd help if we came to grips with those things together. I'm still a rookie after all, I bet there's tons of things you could teach me. I won't say another word about it, promise." She states her right leg rising up the pairs bodies to practically trap the Brit.

The wine was safely set on the table, she had nothing to worry about with stains or the like. She would have to schedule for a good time for a rematch but she also had to consider Ellie's too. [color=#00ccff]"And you want another match with me, you tell me when and where and I'll be there. I promise we'll keep the kissing to a minimum. If you want I'd could always wear my leaotard for you again since you seemed to like it so much." She teased, lightky pecking the woman's bear neck. The German wa saying to herself thinking she could hold herself back. She knew her limit of patience with things she wanted and her guest was high on the priority list.

As her right hand snagged the woman's waist, she lightly pants short breaths of warm air along their neck another giggle escaping her lips with the light shove. "Im not worried about a thing. You can dream about beating me all you like but until you trounce Niko and I, you're going to have to put your money where your mouth is." Rachel declares, returning to tracing their throat in her kisses. It was a bad habit to sneak in bites of dessert before dinner but it was a habit but so easily broken.
_________________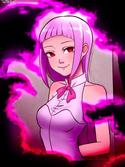 LilyStar




Posts

: 894


Join date

: 2018-02-27


Age

: 26


Location

: Your heart



When the space between both women began to decrease, there was a definite shift in Ellie's posture. Sitting as straight as could be, tense, defensive. She was a cornered gazelle singled out by a hungry lioness on the hunt. Another small sip from her wine glass, one meant to distract herself from getting lost in Rachel's eyes again… and she found it empty. With the German's breath on her collar and words in her ear, she found it hard to retreat even if she had wanted to.. Not that it seemed to be an option as a leg brushed up against her, locking her into this carnival ride of an evening.

Her mind had trouble unraveling reality from fiction, thinking of just what Rachel might want to be shown or do with her in an exchange of that nature. It made her blush, like most things, at the potential subtext. It was easy to assume given just how sensual the other woman presented herself. "I'd like…" The small kiss made her pause prematurely, not getting the opportunity to confirm she had been talking about the rematch more so than the leotard… but the blush on her face spoke enough to the likelihood of both.

She knew what Rachel was doing, where the woman was going, but she couldn't find the resolve to really resist, letting Rachel inch in on her, slipping an arm around her. As kisses pressed to her neck she felt her body relax, drifting forward ever so slightly to lean herself up against the German, tilting her neck just enough to give her easier access.

"You should be worried… I'm quite formidable…" She whispered softly, sounding no more threatening than a mouse as her hostess seemingly did as she pleased. The brit blindly reached a hand out, fumbling to place the empty wine glass on the coffee table.


Yori




Posts

: 4566


Join date

: 2017-11-19



The dominance that had taken over her during their match had made itself known again. Rachel was unwilling to let go of her control, not that she wouldn't but it was difficult to step back and let her partner take care of her. She was the type to give more than receive and this was the case here too. She had so much to give, Rachel wanted Ellie comfortable, pleased, but most importantly, the model wanted them to crave her just as much as she did. Her hand snagged at their waist began to travel only short distances. First it went up their sides, her fingers tracing the fabric lines in their blouse before running back down to enjoy the texture and tone of their black denim jeans.

She was focused, her peppered kisses taking more and more of their time before the sing to end it all sounded. Her plush lips covering every inch and crevice before lightky trailing down to their collar. Her gaze met a ribbon she wasn't sure she had noticed before matching with the side frills of their blouse. It was cute by design, she could admit that much but had she really not noticed it or was just paying more attention now? The German wasn't sure about either. She perked heading them say "I like" to her prevuousinclinatuon of a match or perhaps about her leotard? Rachel wasn't sure about that one, she had rudely cut her off before she could finish but the model would go out in a limb and simply acknowledge the like to both.

Her kisses became more direct more punctual as the Brit relaxed against her, their neck tilted to allow her more access then her stiff posture had presented. Her traveling hand slipped to their back, placing their palm on the small of their back. Her leg would slip just an inch down to hook their leg up preventing the thought of escape though she was certain Ellie had no notion of escape. Trailing her kisses up, she'd meet their soft jawline and began to pepper the tender woman's skin profusely. Her mark might've been lost in translation at first but she made it apperantly soon with her trail running down

A coy smirk crept onto her lips between kisses, she'd loosely turn the woman in her grasp to meet her cyan pearls. "I'm counting on it. We should make a little wager then. Spice up the deal." She whispers. The Brits threat seemed to do little in the department of being anything but convincing. The German chalked that up to her overwhelming the poor thing with a flurry of kisses and no way to rebuttal them. As they shakily planted the glass she indulged in what she had enjoyed and longed for again. Her lips met Ellie's, her heart exploded with the contact, getting to feel this warm sensation again as her fingers gripped tightly to their blouse. Rachel slowly lost herself again to this kiss.
_________________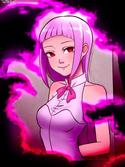 LilyStar




Posts

: 894


Join date

: 2018-02-27


Age

: 26


Location

: Your heart



While some may have protested just how assertive Rachel was in her affections, the casual way in which the woman so brazenly advanced seemed only to help her with Ellie. The Brit seemed defenseless against the German's confidence, simply folding under her kisses as if any other option hadn't existed. A soft gasp left her perfect glossy lips as she felt Rachel's hands brush her body and those luscious lips of her claim more of her tender skin to their warm embrace. "V-very formidable…" She muttered, unable to keep a giggle from slipping out as Rachel dotted her collar with sweet pecks.

"Wager?" The Brit spoke wistfully as if speaking from a distant place across the room, a distracted observer not fully committed to understanding what was being asked. She stared back into Rachel's gaze with her open lidded eyes with a clear sign she might just agree to anything should Rachel coax her enough. When the German finally claimed her lips she let out a soft purr that would have been most unbecoming of how prim and proper she had presented herself moments again. She sank back into the cushions, body slouching as the two kissed. Unlike in the ring where there had been a semblance of resistance at first, the kiss was returned immediately as heated blush graced her cheeks.

Yori




Posts

: 4566


Join date

: 2017-11-19



Her tactics were somewhat cut and dry. She opted to overwhelm them with kisses until they slumped into her embrace and for the most point, it seemed to be working. Rachel mused as they claimed to be very formidable, a sly smirk traced her lips before she landed another kiss. Her fingers rounding their thigh to pull them close. "All evidence to the contrary, my fräulein~." she replied, the soft giggle made her heart leap with excitement. Inciting such a cute sound, she wanted to earn more just as she had in the ring with those adorable moans of theirs.

Just as the German pulled them into a kiss the question rang in her ears. The thought of a wager, she had considered it with her game but the possibility of wagers with their rematch or perhaps rematches, the model couldn't deny the excitement of the thought. "Of course. Wouldn't you say it makes the thought of winning interesting?" The German teases, locking lips with the Brit again to silence them both. Her left takes the place of her right by their hip, keeping them in place. Her right runs up their side, trailing along their arm before meeting their blouse and then their collar.

Rachel was to enticed with the could he's and possible would be's of their night. Ellie seemed to get comfortable with the model, that was a good sign in her eyes. She didn't feel that they had the inclination they had to more so, it felt they wanted to. Rachel uttered a soft moan into their kiss, teasing the Brit who had returned her kiss wholeheartedly her thumb met their heated cheeks. The German could feel herself heating up, her core igniting a flame that began to burn her entire being. In the back of her mind, she had to hold some restraint, she could assume that both her and Ellie were hungry and she'd hate to deprive anyone of a meal.
_________________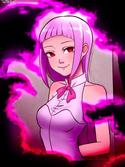 LilyStar




Posts

: 894


Join date

: 2018-02-27


Age

: 26


Location

: Your heart



Rachel had been rather quick to call her bluff, drowning out any further rebuttal the Brit may have given under tender affection. While the German may have worried earlier just how well the two might get along with the change of settling, surely the ease in which she wrapped the other woman around her finger would set her mind at ease. While each encroaching touch was met with a wiggle or a squirm, Ellie made no move to stop Rachel only sighing softly with each gentle stroke and kiss.

"What should we wager?" She inquired dreamily between kisses, foolishly leaving the choice of such matters to the woman pulling he strings. She wet her lips, eagerly as she stared back at the model. Had the other woman not intertwined them so, Ellie likely would have let herself be placed on her back along the couch with the German free to climb on top of her. She placed her hands lightly on the other woman's hips, timidly feeling the curves of her side as their lips pressed together.

Hungry or not, she made no mention of food nor complaints to her hostesses' treatment thus far. She seemed content to stay like this forever, allowing herself to be kissed and caressed so long as it continued to be with such enthralling seduction. Rachel's moan was echoed by the Brit who seemed unable to contain herself as a few beads of sweat dotted her brow. Her fingers curled, gathering up the bottom of the German's T-shirt in her hands to cling onto making her knuckles brush the smooth skin beneath.


Yori




Posts

: 4566


Join date

: 2017-11-19



The German continued her advance, pressing her lips intently against the Brits to keep them silenced only letting up to breath for short moments at a time. She was caught in her own spell. A spell so easily cast that even she fell victim to its effects. Her finger tips roamed the polite Brits waist, dancing down their hips as it lightly bunched up her cute blouse. She wanted more, so much more but a hostess should take care of her guest first and her needs second. Rachel was quick to offer them another graceful swipe of her touchdown their hip, her thumb playfully caught in their pocket, she lightly tugs.

The new question of what the price of the wager would be compelled Rachel to think rather quickly of what she'd like. She'd offer them a brief pause to consider. A smile creeps onto her face as she looks down at the enthralled Brit. "Hmm, how about a date or perhaps another night like this? I wouldn't say no to either of those, would you?" She asks. The moan she produced with their next kiss hitched in her throat as she felt their touch along the curvature of her hip. Ellie was beginning to fight back only if a little. The German was excited, she wanted the goddess hiding inside the Brit to make herself known, a being she'd edge out if she had to.

With their moments enraptured with their mind numbing kiss, she felt her shirt bunched at the waist, bare knuckles against her back. Rachel decided to take her advance to the next level and slowly pushed up on her knee to pull herself into a straddle in the Brits lap. She couldn't even remember the last time she found herself here, seated in someone else's care but there she was, taking her throne. Her left hand began to twirl the woman's hair along her finger, her right now free of their pocket slipped under their blouse. Her fingertips lightky tracing their build along their hip and stomach. "We can always discuss wagers later though." She finally adds. "I'll make sure to give it my all to win again and again." Rachel states, losing herself in another kiss.
_________________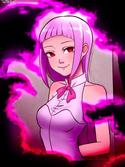 LilyStar




Posts

: 894


Join date

: 2018-02-27


Age

: 26


Location

: Your heart



"I don't think I'd mind that..." Ellie muttered softly between kisses, speaking without her usual careful and considerate filter. She wasn't thinking as she normally would, acting as she normally would. It was as if Rachel had her under some manner of spell, plucking at strings to make her dance to whatever tune she liked. It was no secret between these two, not after her humiliating loss in their last match just how easy it was to exploit the lavender-haired girl's weaknesses but she was almost eager to let it all unfold with her as the part of a willing victim.

She gasped softly between their lips as Rachel brought herself over top of her with a straddle, sinking into the cushions as her hostess loomed dominant over her. A soft coo escaped her lips, leaning her head into the fingers which delicately played with her silky hair. The mischievous fingers slither into her blouse seemingly went unnoticed until their tips began to roam. The intimate contact received a head flush of red in her face as she found herself leaning closer, wanting to feel that hand upon her body, wishing it would roam where by all accounts it shouldn't.

"Just try…" The brit's low whisper purred in a low rumble, though her words seemed to be without claws as Rachel claimed her lips again. She folded under the embrace with a low moan shared between them. Her hands slipped around behind the german, idly traveling the small of her back and along her hips just to feel other woman's body on top of her.

Yori




Posts

: 4566


Join date

: 2017-11-19



Page 2 of 3 •
1, 2, 3
Similar topics
---
Permissions in this forum:
You
cannot
reply to topics in this forum