Who is online?
In total there are
25
users online :: 0 Registered, 0 Hidden and 25 Guests :: 2 Bots
None
Most users ever online was
418
on Tue Jul 30, 2019 9:51 am
Champions & #1 contenders
Melanie needs a Debut♡
Tue Mar 21, 2023 10:29 am by Leon564
Comments: 0
Match search
Tue Mar 21, 2023 5:20 am by GrandAkumaShogun
Looking for a match for any of my three guys. If interested feel free to get in touch and we discuss ideas for a match and either plan out who will win or wing it. If you want info on each the links are below.
Takeichi Mori
Takeshi Kawai
Imai Cosmo
Comments: 0
Friction ( toys ) match wanted
Fri Mar 17, 2023 11:45 pm by Coolgirl1999
Yep! That's right I want my first match to be a toys match! I'm wondering if there's any woman brave enough to take me on!!!
Comments: 0
Page 1 of 3 • 1, 2, 3
Match Type:
Smother Match
Victory Conditions:
Victory can only be obtained by knocking your opponent out via smother two times.
***
Double debuts were a common occurrence in the AFW, but they never failed to generate hype. The potential to see two newcomers go at each other, busting out moves that they'd never seen before, bringing something fresh to the table? The element of surprise made for a good draw, and management often used these bouts to strengthen the middle of their show, something to make viewers come along to the half hour mark. Like a mystery box, never knowing they would get inside.
This particular match was a special one, too, and an exception - most often these double debuts weren't special matches, just standard affairs. A smother match like this was most often something you'd see on a PPV. If they were busting it out for a first meeting, it was a strong hint towards what sort of wrestlers the two fresh faces would be and what they'd be bringing to the table.
Lucky for them, they wouldn't have to be held in suspense much longer.
The lights dropped across the stadium, enveloping the crowd in darkness, but not silence. Throw the gloom, a haunting melody began to play, along with a soft, soothing voice. White strands of lights, flickered here and there, briefly illuminating a tall female figure at the top of the ramp.
"We can fight our desires, ooh
But when we start making fires
We get ever so hot, ooh
Whether we like it or not
They say we can love who we trust, ooh
But what is love without lust?
Two hearts with accurate devotions, ooh
What are feelings without emotions?
I'm going in for the kill
I'm doing it for a thrill
Oh, I'm hoping you'll understand
And not let go of my hand
I'm going in for the kill
I'm doing it for a thrill
Oh, I'm hoping you'll understand
And not let go of my hand…
The lights came up, illuminating the ramp with their glow, and there, at the top, stood a towering figure, hands on hips. Her body was well-built, muscular, but only to the point where none of her femininity was sacrificed, as if she had been handcrafted to preserve every inch of her bodies' natural beauty. She stood, proud, hands on hips, wearing a white leotard and thick black boots that came up even past her knees, making her imposing figure even more so.
And there was, of course, the hair. An electric blue shade, tied high in her signature style. The crowd broke into cheers, because they recognized her right away.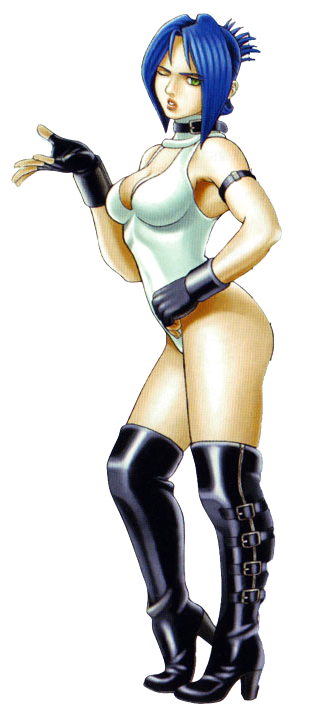 Blair Dame had come to the AFW.
The international wrestling star was an old face, one that many long-term fans recognized, and the older ones were all too willing to fill in the younger ones as they went. She had to admit, it was heartwarming to receive such a reaction, but she didn't let it show as she made her way down to the ring with proud, regal strides, moving past the outstretched hands. As the lights came back on in full, she made her way up the steps, walked onto the apron, and stepped through the ropes, one leg at a time, making sure that all those in attendance had the perfect view of her favored asset.
With her music dying down, she sauntered over to her corner with folded arms and subtle sways of her hips, taking position and leaning against the turnbuckle...facing away from the entrance. A slight sign of disrespect, a show that it didn't matter who she was up against, wasn't the least bit concerned. The sooner they began their games, the better.
Last edited by acuyra on Sun Nov 28, 2021 1:13 am; edited 1 time in total
_________________

acuyra




Posts

: 19142


Join date

: 2014-02-14


Age

: 36


Location

: Charlotte, North Carolina, WOOOO!



Daisy Petals was backstage, getting ready for her first fight in AFW. The princess was no stranger to fighting, as she practiced both boxing and kickboxing, before settling on wrestling. Part of the reason wrestling was her favorite, was because of the wider variety of moves she could preform. In particular, Daisy had developed quite a fondness for smothering foes under her prominent posterior. As silly as the notice may seem to some, the monarch was an expert at booty-based combat.
She had already developed quite the record back at LAW. Seven opponents had fallen victim to her bumping, squishing, and smothering backside, and Daisy had no intention of stopping now. However, she had lost to one foe prior to this match, who ironically enough, ended up facesitting her into defeat. It was no surprise that she definitely preferred to be doing the smothering, despite what assets her adversary was also bringing to the table.
After giving her plump behind a smack in the backstage mirror, Daisy would enter AFW Arena. Plenty of subjects from her kingdom had come to cheer her on, much to the royal's delight. She planned on earning the praise off plenty of AFW fans tonight, making herself known in another wrestling industry. Her spunky, lively entrance theme came on, revealing the princess in all her glory.
Daisy was wearing her typical tight, orange attire, which did an excellent job of showing off her curves. With a crown that managed to stay on her head, no matter how much she tussled, Daisy Petals made her way to the ring. Her curvy hips shook from side to side, as she made her way down the ramp. Her subjects and fans who knew her from LAW, cheered loudly in response. Princess Petals had a well toned upper body, and a pretty beefy lower body. Her large glutes, of course, being her greatest asset.
Alas, Daisy entered the ring. In front of her stood a curvy women with a white attire and blue hair. She looked formidable enough, not the the thicc monarch was particularly impressed. "Hi, I'm Daisy!" She called out. "Don't take this the wrong way, but I can't wait to smother you under THESE cheeks!" Ms. Petals would turn around, giving her ample backside a smack to tease her adversary, waiting for the match to start.

dddyb




Posts

: 15


Join date

: 2021-04-26


Age

: 21



Blair Dame didn't bother watching her opponent's entrance, but she could hear the music, and it was enough to paint a poor picture on its own. The music was upbeat, playful, joyous, bombastic, and utterly irritating, with its screeching guitar and whining synthetics. It was the sort of music that would set her teeth to grinding in a normal sounding, but in an arena, blasting from every loudspeaker, echoing endlessly, it was practically a torture.

A poor start. She sighed, closed her eyes to cope, and waited.

She did not have to wait terribly long, as her opponent was at least prompt in making her way to the ring. When she spoke, Blair finally deigned to look her way, though only by glancing over her shoulder. What she saw was a woman in an interesting, if somewhat farcical outfit, a regal parody of an outfit with all the accouterments, including the crown. What stood out most, however, was her ass, a backside that 'Daisy' seemed quite proud of, and not without reason.

"Daisy." She repeated the name with a soft laugh as she turned around and leaned against the corner. There was something familiar about it, as if she'd heard it before in wrestling related matters. She didn't devote too much focus to figuring it out, however, and let the moment pass.

"Blair Dame." She touched her chest and strode forward, making sure to put her physique on display with each step "And I don't take offense. Since that won't be happening, there's no offense to take." She raised her fists, brought her knee up, and moved into the classic Muy Thai stance, as the referee called for the bell to ring.

"Let's begin."

_________________

acuyra




Posts

: 19142


Join date

: 2014-02-14


Age

: 36


Location

: Charlotte, North Carolina, WOOOO!



After teasing her opponent, Daisy Petals finally got Blair Dame to look back at her, even if it was just a glance over her shoulder. The princess didn't quite appreciate her foe's dismissive body language, but she let it go, for now. At least she would finally turn around, when Daisy introduced herself. The monarch listened, as Blair did the same, giving a clever response to her playful trash talk and approaching Daisy.

Now that Princess Petals was face to face with Ms. Dame, she could finally get a good read on her. As a fellow smother user herself, Daisy could already tell Blair Dame liked facesitting opponents. Despite this she carried a professional, elegant, and graceful tone, especially for someone who liked to shove her butt on faces. Daisy, who was a lot more spunky and silly with her smothers, found this quite interesting.

"Haha. We shall let our booties decide on that." Daisy retorted, meeting Blair in the center of the ring. She took on a similar fighting pose to her adversary, with her fists up and knee raised. However, Daisy's was a classic kickboxing stance, with was perhaps considered a less classy, but still equally effective martial art.  Alas, the bell would finally ring. And with that should Daisy would make the first move. Quickly swinging her raised leg, Daisy would attempt to nail the side of Blair's face. The royal was kicking this off quite literally, by going for a roundhouse kick!

dddyb




Posts

: 15


Join date

: 2021-04-26


Age

: 21



Right away, Blair saw0066ff things in Daisy that she liked, that she could even respect. She was vivacious and bold, confident in her abilities, with a fine, strong body. The mark of a warrior queen, never wanting for strength, holding herself high with pride befitting a worthy wrestler. Whether or not the pride was deserved, she couldn't yet say, but its presence was rare enough.

She reminded Blair of herself at that age, not unlike the way she was at her best days. Though, even back then, she wouldn't have worn so gaudy an outfit. No such thing as perfection, truly.

"We shall." She tightened her fists, closed her stance, tensed her arms - her instincts told her Daisy would be coming at her first, and, as usual, they didn't fail her.

The younger woman lashed out, bring her leg high and sweeping it fast. Blair threw her upperbody and left it fly past, avoiding it by the thinnest margins, close enough for her to get a good impression of the power in those thighs. Instead of a full retreat, however, she responded in kind, bringing her leg out and shooting her heel forward, attempting to nail her opponent in the chest and send her back a few steps.

_________________

acuyra




Posts

: 19142


Join date

: 2014-02-14


Age

: 36


Location

: Charlotte, North Carolina, WOOOO!



Before Daisy went forward with the roundhouse kick, she noticed the sharp focus in Blair's eyes. That combined with Ms. Dame's professional fighting stance, let Ms. Petals know her adversary may very well dodge. And she was right. Though the kick did nearly hit. And Blair likely felt a light gust from the sheer force behind the avoided strike.

Luckily, as a skilled striker, Daisy maintained her balanced. She quickly brought her leg back in, now on two feet once more. Princess Petals repositioned herself just in the nick of time, as Blair was responding with her own kick. Though it was close, the monarch managed to catch Blair's leg, stopping the kick in its tracks. "Gotcha!" Daisy held her opponent's leg firmly in both hands, before making her next move.  

Daisy Petals would then yank Blair Dame in, before immediately turning her body. Thrusting her powerful hips backwards, Daisy attempted to nail her opponent with a big butt bump. Daisy's plump derriere was just as noteworthy of a weapon as her fists and legs, and the monarch was hoping to introduce Blair to that fact!

dddyb




Posts

: 15


Join date

: 2021-04-26


Age

: 21



Hm. This was interesting.

There hadn't been anything wrong with Blair's technique or timing, but she had underestimated her opponent's ability to recover after such a strike, getting back into position far faster than she could've accounted for. Daisy was already showing some exceptional skill, better positioned and poised than she could've anticipated. Where had this one trained, she wondered? What style was that?

Intriguing questions, ones she could suss out as they progressed, but for now she had the task of dealing with the problem - namely, Daisy had caught her leg, showing some impressive quickness and reflexes. It would've been the simplest matter to pull away, and Blair was in the process of doing just that, when her opponent yanked her forward, and rammed her in the gut with that rump she was so proud of.

Justifiably proud, too. The blow hit with enough impact to knock the wind out of her, made her stumble, and she nearly hit the ropes. But she kept her footing and straightened up soon enough. She could endure.

She moved in again with a hardened face, more wary of Daisy than she was a moment ago, and lashed out again. This time she brought her left leg up and chambered it, the beginning of a side kick. Instead of letting that fly, she leaped to the side and made it a feint, instead raising her other leg and shooting a roundhouse towards her opponent's chest.

_________________

acuyra




Posts

: 19142


Join date

: 2014-02-14


Age

: 36


Location

: Charlotte, North Carolina, WOOOO!



The mighty backside of Princess Petals, nailed Blair right in the abdomen. HARD! Daisy watched with pride as her opponent staggered back, almost hitting the ropes behind her! Daisy had very powerful hips and her strong butt could send foes quite the distance. A less skilled opponent would've definitely hit the ropes, probably tumble down as well. However, Blair was certainly more formidable than that, as she recollected herself, to go back on the offensive.

The monarch prepared, as Blair approached her with a look of greater conviction. It seemed that Ms. Dame had become more weary of Daisy's striking and countering skills. As a result, Daisy's opponent would attempt a faint on her. And it worked. Daisy was distracted, attempting to counter the side kick faint. But Blair hopped over to the side, leaving the princess open and unprepared for the roundhouse kick.

"Uggh!" The royal grunted out, before also staggering back a bit. However, Daisy too recollected herself. Now that both girls had given each other a taste of their skills, she was more fired up than ever. "Haha! Not bad." She admitted, before charging at Blair in a grappling stance. Ms. Dame had previously avoided crashing into the ropes, but now Daisy was attempting to muscle Blair back to them!

dddyb




Posts

: 15


Join date

: 2021-04-26


Age

: 21



Blair's kick connected, a clean strike, and she was prepared to follow up right away. She went into motion the moment her feet touched the ground, leaping in to seize the moment. An opening had been made and she needed to seize it before it closed.

Ah. Wait.

She came to a halt in mid-step and retook her standing stance, as Daisy recovered far faster than she had expected. The woman was resilient, able to bounce back from an attack well. Impressive, really, though, she wasn't about to admit such a thing out loud.

The two of them had a better measure of their abilities, now, and so the fight could begin in earnest. The younger woman wasted no time on her side, coming straight at Blair, seemingly undaunted by the size difference between them. Not without good reason, either. As the two of them clashed, Blair could feel the power in her smaller opponent's form, rubbing against the muscles, the raw strength in every move she made. The two of them were either even, or so close that it couldn't be told in such a contest. She was pushed back a few steps, but drove her foot down hard into the canvas before they hit the ropes, putting them at a standstill.

That meant it would come down to a matter of skill, and Blair was confident in hers. With Daisy in close, she went on the offensive right away, bringing her leg up and aiming a knee strike at her stomach. Another one would come right after that, hitting in quick succession, followed by a hard push forward to gain more ground.

_________________

acuyra




Posts

: 19142


Join date

: 2014-02-14


Age

: 36


Location

: Charlotte, North Carolina, WOOOO!



It didn't take long for Daisy to come charging back at Blair, no doubt surprising her opponent, even if she wouldn't admit it. Blair retook her stance, preparing for the monarch, who would plow right into her. Daisy Petals was pretty strong, able to force her heavier, older, and taller adversary back a few steps. The princess had been able to muscle her way through many of her pre-AFW matches, but Blair ultimately held her ground.

It was clear both woman were pretty even in raw power, and they fought in a similar matter as well. Once Ms. Petals realized they wouldn't make it to the ropes, she decided to preform knees strikes on Blair. However, her opponent beat her two it. "ACK! Hey, I was gonna to th-Ow!" The princess grunted, as the Blair's knee impacted her gut twice. Finally, her opponent opted to push her, sending her staggering back a bit.

Daisy normally let her body think for her. But in this case, it seemed a clever plan was an order. After rubbing her belly a little, the monarch would rush forward, in a similar stance like before. However, this time she would maneuver down last second, sweeping one of her strong legs in a quick motion. The princess was attempting a leg swept, hoping to trip Blair, wanting to proceed from there.

dddyb




Posts

: 15


Join date

: 2021-04-26


Age

: 21



Page 1 of 3 • 1, 2, 3
Similar topics
---
Permissions in this forum:
You
cannot
reply to topics in this forum