Who is online?
In total there are
59
users online :: 1 Registered, 0 Hidden and 58 Guests :: 2 Bots
Underdog21
Most users ever online was
418
on Tue Jul 30, 2019 9:51 am
Champions & #1 contenders
Melanie needs a Debut♡
Tue Mar 21, 2023 10:29 am by Leon564
Comments: 0
Match search
Tue Mar 21, 2023 5:20 am by GrandAkumaShogun
Looking for a match for any of my three guys. If interested feel free to get in touch and we discuss ideas for a match and either plan out who will win or wing it. If you want info on each the links are below.
Takeichi Mori
Takeshi Kawai
Imai Cosmo
Comments: 0
Friction ( toys ) match wanted
Fri Mar 17, 2023 11:45 pm by Coolgirl1999
Yep! That's right I want my first match to be a toys match! I'm wondering if there's any woman brave enough to take me on!!!
Comments: 0
Page 2 of 3 •
1, 2, 3
*The explosion of anguish that rippled through Haru's slender frame sent an ineffably pleasing tremor of sadistic delight through Cobra's backside. However, he disregarded it in favor of continuing to bombard the unsuspecting blonde with a surplus of powerful moves, his next one easily interpreted as a bit excessive.*
"Thisssss won't hurt too much, I promisssse~" *Rolling onto his side, the golden and green anaconda snatched Haru by his glorious, radiant hair and slid his body across the length of his broad shoulders, clutching the base of his neck along with the center of his inner calf for a kneeling torture rack, designed to bend and break the hapless rookie!*
Spoiler:

TPC30




Posts

: 276


Join date

: 2021-03-02



Haru was on his side, desperate to try and coax air back down his bruised windpipe. Cobra was cleaning house, a result the heads of AFW no doubt were expecting. A payday was a payday, but it didn't mean Haru was just going to go down after one shot, hence his kick out and refusal to tap out.

Fingers wove through his blonde hair, snagging it and dragging the barista up and onto Cobra's shoulders, his spine being bent hard once more in the torture rack, earning broken cries from the amateur! Yet despite the agony, his hand clenched into a fist, hammering down at anything he could reach, namely the chiseled chest of his opponent.

SleeperAgent94




Posts

: 3337


Join date

: 2015-05-05


Age

: 29



*Continuing to viciously tug and yank against Haru's extremities, Cobra suddenly felt a strong pain against his midsection from the relentless, unguided flailing from his desperate victim- One of the shots managed to discombobulate Cobra's stance, forcing him to dump him sideways and off of his surprisingly broad shoulders!*

"Ggrrrrh!" *He plaintively snarled, hobbling backwards a few feet before finally catching himself against a nearby corner.* "Ssssseemms as though you've got more fight in you than I initially assssssumed~" *He hissed under his breath, taking this rare opportunity to regain a sliver of his energy.*

TPC30




Posts

: 276


Join date

: 2021-03-02



Haru could barely believe that he managed to slip out of Cobra's clutches like that, his feet hitting the canvas with a slight wobble before he managed to right himself. His body ached terribly from the stretches and submission holds.

Not wanting to pass up on this golden opportunity, Haru raced behind Cobra, wrapping his arms around the man's waist in a tight grip! With a mighty heave, the Barista lifted the man up....back...and down with a heavy crash, showing off a beautiful german suplex that planted the man on his upper back!

Still, Cobra kept the waistlock applied, not content to let Cobra go just yet

SleeperAgent94




Posts

: 3337


Join date

: 2015-05-05


Age

: 29



*Still momentarily stunned by the previous blow he had sustained, Cobra was more like a sitting duck in his current situation- One that Haru seemed obstinate on introducing to the mat in the most brutal of ways!*

"Hhnnnh?!" *Feeling a strange pair of arms latch themselves across his midsection, Cobra frantically tried to squirm away, but it was a fruitless attempt- He was promptly hoisted skyward and dunked into the ground, causing the audience to uproariously cheer!*

"THUD!" *Was the agonizing noise Cobra's sleek figure made as the move was flawlessly executed, causing his legs to twitch from the debilitating pain!*
Last edited by TPC30 on Thu May 20, 2021 2:44 pm; edited 1 time in total

TPC30




Posts

: 276


Join date

: 2021-03-02



Haru gave a hard twist, rolling the pair over again to drag themselves up once more. It proved difficult, between Cobra's twitching dead weight and his own body screaming for relief, it proved a devil of a time to regain his footing. But that he did, squeezing his opponent again before hauling him up and over for ANOTHER german suplex, albeit a bit sloppier than his last one, but the effect was the same!

SleeperAgent94




Posts

: 3337


Join date

: 2015-05-05


Age

: 29



*As his cumbersome body refused to cooperate with his brain's signal to regain even a sliver of his previous composure, Cobra felt the familiar embrace of Haru's demanding arms, forcing him to feel his vengeful ire by slamming his backside against the unforgiving mat with an extremely harsh* "WHUD!" *Which goaded out a forlorn* "Hssssss!" *From the disoriented blonde.*
Spoiler:
"Ggguuhh..." *Trying to figure out what runaway eighteen wheeler just plowed overtop of him, then had the audacity to back over him the discombobulated Cobra clung to an adjacent rope, trying to regain even a single iota of his consciousness.* "Sss...sssshit..." *He tried to shake the lingering cobwebs out of his attic, the audience chanting* "Holy shit! Holy shit!" *From the spectacle they had just witnessed!*
Last edited by TPC30 on Tue Jun 01, 2021 11:17 pm; edited 1 time in total

TPC30




Posts

: 276


Join date

: 2021-03-02



Haru was running low after that last slam, his arms feeling sore from lifting Cobra's dead weight up and about. Still...he had enough to finish this! Dragging himself up to his feet, a hand reached out to grab hold of Cobra's gear. One tired yank brought him closer, enough for the barista to haul him up for the Meteroic Impact!
Bearing Cobra's weight over his shoulders, he let out a scream as he deadlifted the big man up, spinning around before dripping him HARD on his back with a ring rattling crash!!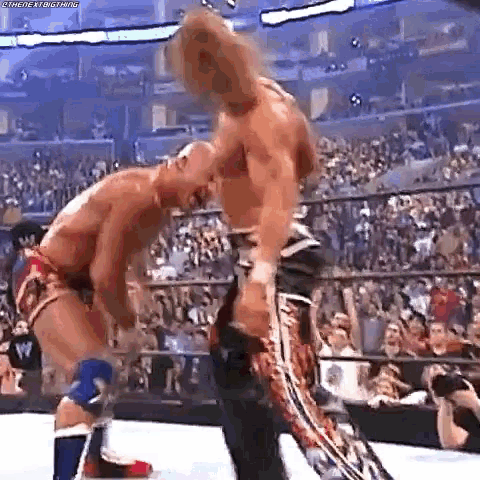 SleeperAgent94




Posts

: 3337


Join date

: 2015-05-05


Age

: 29



*As his taut body continued to ache from the unprecedented amount of pain he had sustained, Cobra was suddenly hoisted skyward as if his body were eclipsing the sun, only to be brought back down to earth for a devastating* "WHAM!" *That sent tremors of pure anguish across the entire landscape of the arena!*

"GGGGUHH!" *The enormity of the impact caused the anguished snake to remain completely sedentary, both superstars remaining relatively motionless against the platform. The audience began to ubiquitously chant* "Keep it up! Keep it up!" *While the moderator slipped underneath the bottom rope, tending to them both.*

"ONE!" *He shouted, holding up a single finger to indicate the countdown. If neither wrestler was capable of making it to their feet, then the fight could potentially end in a draw!*

TPC30




Posts

: 276


Join date

: 2021-03-02



Haru's cheek was pressed against the canvas after the finisher, having to dig down deep enough just to lift the fighter up for the slam! He still needed to seal the deal with a definitive pinfall! Maybe he could turn this bad luck around and get a win in his first AFW match!

Pushing himself up onto his hands and knees, he crawled across the mat, collapsing beside him and draping an arm over Cobra's chest! THe ref spotted the pin, sliding in and slapping the mat to count the cover, the crowd on their feet for a potential upset!

"ONE!" the crowd chanted!

SleeperAgent94




Posts

: 3337


Join date

: 2015-05-05


Age

: 29



Page 2 of 3 •
1, 2, 3
Similar topics
---
Permissions in this forum:
You
cannot
reply to topics in this forum