Champions & #1 contenders
The Austrailian Mudslide is Back.
Sat Apr 21, 2018 6:20 am by Softsquad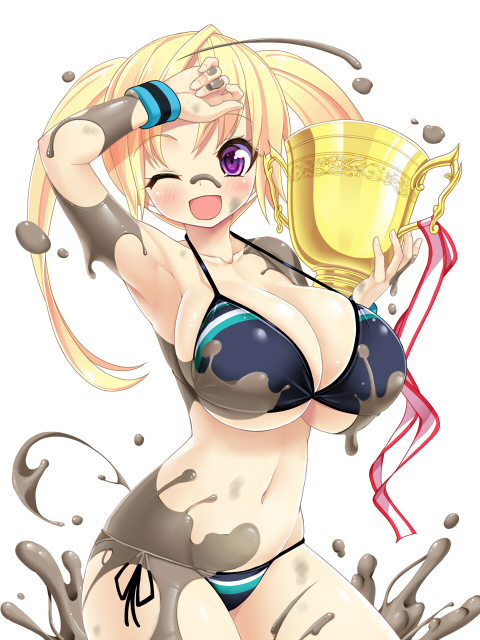 Granted that most of you won't know me or remember me, but I've had a few matches here and there some time ago. Well I think its time to become a regular around here and try to have some fun again, but at the same time keep coming back. Anyway I think its time to jump into some matches with Zoe Taylor, my mud wrestling character from Australia and get her back into the squared circle. Furthermore I will update my characters as I think some proper changes need to happen.
So if anyone would …
[
Full reading
]
Comments: 4
Looking for debut thread.
Sat May 12, 2018 9:28 pm by Hedgehawk
Hello All.
I am looking for a debut for my girl Trinity (http://www.afwrpg.com/t18107-trinity-cordova#495678).
This doesn't have to be a match, it could be a gym battle, interview or anything else. I just want something to help get Trinity off the ground. If you wanna plot feel free to reply to this message or fire me a PM.
Many thanks in advance and thank you for reading my message,
Hedge
Comments: 0
Page 1 of 5 • 1, 2, 3, 4, 5


Don't do it, Taylor. Just be cool.

Taylor meandered around the back half of a convenience store in a Tokyo shopping district. It was a boxy little storefront set in between a toystore that sold all manner of smaller versions of things made from brightly colored plastic, and another similar-looking store that sold smaller plastic versions of half-naked women in weird costumes in weirdly seductive poses. She was pretty sure there was manga and stuff in there too, and when she walked by the open the smell reminded her of insence burning in someone's basement. She wasn't there for nerdy toystores, though.

She was there, for, well... She was there trying her best to look casual and trying not to look like she had any interest at all in the magazine rack on one side of the store. She walked past it and kept going until she was standing in between shoulder-high racks filled with candy and sweets in brightly colored, nauseatingly kawaii packages. But she didn't really eat candy, so it was hard to look interested.

She looked up and caught the cashier's eye. They both quickly averted their gazes, the guy not wanting Taylor to know that he'd been staring at her since she walked in, and Taylor not wanting the guy to notice her wandering around the store with no apparent interest in buying anything but a strong vested interest in that side of the store.

This was ridiculous. Taylor should just buy a bottle of water with like, a cartoon octopus on the label or something in a bottle shaped like a light saber, and be on her way. She sighed heavily and started for the door, and nearly walked straight into someone on their way in.

She stopped dead. She felt a momentary surge of apprehension, the old reaction to seeing an old coworker, but she quickly relaxed. Things were different now. She quickly broke into a big grin.

"Hey!" She said. "What's up, Angel?" She gave the girl a playful shove on the shoulder.
Last edited by 1167 on Thu Dec 05, 2013 4:36 am; edited 1 time in total
Angel sighed, in a half-bored, half-grumpy manner as she maneuvered her way through the crowded Tokyo streets. She wasn't really fond of the city; there were too many people to get in the way. Not like back at home, where you could walk down the street without a thousand tiny Japanese folks getting in your way. Not like it mattered, really. She didn't really have a destination in mind today. She was only wandering the streets of the city out of boredom, really.

She was taking a day off from the entire AFW. No fighting today, no training, no working out. She needed a break from the stress of it all. Ever since she had joined the company, her life had started moving at a complete blur for her. She needed a few days to calm down and take it easy. Good thing she had managed to save up some vacation time. Let some other poor girl get their ass kicked tonight, she thought to herself as she pushed her way past a group of what looked to be several short-skirted schoolgirls. in Tokyo though, who could tell? Chances are, they were all pushing thirty...and there was a good chance they weren't girls either. What a weird city.

She sighed again, deciding she was thirsty. Her eyes glanced over the nearest businesses and buildings, finally landing on what looked to be a small convenience store. Again though, who could tell? As long as she had spent in Japan, she could still barely read or speak the language. It didn't matter though; she had managed to keep herself from getting into too much trouble with her lack of mastery over it so far. It wasn't like her career as a wrestler required her to know Japanese anyway!

She slipped her hands out of the pockets of the plain grey hoodie she was wearing and began to more forcefully push her way through the people, approaching the storefront and reaching for the door to open it and make her way in. She had to pause though as she entered, nearly knocking over someone in her haste to enter the store. She blinked for a moment, before the recognition of the other girl kicked in.

"Taylor?" She grinned, giving her old coworker a slightly harder shove in return. "The hell are you doing here, chica?"
Taylor laughed and stumbled back a step.

"Oh, uh, nothing. I mean, just getting some water," She said quickly, and then felt even more awkward when she realized that her story didn't hold up. "Which I forgot to get..."

She turned to walk back into the store with Angel. "What are YOU doing here, huh Esa?" She said and gave Angel an even harder shove sideways. "I know that look, man. You look like me, up until a four or five months ago. Crazy Friction bitches got you down?"

Taylor remembered spending a large amount of time wandering Tokyo for no reason other than to get away from all things AFW. It was a process that repeated all the time, and she didn't remember it with any fondness.
Last edited by 1167 on Thu Apr 25, 2013 11:20 pm; edited 2 times in total
Angel grinned wider towards Taylor, leading her into the store. She stumbled slightly to the side as Taylor shoved her again. "Better watch it...I'd hate to have to kick your ass right here in this store." She teased, giving the girl a playful wink.

"Just out trying to enjoy some time off," she was quick to answer. "Life's been so busy, things have been moving so fast since moving to Japan. I still haven't really had much of a chance to check out the city." Of course, her wide grin started to deflate a bit at the second part of Taylor's question, Angel looking away from her quickly. Her shoulders lifted up slowly, then dropped back down into a shrug. "Kind of. Sorta. Just still bummed about that match at the last pay-per-view, y'know?"
"Oh, yeah, totally." Taylor nodded. She'd had just as many let downs in her wrestling career as she had successes.

She wandered into an aisle lined with a random assortment of canned fish, analgesics, and feminine hygiene products. She was looking at nothing in particular as she strolled around.

"Man, my match right before we had our thing with the teams was probably the worst match of my life." She said with faraway eyes, as she recalled the details. "Akashi really sucked, but it was one of the best things that's ever happened for me. Sarah Gatt wasn't all that, she hits hard but she's a one-trick pony. But Chigusa..."

She picked up a box of pain pills with a fat cartoon cat on the box and turned it over in her hand. Were they for cats?

"That match fucked me up, man," she said. "Then once the team thing blew up in my face, I just... had nothing left by the time we met. No big deal, though," she smiled at Angel. "What I'm saying is that I took it easy on you. Anyway, fuck Heather, man."
Angel didn't seem as aimless in her movements as Taylor did. She listened to the girl's words, heading right towards the refrigerated shelving in the back. She reached out, snatching a cheap looking bottle of water, then turned back to Taylor. "Don't even get me started on the team thing," she smirked, shaking her head slowly. "That tag match was a complete mess, and my fight with Adrian wasn't much better." She had to stop herself from sighing again. She still wasn't pleased with how the match against Adrian had turned out.

"Gatt though...heh. She got lucky in our match last summer. Only reason she won was because it was a lame hardcore match. What a joke, right? Had her on the ropes though. If we fought again, I know I'd stomp the floor with her." Angel went quiet for a moment, chuckling quietly under her breath. She knew she could handle Sarah fine if the day ever came that they had a rematch. It was the stupid twins that she was worried about though.

She glanced back towards Taylor again, just in time to hear her final words. Her smile crept back onto her face as she shook her head towards the blue-haired girl. "That's funny, chica. I was going easy on you in that mess of a match. But yeah, you're right. Fuck Heather."

She paused again, then let out a loud laugh. "Then again though, who in the company hasn't, right?"
Taylor laughed. "Exaaaaactly," she said with an exaggerated nod, shaking her hand back and forth, palm up, fingers curled to grip an imaginary shaft. "Or, I guess it's..." For a moment she tried using two fingertips like a DJ.

"No, no, here's my impression over every goddamn chick that's ever fought Heather," She said, her voice getting louder and more New York-y. She grabbed a package of maxi-pads from the shelf and tucked them between her legs, holding onto it like she was holding imaginary hair and pulling it tightly against her crotch. She bent her knees and gave it three quick pelvic thrusts accompanied by a moan, which drew the attention of the cashier as quickly as if she were suddenly lit up by a spotlight from a police helicopter.

She spun to face the cashier and snapped. "WHAT THE FUCK ARE YOU LOOKIN' AT- I'm just messin' with you. Keep it in your pants." She broke into a grin. "It's what they're FOR, anyway, right?" She said, holding up the pads.

"Want 'em?" She held them out toward the cashier. "Do YOU?" She grinned wider as she held them out to Angel. She flung them at Angel and bounced the package off her chest.

"Well, wait, wait, that's everyone in the company that's ever had a match with her except me. I just got broken ribs, isn't that a bitch?" She laughed.
Angel leaned back, folding her arms over her chest, watching Taylor's antics. The girl seemed like she was in a good mood...either that, or she just really hated Heather. Angel couldn't blame her though. She most definitely wasn't fond of Heather in the least.

She let out a light grunt as the box of pads struck her chest, bouncing off to the floor below. "Not what I got when I fought her! I got bruises, cuts, scrapes, and several days stay in the hospital." She looked thoughtful for a moment. "Could have been worse though, chica. Could have had her fat ass sitting on my face. Could have gotten one of her nasty diseases." She laughed along with Taylor, shaking her head again. "Could have had her somehow pull out a win on me! Wouldn't that be great?"

She set her bottle of water down on a nearby shelf, the placed her hands on her hips, puffing out her chest as her own voice raised up. "Heather Sunderland! Champion of the AFW! Hero to men and women alike!" The cashier glanced over to Angel now, who seemed not to pay him any attention. "But not champion for long! As soon as someone took a seat on her face, she'd hand the belt right over to her!"

"Shortest title reign in AFW history, right?"
"Maybe that's why I couldn't beat her. I'd never put this ass anywhere near that disgusting face of hers. It'd be like sitting on a locker room floor!" Taylor laughed out loud. "Can you imagine that though? Your new Friction champion, Heatherrr Suuuuunderland!" She switched places with an imaginary second person.

"Dude, can I sit on your face?"

She switched back and was Heather, holding an imaginary belt on one shoulder. She sighed, her shoulders drooped, and she hung her head. "Okaaaaay..." She said, and held out the belt. "Wait, wait, no, I guess it'd be more like..." She cupped her hands over her mouth and said "Okay..." accurately simulating the effect of someone's ass muffling her voice. She laughed.

"Okay, breaking my own ribs and getting my face rearranged by the biggest skank in AFW was pretty goddamn low, but it still wasn't as bad as the match with Chigusa." She said, shaking her head. "It was almost as bad as losing thirty title shots in a row. Almost." She gave Angel a sly grin and then meandered over to the massive case of unidentified bottles of things that Taylor assumed you were supposed to drink.

"Everything is so much better now," she said. "Like, since quitting, I mean. I feel like I can relax for the first time, like, ever. I'd never, ever go back, man, you couldn't pay me enough. I don't even miss it."
Last edited by 1167 on Thu Jun 19, 2014 6:57 am; edited 1 time in total
Angel followed Taylor over to the various racks of bottles, grabbing her own water bottle along the way. She laughed along with Taylor at her Heather impression, then tried not to frown at her jab about losing so many title shots.

"That's the difference between us, I guess," she spoke up, giving her shoulders another slow shrug. "I don't think I could quit. I enjoy the damn job too much." She couldn't help but smile as she went on. "I like being the center of attention. I like going out into the ring to everyone cheering and screaming for me. Makes me feel like I'm on top of the world, y'know?"

She grabbed the top of the water bottle, starting to unscrew it. She was thirsty, and she planned on paying for it anyway. "I like being in the spotlight. Nah, I love it. Now, I'm not like someone like Natalia that just has to be the center of attention all the damn time. I could probably learn to live without it. But...you know. It just feels so damn good to get out there and kick someone's ass while the crowd goes nuts for me."

"I guess I just love the thrill of it..." She smiled sheepishly, raising up the bottle to take a long, refreshing drink from it.
Page 1 of 5 • 1, 2, 3, 4, 5


---
Permissions in this forum:
You
cannot
reply to topics in this forum