Who is online?
In total there are
59
users online :: 11 Registered, 0 Hidden and 48 Guests :: 2 Bots
acuya
,
Daaharu
,
Kelsea
,
killcarrion
,
KillerV
,
Mystery Dragon
,
Old_Man_Tai
,
OmegaVan0
,
Person
,
RadiantKarna332
,
SimplyMoon
Most users ever online was
390
on Tue Jan 02, 2018 2:02 pm
Champions & #1 contenders
Kawaii Opportunities
Sun Jun 17, 2018 3:04 pm by Daaharu
Hey, guys!
With the kawaii title match at Avalanche taking on an interesting wrinkle with the interruption by the Brat Pack, we are moving forward with the overall kawaii storyline, and at this point I'd just like to take stock of what kawaiis are out there that are interested in participating in a cohesive storyline.
Can't make any promises about titles or what exactly each girl's given role would be. We can talk a little more about the specifics of where the story is going soon, but I …
[
Full reading
]
Comments: 1
Match or RP?
Wed Jun 13, 2018 3:48 pm by Lotuswarrior
I'm just looking to do something while I wait for match replies. Really want to get some characters cemented a bit with a rival or some interactions with other characters here.
If anyone wants to do something hit me up.
Comments: 0
Match for Takeichi
Tue Jun 12, 2018 6:13 am by GrandAkumaShogun
So with my other two guys having their own matches I figure I should do something with my first character on here, Takeichi Mori. If anyone is interested feel free to post here or get in touch through a pm so we can plan it out. I can either have Takeichi remain a jobber or begin to work him towards being a more serious competitor.
Comments: 0
Page 1 of 8 • 1, 2, 3, 4, 5, 6, 7, 8


2 out of 3 Falls count anywhere match.
No Holds barred Rules.
Gain a fall by submission or Pinfall.
Cecilia was still in her locker room, getting dressed up for her next match that was against one of her strongest rivals and one of her closest friends and...somewhat of a sexual interest of the Hardcore Queen's the elusive Sharaiya. A Girl that hadn't managed to beat Cecilia officially but their last match was counted in Cecilia's eyes as a defeat as it ended with her being raped by Sharaiya and somewhat humiliated by the skilled hentai fighter. Though that had been both fun and humiliating today just wasn't the day for Hentai fun. Or well maybe just a little...but this match was more meant for the Hardcore side of Cecilia as she wanted to show Sharaiya who of them was the better wrestler.
Cecilia draped her belt over her right shoulder and looked on in the mirror, being finished with buckling up her outfit and all. This match was her second time as a heel wrestler so she had to make sure to show Sharaiya just what it meant to cross paths with the Hardcore Queen. Even though she liked the girl there was no way that she was going to hold back against her. " Time to beat up a Russian." Cecilia said to herself as she then stepped out of her locker room and walked up to the curtains, where she awaited the time for her entrance.
[url=http://www.youtube.com/watch?v=T69DASLTHzA&feature=youtu.be:1i4lctxt]Soon enough The Hardcore Queen's music started up[/url:1i4lctxt] and with that she stepped out onto the ramp as the arena was colored in blue from the blue lights that made a dark and nice shading to the place, smoke covered the ramp as Cecilia raised her fist to the crowd and received a massive amounts of cheers from them. It seemed that even though she was classed as a Heel wrestler they seemed to like her quite a bit still. Which was a nice thing for Cecilia at least, soon she began to walk down to the ring and as she walked pyrotechnics fired off after she had passed an area as a salute for the Hardcore Queen.
Soon she reached the ring and slipped in under the bottom ropes and stepped up to the center of the ring, facing the ramp as she would smirk and place one arm on her belt and the other on her hip, " Come on down Sharaiya, It's time for you to get your pretty ass spanked." Cecilia said as she licked her lips at the thought of that.
Last edited by 2237 on Wed Oct 10, 2012 10:30 am; edited 1 time in total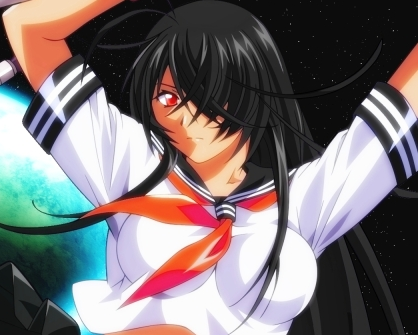 Her first match as a heel again, for some reason she just couldn't think about it that way. She always followed the path of a honorable warrior, but one woman fucked that up so much that revenge was all that mattered to her. Sadly, that revenge wasn't going to happen, at least not until she gets strong enough to beat that girl down in a fair match, though she figured she could, she still wanted to make this girl fear her in every way. She look through the mirror at herself, her usual deep purple hair was not pitch black, her gentle blue eyes now had red contact lenzes in them, she truly looked like that heel from before again. Perhaps it was fate that she would have to face Cecilia first as a heel again. The girl was strong, she had the looks, the talent, she was utterly dangerous, but this time Sharaiya was not going for the soft, hentai side, not even the wrestling side anymore, she was going to start kicking like crazy again, those same kicks that have knocked out various wrestlers by it's unstoppable force, now Cecilia was going to be shown what it was like.
She adjusted her fingerless gloves, straightening and tightening it around her hands, narrowing her eyes as she looked at herself. " Honor and Pride will have to wait.. Revenge is all I'm after. " She then closed her eyes and let a soft smirk appear upon her lips, remembering the first time this has happened, just to gain vengeance on someone she had almost wrecked them to the point of no return, the ' fallen angel ' that had rescued her before this happened. " Is this fate, Seraphim? " She would say to herself, backing away from the mirror and turning around, heading for the backstage. " Is it fate that I am following this patch again? " She would give a signal to the staff members to begin her new theme, dressed in a similiar outfit, but this one was black, a darker version of her usual schoolgirl outfit.
" Maybe fate is twisted by the ones that can change it. " She would shake her own head, clearing herself from her thoughts as her new [url=http://www.youtube.com/watch?v=CHaWvKAukrs:1hpgreig]Intro theme[/url:1hpgreig] started, making her way to the entrance. " This time, you're not around to tell me that, Seraphim. " She would step up the platform, hearing the gasps from the crowd as they saw the new Sharaiya, who was staring straight ahead at the ring, at Cecilia, due to the lights, it was making it look like the eye that wasn't covered by her air, was glowing brightly, frightening some of the crowd as she walked down the ramp and soon rolling into the ring, flipping herself back up onto her feet and making her way to the opposite turnbuckle that Cecilia was standing at, not even giving Cecilia any words, just rubbing her wrists and cracking each knuckle tenderly, getting herself ready for the match.
Last edited by 131 on Wed Oct 10, 2012 12:43 am; edited 1 time in total
Cecilia smirked as she looked on as Sharaiya walked down towards the the ring, she checked out the girl as her newly colored black hair got the attention of the golden haired wrestler, she eyed Sharaiya and her eyes trailed down to check out the girl's outfit and body. Which seemed to have changed a bit in tone as the girl's outfit had black stripes and a darker tone and of course Sharaiya was sporting red eyes now, eyes that seemed to share a color with Cecilia's own red eyes.

When her sexy rival had made her way down into the ring the Hardcore Queen would hand over her belt to ref-girl and then step up to Sharaiya, standing right in front of the girl with a mere inch between the girl's breasts as Cecilia would smile at the Russian as she placed her hands on her hips and then opened her mouth. " Well well well, what have we here ? A new sexy look for the mighty Lunatic Princess ?" Cecilia asked with a smile on her face as she leaned in a bit closer with her face towards Sharaiya's face.

" I like it darling. But You're not gonna like this match. Cause it's gonna end with a humiliating defeat for you." Cecilia said as she would move up and press her breasts up against Sharaiya's large pair and squish their breasts together. " Hope you don't mind. But this is payback for the little humiliation last time we fought." Cecilia said as she would quickly attempt and wrap her arms around Sharaiya's body and then lift the girl up and spin her around to try and slam Sharaiya's back down against the mat with a belly to belly suplex before the bell rang.
Unfortunately for Cecilia, Sharaiya already had a plan and set it in motion the moment their breasts bumped together. She had figured Cecilia was going for that, it wasn't the first time that Cecilia did that, and honestly if Sharaiya was not back to being a heel, she would have enjoyed this contact. Though Cecilia was more then just a close friend to Sharaiya, she was not going to let that stop her, suddenly jump back to create a good amount of distance between them, though not enough for a kick to land.

Sharaiya twisted her body to the side, bringing one leg from the mat and suddenly shot out her leg forward and towards the Northern Queen, aiming to slam her foot straight towards Cecilia's gut to try and stun the girl long enough for another attack, though she highly doubt that, Cecilia was strong after all.
Cecilia was surprised when Sharaiya jumped back almost as soon as a bit of body contact was formed between the two of them, which was something that from what Cecilia knew of the Lunatic Princess was very unlikely of her. " Wah ?" Cecilia let out as the girl jumped back and avoided her wrapping her arms around the sexy dark haired Sharaiya. Though she didn't just only jump back she also shot her leg up and managed to catch Cecilia with a kick quick to the Hardcore Queen's gut.

" Guah!" Cecilia let out as Sharaiya's swift kick from one of the girl's long beautiful legs smacked against her gut. The Northern Queen though wasn't taken out by just that, but she did stumble back a bit and one arm covered her stomach. " That wasn't very nice..." Cecilia said as she would then shake her head before she would quickly try and rush Sharaiya and go down low to attempt and spear the girl and slam her down against the mat.
Sharaiya had to stay cool and collective, even after that clean hit she had given Cecilia. The Northern Queen was strong, almost like a berserker, she had to use every trick against her and knew what was going to happen when she had Cecilia in this range. When someone likes to fight alot, they will run towards their opponent to do something like a clothesline, spear or just tackling them to the ground. Judging by Cecilia's hasty approach and the position of her body, she was going for a spear. Sharaiya knew she could not dodge it from this range, She tried to angle her own body to the side so she could wrap her arm around Cecilia's head, still taking the spear had one and crashing to the mat, though she tried to slam Cecilia face first into the mat with her.
Cecilia ran up towards Sharaiya and managed to catch the girl, pressing her shoulder against Sharaiya's stomach but when she felt how the sexy dark haired princess wrapped her arm around her head the tactic of the Hardcore Queen changed. She no longer tried to bring Sharaiya down to the ground, instead she planted her feet down against the mat and put the brakes on her own movement after which she would keep her arms wrapped around Sharaiya's body and then push upwards attempting the lift Sharaiya over head and throw the girl backwards.

What Cecilia was going for was attempting to make Sharaiya's back slam against the mat as she attempted to throw her rival back with a Northern Lights suplex, one of Cecilia's favorite moves and one that she knew quite well how to use. After she threw it she would bring herself and attempt to place Sharaiya in a pinning attempt for a early try to pin the Lunatic Princess.
Sharaiya was left blinking in confusion when Cecilia put a full halt onto her charge and Sharaiya was left standing on the tips of her toes before Cecilia threw her right over her head and back down on the mat. Though it was enough to stun the Lunatic Princess for a while, the count wasn't going to come down as Cecilia would want. The Referee came for the first count, but in a burst of strength and speed, Sharaiya kicked up with her entire body, trying to throw Cecilia right off her and break the pin so she could get back upon her feet.
Cecilia's move seemed to have taken Sharaiya by surprise and that was just what she wanted it to do. It served as a great way to catch Sharaiya unaware which was just as she wanted though when she actually put the girl in the pin she knew that it wasn't going to get her the win but she had hoped for at least a two count on the surprise aspect of it all, but she had to be satisfied with a one count because Sharaiya broke out and pushed Cecilia off her.

Cecilia took a moment and rolled away from Sharaiya before she would push herself up to her feet and then look over at her rival, all before she would rush the girl and then attempt to push her leg up of the ground to shoot a kick to the side of Sharaiya's body, attempting to catch her rival in the ribs with a firm kick.
Sharaiya, still in perfect health, flipped herself onto both feet and stood back up straight, glaring over at Cecilia, who was already on the attack and calculated carefully what to do next. If she'd dodge, she'd waste too much time on her own attack, she would have to block and counter this, taking in a lesson of what Cerbera had once told her, she turned to face Cecilia completely and saw the leg coming right up and towards her side, making direct contact to it though Sharaiya quickly wrapped an arm around it, just to keep it there for a little while longer.

Then, the Lunatic Princess made her move, suddenly jumping up and twisting her body to the side, sending her own foot straight to the side of Cecilia's head.
Page 1 of 8 • 1, 2, 3, 4, 5, 6, 7, 8



Similar topics
---
Permissions in this forum:
You
cannot
reply to topics in this forum