Who is online?
In total there are
41
users online :: 11 Registered, 1 Hidden and 29 Guests :: 1 Bot
acuya
,
Cy_Man
,
kerflubble
,
killcarrion
,
kiranar
,
Lobo
,
LunarWolf
,
Maxy
,
Person
,
Talimaya
,
XSirenX
Most users ever online was
390
on Tue Jan 02, 2018 2:02 pm
Champions & #1 contenders
Looking for a few matches.
Thu Mar 29, 2018 11:14 am by Yori
As the title suggests, I am in the market for a few matches, specificly for...
Luna
- Vampire themed wrestler who prefers to play with her food before she sinks her fangs in. Prefers no DQ or hentai stipulation matches. Preferred in a more dominant role, fills a more heelish role.
Reiko
- Punk upstart with more experience fighting in the streets than the ring. She takes part in hardcore matches primarily, using weapons far better than she can wrestling techniques. Strictly heel.
Leah
- …
[
Full reading
]
Comments: 6
A match for Brie.
Thu Apr 12, 2018 5:15 am by BootsForSpooks
A week ago, I made my own character named
Brie Schuhart
. I thought it would be best to post a notice here. I'd like to have an opening match with her.
I also understand that a lot of characters here have story lines. I'd like to start one for her too. Her opponent can lead to a romance, it can be something that turns into a grudge over time, or it can be something more complicated. Whatever the case, we can discuss. I'm open to a lot of things. We'll make it work.
[
Full reading
]
Comments: 5
Taking on a thread or two
Wed Apr 11, 2018 12:50 am by LtLukas
I don't really have a plan in mind. If you want to throw something out there, be it a storyline, match, or whatever, I am willing to entertain it. Let's talk about it.
Specifically, I have two ladies that I want to have a thread with:
The inimitable
Jessica Wright
. With her, I am leaning for some more hardcore stuff: no DQ, shit outside the ring, coffin matches. But I am willing to listen to anything that you want to try.
The lovely
Eka Guramishvili
. She has a new flag-based outfit. So maybe …
[
Full reading
]
Comments: 0
Page 1 of 14 • 1, 2, 3 ... 7 ... 14


Wild Oil Wrestling match.
Victory via: Making your opponent tap, or cum twice in a row.
Rules: Don't leave the pool of oil. ( Leaving the pool of oil will end with the one who left being disciplined by the other girl. In what ever way the other girl sees fit. Such a result will however end the match in a draw.)
Cecilia had just finished putting on her new black bikini, one that she had decided to wear for her promised rematch with her now good friend...and a girl that she had gotten more than a little crush for right now, Sharaiya. A woman that was much a warrior like herself, and not only that she was a beauty and someone who knew how to drive Cecilia wild.
But all that just made Cecilia want to face Sharaiya even more, the fact that she enjoyed the girl this much meant that there was nothing better than throwing down with her again. Whilst Cecilia had won the first match between the two, managing to put Sharaiaya in a breast smother and force the girl to tap out to the Northern Queen, she had promised Sharaiya the same night that they would have a rematch.
Cecilia made sure that they wouldn't be very disturbed in thsi match, their ring was located in the back, with no crowd or anything a like, it was a special match that one had to pay for from AFW's online services to watch or get a hold of. Cecilia stood ready now at least, her black bikini was really showing off her beautiful body and strong physic, as well as her Hardcore title belt showed off her skill, seeing as she was the one that obtained it. That was something that she didn't have last time she had faced Sharaiya, in fact it wasn't long after she had beaten Sharaiya that she became the Hardcore Queen.
Cecilia already stood by the pool, awaiting Sharaiya and the start of this match, the ref girl walked over to Cecilia to take the belt from the girl, but she waved her off for now, still wanting to wait for Sharaiya to make her entrace and have a short little chat with the girl before their match began.
Last edited by 2237 on Sun Aug 19, 2012 4:07 pm; edited 1 time in total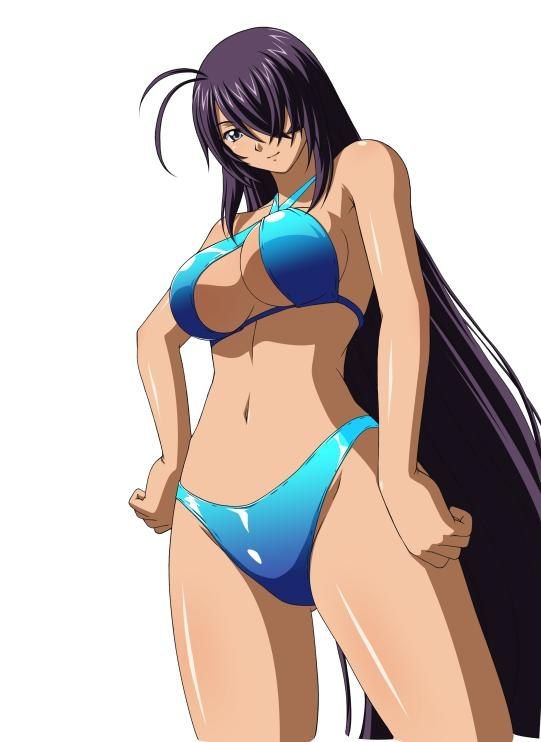 Sharaiya had taken some more time to find the right bikini set for this match. She was quite excited about it to face Cecilia again, she wanted a rematch and show the Northern Queen that she was alot tougher then she looked, she just had to make sure she was ready to face Cecilia this time, rather then just going with the match and then being bested again. Cecilia was strong, sexy and beautiful, a deadly combination that had struck Sharaiya off guard before and ended up being smushed against Cecilia's chest. Sure it was nice but not something she wanted to be in when it was a match.
The Princess wore a much more beautiful bikini set then she usually did, adorned with the colors of the ocean that blended in nicely with eachother, watching herself in the mirror and adjusting certain parts before she would finally head towards the area their match would start, finally coming into view of the referee and the Northern Queen and made her way towards them, rubbing her own neck for a few seconds until she would come to a full stop right infront of Cecilia, giving her a sweet smile. " My my, trying to intimidate me with that shiny belt of yours? " She joked, then stretched up to puff out her large chest, though it wasn't her attention to show it off, it did so nicely. " Still, congratsulations, you deserve it. "
Cecilia watched as her very beautiful opponent walked down towards her, she waited for Sharaiya to walk all the way up to her and she would look the girl up and down, checking out her amazing body as she puffed out her chest, Cecilia couldn't help but match Shariya's motion and start to puff her own chest out, not wanting to be out down by Sharaiya...even though Sharaiya had a slightly larger chest than Cecilia did.

" No it's not really meant scare you at all, sexy" Cecilia said as she would move up a bit closer to Sharaiaya, just so the edge of their breasts started to press against each other, their breasts not squishing against each other but softly rubbing against each other. " Thanks Princess~ " Cecilia said as she would smile towards Sharaiya, " You yourself deserve a title, but you're not getting one tonight. Not a title and not a win~" Cecilia said as she would lean in a softly whisper into Sharaiya's ear, this would cause their large breasts to press against each other, squishing against one another as Cecilia whispered. " But If anyone has a chance to topple the Queen...it's the princess~ " Cecilia said as she would then walk back and go over towards the pool of oil.

While in she felt the strawberry scent of the oil, she would move down to her knees, the oil was quite high in volume, the oil going all the way up Cecilia's thighs as she was in the oil. She took off her belt and handed it to the ref-girl and then motioned with her arms for Sharaiya to come into the pool with her. " Come~ Let's do battle once again...may the best warrior win."
When her breasts were pressed against Cecilia as a result of the Northern Queen came close, she could not help but smirk from the feeling, even when the girl came to whisper in her ear, she would tilt her head to the side and lean in to whisper right back in her ear, also making her breasts press harder against Cecilia's pair. " The princess will be the queen then.. I don't need a title, but I'll take a win over you over any.. " She would then watch Cecilia started to move to the pool and turned to follow her, doing a few final stretches as she listened to Cecilia.

The Lunatic princess mimiced the Northern queen, getting down upon her knees and into the oil, she was suprised that the oil was deeper then she thought it would be, and this was certainly different from any other match she had done. Now in the pool with Cecilia, she would chuckle and bring her arms up in a grappling stance. " Prepare to serve your princess. "
Cecilia smiled quite a bit at Sharaiya as the girl told her that she had no need for a title, all that she wanted was a win over Cecilia. Somehow this flattered Cecilia quite a bit, to the point that a faint blush could be seen on Cecilia's cheeks. Somehow Sharaiya just had some way to her that could just take hold of Cecilia. Cecilia knew very well that Sharaiya was one of few that knew what she liked and how to take the Queen down.

Cecilia waited for Sharaiya to move down into the pool and would watch as she beauty got ready, she would then retort to Sharaiya about and earlier comment. " The princess will learn her place tonight~ and that is under the Queen." Cecilia said with a little giggle as she would slide up closer to Sharaiaya, where would would then nod and say, " I am always prepared to service you my dear...a beauty such as yourself needs to be played with every now and then~" Cecilia would then attempt to move her hands up and initiate a collar and elbow tie up with Sharaiaya.
Sharaiya knew that Cecilia was better then her in terms of arm strength, so the lock up she presented would only mean that the princess would be in an dissadvantage. She inched forward having a plan in mind and waited untill she was abot t take a hold of Cecilia or the lock up. She hen suddenly moved low and closer, trying to rise up once she was about to cras into Cecilia and lunges her arms up, trying to wrap them around Cecilia's head and pull her down right betwe her breasts as Sharaiya would kneel back up straight.
Cecilia was just about to grab a hold of Sharaiya and lock the two of them in a sexy struggle, but just as she was about to grab onto Sharaiya, the girl moved down and then slipped out of any hold that she could think of, and before Cecilia was even ready to do anything other than to let out a little surprised " huh ?". Sharaiya had already taken a hold of her and force her down in between her large breasts, wrapping her arms around Cecilia's head and pressing it in between Sharaiya's magnificent breasts, locking her in a breast smother.

Cecilia let out a muffled shout as her arms went around Sharaiya and she tried to wrap them around her to lock the girl in a tight bearhug, her tongue would then also, start to lick at the sexy Lunatic Princesses breasts as she tried to give something back to the girl.
It didn't matter for Sharaiya that the Northern Queen had her arms around her body, she had the advantage over her and she was going to use it. She began to move Cecilia's head a bit so her nose stuck out of her cleavage, letting her breathe but only the pleasant passion fruit scent that Sharaiya had strategically put on her cleavage, which would surely distract Cecilia with it's sweet fragrance. She would plant her lips gently upon the top of Cecilia's head before she would whisper out sweetly.

" Go ahead, my dear.. I'm giving you permission.. " A moan came from the Lunatic Princess when she felt that tongue dragging against her breasts, only making her hold Cecilia a bit tighter.
Cecilia soon felt how Sharaiya began to shift her hold a bit, allowing Cecilia to start to breath again, with that she would softly look upwards at Sharaiay's face and then take in a deep scent, the smell was intoxicating and it was making her want to keep lapping on Sharaiya's breasts and keep it all up, but her hands would still want to play and they would start to move down and grab a hold of Sharaiya's lovely bikini bottoms, something that Cecilia would take a hold of and then attempt and pull them upwards, attempting to give Sharaiya a nasty wedgie.

As she would keep up her licking of the Lunatic princesses breasts and would try to then pull the girl down, so that her back would be in to oil and most of her body as well.
Sharaiya thought she had her under control, with the way she kept Cecilia breathing against her breasts, breathing in only the princess's fragrance as she teasingly rubbed her breasts into the poor girl's face. She wanted Cecilia to realize that Sharaiya wasn't going to stop this time, she wanted to show Cecilia she was more then worthy, she would give the hardcore queen a run for her money!

Still, that wedgie suprised Sharaiya, causing her to loosen the hold only slightly, though that wasn't something Cecilia was going for and soon she fell into the oil, coating her back, shoulders and limbs off course from the impact and the after splash, though she quickly tried to wrap her legs tightly around Cecilia's waist to keep her against her while tightening the squeeze of her arm to smother Cecilia now!
Page 1 of 14 • 1, 2, 3 ... 7 ... 14



Similar topics
---
Permissions in this forum:
You
cannot
reply to topics in this forum