Champions & #1 contenders
Summer Splash interest in Natasha Loclear?
Mon Apr 09, 2018 11:30 pm by daemongirl
Well my girl hasn't missed a summer splash yet, would anyone be interested in a match with her? Open to just about anything match wise, just pm me!
Comments: 1
Been Out with the Flu
Sun Apr 22, 2018 7:47 pm by daemongirl
Just letting those I have threads with know I've been out with the flu since early last week, but I will be back to posting tomorrow.
Comments: 0
The Austrailian Mudslide is Back.
Sat Apr 21, 2018 6:20 am by Softsquad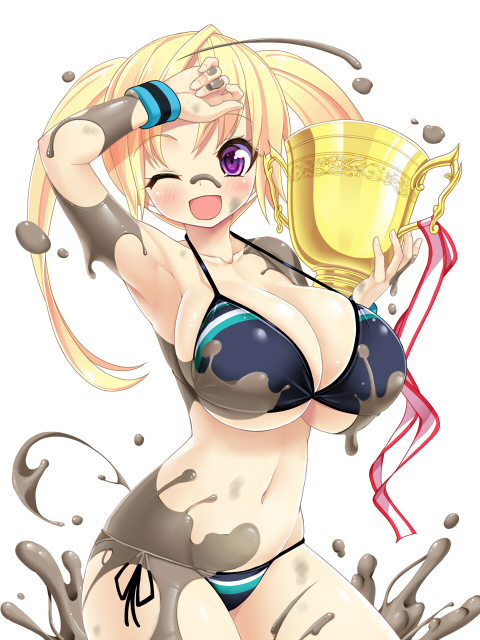 Granted that most of you won't know me or remember me, but I've had a few matches here and there some time ago. Well I think its time to become a regular around here and try to have some fun again, but at the same time keep coming back. Anyway I think its time to jump into some matches with Zoe Taylor, my mud wrestling character from Australia and get her back into the squared circle. Furthermore I will update my characters as I think some proper changes need to happen.
So if anyone would …
[
Full reading
]
Comments: 0
Page 1 of 6 • 1, 2, 3, 4, 5, 6


Semi-ero match: Standard match rules. ( Hentai moves and erotic attacks are not prohibited and in fact are encouraged.)
Win via: Pin fall, submission and KO.
Cecilia was waiting in the Avengers locker room at the moment, a special locker room dedicated to the members of her faction, a faction with a very single minded purpose so far, well that and a few more that weren't exactly official purposes, Cecilia was just putting on her blue top halter top, after doing so she pulled her hair up and freed it from the entrapment of the halter. Cecilia tossed her hair around a little and then straightened it out with her hands, Looking herself over in the mirror a little as she smiled at herself and then went over to the bench, to place one of her booted feet up and start lacing them up and then doing the same with the other.
" Hmm I wonder what kind of opponent this Sharaiya is...is that a Russian name ? I guess I will try out some of my Russian in the ring and see how she responds." Cecilia said to herself with a little smile as she soon took a few steps and check herself out in the mirror, adjusting her attire a little as she then gave herself a light nod and walked out of the locker room, and began walking down the hallway and waved to the stage hands and most of the people she met in the hallway. Cecilia from time to time took the time to speak with them when she had nothing to do and had had gotten a pretty good standing with most of them.
When she reached the curtains that blocked the way to the ramp she bounced a bit on her toes and rolled her shoulders while she waited for the stage crew to get her entrance ready, when they gave her the signal Cecilia was ready. Her music started to [url=http://www.youtube.com/watch?v=jKwsS2DKWV8:1buuq3ai]play[/url:1buuq3ai] out of the speakers and the arena darkened before being covered in a dim blue tint. Soon Enough the music started up and Cecilia jumped out from the curtains, and when that was at the exact music that the theme really started up and the the first words were spoken, a blue lightning bolt stuck down right behind Cecilia. The girl raised a fist into the air and let out a war cry to the crowd, before she began to jog down towards the ring.
On her way she slapped a few of the peoples hands and then made her way up to the ring, she took a look around and then climbed up and and into the ring, where she would walk around a little and then move to the center of the ring, where she would raise a fist into the air, and hold that pose for a moment before she went to wave towards the crowd and then turn to look towards the ramp, awaiting this Sharaiya.
Last edited by 2237 on Thu Mar 01, 2012 3:05 pm; edited 1 time in total
Arriving later then usual, Sharaiya beckoned the staff to get ready for her entrance. She gave a two fingered sign at them, signalling that she needed atleast two minutes to get ready for the match. She walked to the nearest bench and placed her boot on it, retying the laces of each both before she started to straighten her clothes. She wondered what her opponent was like, the type of match wasn't something that was new to her, it became a much more ordinairy match then actual clean ones, but she wondered if it fit her opponent. She saw the staff member from the corner of her eye, giving him a thumbs up and moved away from the couch so she could go to the entrance and wait there.

She took a peak at the arena where her opponent was already standing in the ring. She couldn't get a good look at her but she figured she'd get her wish soon enough, especially since her theme song just blasted out from the speakers. Sharaiya straightened her clothes one last time before she would step out, facing her opponent and the crowd and marched down the ramp. She didn't really wanted to interact or pose too much for the crowd, she came here to fight for her own fun, not theirs, all they get to do is watch. That thought made her smirk but quickly tried to hide that, rolling into the ring and flipping upon both feet, being quick to look over at her opponent and examine her, well, mostly her body and soon enough, she spoke with a rather amused tone of voice.

" My first blonde, heh. I'm Sharaiya Drackanov, your opponent. " She brought her hand out to Cecila and held it open for her, as if going for a handshake. " Looking forward to fighting you. "
Last edited by 131 on Thu Mar 01, 2012 2:11 am; edited 1 time in total
Cecilia listened as a band that she was familiar with played through the speakers and soon enough she could see her opponent, from here she couldn't tell exactly how she looked in detail, but what she could say was that the girl had quite long hair, like she had had once before, the thought caused Cecilia to finger the ends of her hair a little and twirl it around her finger. She looked on as her less enthusiastic opponent, at least towards the crowd, made her way down the ramp, the closer she got the sexier she looked. Cecilia was forced to lick her lips when she saw the girl roll into the ring.

Getting an up close look at the girl she was cute the sexy thing, a beauty really, with dark hair and a pretty damn sexy figure, those legs were almost to die for. Cecilia made no attempts to hide the fact that she was looking this girl up and down, she even nodded a bit in approval of her opponents body. Cecilia began to move up a little closer and soon looked upon the girls face and stared into her eyes for a moment, " Oh ?" Cecilia let out with quite an amused tone as she wondered how many girls that Sharaiya had faced really, Cecilia thought about it for a moment then realized that she hadn't faced many blond girls in Friction herself, only one so far.

" It's a pleasure to meet you Sharaiya Drackanov, I'm Cecilia Northman. " Cecilia said as she didn't falter with her gaze, trying to get and idea of what kind of opponent Sharaiya was by studying her face and especially her eyes, seeing as the eyes were the gateway into a persons soul. Cecilia looked down when Sharaiya extended her hand, she smiled a little and thought She seems pretty nice...that coupled with that body means that I just hit the jackpot.. Cecilia went forth to accept the hand and shake it, " Same here! hope you're ready to lose." Cecilia said as she accepted the hand with a cute smirk on her face.
After shaking hands with her opponent, Sharaiya brought both arms up to stretch them and released a gentle yawn, puffing out her chest and standing on the tips of her toes for a few seconds, tensing up her body before she relaxed it by standing down again, massaging the side of her neck a few times before she would get into her stance. She was usually eager to fight once she meets an interesting opponent, which made her wonder how strong and skillfull her opponent really was.

She waited for the bell, being just a little impatient but managing to hide it, she would keep her eyes on her opponent, who said something that made Sharaiya chuckle and give a reply of her own. " You can dream about that after I won. " She brought her hands over her hands and brushed her hair back, then brought one hand infront of her face and the other close to her waist, taking her martial stance though nowadays, mostly used to wrestle with. She would, tilt her hand to the side and brought her fingers up and back towards her own body, making a ' come at me ' motion with them, which fortunately, gave a signal from the bell to start the match, taking a simple step back to create some distance between them, not attacking just yet, rather just wanting to see how Cecilia would attack.
Cecilia smiled a little as she looked on at Sharaiya, the girl let out a yawn and puffed out her chest, she did have to say that so far Sharaiya was really looking like an opponent she would like, sexy and seemed to be pretty nice and somewhat fun as well, it was all just down to how she got down in the ring now. Cecilia rolled her shoulders and then her head a little stretching her arms back and puffed out her own chest as she then gave Sharaiya a light smile and a cute wink.

Cecilia smirked at Sharaiya's response and took a step back, bringing her arms up and spreading her legs a little, placing herself in her grappling stance, one hand in face height and the other at stomach height. Cecilia smiled a little at her opponent when she was the girl gesture for her to came and attack, it was a very inviting offer, " Good luck to you." Cecilia said as she tried speaking Russian to Sharaiya, wanting to check and see if the girl was Russian and is she would understand as she flashed a little warm smile. Soon enough the blond beauty would being to inch her way closer to Sharaiya and act a bit careful in her movements, she knew so little of the girl, but from looks they were similar in size, Cecilia seeming to have the slight advantage of that. It could suggest that she was the stronger of the two, but she didn't know for sure.

Cecilia soon decided that she was gonna have to test and check, she would make a little gesture for a collar and elbow tie up and give Sharaiya a light smirk. She made her gesture and then tried to go in to clash with the girl and lock in the tie up, after which she would attempt and push and try to force the girl back, trying to check their strength in relation to each other, as well as getting a little bit of close contact between their sexy bodies.
Sharaiya was just as careful, she had to decipher wether or not this girl was a wrestler or a brawler. If she was the latter, it would be quite an annoying match to deal with. Still, when she heard Cecilia speak. Well.. Recent Russian, Sharaiya could not help herself but laugh softly at her attempt, giving her a nod and remained in her defensive stance. " I tebe togo zhe " She would reply, which basically meant ' same to you '. She followed Cecilia's movements carefully, her eyes taking in every advance in detail, though they halted when she noticed Cecilia gesturing something. The Russian smirked and gave her a quick nod and when the girl came to lock up with her, Sharaiya replied in kind.

After she clashed into the lock up, she began to push forward, though it seemed Cecilia went all out right at the start, causing her feet to skit backwards as the Russian tried to keep her ground but failing at it. She had to admit that Cecilia's power was quite admirable but she was no slouch. She pressed her fingers tightly upon Cecilia's neck and arm, wanting to secure her grip on the girl before she pushed forward with everything she had to offer. It was a rather nice lock up though, her cleavage was now in plain view if Cecilia would look down and she often pressed in such a manner that she could press her chest into Cecilia's and hold her ground for just a bit before she would start pushing with the strength of her arms.

Knowing that this might become Cecilia's win since her strength was in her legs rather then her arms, she decided to distract Cecilia, beginning to rub her thumb in circles over Cecilia's throat, a rather soft and comfortable feeling was what she creating while they remained locked up, though this meant reducing the strength in that arm just to focus on rubbing her throat.
Cecilia smiled as she heard Sharaiya speak Russian back to her, although she did blush lightly when she heard the little laugh that she got from Sharaiya before she responded, Cecilia could understand Russian better than she could speak, and she spoke rather well, not compared to a real Russian, but fair enough so that she could be understood, At least she didn't make fun of me or anything, So far I am liking this girl...Sharaiya, nice cool name as well.. Cecilia thought to herself as she then moved in for the clash.

Their strong beautiful frames locked up and Cecilia was quick to take the advantage, she seemed to have quite the strength advantage over Sharaiya in this match, as the girl practically skipped back when she pushed. Cecilia did find it a bit enjoyable, well more than a bit to be this close to Sharaiya's body, the girls was totally her type, long black hair, a sexy body, a cute face, and so far seemed to be rather cool in the personality department as well. Cecilia soon enough felt Sharaiya press down and stand her ground a bit better than before, " What was that about you winning ?" Cecilia teased out to Sharaiya as she and her were locked up, Cecilia glanced down to see the girls pretty impressive cleavage, and soon enough she would start pushing a bit more, using more strength than before and tried to make it so that their breasts would press against each other in the lock up.

Cecilia smiled a little as she looked into Sharaiya's eyes, " You ready to have some fun, Sharaiya " Cecilia said as she soon felt a rather pleasant feeling on her throat, the girl was rubbing it gently and it felt very comfortable, Cecilia purred out a question to the girl, " You think that will stop me~ " Cecilia let out as she would blink for a second then shake her head lightly, " Try again." Cecilia would let out as she would try and push Sharaiya back even further as she kept adding pressure and strength to the lock up, trying to get it in her favor again. Cecilia had undoubtedly enjoyed the rubbing quite a bit, it was rare for her to purr out her words like that to anyone.
It seemed that Cecilia was a resilient little angel, which made Sharaiya more interested in defeating her. She just had to push her more into this fight, literally. However, while she was thinking ahead of what she should do to Cecilia to counter this, did she feel her back hit the turnbuckle. She blinked and looked over her shoulder, seeing that she couldn't quite keep her ground as much as she had wanted and looked back at Cecilia. No doubt this was a position left alone and escaping was Sharaiya's first attempt.

She released Cecilia, drawing her arms back and instead tried to crouch herself low and roll sideways, wanting to get away from the blonde beauty before Cecilia would no doubt take advantage of her position, which would definitaly not serve the Russian well at the start of this match.
Cecilia was smiling while she pushed Sharaiya back, while their bodies were pushing against each other, she had almost not realized that she had pushed Sharaiya up against the corner before she stopped, not being able to push Sharaiya back any further she smiled a little at Sharaiya, and then the Russian let her go, Cecilia released her hold of Sharaiya as well, to be a fair sport and since you actually shouldn't keep pushing in the corner either, and Cecilia didn't have any reason to be rough or mean against Sharaiya, or try to push her further.

So after letting the girl go she watched her roll out of the corner rather quickly, Cecilia stepped back a little to clear herself from the corner as well and look over at Sharaiya. " Sharaiya. If you want to have some fun, then come at me with all you got." Cecilia said with a smile as she raised her arms up and looked really to fight, as she began to inch her way towards Sharaiya, being rather careful, all up till a last moment of course, where Cecilia would attempt and push herself of the ground and charge for Sharaiya, where she would try and drive her shoulder into the beautiful Russian's abdomen as she attempted to spear the girl and take her down to the mat.
Sharaiya was ready for Cecilia this time. She couldn't use the strength in her arms as well as Cecilia could, but her legs were something different. She allowed herself to be brought down upon her mat, laying on it while her legs would suddenly come to live and wrap them around her opponent's waist, locking her ankles together and putting in quite a squeeze upon the girl. At the same time she tried to snatch Cecilia's wrists, they were dangerous if left alone and in her new plan, she wanted Cecilia to be immobile enough to play with her.

If she could grab those wrists she would pin them behind Cecilia's own back and then quickly lock her arms around the girl's chest to put her into a double squeeze, which would squish their breasts together and their faces practically inches from eachother, something that Sharaiya liked. She not only wanted closeness with her opponent but also dominance, which was something the Russian really wanted over the blonde beauty.
Page 1 of 6 • 1, 2, 3, 4, 5, 6



Similar topics
---
Permissions in this forum:
You
cannot
reply to topics in this forum