Champions & #1 contenders
Highfly Flying Out Of Town
Tue May 22, 2018 1:31 am by HighFly
Hello everyone, I just wanted to inform all I have threads with that I will be gone from this coming Wednesday through Sunday. I won't be able to post consistently if at all during this time, but I will try to make up for it next week! I am sorry for the inconvenience to everyone.
Comments: 7
The Austrailian Mudslide is Back.
Sat Apr 21, 2018 6:20 am by Softsquad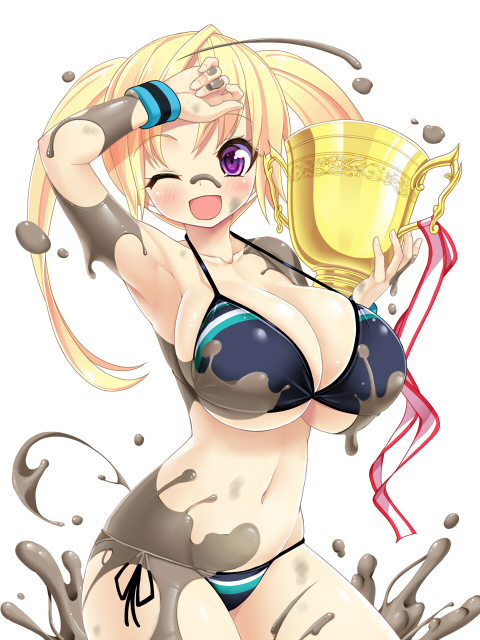 Granted that most of you won't know me or remember me, but I've had a few matches here and there some time ago. Well I think its time to become a regular around here and try to have some fun again, but at the same time keep coming back. Anyway I think its time to jump into some matches with Zoe Taylor, my mud wrestling character from Australia and get her back into the squared circle. Furthermore I will update my characters as I think some proper changes need to happen.
So if anyone would …
[
Full reading
]
Comments: 5
Page 3 of 6 •

1, 2, 3, 4, 5, 6


With each punch that slammed into Katya's pretty face Sarah felt a wave of pleasure wash over her, a big grin on her face as her fist drove repeatedly into her mouthy little victim. Katya seemed to now understand the situation she was in, and that pissing off the Queen of Brawl was no game. At least no game you had a chance of winning. Katya recieved as much mercy as the punching bag Sarah had decimated only minutes ago, only it wasn't sand that would soon come spilling out of Katya.

After a lengthy barrage of blows Sarah would finally let up on her assault, releasing Katya's face from her grip so she could get a good look at the damage she had done. She grinned at the results as Katya begged for mercy. None would be forthcoming.

Getting off the girl Sarah would grab her by the red top half of her outfit, and then use that to haul her to her feet. Still gripping her clothing Sarah would haul Katya up to her tippy toes, sneering at the Russian as she held her in her grasp. "You know, it's been awhile since I did a real 'negotiation'," Sarah chuckled. "It's really stimulating, isn't it? Two women locked in a battle of wills. Only I've replaced wills with fists to make even more fun." Sarah would then lean in close to Katya smiling at her. "Are you having fun?"
Katya was dizzy with pain, her face had head feeling numb and sore at the punches she had suffered. She moaned incoherently as she felt herself being yanked up by her top. Groggy, she wasnâ€
t sure if sheâ€
d even be able to stand upright, but it turned out not to be a problem - Sarah just held her up by her clothes, Katya dangling helplessly in awe of the redheadâ€
s strength.
Her blurred vision slowly came back into focus as Sarah taunted her.
"Smug bitch," Katya spat, scowling. "I will get you back for this, I will make you suffer double, I swear…"
Katya squirmed ineffectively in Sarahâ€
s grasp, having no chance of actual escape, but the petite Russian would still be able to turn her head around so she was facing the door.
"OKSANA!!" she yelled over her shoulder. "Ox!! Get your ass in here now!!"
Katya was a little perturbed that her backup hadnâ€
t shown already; Oksana was usually more professional than that. But this worry wouldnâ€
t stop the brunette from taunting her tormentor.
"See now, we will be having fun very shortly," she flashed a sarcastic smile back at Sarah. She couldnâ€
t wait for her partner to arrive, then they could punish this upstart thug together. "I brought some backup… I think your dumb ass will be very â€
stimulatedâ€
indeed," she crowed.
Sarah raised an eyebrow at Katya's sudden display of defiance. It was certainly a change from her pleas only moments ago. It made her think that maybe the small Russian had something more up her sleeve. Katya certainly seemed to be smart enough to come up with a plan that didn't just involve coming to Sarah and hoping that the Queen of Brawl would be cooperative.

Her assuptions would come to light when Katya suddenly shouted someone's name in the direction of the door she came from. This 'Ox' was apparently waiting right outside and had been since Katya arrived. Sarah kept her eyes on the door in question, but the seconds ticked by and no one seemed to be coming.

"Back up, huh?" Sarah repeated in a mildly surprised tone. "Damn. Wish I thought of that."

It was then the door would swing open, but Katya would be very dissapointed at who would step through. Two girls, practically identical to each other than their respective red and blue hair, would come sauntering through the doorway. They were Nha and Sha, the tag team Ancestor's of Isis, and well known employees of Sarah.

"Oh wait," Sarah said with a smile. "I did."

"Sorry we're late, Sarah," Nha apoligized upon arriving. Both her and her red-haired sister were dressed similiarly as Sarah, wearing sports bras and tight shorts along with MMA gloves, coloured to match their respective hair colours. They had apprently were going to meet up with Sarah in the gym for a joint training session. "Some big bitch was stopping us from going in. We had to teach her a bit of a lesson."

At that the red-haired twin Sha would drag in the woman in question by her hair, tossing her to the floor before them, revealing it to be none other than Katya's partner Oskana.
Oksana gave a pained grunt as she was flung into the room as part of the Ancestors of Isisâ€
dramatic entrance.
Watching all this from Sarahâ€
s grip, Katyaâ€
s face froze in shock and horror. The smug superiority she had felt had turned to nervous dread in her stomach. She gaped speechlessly as the cogs in her brain tried to process this development, not wanting to accept that Sarah had been one move ahead all along.
"I…. I…." she stammered uselessly, her confidence shot to pieces now.
Oksana was a little quicker at reacting to the situation; the big brunette was sore at her treatment by the twins, but after being tossed to the floor she managed to roll up into a crouching position. Oks looked from her attackers, over to her employer, not knowing whether to try and help Katya, or concentrate on defending her own ass.
Oksana waited urgently for some instruction, but Katyaâ€
s leadership wasnâ€
t exactly incisive.
"What… they were…. No way…" she jabbered. This had pulled the rug from under her, in a way that even Sarahâ€
s brutal punches hadnâ€
t quite done. The petite Russian swallowed hard. "Oh, shit," she finally surmised. Both her and her partner were out of their depth now, stunned and at the mercy of the Gatt girls.
Nha and Sha entered the gym the join the fun, with Nha taking care to lock the door behind them. They had caused enough commotion outside by roughing up the bigger girl before them, they didn't need anyone coming to investigate when things were just starting to get interesting.

Sarah chuckled as Katya's supposed backup was thrown to the floor, courtesy of her own backup. While Sarah would love to say that she had planned this whole thing that was not the case. The Queen of Brawl had no idea Katya would come to see her today, let alone that she had a bodyguard. After she had 'reserved' the gym she had been waiting for her girls to show up. Funny how things worked out sometimes.

"Oh shit is right," Sarah said to a now much quieter Katya, taking in her stunned silence with no small amount of glee. "Now, what did you call me before? A dumbass?" While her one hand held Katya up by her clothes, her other arm would rear backwards before it would be sent plowing straight into the Russian's exposed stomach with frightening power, then simply let Katya drop to the floor. "You can have fatty," Sarah said to the twins, looking down at Katya with a malicious grin. "Shorty's mine."

The Ancestors of Isis shared identical grins, and at their boss' approval turned their sights on Oksana. Both of them would take off rushing for the bigger woman, with the powerful Sha looking to deliver a strong punch into Oskana's midsection, with Nha swiftly following up with a kick to her face in a coordinated attack.
Katya felt a little bit sick and dizzy, and not just because of the punches sheâ€
d taken to the stomach and head. Roughed up, locked in a gym, outnumbered by Gatt Attack thugs and with no plan of escape, her smug sense of control had vanished, replaced instead by nauseating fear. She was starting to realise her situation could go downhill pretty fast now. As she was trying to take all this in, she felt herself being lifted into the air, then nailed hard in the abs, making her groan loudly in pain, and crumple onto the floor.
On her hands and knees, cowering at the feet of Sarah Gatt, she would paw at the powerful redheadâ€
s ankles, trying to get her bearings and pull herself up. "Please…" the winded girl groaned. "You donâ€
t have to do this…. I underestimated you… We can still make a deal…" she begged.
Meanwhile, Oksana fretted over whether she should try to help her poor partner. However, a punch to the stomach soon diverted her attention. The bigger girl gave an angry groan through gritted teeth. She wasnâ€
t completely out of it yet, though, and would try and bat away the kick aimed at her face, hoping to clear at least one of her smaller opponents out of the way so she could try to get some breathing room.
As Katya went down at Sarah`s feet the Queen of Brawl smiled. Just before delivering her punch she had seen the look of utter distress cross Katya`s face. Whatever plan or strategy she had when she came in here had gone straight to shit the moment Sarah came into the picture. She was a wild card in her own right. Her smile only widened when she felt Katya pawing at her feet as a gesture of mercy. She allowed her to do it. It was amusing after all. "Nononono," Sarah chuckled. "Deal time is over." Sarah would then reach down to grab two handfuls of Katya's hair and use it to pull her up on her knees.

"Ass kicking time starts now," Sarah would sayjust before she would rocket her knee straight into Katya's face.

Back with the twins they were still left to deal with Katya's hefty bodyguard, and while Sha had managed to score her blow Nha's would be knocked away from Oksana's face, much to the bluw twin's displeasure. Sha. however, was still within Oksana's defenses after dleivering her stomach punch, so they next thing the red twin would do was grasp the bigger woman's shoulder and reach down between her legs, and with a grunt of effort lift Oksana off the ground. Sha would easily be able to support the Russian's weight with her considerable strength, and when she was ready would drop her to the gym floor in a bodyslam.
"Woah!" Oksana cried as she suddenly, and unexpectedly, felt herself being grabbed, and lifted up into the air. Being a heavily built girl she wasnâ€
t used to being manhandled like this, especially from a foe like Sha, who she hadnâ€
t thought looked particularly strong.
"Gahh, stop, you freak!!" Oksana called, disoriented as she was slung over Shaâ€
s shoulder. She balled her fist and beat down on the red twinâ€
s body, but to no avail. Poor Oks winced as she was slammed downwards, connecting with the gym floor with a hard thud. The unforgiving impact rocked her plump body, leaving her floored, helpless, groaning in agony and rubbing her bruised body.
The huge crash of the power move made Katya look over from where she was kneeling, hanging by her hair, turning her head back only to be kneed hard in the face. The petite brunette yelped miserably, body going limp and crumpling back down to the floor. Katyaâ€
s head was reeling from these brutal blows, her pretty face felt numb and she was scared she was going to suffer some serious damage to her cute body here.
"Not the face, not the face…" she panted groggily, pleading with her attacker. "Iâ€
m begging you, Iâ€
ll do anything, please…" she gasped as the gym surroundings span dizzily around her. Both Russian girls looked to be in a pretty bad way right now.
After enduring Oksana's strikes and slamming the hefty woman onto the gym floor Sha regrouped with her sister, who converged on the downed Russian like hungry predators. "SHe called you a freak," Nha said with an amused chuckle, earning her a glare from her red-haired twin. "Don't worry. We'll make her sorry she said it. We'll make her sorry for a lot of things." At that thought Sha gave a smirk, and she would be the first to move on Oskana. The first thing she would do was mount the woman while she lay there, attempting to pin her arms down with her knees to trap her in a schoolgirl pin. With Oksana nice and trapped, Sha would begin unloading heavy punches down on the Russian's face. They would be slow and deliberate, but each packed the power to deal some heavy damage.

If Sha would manage that Nha would quickly move to walk around to Oksana's legs, and would take both of them in her hands, spreading them out to reveal a target that was too good to pass up. Grinning cruelly, Nha would stomp her foot down hard on the hefty woman's crotch while all the while her twin delivered a beatdown on their victim.

While the twins had their fun, Sarah was on the road to having her's, watching with glee as katya took a tumble to the floor, courtesy of her brutal knee. Once again Katya tried to beg for mercy, and once again the Russian would find it wanting. "Anything, huh?" Sarah asked with a sneer. She would then attempt to plant her foot down on Katya's back, grab for her arms and haul them backwards in a surfboard submission hold, yanking on her limbs so hard she threatened to pop them out of their sockets. "YOu men like money, jewels, power, that kind of thing?" Sarah would ask while grinning as she applied the hold.
Oksana was a big, strong girl, but the downside was she lacked speed. Once floored, she had trouble recovering, a fact she paid for now as her body was mounted and her arms pinned.
Her handsome Turkic features narrowed into a scowl, glaring up at the twin atop her. "I make you pay for this…" she snarled. Her glare turned to a grimace, though, as Sha began to fire punches straight into her pinned face. Oksana grunted in anger and pain, squirming from side to side, but the head punches were ferociously heavy, and she could already feel them taking their toll.
Her failure to escape was exacerbated as she felt her legs being grabbed and spread ominously.
"Oh no, n- UUGGHHHH!!!" she howled in anguish as a cruel boot slammed down between her chunky thighs, crushing her pussy.
"AAAGGGHHH!!!!" Katya was screaming at the same time, her arms pulled back in a wrenchingly painful surfboard stretch. At least her bruised face was being spared for now, though she wasnâ€
t sure the alternative she had begged for was much better. Trapped and tortured, her whole body was quivering in pain.
"Uh, y-yeah… if you want…." she whimpered desperately in the gaps between her torment. "I - AAGGHHHH!! - I pretty well connected, can get you allAAAGGHHHH all kinds of stuff…" she babbled frantically.
Page 3 of 6 •

1, 2, 3, 4, 5, 6


---
Permissions in this forum:
You
cannot
reply to topics in this forum