Champions & #1 contenders
Summer Splash interest in Natasha Loclear?
Mon Apr 09, 2018 11:30 pm by daemongirl
Well my girl hasn't missed a summer splash yet, would anyone be interested in a match with her? Open to just about anything match wise, just pm me!
Comments: 1
Been Out with the Flu
Sun Apr 22, 2018 7:47 pm by daemongirl
Just letting those I have threads with know I've been out with the flu since early last week, but I will be back to posting tomorrow.
Comments: 0
The Austrailian Mudslide is Back.
Sat Apr 21, 2018 6:20 am by Softsquad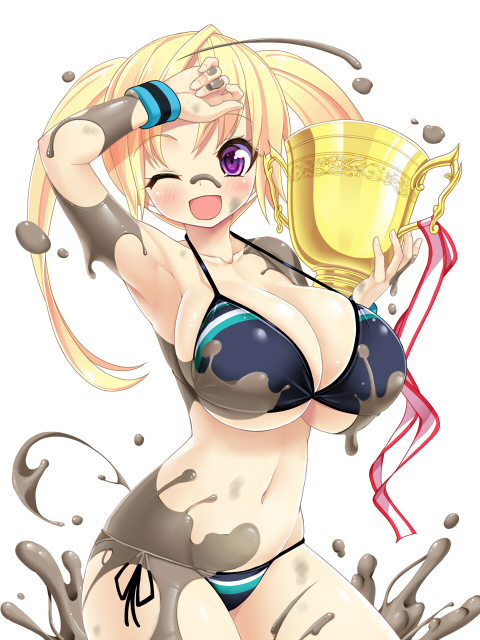 Granted that most of you won't know me or remember me, but I've had a few matches here and there some time ago. Well I think its time to become a regular around here and try to have some fun again, but at the same time keep coming back. Anyway I think its time to jump into some matches with Zoe Taylor, my mud wrestling character from Australia and get her back into the squared circle. Furthermore I will update my characters as I think some proper changes need to happen.
So if anyone would …
[
Full reading
]
Comments: 0
Page 5 of 7 •

1, 2, 3, 4, 5, 6, 7


"Keep it down!"

Styx shot back to Doom as they made their way into the back, wanting her secret place to stay secret. She'd gone through a lot of trouble to keep her hideout under wraps, and she finally got the chance to really use it for what it was meant for. Granted, she'd never expected to do so with a guest, but, well...things changed.

Leading Doom on, she slipped under the ring and into a hole underneath the floor, dropping through the cracks and into the darkness. After some fumbling about, she found the switch to her surge protector and flicking it on, illuminating the 'room'.

It was a hovel of a space - an area about the size of a small apartment. There was a matress, a TV on the wall, and a small minifridge, along with books strewn all about - everything an aspiring delinquent really needed. A space to hide, recharge, and plan before she went out to cause more mayhem for the day. Her home, or as close as she could ever get to the concept.

Cardio had never been Styx's thing and it showed, as she stumbled into the hidden room and immediately plopped down on the bed. Breathing hard and heavy, she laid there, chest heaving, while she held up a finger. "One sec."
Doom said nothing, as the two women disappeared from the mass of humanity in the AFW arena. The brawler had no idea where any of this was going, but she was intruiged. Nothing had gone to expectation, tonight. From an opponent of the impressive stature of Styx, to their battle ending in a brawl against half the AFW officiating staff. This seemed to be a night of shock and surprise, and Doom was finding herself drawn right into it.

So, she followed Styx in silence. Doom's eyes darted from side to side, still unsure that they'd completely shaken their tail. Despite her paranoia, however, Doom slipped in behind Styx, as the powerful woman ducked into what seemed a makeshift spider-hole.

Doom winced, as the surge protector flipped and the room burst into light. Doom held a hand over her eyes, for a second, until they could adjust. Then, when she could see properly, Doom quirked an eyebrow at her new surroundings.

"Impressive," Doom said, a few degrees quieter than her usual tenor. To manage to carve out all this, on AFW's property, presumably without anyone knowing. Doom could only imagine the degree of work Styx must have put into this. Doom said nothing as Styx dropped to the mattress to catch her breath. Doom was more concerned with the details of the makeshift lair. She paced lightly around the tight space, taking note of the books as she nodded approvingly.
A Song of Ice and Fire

World War Z

The Wayfarer's Redemption

The Girl With the Dragon Tattoo

PHDoom would find numerous books strewn about Styx's hovel - mostly novels, with a few textbooks mixed in. Psychology, biology, Japan history. A full, if somewhat random, collection, that only had one thing in common - tags from a library. None of it seemed to be hers to own.

Styx sat up after a moment and nodded back Doom's way. Not that she cared too much about what other people thought, but it was rare to meet someone with tastes close to her own. Certain viewpoints she could respect.

"Thanks." Styx stared at Doom for a moment, pondering the strange - yet dangerous - woman in front of her, pondering a possibility that'd be tickling the edge of her mind for the past few minutes. When the moment passed, she reached down and started retying her boots. Just something to keep her fingers busy.

"So. PHDoom." She sounded the name out slow. Weird tag to go by. Would take some getting used to. "Here's my thought. From this point we can fight, fuck, and/or talk. I'm down for either of the first two - or both." Styx cast a quick, curious glance towards Doom, keeping her voice casual. Just to look at her, Doom wasn't a prude. Didn't mean she'd be down for that kind of fun, though. Worth a shot.

"But I want to get the talking done, first. I've got a proposition for you." Styx took a deep breath and folded her arms over her chest. "Ever hear about WAR?" She rolled her eyes off quick. "The stable, not the concept."
Doom pursed her lips, and nodded approvingly at the arrangement before her. Lent books, cobbled-together furniture, but all of it carried the impression of a fighter. Someone who wasn't taking it easy, wasn't living a "comfortable" life. It was utilitarian, and it was impressive.

Doom went down on her haunches, as she perused the books. Trying to figure out how many parts of Styx's makeshit collection were titles she recongized from her graduate studies days. Doom nodded along, trying to picture a powerful, no-bullshit figure like Styx in the rarefied and sycophantic settings of academia. Styx's hypothetical thesis defense was a dream scenario that Doom would have paid money, to see. A fantastic reminder of why Doom left that world behind her, and never looked back.

Doom was roused from her reverie by Styx's voice, cutting through her fog. The adrenaline was fading, but Doom still felt wired. She turned back to Styx, glancing over her shoulder as she heard what her (former?) opponent had to say.

Doom's eyebrows raised, at Styx's unexpected "fight, fuck, talk" proposition. She held her tongue, though, not rejecting any given part of it. What came next, however, took the brawler's immediate attention.

"Hm, you've brought up something new to Doom," she said, shifting her body to face Styx, falling back to sit on her bum and look at Styx straight-on. "You had Doom's interest, and now you have Doom's full attention."
Styx raised an eyebrow as Doom kept talking in the first person. She'd kind of figured it was a gimmick, just something she did for the crowds, that she would drop it now that they were alone. Didn't seem to be the case. This was apparently a 24/7 thing with her fellow rogue, a little quirk that she'd have to get used to.

Eh, she'd handled worse. Wasn't as weird as believing she was a revenant, or whatever Abattoir's deal was, and there were plenty of good qualities to balance it out.

"Right. Well." Styx ran a hand over her scalp, trying to think of the best way to summarize her mission statement. "Basically, I'm working with Jessica Wright, another woman like…us." She pointed between them. "Lukretia's gone, the power structure's falling. We can take what we want, win any match, crush anyone who gets in our way. Somebody pisses one of us off? We break them. We want a title? We go and get it. Think of it like a cabal for extremely violent women."

Styx folded her legs and leaned back, hissing as she rubbed her ribs. Even though she hadn't fought Doom all that long, her bones would be feeling the effects for a while to come. "You've got the moves, you've got the attitude, you've got the drive. Consider yourself recruited…if you want in, that is."
Doom continued to pace around the tight space, as Styx went into her pitch. She kept her gaze locked tight on Styx, however, giving the powerful woman her full attention. In part because she wanted to make sure she heard everything, in full detail. And also in part, because she wasn't entirely certain their fight was over, for everything that was going on.

Still, Doom was listening, and liking what she was listening to. Styx was right to the point- it didn't even feel like a "pitch," so much. Just a direct statement of things that were going to happen. Or, at the very least, things that were happening, and could happen, if Doom made a choice.

All the while, the brawler did her best to look impassive. She wanted to hear this from a neutral standpoint, not letting her admiration for Styx impair her judgement. Which was a new situation- Doom wasn't impressed with too many people. Too many people who weren't Doom, of course.

Finally, when Styx was done and had laid it out for her, Doom's pacing came to a stop. "There is precious little in this company that Doom wants to have," she said, "but much that Doom would be eager to take. And much that Doom would enjoy forcing to change. This WAR you're speaking of ... this is a way to take the reigns of this ridiculous place. And if your compatriots have earned the approval of someone like you, then it should be a capable group indeed. With Doom, you will be more so." Doom extended her hand, offering a handshake to seal their pact.
So, this was where things go interesting. From what Styx could tell, she and Doom had a similar way of thinking, but that didn't mean she was down with the plan. Didn't mean she'd go for it. Didn't mean this would end any other way but messily. Not that she had a problem with collateral damage, but she was hoping to seal the deal first.

Also, the pacing was annoying. She was glad when it stopped and the hand shot out instead.

"We're setting the AFW on fire and watching it burn, yeah. Think you'll be a nice fit." Styx looked her over, head to toe, nodding with approval. "Welcome to WAR."

Styx took the hand and gave it a firm - firm - shake. She used it to help pull her way back up and bring the two of them close together. Forehead to forehead, nose to nose, eye to eye staring down on Doom with a fiendish grin.

"So. We talked." Styx huffed, her gaze filled with a fierce stare, one that could've been filled with lust or aggression...or both. She was still suitably amped up from the brawl, the only question was where that energy would be going.

"What about the other two?"
Doom felt an overwhelming sense of satisfaction, in how this evening had played out. Even if it had ended without a winner, this might have been the best fight that Doom had participated in, since coming to AFW. And now, more than ever, it seemed as if Doom's prospects were looking brighter and brighter all the time.

Doom was also satisfied with Styx's firm handshake. It was a fitting way to seal their new alliance, and spoke well to Styx. Doom realized then that futher impressed her: all night, however long she'd known Styx at this point, the brawler had done nothing that let Doom down. Not a single mis-step, error or show of weakness, on Styx's part. Finding people that Doom liked was nearly impossible. Doom couldn't even remember the time someone impressed her.

The next thing Doom knew, the pair of them were standing tight. Faces pressed together, barely room for the scant light in Styx's hideout to fit between them. Doom stared into Styx's eyes with a wicked grin, considering her question.

"The time for talk is done," Doom agreed, grin deepening. "Now, how about we see where the rest of the night takes us." Doom leaned in, then, pressing her lips firmly against Styx's. She pulled the woman closer, pressing Styx's hand flush against her chest, letting her feel the heat radiating from Doom's body in the tight quarters.
Fucking, fighting, fucking, fighting. When it came to Styx, there wasn't too much difference in the two, and they were often entwined. It was funny, really - despite the fact that she was pretty much the exact opposite of the sexy AFW star, she'd actually managed to have a fairly active sex life since coming to Japan. The AFW had allowed her to meet a wide range of individuals, some of whom not only didn't seem to mind her look, but seemed to be attracted to it.

PHDoom was one such individual. Good.

Styx had a dark chuckle as their lips were pulled together and Doom encouraged Styx's hand to do what it would've gotten to doing soon, anyway. The Xs on the bitter brawler's chest were almost like a dare, like she was warning people not to get handsy. Which, of course, Styx did. Shamelessly.

Her hand slipped up the top and ran along the breast underneath, giving it a tight, ravenous squeeze, before moving onto something more delicate. A tender massage. Kneading the flesh. Her other hand stayed busy as well, rubbing its way down Doom's spine, workings its way to the inevitable conclusion. The promised land.

It was rough, it was carnal, but it wasn't enough for Styx. She kept Doom in her clutches for a moment, before driving forward and ramming her against the nearest wall, slamming her teammate's back against it while her body pressed into her and kept her still.

"I want to be on top." Styx huskily whispered into Doom's ear. She gave her a quick kiss on the lips, then brought them down to Doom's neck, nibbling on it like an animal taking a tentative taste of her new meal. "Try to stop me."
Doom's pulse was accelerating, as she felt the heat radiating off of Styx. It had been quite awhile since anyone had caught Doom's fancy, to any degree. And yet, here was Styx, managing to impress her more and more with every moment that went by.

And in such a moment, Styx worked her hand beneath Doom's top. Doom bit Styx's lip, as she felt the woman's hand caress her bare breasts. Her chest swelled, as she gasped. It had been some time since Doom had been with someone, and despite any anticipation that had built up, thus far Styx was not disappointing. Which, alone, was something.

Then, things took a turn for the dramatic. Doom was pushed back against the wall swiftly, until she was pressed flush against it with Styx sank into her. Doom grinned, pleasantly surprised with this turn of events. Styx was spirited, and with her husky voice, she was challenging. The fight had finished, it seemed, but the matter of domination was still up in the air.

Doom let out a single, hearty chuckle, as Styx offered her challenge. Doom nuzzled her face into the back of Styx's head, but fought to let that be her only "tell" at the effect of Styx's nibbling. Instead, Doom focused on the matter of "stopping" her.

Lacking proper leverage, Doom opted to work for body mechanics. Eyeing the cot in the room, Doom worked an arm down. She caressed Styx's shoulder, letting her fingertips brush softly along the edge of Styx's body. Tracing along her shoulder, down her back, inching along her spine. All the while, Doom let a deep moan radiate from her throat, enjoying the curves of the woman and letting her hear all of that. Then, Doom brought her fingertips to the edge of Styx's lower back. Doom's other hand was firmly on Doom's flank, working her way toward Styx's toned belly, letting her palm caress her warm body. Then, in a quick and sudden move, Doom shot her hand down between Styx's inner thighs, right beneath her clothes and into the softness beneath.

From there, Doom braced herself against the wall and pushed out. It was an extremely modified form of a shoot takedown, as Doom worked to upset Styx's stability while holding her tight by the back and pressing into her hard! But, if it worked, Doom would take her worthy "opponent" off her feet, and drive her into the mattress below!
Page 5 of 7 •

1, 2, 3, 4, 5, 6, 7



Similar topics
---
Permissions in this forum:
You
cannot
reply to topics in this forum