Champions & #1 contenders
Summer Splash interest in Natasha Loclear?
Mon Apr 09, 2018 11:30 pm by daemongirl
Well my girl hasn't missed a summer splash yet, would anyone be interested in a match with her? Open to just about anything match wise, just pm me!
Comments: 1
Been Out with the Flu
Sun Apr 22, 2018 7:47 pm by daemongirl
Just letting those I have threads with know I've been out with the flu since early last week, but I will be back to posting tomorrow.
Comments: 0
The Austrailian Mudslide is Back.
Sat Apr 21, 2018 6:20 am by Softsquad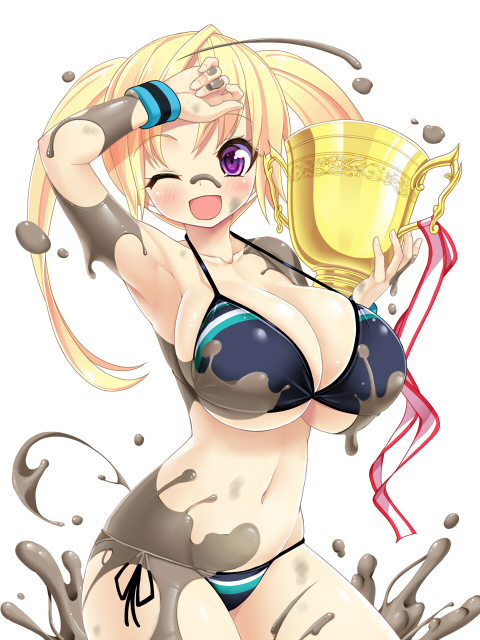 Granted that most of you won't know me or remember me, but I've had a few matches here and there some time ago. Well I think its time to become a regular around here and try to have some fun again, but at the same time keep coming back. Anyway I think its time to jump into some matches with Zoe Taylor, my mud wrestling character from Australia and get her back into the squared circle. Furthermore I will update my characters as I think some proper changes need to happen.
So if anyone would …
[
Full reading
]
Comments: 0
Page 3 of 7 •

1, 2, 3, 4, 5, 6, 7


Six foot tall. 220 pounds. With Akashi MIA, River Styx was easily one of the biggest, heaviest, toughest wrestlers in the AFW, female or male, and maybe one of the biggest in all of pro-wrestling. At least in Japan.

Needless to say, she was capable of generating some serious momentum when she started barreling in one direction. Sure, she could be slow, but so was a tank, and that wouldn't stop it from running over anything in its path. Styx was just about to share this rough physics lesson with PHDoom, two when she found herself intercepted by something she didn't expect: Doom's knees.

It wasn't enough to completely stop her momentum - she still hit Doom's gut like a battering ram - but the blow meant she wasn't able to get much enjoyment out of it. The knees crashed right into her clavicle, bone to bone, and the pain shot through her shoulders in a fiery instant. It was all the bald brawler could do to just keep from screaming at the pain, but her other reactions told the whole story.

She fell to her knees, groaning and clutching her battered chest. Desperately needing to bring this to more familiar ground and recoup, she rolled under the ropes and stood up on the outside. She hissed and stepped away, moving to lean on the barricade while the fans heckled away.
"Hhhhnnngghh!" Doom groaned, through grinding teeth, as Styx's shoulder dug into her abdomen and ground her hard into the turnbuckle. Doom's knees had managed to connect with the powerhouse's body, slowing her down and hopefully making her pay her fair share, to get that charge in. However, a slowed down Styx on the move was still a hell of a lot of woman to take a hit from, and Doom was definitely feeling it.

Doom white-knuckled the top rope, as her body seethed and reeled in agony. She seated herself on the middle turnbuckle, suppressing dry heaves, due to her suddenly and forcefully collapsed internal organs.

Doom was only barely able to force open her eyes, her body feeling like it wanted to clench into a tight ball. It was just enough to see Styx rolling out of the ring, seeking surer footing. Doom, meanwhile, remained on her perch, recovering. With Styx removing herself from the ring, the referee came in to give Doom a once-over, trying to get a better gauge of the pummeled and choked fighter's condition.

"Bah," Doom grunted, as the referee came over to ensure the brawler was still able to compete. "Away from me, rule-nagging harlot!" she grunted, as she planted her boots back on the mat. "Doom barely recognizes your authority, let alone your medical qualifications! The fight continues!" Shaking out the pain, Doom remained in the corner. She moved only enough to give the official a light shove, to fend her off.
Okay, this was annoying. Styx was bigger than PHDoom, stronger, bulkier, and while the smaller wrestler shared some of her better personality traits - particularly her strong willingness to beat the shit out of any and all comers - those factors should've been enough to make this an easy fight in her favor.

But, once more, she was proven wrong, as her foe not only survived, but thrived, managing to stave off the full assault she was pushing for, and leaving a very ticked off Styx to roll out on the floor. She was fine, though, just need a moment to...recoup...and what was that coppery smell.

Styx tapped her nose, drew back her finger, and sure enough, there was a red spot at the tip. Blood. PHDoom had busted up her nose. Not that bald brawler was concerned about her looks, not that she had a problem with her own blood. All that was fine. She didn't hate bleeding, just being the first to bleed.

That wouldn't stand. If she had her way, neither would PHDoom.

She spun around while her enemy talked with the referee, and reached in under the bottom, stretching her broad arms along the canvas. Her goal was simple: grab hold of PHDoom's ankles and pull her out of the ring, drag her to the place where the real fight was: on the floor.

Doom mostly ignored the referee's continued chattering, as she struggled to collect herself. The blows she'd taken thus far were heavy ones, leaving her feeling battered and rocked. Doom had to keep control of herself, keep herself from getting psyched out or panicking. Those were reactions for lesser women, she told herself. Unworthy of Doom.

Then, Doom heard the nagging "official" shifting gears- and beginning a count out. Quickly, Doom reached out, and grasped the wrist of the official to take her attention off the count.

"No!" she said, leaning into the beleaguered referee. "Doom ends her battles by pinfall, submission or knock-out only! You won't sully this contest with some superficial 'count-out' victory!"

Unfortunately, Doom's full attention being on the referee meant that not nearly enough of it was on Styx. Doom barely registered the powerful hands on her ankles until it was far too late! Falling face-first to the mat, Doom was yanked unceremoniously out of the ring. She pounded the mat, twisted and squirmed in Styx's grip and struggled to keep her lean body in the ring, but her drop to the outside was inevitable.

"Bah!" Doom cried out, "Impertinent witch!" Doom's face flushed red, as she struggled to regain her balance on the outside. Doom took note of the blood on Styx's face. A lesser woman would have been aghast at having her looks sullied, but Doom knew Styx was better than that. If anything, the bald brawler would be looking to draw blood of her own. Knowing this, Doom took the fight to her opponent. With fast and furious jabs and swings, Doom degenerated into pure brawling, a flurry of uncontrolled fists swinging at Styx's upper body. The strikes didn't have anywhere near the precision that Doom would have preferred, but this fight seemed to be calling for something much more base than that, now!
Unlike PHDoom - who was sharing her opinion on the matter with everyone in a hundred foot radius - Styx wasn't so vehemently against countout wins. They were a good way to pick up wins and piss off the crowd at the same time, two things she never seemed to get tired of. Certainly made things easier on her end.

On the flipside, though, Styx did love to beat the shit out of people. Felt like kind of a cheat to skip the most fun part of the match - leaving your opponent bloody and battered in the middle of the ring.

That being said, she wasn't stupid enough to just slide in under the ropes and give PHDoom the chance to hit her while she was doing.

That being said, she was stupid enough to not think immediate retaliation would be forthcoming. Which it promptly did, in the form of furious fists.

The couple of blows landed flush on Styx's face, knocked her back a step, and would've stunned her, if not for the fact that she was royally pissed. Rage had a way of giving Styx some clarity, clearing her thoughts, and right now, her mind only had one word worthing focusing on.

FIGHT.

"Get the fuck off-" Styx started throwing wild punches of her own, heavy and clumsy and powerful. She couldn't match PHDoom's speed, but she could do quality over quantity easily enough.

Somewhere in the background, she could've sworn she heard the referee screaming something at them...
Doom was pouring enough rage and frustration into her fists that it was feeling easier and easier to throw them. Her spine was still aching, her neck burning, from all of the abuse that Styx had been throwing her way since the opening bell. Now, however, Doom was back on the right side of the abuse. And when things were going right, they went far easier.

Of course, Styx wasn't going to simply sit back and take it. Not a fighter like her. In no time, Doom was starting to feel the pummeling of Styx's fists, hitting her about her lean ribs, into her abdominals, catching her head, one blow knocking a trail of spit right from Doom's mouth.

The brawler didn't let up, however. She couldn't bring herself to, despite the stiff fists thundering into her body. Styx had incredible power she was bringing to bear, each fist feeling like a rock slamming into her body. Doom compensated with speed and fury, landing two to three blows to every punch of Styx's.

Voices began to rise and carry into Doom's ears, despite her full focus being on driving her fists into Styx with every bit of willpower she had. The fans were starting to cheer, excited to see such a full-on brawl breaking out, there at ringside. Not that Doom could believe they honestly understood the very complex power dynamics playing out in front of their plebian eyes. And another voice, more singular. Nagging. Grating on Doom's ears, causing the hairs on the back of the brawler's neck to stand up.

"ONE!" The ref called out, extending a finger. "TWO!" The official began waving the girls back into the ring, hoping that for once, they wouldn't flat-out ignore her authority.
The two wrestlers were very clearly ignoring the referee's authority.

"That all, that's the best you can-"

Styx hammered PHDoom in the face with a thunderous right hook, the kind that would've knocked out about 90% of the Friction roster.

"Shit! Shitshitshit-"

PHDoom caught Styx on the nose - her broken bloody nose - with a hook of her own, followed by a jab in the jaw.

"Fucking stupid haircut-"

Styx landed a satisfying elbow in PHDoom's forehead.

"Will you go the fuck down?!"

PHDoom's fist sunk into her tits. Both of them. In rapid succession.

River Styx's mind was firmly in the reptile zone now, regressing further and further into her primal instincts. Her one concern was beating PHDoom into the ground, and all priorities were rescinded, up to and including winning this match. There was only the fight.

Somewhere in the back of her head, located smack dab in the middle of a raging storm, Styx had to concede that there was some potential here with PHDoom. As near as she could tell, they had a lot more similarities than differences. And WAR did have an opening now that Abattoir was MIA…

Styx's thought train was promptly derailed by the screaming referee, still squawking and demanding they take the fight back inside the ring. It was another irritation, and she'd already suffered more of those than she was used to in a single day.

So.

"Excuse me." Styx broke away from the brawling and gave PHDoom a hard shove, just to make her back off for a second and give her some space. With that done, she leaped up, swung her fist up, and gave the referee a strong backhand across the face, making her crumple to a heap inside the ring.

The crowd was full of boos by the time Styx's feet touched the floor again, sending fresh waves of hatred over them both. Lovely. "There we go." She turned her gaze towards PHDoom and brought her fists up, eager to start back where they left off. "You're next."
Doom lost herself in the glorious exchange of punches. Blow for blow, strike after strike, both she and Styx were putting everything they had into this conflict. And Doom was reveling in it. This was an opponent that she not only could go all-in against, but an opponent she had to go all-in against.

Physically, however, the fight was feeling far less fantastic. Right off the bat, Styx rocked Doom with the kind of blow that would have stopped anything more complicated than a return punch cold. Which made it all that much better that Doom had plenty of punches to throw around. Aside from a few grunts and moans, however, Doom was uncharacteristically silent. No taunts or drama, just sheer and unbridled aggression.

Doom could feel her fist sink into Styx again and again. The crunch of bone, as her fist hit Styx's face. A blow bouncing off of Doom's own face again, the smack of her knuckles against Styx's breasts. Blow for blow, each woman giving and absorbing as much punishment as humanly possible. Until finally, Styx diverted her attention into a move that would shift the entire tone of the match.

"Impertinent-" Doom grunted, as she took the hard shove and went staggering back. Doom raised her guard, expecting Styx to immediately resume the brawl with added momentum behind her punches. Instead, however, the powrful woman went back up onto the ring apron. Before Doom could even get out a taunt- thinking that Styx was retreating back to the ring, the woman shocked everyone in the arena with a swift and decisive backhand right to the referee!

Naturally, the official crumbled under the force of Styx's blow. "HAH!" Doom laughed. Guffawed, really. The crowd reacted with stunned silence, then a chorus of jeers and boos raining down on the ring. Doom could only imagine AFW officials scrambling backstage, the level of hand-wringing that had to be going on.

As Styx left the ring, Doom squared her guard up and prepared for round two. "Don't think Doom will show lenience," she said, locking eyes with Styx, "just because Doom might be starting to actually like you." Doom walked semi-circle, keeping her stance tight, so that she could keep her back away from the barricade. She was giving Styx a chance to center herself, before getting back into it. Doom was in the fight of her life. No cheap shots, no easy ways out. The official was down, and Doom was ready for this second round to get going.
Styx didn't do what she did for PHDoom's approval or benefit. She didn't even really do it for any strategic reason. Like most of the things in her life, it was a split-second decision made to do something about a current annoyance, like swatting a fly that just happened to be buzzing in her face.

That being said, she was a little surprised to hear a laugh come from her foe as she got ready to spark things back up. Apparently, she approved. One more clue that they lined up fairly well, once you got rid of Doom's weird manner of speaking and oddball fashion sense.

"Oh, you fucking like me, huh?" Styx indulged herself with a smirk. A twisted, cruel, vile smirk, but a smirk all the same. "See how long that lasts."

Speaking of time, there was a clock counting down. Her little outburst would probably bring out the other referees in short order, which meant they're brawl would have some uninvited guests in the near future. Wrapping this up in the near future would probably be a solid idea.

So, on that note, Styx decided to heat things back up, charging straight towards Doom and leaping her way with a wild, flying knee, going for her chest and throwing all of her weight into the move.

From just above her knuckles, Doom could see Styx smirking.  Doom was starting to gain an unprecedented respect for her opponent, here, but that didn't mean they weren't still in the middle of the fight.  Like the self-possessed woman Doom surmised her to be, Styx brushed off the compliment with ease, and a bit of snark.  Drawing a smirk of Doom's own.

The crowd, meanwhile, was still satisfyingly baffled.  With the referee napping back in the ring, the match was open to anything.  Run-ins, swinging steel chairs, any of the chaos that usually followed the official getting taken out.  And instead of any of that, it seemed as though the two fighters were simply squaring up to keep going fist-to-fist.  From there, though, anything could happen.

In no time, Styx was on the move.  The powerful brawler came flying forward, charging in on Doom with a flying knee!  For her size, Styx seemed to be a fast brawler.  At least, solid enough for her charge to be effective- she was barrelling down on Doom with the force of a bull!

Quickly, Doom braced her legs to support herself and drew up her arms in a block.  Styx's knee hit Doom's guard hard, drawing a grunt from the brawler.  Doom's feet shifted beneath her, the force of Styx's blow enough to knock her back.  With a grimace of determination, Doom fought to keep herself from going all the way back to the floor.  Her arms were killing her from the impact of the knee strike, but she could only imagine how much better it was than having taken it to her abdomen!

Having absorbed that blow, Doom turned on her shifting feet.  Rolling with the momentum, Doom tried to return fire with a savate kick, aimed square at Styx's abdomen.  With her rocked footing, the blow would be at reduced force from what she could usually muster.  It was an option, at least, as Doom strongly suspected she was going to need a bit of time before she'd be ready to throw punches from her aching arms.
Page 3 of 7 •

1, 2, 3, 4, 5, 6, 7



Similar topics
---
Permissions in this forum:
You
cannot
reply to topics in this forum