Champions & #1 contenders
Finally getting into this.
Tue Mar 19, 2019 9:48 pm by GreatForce
Alright guess I should start to actually rp and get into the game!
So
Shibita
is pretty much ready and roaring to go for her first match if anyone is interested.
As for
Kogeki
my sumo girl! I kind of want to introduce her more gradually to the AFW. Instead of just throwing her into a match right off the bat. Maybe a backstage or gym rp showing her the ropes around the AFW and maybe even gaining a friend or enemy!
Hit me up with a PM if your
[
Full reading
]
Comments: 1
A new fighter has emerged...
Fri Mar 15, 2019 11:51 pm by Cicilia
Heya! I'm looking for people interested in fighting my newest character Raul! His character profile is at the bottom of my signature AND, just a note, he does not do hentai. regular wrestling is on da table though x3
Comments: 9

Stage Name: Ryo Kamiya
Real Name: Ryo Natamori
Sex: Male
Age: 18
Eyes: Amber
Hair: Brunette
Height: 5'8''
Weight: 165 lbs
Nationality: Japanese
Alignment: Face
Entrance music: "Forever Man" by Eric Clapton
Style:  Ryo, having been trained by former Wrestle Angel Chigusa Yuuki, with assistance from former Tension Wrestler Tai Kamiya, would be a decent threat in the ring as is, with a fast paced style set around quick, but impactful grapples, several lighter holds to wear down an opponent over time, and quick pins, but what sets it apart and adds more risk is his fondess for adding a light touch of hentai into his non-hentai matches.
In addition to his incredibly skimpy ring gear, Ryo enjoys adding various groping/fondling/stroking/kissing and other erotic twists to various slams, strikes and holds he has and applies during match, both for his own pleasure and as a way to distract or confuse opponents. His bisexual preferences allow him to use this in matches against anyone.
Favored moves:
Sleeper Hold: A basic sleeper hold
Flying Peach: A move taken from wrestler Rainbow Mika, who Ryo is a fan of, where she leaps at an opponent, turning in mid air and slamming her butt against an opponents face or chest and dropping them to the mat, though Ryo's version has him leaping off the top turnbuckle for more momentum.
Bronco Buster: With his opponent seated in the corner, Ryo runs and leaps towards them with his legs spread, proceeding to bounce his butt against their chest, rubbing his speedo clad crotch in their face to humiliate them.
Top Rope Cross Body: Self explanatory
Finishing moves:
Running Ryot: With his opponent stunned, Ryo grabs them around the head in a side headlock before taking a running start across the ring, leaping up and dropping his opponents face first onto the mat with a Bulldog.
Crossface Chickenwing Hold: A unique submission, as Ryo chickenwings his opponents arm and chokes them with his other arm, dropping to the mat and wrapping his legs around their waist from behind. To add some humiliation to this, he will often hump them, or rub and grind his heel against their crotch, especially to turn on male opponents.
Famouser: A running leg drop bulldog, catching around the back of an opponents head and dropping them face first after a running leap by Ryo.
Visual Appearance/Ring Attire: See pic
Personality:  Between his cute looks, witty and flirtatious humor, and kind hearted nature, Ryo is something of a charmer, keeping up a steady stream of dialogue during his time in the ring. While he understands he can't win everyone over, he intends to make as many friends as possible, both in the ring and in the bedroom, and, lacking any real mean streak or dishonest bone in him, doesn't hold grudges over being defeated in the ring.
Past/History:  
Born and raised in Tokyo, Ryo had an ordinary enough life growing up. Good grades in school, joined the schools swimming team, had a garage band, was a fan of Wrestle Angels, having a collection gifted to him by his cousin, and nursing a dream to become a wrestler in WA himself, only to be unable to join his schools wrestling team due to his small size and stature, (thus leading to the swim team) and had things continued, he would have gone on to attend some kind of college before finding some decent to well paying job and starting a nice life.
But things all changed during his mid teens for two main reasons: First, he discovered his attraction to both guys and girls, (and thanks to his nice personality, cute face, and in shape body thanks to being on the swimming team, they were attracted to him as well) and Second: He began working an after school job at a noodle shop owned by his cousin: Former Tension Star, (and Hentai and Entropy Champion) Tai Kamiya.
It was while getting dating advice from Tai that Ryo began hearing his stories of AFW, the wrestling league that had bought  out his favorite league, Wrestle Angels, and Ryo had avoided watching any of their product as a result, not realizing that AFW was the league his cousins Tai and Kairi had spent time working in.
Over time, as he got, and used, the dating and romance advice he got from his cousin and listened to his stories of life in AFW, Ryo found himself desiring more and more to find a way to become a Tension wrestler himself. A chance to wrestle for a living AND get paid to have sex whenever possible simply seemed too true to believe.
But he was in luck. It would take time, but over the next couple years, Tai and his wife, former wrestler Chigusa Yuuki, trained Ryo in how to wrestle, helping him find a style and moveset that worked for him and keeping him in practice,(while Ryo used the various dates he asked out to school dances and weekends out to brush up on his hentai abilities), until finally, on his 18th birthday celebration, Tai revealed that he and Chigusa still had some contacts in the league that were wiling to give Ryo a shot and give him a tryout, the swimmer impressing well enough in it to get offered a contract to the Tension league, with Tai granting him the use of the Kamiya name as his ring name as a gift.
Misc. Facts:
Ryo doesn't actually share the Kamiya last name in a legal sense, but is cousins with them, and thus family, using the name with permission from former Tension star Tai Kamiya as a way to keep a Kamiya involved in the league.
In addition to getting his cousin Tai's help in getting signed by AFW, Tai's wife, former Wrestle Angels star Chigusa Yuuki, know known as Chigusa Kamiya, one of his favorite wrestlers ever, trained him to wrestle. As a result of this training, Ryo considers himself to be, in an honorary fashion, the only male Wrestle Angel, and the last Wrestle Angel as well, though this could obviously be disputed.
Ryo is romantically interested in both guys and girls for hentai matches and will flirt with both in and out of the ring, whether they show interest themselves or not.
While Tai and Chigusa bought Ryo actual ring gear, boots, tights, elbow pads, and such, Ryo decided after getting signed by Tension to go without it, instead choosing to wear his speedo from  his high school swimming days, intenting on flaunting his sex appeal as much as possible, both to actually get laid, and serve as a way to distract and get in the head of other wrestlers.
AFW Information
Record: 5-4
Wins: 5
Ryo Kamiya defeated Holly Madison via Pinfall (Ryo Driver Delight)
Ryo Kamiya defeated Dave Blake via Pinfall (Running Ryot)
Ryo Kamiya defeated Kozue "Ninjette" via Orgasm (hentai match)
Ryo Kamiya defeat Clara Wonder via Pinfall (fucked into pinfall)
Ryo Kamiya defeated Conza via Pinfall (Powerbomb)
Ryo Kamiya defeated Ami Takeuchi via Submission (Hentai Humiliation)
Losses: 5
Erica defeated Ryo Kamiya via Pinfall (Tombstone Piledriver)
Clyde Gastin defeated Ryo Kamiya via Pinfall (Lone Star Stunner)
Dave Blake defeats Ryo Kamiya via Pinfall (Mind Eraser DDT)
The Nurses, Nikki and Nina, defeat Ryo Kamiya via KO (Hentai Double Team Smother)
Mako "The Shark" defeats Ryo Kamiya via Pinfall (Pedigree)
Draws:
Championships/Accomplishments:
Friends:
Allies:
Rivals:
Enemies:
Crushes:
Timeline:
First Year:
1.
Ryo's debut, against a posh and arrogant British woman named Holly, overdue for an ego check.
WIN
2.
Ryo takes on the sexy Erica, a veteran that his cousin Tai defeated once, now wanting to get revenge on Ryo!
LOSS
3.
Ryo faces his first male opponent, Dave Blake!
4.
Ryo's first official hentai match, in a triple threat with two guys!
5.
Ryo Kamiya, looking for a bigger and better challenge, calls out Tension Champion, Clyde Gastin, for a match!
6.
Ryo Kamiya vs Clyde Gastin!
LOSS
7.
Ryo gets to do his first AFW Photoshoot...only for a former opponent to make an appearance!
8.
Ryo antagonizes a couple lovers to set up a match.
9.
Ryo and Gemma spar, while Teddy watches
10.
Ryo gets lured by an attractive woman into an unexpected beatdown
11.
Ryo gets in a handicap hentai match with a couple AFW veterans!
LOSS
12.
Ryo takes on another rookie, Shido the Fanboy!
13.
Ryo gets the pleasure of facing another wrestler he admires and is a fan of, the sexy Ninjette, Kozue, in a hentai match!
WIN
14.
Ryo introduces his relative Kairi Kamiya back to AFW!
15.
Ryo is named as a surprise opponent for the 24/7 belt against a former opponent!
LOSS
16.
Ryo takes on a boy even cuter than him, the adorable Conza!
WIN
17.
Ryo takes on another former Tension World Champ, the beautiful Ami Takeuchi!
WIN
18.
Ryo and Kairi team together to face a new opponent, in a special handicap match!
19.
Young Ryo faces the single most beautiful woman he's ever met, the Oriental Rose!
20.
Ryo Kamiya takes on the superhero, Clara Wonder!
WIN
21.
Ryo gets into a special Boxer vs Wrestler fight vs a rookie!
22.
Michael Evans makes his long awaited return to AFW, only to be mocked and challenged by a cocky Ryo!
23.
Ryo takes on a sexy strong woman from Australia, Ashley Anderson!
24.
Ryo Kamiya takes on a dangerous, but sexy opponent, Mako "The Shark" to see who the real King of Tension is!
LOSS
25.
Showering off after a loss to Mako the Shark, Ryo gets a very sexy visitor!
26.
Ryo takes part in the first ever Tension Elimination Chamber Match, to determine the No. 1 Contender for the World Title!
Ryo's new attire: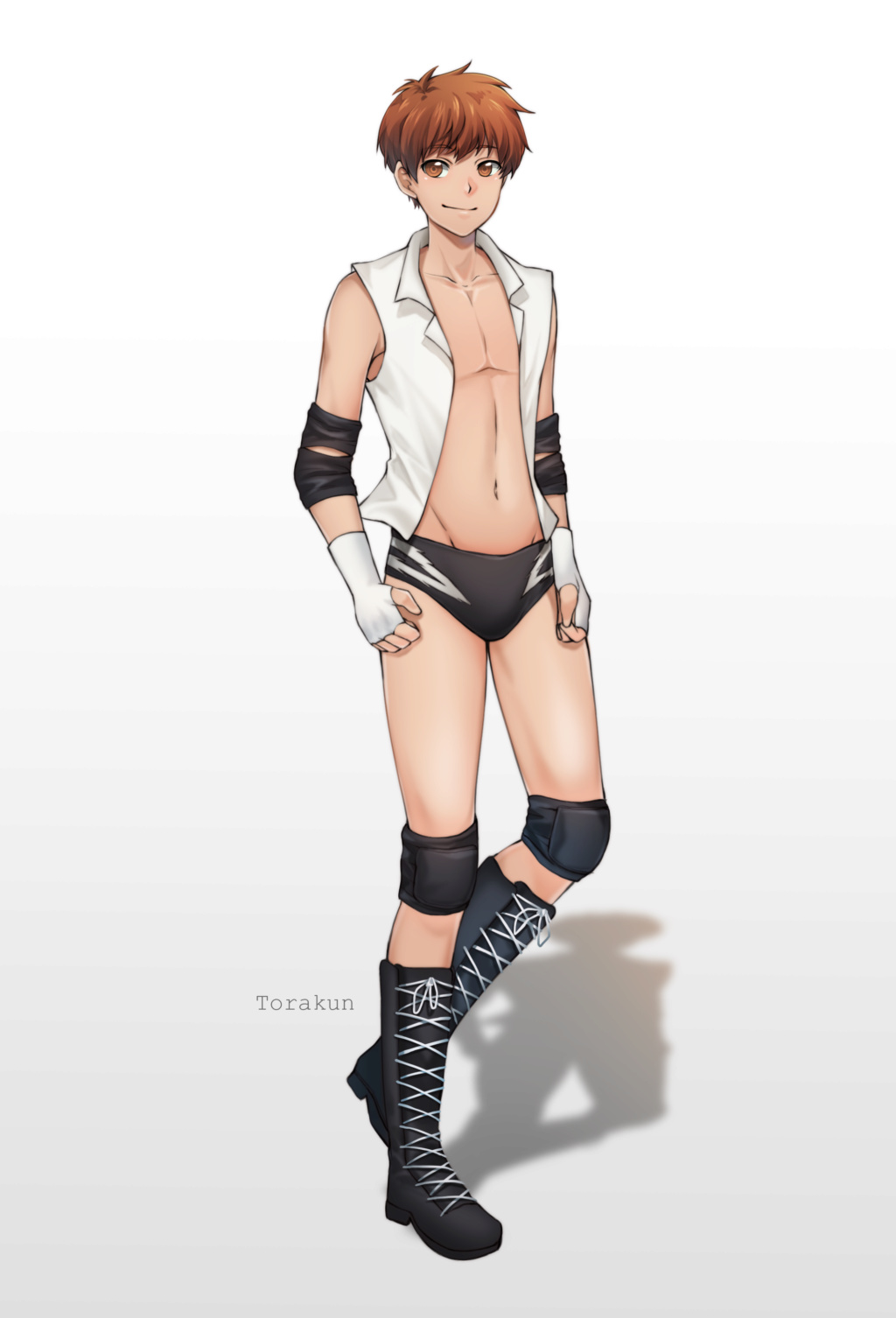 Ryo's Hentai Attire



Posts

: 7762


Join date

: 2008-04-29


Age

: 28





Similar topics
---
Permissions in this forum:
You
cannot
reply to topics in this forum