Champions & #1 contenders
Summer Splash interest in Natasha Loclear?
Mon Apr 09, 2018 11:30 pm by daemongirl
Well my girl hasn't missed a summer splash yet, would anyone be interested in a match with her? Open to just about anything match wise, just pm me!
Comments: 1
Been Out with the Flu
Sun Apr 22, 2018 7:47 pm by daemongirl
Just letting those I have threads with know I've been out with the flu since early last week, but I will be back to posting tomorrow.
Comments: 0
The Austrailian Mudslide is Back.
Sat Apr 21, 2018 6:20 am by Softsquad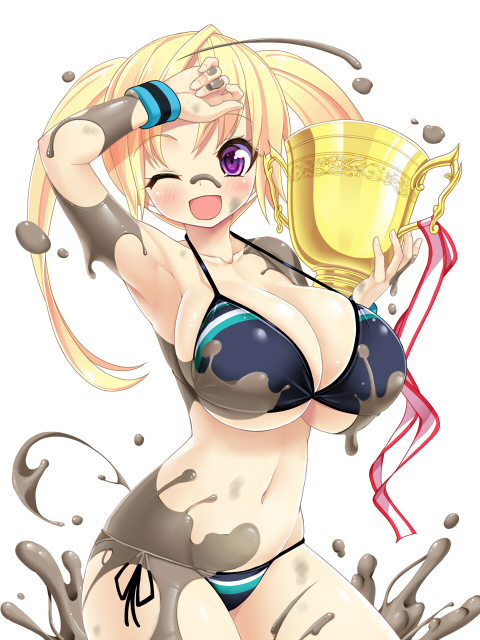 Granted that most of you won't know me or remember me, but I've had a few matches here and there some time ago. Well I think its time to become a regular around here and try to have some fun again, but at the same time keep coming back. Anyway I think its time to jump into some matches with Zoe Taylor, my mud wrestling character from Australia and get her back into the squared circle. Furthermore I will update my characters as I think some proper changes need to happen.
So if anyone would …
[
Full reading
]
Comments: 0
Page 2 of 6 •

1, 2, 3, 4, 5, 6


No rest for the weary. Though Akino attempted to ease the aching in her back by rubbing a hand over it, that arm was quickly pulled away before it could come anywhere near accomplishing its task, and the maid was forced to listen to more of Bryan's foolishness as he "helped" her back up. She grunted and rolled her eye at his comment, though it didn't annoy her even half as much as what the handsome young man was about to do next.

Akino yelped and her body jolted as she felt Bryan's hand reach between her legs and firmly grab onto her rear. She blushed in embarrassment, though anger and frustration quickly mixed themselves into her expression. "What the hell do you think-- whoa!" she said as she was suddenly scooped up. The one-eyed maiden began to squirm about, trying to strike any part of his arms or torso she could with her elbows, though the spinning put that to a stop, and made Akino dizzy in the process.

And before she could quite get her senses back together, she once again found herself flying through the air before crashing onto her back. "Gah!!" she shouted, again arching her back in pain at the impact. Considering how little time she'd been given to rest a moment ago, Akino decided against attempting to do so this time. Instead, she rolled over toward the ropes and reached out to grab them, wanting to pull herself back to her feet as soon as possible despite how much stinging pain was present in her back right now.
After collapsing back first to the canvas to once again send the irritable maid flying overhead, Bryan would curl his knees inward before shooting his legs out for an overly dramatic kip up that had the spry model athlete immediately back on his feet. Still riding high off of the adrenaline still pumping in his veins, Bryan would belt out a crowd pleasing "Wooo!!!!" to keep the audience energized and enthused for more of his eye catching maneuvers. The theatricality of his movements and outright infectious charm were winning over more than just his die-hard fangirls, a decent round of applause from his actions demonstrating just that.

"One more time?!" Bryan hollered with a beaming smile while whirling his index finger in a circle, a gesture indicating he was all psyched up for one more airborne go around with the dizzied maiden. Spinning in place to approach Akino, Bryan would ease up on his jogging stride when the irate maid started rolling herself to the nearest set of ropes and disrupt what he had planned next. Akino's petite stature made flinging her around relatively easy and kind of fun actually, the pleasant groping of her surprisingly plump backside rump merely an added benefit, of course.

Being forced to improvise on the fly and keep the surging momentum in his corner, Bryan recognized the setup before he was in Akino's vicinity and backpedaled a few steps until he reached the ropes on the opposite side of her. Eyeing the irate maiden with calculating intent, once Akino had climbed her way back to her feet, the model athlete would take off like a handsome rocket and attempt to clothesline her over the top ropes to a collapsing slump outside.
Hearing Bryan's proclamation sounded like anything but good news for one-eyed maiden as she moved toward the ropes, and encouraged her to get there as soon as possible. Being groped and thrown around just for the enjoyment of Bryan and his mindless flock of sheep was just about the worst possible way she could think of to spend this match. And once she grabbed the ropes and pulled herself up, she planned on holding on for dear life as soon as he grabbed onto her.

But, somewhat to her surprise, Bryan didn't grab her. Wondering what her foe could possibly be planning, she turned around to see for herself. Bad move, and she was clotheslined right over the top rope! "Ugh!" she grunted out as her body dropped to the floor at ringside.
Bryan wondered if barking out his intentions and then changing them on the fly was the entire reason his clothesline went off without a hitch. If so, he'd have to remember to try that deceitful tactic out once more in the future to confirm his theory. He certainly couldn't argue with the results. Namely having the surly maiden take a stiff lariat across her chest that sent her flipping head over heels out of the ring to a tumbling slump on the thinly padded mats. Whenever Bryan was feeling sympathetic towards her, he just remembered how Akino was content to twist his arm out of his socket when they first met. That straightened him out right quick.

"Damn Akino...I don't think the good people here have seen a maid get so much air time in one match..." Bryan quipped while rolling under the bottom rope and approaching Akinos side. He would gently guide her upward by her arm before snapping on a tightened and secure side headlock. The emphasized torquing behind the hold would squeeze her head right between the side of his chiseled pecs and equally well-defined bicep. The model athlete was intending to wear her down a bit before bringing the action back inside the ring....until he just so happened to catch a glimpse of his fawning fan-girls at the barricade simply begging for a photo with him. Bryan bit his lower lip as the cogs slowly turned in his head. His talent agent always did tell him that sometimes the best types of publicity are the spontaneous ones...

"...oh...what the hell. C'mon, Aki, lemme introduce you to those fans I mentioned. But you gotta smile or you'll ruin the whole thing~..." Bryan teased, his vanity compelling him to take a little detour to schmooze with his devoted and screeching followers. One such lucky teenage fan-girl came thoroughly prepared with an elongated selfie stick ready to snap a pic. It was a snug fit to get everyone in the portrait, but Bryan's handsome mug would make it into the frame alongside his fan-girls and the surly maid still head-locked and dragged right along for the photo op.
Two realizations had come to Akino since the start of this match. The first was that she couldn't stand Bryan Daniels. Every word that left his smug lips just made her want to twist and contort his limbs in the most painful ways her mind could think of. Needless to say, his taunting words after clotheslining her right out to the floor had the exact same effect.

Before Akino could even try to get up on her own power, Bryan had grabbed her arm and began to pick her up, only to slap on a tight headlock as soon as she was on her feet. "Ngh!" she grunted through grit teeth while trying to squirm free. But then he decided to "introduce" her to his adoring fans, and brought her right over to one in particular who was holding out one of those god-awful selfie sticks, waiting for a chance to take a selfie with Bryan and a very unwilling Akino.

Oh hell no...

And that's when the second realization came: No matter what happened in this match, the fans in attendance tonight were going to hate Akino, even if only because she was Bryan's opponent. If that was the case, might as well give them an actual reason. Just as the overjoyed fan-girl was about to take the picture, Akino swung a leg up and swatted it down onto the selfie stick, slamming it onto the ground and breaking the phone attached to the end in the process! There was a unanimous gasp throughout the crowd, followed by a chorus of thunderous boos so loud you'd almost think Kelly Conway was in the ring bragging about burning down an orphanage. But, even though she was still trapped in the headlock, Akino couldn't help but smile.

That had felt fantastic.
"Alright, on three!! One, tw-whoa!!" Concentrating on the photo made Bryan concentrate less on the headlock, allowing Akino just enough leverage to swipe the costly selfie stick and smartphone to the ground into a shattering crash that made anyone who appreciates expensive tech wince in discomfort. Bryan reasserted the headlock with a quick tug, but the damage had been done. Now an entire audience was booing their lungs out towards the most unpopular handmaiden in the arena, though no one was more rightfully pissed off than the unfortunate fan-girl now screaming obscenities at the surly maid.

"Ah, shit. I'm real sorry about...Ya know what? I'm not the one who owes you an apology. Let her tell you herself..." Once wearing her down in the headlock with more clenching strains of his bicep, Bryan would relinquish the hold and bend down enough to drape Akino's abdomen over his shoulder. Hoisting her in the air with a hefty grunt, the surly handmaiden would remain situated in Bryans over the shoulder carry for a brief second before grabbing her by the waist and chuck her off to have her gut collide atop the barricade. From there, with her upper torso hanging limply over the barricade, Akino would have to suffer a fate worse than anything Bryan could think up...dealing with blisteringly irate teenage fangirls.

Furiously slapping at her face, tugging at her hair, all while hurling beverages and disparaging obscenities...the fangirls would have several unfettered seconds to vent their frustrations and exact their own form of catty vengeance to uproarious applause and cheers from an entire arena of approving audience members. Security officials at ringside would eventually break it up, though even they would take their sweet time marching over to the raucous. Partially because even they felt that those fans deserved a little recompense, and that they weren't entirely eager to fend off hyperactive teenagers themselves.
Was it ironic that the one time Akino was actually paying any mind to the crowd and enjoying what she heard was also the one time they were raining down on her with a deafening chorus of boos? Maybe, but that little fact didn't bother Akino too much. Even though Bryan squeezing harder on the headlock made her wince a bit, destroying that fan's phone had given the maid near-euphoric satisfaction. Totally worth it. At least, so far it was. But it seemed Bryan wanted to change that.

"Hey! Put me down!" Akino protested as her foe scooped her up over his shoulder, squirming about in an attempt to get back down. In a way, Bryan sort of helped her along to that end, by tossing her right onto the barricade! "Ugh!" she gasped out at the landing, though being winded from the impact was the least of her worries. Immediately every fan within arm's reach was slapping at her, yanking on her blue hair or drenching her in their beverages.

"Get the fu-- AGH!! ...Off me!" Akino shouted while trying as hard as she could to fight the onslaught of offending hands away. Her head and torso were completely soaked by a mixture of just about every kind of drink offered in this arena, and several of the intended slaps had resulted in scratches instead, leaving several streaking marks all over Akino's unfortunate face. It was a miracle her eyepatch hadn't been ripped off in the chaos.

Finally, after what seemed like forever, the maid managed to break away from the fangirls, and stumbled back several steps. Her body stopped only once it was resting against the side of the ring, and she started panting and shivering. The combination of her soaking wet dress and the arena's A/C weren't doing her any favors at all. But at least she was finally free from the demonic horde that had just all but tried to end her life. Physically, at least. They were still berating her with boos and the worst insults the human mind could come up with, though in comparison that now seemed almost completely insignificant.
What had first seemed like an appropriate way of allowing his fangirls and Akino to get better acquainted was becoming increasingly violent and downright unpleasant to watch...actually, not really. Bryan comically winced from the more vicious slaps and hair pulling, but inwardly he was having a blast watching the surly maid getting, just, royally messed up by some screeching fangirls. From Byran's perspective it looked like Akino was subjected to a whirling tornado of blistering scratches and over-priced beer. The decibel level was off the charts from that level of fan "participation" before security would begrudgingly break up the party.

"Yeesh...see, that's happens when you don't respect the fanbase." Bryan advised as he approached the clearly shell-shocked maid, now sporting a glossy and distant look in her eye as if she were a traumatized war veteran having seen the worst of humanity. Even Bryan was starting to feel just a tad sorry for the water-logged handmaiden now shuddering from the cold like a drenched cat. "Well, good news, if this were a wet t-shirt contest, you'd get my vote." Bryan quipped before letting loose with a quick knife-edge chop. Just something to keep her placated before he would turn her in place and hoist her back in the ring and away from the chaotic outdoors.

"Whoops, almost forgot..." Bryan coaxed Akino inside the rest of the way with a slap of her rear before waltzing to the shattered remnants of the cell phone and selfie stick. He gathered whatever he could before returning them back to the hands of the fan who dropped it, giving her a quick hug around her shoulder before sliding back inside the ring to approach Akino. The simple and kind hearted gesture scored tremendous good-will towards the model athlete. Win or lose, Bryan was definitely walking away from this match with an ever-expanding fanbase...
Those close enough to hear Bryan's little joke got a nice little chuckle out of it, though Akino of course didn't find it nearly as humorous. Oh what she'd give for a chance to get some of those fans in the ring just so she could subject them to an assortment of torturous holds until the effects were permanent and life-altering. In a just world, maybe she might be able to get something like that. Instead, all she received was Bryan's hand chopping hard and fast into her chest.

"Agh!!" she cried out while cringing and moving an arm to cover the spot her foe had struck, which now stung like hell thanks to the lingering effect of the chop. Akino did start to feel somewhat relieved when she was rolled back into the ring, glad to be further away from the psychotic fans surrounding them...that is, until a sharp slap to her rear drew another startled shout from the maid, who immediately took a couple roles away to further distance herself from Bryan.

If Akino had been "grumpy" or "angry" before, she was absolutely seething now as she pushed herself back up to her hands and knees. Bryan was lucky the maid wasn't carrying a lethal weapon with her, but that damn sure didn't mean he would be safe from Akino's wrath. Quite the opposite, if she had anything to say about it. And as soon as Bryan slid underneath the rope to re-enter the ring, Akino bolted up and dashed toward him as fast as her legs would carry her, then attempted to punt him right in the skull as if she were trying to launch a football all the way up into the nosebleed seats! She was aching, drenched and freezing. But at the moment, the only thing driving her was sheer rage, which she intended to make sure she fully unleashed onto this guy!
Taking the time to return a random fan's fragmented belongings may not have been the wisest decision in terms of keeping your eye on the ball. And yeah, maintaining pressure on the surly maid and keeping up with the whirlwind offensive would have been the hallmark of a seasoned veteran. And yeah, a security guard could have just as easily hopped the barricade and done the same thing while Bryan was back in the ring putting the screws to Akino. But for Bryan, he knew that it was the little things and small acts of courtesy that truly endeared you to the fanbase, the cameras catching the noble gesture and the smile it brought on the fans face. Plus he was a nice guy and it was a split-second decision...what are you gonna do?

Bryan rolled under the bottom rope and approached Akino brimming with confidence and with a pep in his step. Outside of the shaky beginning, the model athlete had been in dominant control of match's tempo with high-rising slams, flips, and much appreciated fan participation. Bryan couldn't remember the last time he had been put on such an awesome show of wearing down his opponent, the water-logged handmaiden looking like she had just been on the losing end of a catfight near a swimming pool. She was still on her hands and knees as he closed in on her, so he felt the advantage was still his despite the taking time for the good samaritan act...

"Hope all that beer and soda cooled you off some-" Bryan's good-natured ribbing would be tragically cut off from the stiff boot of the surly maid plastering him right across his handsome facial features!! The model athlete was nailed clear off his feet to a deadened slump back first against the canvas, suffering from an immediately aching headache and only the faintest recollection of the blur of blue and white that accompanied it. The world shattering smack of the big boot emphasized how much enraged power was put into it and could be heard to the rafters with cries of wincing sympathy echoing right back to the ring, in particular from the fan girls in the front row.
Page 2 of 6 •

1, 2, 3, 4, 5, 6



Similar topics
---
Permissions in this forum:
You
cannot
reply to topics in this forum