Champions & #1 contenders
Highfly Flying Out Of Town
Tue May 22, 2018 1:31 am by HighFly
Hello everyone, I just wanted to inform all I have threads with that I will be gone from this coming Wednesday through Sunday. I won't be able to post consistently if at all during this time, but I will try to make up for it next week! I am sorry for the inconvenience to everyone.
Comments: 7
The Austrailian Mudslide is Back.
Sat Apr 21, 2018 6:20 am by Softsquad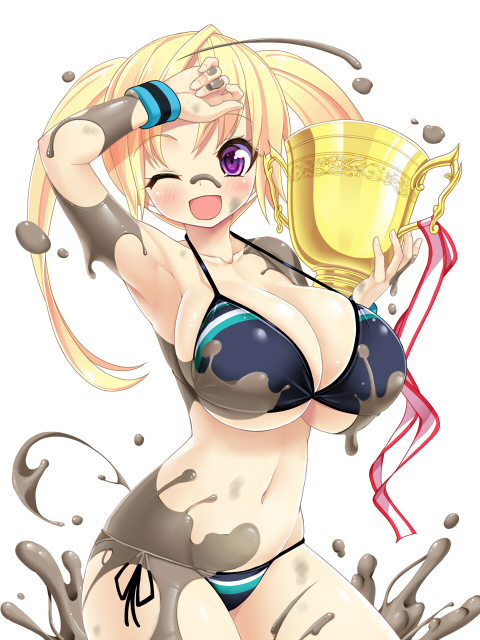 Granted that most of you won't know me or remember me, but I've had a few matches here and there some time ago. Well I think its time to become a regular around here and try to have some fun again, but at the same time keep coming back. Anyway I think its time to jump into some matches with Zoe Taylor, my mud wrestling character from Australia and get her back into the squared circle. Furthermore I will update my characters as I think some proper changes need to happen.
So if anyone would …
[
Full reading
]
Comments: 5
Page 5 of 6 •

1, 2, 3, 4, 5, 6


Akino wasn't initially aware of the show she was putting on for Bryan and the rest of the crowd as she crawled into the corner. And she no doubt would've preferred to be blissfully ignorant of the whole thing. But then Bryan had to tell her all about it, and a peek toward the screen showed the camera was focused right on her rear. Akino growled in irritation, but was given no time to attempt to retaliate.

As soon as she was back up Bryan turned her around, and within seconds the half-naked maid was drilled right over her breasts with a stinging knife edge chop. "Agh!" she shouted out while cringing in pain. Immediately afterward she was sent into an involuntary sprint across the ring, and just managed to turn at the last second to bring her back crashing heavily into the turnbuckles, though that was still quite far from a comfortable collision.

"Ungh!" Akino gasped out, bouncing out of the corner only to slump back into it a half second later with her arms dangling over the top ropes.
It turned out that, despite his earlier statement about being all out of cheeky one liners, Bryan still had one or two little quips left in him. Finding it an adept way at getting into his opponent's mind and making them loss their concentration enough for Bryan to get in some offense he may not have been able to otherwise. Plus it wasn't his fault Akino decided that stripping down to her skivvies in the middle of a match was a particularly bright idea. But he will take credit for poking fun at her. Proudly.

Bryan nearly lost his own footing and tripped down to one knee after flinging Akino across the ring, the model athlete righting himself before falling himself. He was clearly feeling the exhaustive toll this match was putting him through. He backpedaled a few steps and made doubly sure Akino was in no condition for any last second counters that could mess up his whole day.

By emphatically pointing his thumbs in his direction three times, Bryan led the audience in his trademark "B-R-Y!!" chant. After sufficiently amping himself up with some last minute theatrics that brought a cocky smile to his face, Bryan would take off in a dashing sprint towards the winded maid. His well-maintained hairstyle wafting in the breeze before Bryan would take to the air and attempt to flatten Akino between his chiseled pecs and the turnbuckle behind her with a leaping body splash.
It was clear both competitors had fought to the point of exhaustion, but the maid's circumstance was still considerably less favorable than that of her opponent. After all, Bryan hadn't been on the receiving end of a stalling suplex and subsequently been hurled at a high speed right into the turnbuckles. And there was also the x-factor of these incredibly annoying fans of his cheering him on.

The trademark chant echoes as loudly through the building as any firework had, and the model came sprinting across the ring right at her. She saw the collision coming from a mile away, but was unable to will her body to move aside in time. All she could do was tense up and brace for impact, and...

"UGH!!" she cried out as Brian's chiseled torso crashed heavily into Akino and sandwiched her between her foe and the not-so-forgiving turnbuckles right behind her. Trapped in that position, the maid could only remain still while gasping and heaving heavy breaths against Bryan's body.
Sailing through the air before coming to an impactful crash atop the winded maid, Bryan sagged against her briefly just to catch his breath and settle himself down. There was a millisecond where he thought his brief showboating may have given Akino the time to roll out of the way. But luckily for him that wasn't the case, and his brief theatrics kept both the surging momentum and the crowd's approval well on his side.

A burgeoning blush was forming on his own cheeks from once again feeling Akino's gasping breaths against his chest. For two people who hated eachother, they certainly found themselves in this heated position on more than one occasion.

"Alright, come on now..." Bryan uttered out while holding on tightly to Akino's limped form, his hands clasped together around her shoulder as he dragged the both of them out of the corner. Luckily she didn't weigh a ton or this may not have been possible at all considering how exhausted Bryan was. But he knew he may not get another chance to put Akino away given her vulnerable state. He'd rather not imagine how pissed off she would be if she ever got the lead back in the match.

Once they were both about in the middle of the ring, Bryan would hook his leg around her own and gradually lean her backwards until she was gazing right back up at him. "Ya know, the rooflights really bring out the sparkle in your eyes...uh, eye..." Bryan teasingly remarked after having her in this compromising position. He mentally crossed his fingers before attempting to drive his opponent into the mat face-first in his reverse STO finisher, One Night Stand. Because if it did, those handcuffs would be considerably easier to put on.

"Ngh..." Akino groaned as Bryan led her out of the corner and closer to the center of the ring. The maid continued to gasp and pant with each involuntary step. She hated the fact that he was keeping her up against him like this, but there just wasn't anything she could do about it. She was running on empty here, and it Bryan knew it too. He was planning on ending this soon, and it seemed the fans were picking it up on it too.

Recognizing the setup for his finisher, the noise level of Bryan's many fans gradually increased in anticipation as Bryan leaned Akino back. The maid scoffed in annoyance at her foe's teasing comment. Just when she thought he couldn't possibly irritate her further, her found a way to prove her wrong. Still, that was hardly the worst of her concerns at the moment. If Akino didn't fight through her fatigue and act now, her fate would no doubt be sealed.

Clinging onto the arm Bryan had draped across her with her arms, Akino let out a loud grunt and swung her smooth stocking covered legs up, trying to drape them across her foe's torso. From there she'd pull on his arm with all her might, having countered his lethal finishing move into an armbar!
While not an exceptionally renowned finisher that struck unadulterated fear into his opponent's hearts, it was still one that got the job done. That job namely being to knock Akino senseless long enough for him to finally slap on the handcuffs before she could recover from her aching headache. After all the damage Akino had taken throughout the match, Bryan knew one more impactful move was all he needed to put this exhaustive ordeal behind him...and he wasn't kidding about the twinkle in her eye, but that was neither here nor there.

The crowd recognized the onset of a climactic conclusion when they saw one, and their swelling buzz would have been the perfect backdrop for it. If Akino didn't interrupt his plans and kill the crowd's excitement by wrapping her toned thighs around his arm and weighing him back down to the canvas in the dreaded submission!!

"Wh-Whoa!!" Bryan felt both pangs of intense pain in his arm and waves of nostalgia from once again having his entrapped arm hyper-extended between her legs. Everything was sort of coming full circle since this was Akino's way of shaking his hand back when the match first began. Well, it hurt then and it hurt now, as Bryan's pained wails could attest to. Bryan fervently shook his head after a few seconds of enduring blistering discomfort in his arm, the model athlete now gradually willing himself to squirm and shuffle to the ropes to the tune of his ardent fans cheering him on!!

Moments ago Akino would've given up quite a bit if it meant never having to hear anything from Bryan Daniels' lips again. But now she was rather enjoying the sounds he was making as he writhed and squirmed about in her clutches. The maid had managed to apply another armbar, even taking the model down onto his back with the hold.

Akino's smooth, stocking-clad legs rested over Bryan's chest while his arm was hyper-extended between them, and the bluenette continued to wrench back as much as she could on the limb while he struggled. "I can't see your eyes, but I'm sure they lights are bringing out a nice sparkle in them right now," Akino said, essentially throwing Bryan's teasing words from just moments ago right back at him.

But as much as she enjoyed locking Bryan in this hold, it wasn't one that would win the match for her due to the stipulations, and her foe was gradually advancing toward the ropes anyway. Akino clung onto the armbar for as long as she could, but soon the ref was alerting her that Bryan had indeed reached the rope. Could she be disqualified for keeping the armbar locked in anyway in a match like this? She wasn't sure, but it didn't seem worth testing out. Akino was tired and hurting, and the longer she dragged this out the slimmer her chances of victory would likely be. She needed to finish this as soon as possible. So she let go of the armbar and rolled away, panting as she got to a knee, then patiently waited for her foe to try to start getting up again...
Serves Bryan right for trying to add a bit of romantic flair to his last attempt at his finisher, now he could only cringe in blistering pain as his words were tossed right back at him. As to whether she was right, there was really no way anyone could tell considering his eyes were clenched shut during his grueling journey towards the ropes. He didn't remember Akino being this friggin heavy last time, but that was way earlier in the match when he was still full of pep and energy. Now it felt like he had a warm, sweaty boulder wrapped around his tortured limb.

"Come...on..." Bryan cringed as he reached out towards his tethered salvation, unaware himself as to whether Akino could get disqualified in a match like this one. But even if that wasn't the case, maneuvering towards ringside where he could collapse outside was most definitely a way to end the arm-bending submission. As excruciating as the hold was, Bryan couldn't help but feel his arm rubbing against her bikini covered crotch throughout it's contorted extension. The not altogether unpleasant sensation flustering him a tad before the ref would break up the hold to his immediate relief.

The model athlete curled up and tenderly addressed held his twisted arm, pressing his forehead into the canvas while on his knees. His panting breaths were drawn out and exhausted as the searing pain started to fade away somewhat. An applauding audience compelling him to get back in the fight was as encouraging a sound he could have heard, and was the backdrop for Bryan to groggily shuffle upward by climbing and leaning his back against the ropes for support.

Akino's eyes remained locked onto Bryan's groggy form as he gradually climbed back toward a vertical base. Even as the maid gasped and heaved for air, she stayed focused like a hawk about to swoop in on its prey. The crowd was cheering for their beloved hero to rise up and keep fighting, but Akino had no intention of letting him get that far.

Once Bryan was just up past his knees, that's when the maid decided to strike. She hurried over to her foe as quickly as her weary body could carry her, then reached out to grab onto his hair and drag him out toward the center of the ring. There she'd turn him to face her before shoving his head between thighs and squeezing against him. That in and of itself might not've been such a horrible experience, but what she had planned likely would be.

Akino would then curl her legs into a figure four around Bryan's head and neck while leaning forward, using her weight to pull him up to a standing position as she strangled him with her legs while hanging upside down behind him, securing her deadly Kumonosu! And just to help eliminate any thought of using his arms to pry her lethal legs off of him, she'd hook her arms around Bryan's to hold them in place. "Time for a nap," Akino would say as she attempted to squeeze the model unconscious between her thighs!
Rallying cries aside, there was little else compelling Bryan to get back into this match outside of his waning desire to win and please his rabid throngs of fangirls. Everything else, on the other hand, was telling him to just stay down and let the irate maid slap the cuffs on him already. The sharp pains in his arm and lingering drowsiness from having already been rendered nigh unconscious in this fatiguing match were all fairly compelling reasons for him to just toss in the towel already and start training for his next match. Luckily, or rather unluckily for him, his cheering fans were chanting louder than his own self-defeating thoughts, so...up he went.

Bryan flinched from the clenching fingers dragging him towards the middle of the ring, the model athlete nearly collapsing to one knee under the weight of his own exhaustion. Slotting his head directly in between Akino's sweaty legs brought a reddened hue to his compressed cheeks. The pressure from the fleshy squeeze of his opponents thighs was making what could have been a pleasant experience decidedly more excruciating. Bryan wouldn't know just how dire his situation was until Akino flipped forward and fully applied her Kumonosu finisher by hanging herself off his neck behind him!!

"Hugh!!" Bryan chortled and gagged from the renewed tension weighing down on his skull, Akino's entire weight now leveraging herself behind him and adding to the strain. Unable to use his arms to pry himself free, Bryan's squirming struggles to free himself would be severely hampered from the maneuver slowly draining the life from him. His encouraging fans at ringside were becoming noticeably harder to make out the longer the move was applied, the model athlete eventually dropping down to one knee after nearly a minute of being trapped in the rather unique figure four headscissors...

Page 5 of 6 •

1, 2, 3, 4, 5, 6


---
Permissions in this forum:
You
cannot
reply to topics in this forum