Champions & #1 contenders
Highfly Flying Out Of Town
Tue May 22, 2018 1:31 am by HighFly
Hello everyone, I just wanted to inform all I have threads with that I will be gone from this coming Wednesday through Sunday. I won't be able to post consistently if at all during this time, but I will try to make up for it next week! I am sorry for the inconvenience to everyone.
Comments: 7
The Austrailian Mudslide is Back.
Sat Apr 21, 2018 6:20 am by Softsquad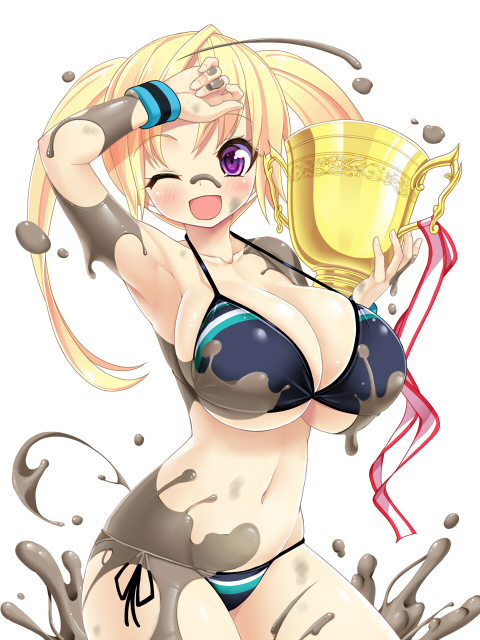 Granted that most of you won't know me or remember me, but I've had a few matches here and there some time ago. Well I think its time to become a regular around here and try to have some fun again, but at the same time keep coming back. Anyway I think its time to jump into some matches with Zoe Taylor, my mud wrestling character from Australia and get her back into the squared circle. Furthermore I will update my characters as I think some proper changes need to happen.
So if anyone would …
[
Full reading
]
Comments: 5
Page 1 of 7 • 1, 2, 3, 4, 5, 6, 7


Table Match
Victory by sending your opponent through a table
Special Stipulation: Both wrestlers are to wear bikinis for the match
Akiha was now in her locker room thinking about her upcoming match.  It was a table match but not just any regular table match, it was one verse her rival, Belinda.  Akiha had fought Belinda before when the raven hair wrestler was making her debut.  It was a close match but in the end Akiha was pinned and lost the match to her rival Belinda.  But that was the past since then the raven hair wrestler had been on the war path, doing match after match and winning the majority of her matches while learning new moves.  She was now feeling confident, knowing that she now had a good chance of defeating her rival.
Then a knock was heard on her locker room door.  Akiha turned to face the source of the noise and saw both her maids entering the locker room where they then inform her that it was time for the match to start.  Akiha nodded her head as she then got up.  In addition to it being a table match, the wrestling attire was that of bikinis.  Usually, Akiha would hate to wear a bikini to do a match but when fighting Belinda she felt it was fine, in fact, she excited to see how Belinda would look like in a bikini.  Speaking of bikinis, Akiha would make a quick check just to make sure everything was fine.  Once her inspection was finished she would then exit her locker room.
Akiha now made it to the staging area just behind the curtains waiting for theme music to start playing so that she could make her appearance.  The Japanese wrestler would not need to wait long as Fire by the Music started to play.  The raven hair wrestler now made her way out to the ramp where the crowd booed her though Akiha cared little about them, she was more interested in seeing and fighting Belinda.  The raven hair wrestler then slid under the ring before getting up and waving to the audience, though most booed her, she did have a small cult following who applauded her, hence why she had waved to the audience.  Once she was done waving to the audience, Akiha would go to her corner and rest at the turnbuckle while looking at the ramp, eager to see her rival once again.
Belinda had been quite surprised when she had learned the news that she were to have her rematch against Akiha Kosha so soon, and it wasn't just any kind of match. It was a tables match and their attire were without a doubt entertaining. Belinda had opted to go for a tight fitting white bikini top and matching bottoms, as per the matches instructions they had to be dressed in bikini's. The blond cutie would move up towards the mirror in her locker room and look herself over, wondering what cute little swimsuit that her rival would pick.

She could still remember how very cute that Akiha could be, especially when she was being messed with in particular ways. However, this was a match, a serious match nonetheless. Which meant there wouldn't be any of that, instead it would be her and Akiha beating the crap out of each other until one of them went through a table and lost the match. Belinda may have won the first match...but there was no way that she was planning to lose the second either, she wasn't gonna give up her lead against her raven haired rival without a real fight.

The blond cutie soon found herself at the gorilla position, awaiting Akiha's music to tone down and finally end so that she could make her way towards the ring. It was only a matter of time. Belinda stretched herself out a bit which caught the attention of a few of the stage hands who were oogeling her frame. When her music started to blast out of the speakers, Belinda would step out onto the ramp to a decent amount of cheers and shouts from the crowd. It was quite difficult to hate someone like Belinda, a girl with a lot of heart who didn't compromise her way of wrestling according to the rules regardless of what her opponent did.

Belinda soon started to move down the ramp as she'd wave towards the crowd a bit, moving from side to side to give the front row members a few high fives and generally enjoying the fact that she seemed to be well liked. Once she reached the ring, Belinda would slide in between the ropes and walk up towards the center of the ring, still waving a bit towards the crowd, when she had Akiha in her sight though she'd flash her rival a smile and wink her eye cutely towards her. " Hello Akiha-chan ~"
Akiha couldn't help but to smirk as she saw Belinda make her way to the ring. The audience applauded the blond wrestler, she truly was a fan favorite. Despite the fact that the young Northman had defeated the Kosha twice in a single night, the raven hair wrestler still liked her blond rival and felt that her rival was the only person that truly understood her despite the fact they had only met once or twice. Though this meant in no way that Akiha would hold back, in fact, she was going to attempt to push herself beyond her limits and go all out, doing everything she could to win this match.

The raven hair wrestler then observed her blond rival who had just slid into the ring and waved to the crowd. When Belinda said hello and gave Akiha a wink, the Japanese wrestler couldn't help but to blush a bit. In fact how could she not blush, the young Northman was wearing a great looking bikini that showed off her body. "It's good to see you again Belinda-chan. I've actually missed you. Also, you look great in that swimsuit." stated Akiha as she then moved her way to the center of the ring and offered her hand to be shaken.
Belinda nodded her head as she responded to Akiha with a kind friendly smile, she would move up to meet her raven haired rival as they'd meet in the center of the ring. " You don't look so bad yourself there. Totally adorable." Belinda let out as she'd give Akiha a wink of her eye. She'd stop a foot or so away from Akiha and look upon the arm that Akiha had extended. Belinda had contemplated perhaps giving Akiha a hug instead....but that could wait till after the mat.

She chose to accept the handshake, giving a firm squeeze to her rival's hand as she'd look deeply into her rival's blue eyes. " It's gonna be a wild night. Are you ready for another defeat ?" Belinda let out as she kept up that friendly smile of hers, though her gaze became a bit more intense. Hers and Akiha's rivalry was friendly...but it was also quite intense and Belinda had no intentions of letting it cooldown anytime soon.
Akiha couldn't help but be happy at hearing what Belinda had to say about her and giving a wink.  This caused the raven hair wrestler to blush a bit.  Once again the two shook hands and just like her debut match.  Thus, she gave a smile.  "Thank you.  Though I am a bit embarrass in this, it shows how... small... they are." said Akiha as she was still very embarrassed about her chest and to make it matters worse she was on live television, meaning everyone watching would see it.  Even if someone missed it they could go to YouTube or something and watch it there.

She felt Belinda give a firm squeeze and thus she returned the favor to her rival.  "I don't mind losing to you.  Still I am planning on putting you through a table.  I have been doing match after match and I have gotten a lot better going on the war path, just as I promise.  In fact, I have been developing a new finisher and I am going to debut it on you." stated the raven hair wrestler as she winked.  She loved the attitude Belinda had, it inspired Akiha to go all out and keep getting better and better.  She would now let go of her rival hand make her way to her corner, waiting for the match start.
When Belinda heard what Akiha let out she couldn't help but tilt her head to the side a bit, looking on a bit confused as she'd then proceed to look down at Akiha's chest and then back up at her face. " Uh...I didn't know you had a complex about your breast size. Don't worry though, doesn't change that fact that you are adorable and pretty hot." Belinda let out as she'd flash a friendly and sincere smile towards her rival, grinning a bit as she'd then lean forward a bit closer so that she could whisper to Akiha. " Remember the showers ? I wouldn't do that unless I found you to be smoking ~" Belinda whispered before she'd pull back and then nod her head.

Now that they had had their little handshake and all Belinda heard that Akiha had been developing a new finisher, which caused the blond cutie to puff out her chest a bit. " That's a bit unfair. You should have told me ~ I would have made a new finisher just for you! " Belinda let out as she'd pull her hand back and then start to raise her hands. " I suppose we already know who's stronger between us, or do you want to try your hand at another test of strength ?"
Akiha face turned red when she heard what Belinda said to her.  She didn't even know how to respond back to it and was left speechless.  After a moment, she finally refocused herself.  "Of course I remember that, how could I forgot, I mean it was my first time." stated Akiha as she then realized what she said and covered her mouth, her face now even more red than before.  She couldn't believe what she had just said.  "Forget about that, we have a match to do!" stated Akiha in a frustrated voice as she tried to change the topic.

As they finish shaking hands, Belinda began to speak about how it was unfair that Akiha had made a new finisher just for her. "Well Belinda when I win this match, you can then can make a finisher just for me when we met again." stated Akiha as she flick her hair to the side before seeing Belinda raise her hands as the bell was rung.  "You may be stronger but didn't I technically win our last strength contest, I mean I cheated, but I still won." stated Akiha as she then attempted to perform a kick aimed at her rival chest.
Belinda would look on at Akiha's red face which only got even more red as her rival spoke out those words, something that caused Belinda's eyes to widen for a second out of surprise...it was rather interesting to hear that she was the raven haired cutie's first...and it kinda made it feel quite a bit more special. The blond would smile a bit as she looked on at Akiha and return a slight blush towards the girl. " Heh~ Alright, though we'll talk about it after I have beaten you again." Belinda spoke out as she'd nod her head to her rival.

Following that though she found herself in a bit of a pickle as Akiha said those words to her about the finisher, Belinda would frown a bit as she stared deeply at Akiha's eyes. " We'll see if you can pick up that win, I'm two for Oh here." The blond said as she'd puff her chest out proudly.

With the bell ringing and the two of them getting ready to square off, Belinda figured that Akiha was going to be up to something after she heard those words from her rival, she practically telegraphed what she was gonna do. Unfortunatly all Belinda managed to do to help herself in this situation was brace for the impact of the kick as it smacked into her larger chest which caused them to bounce within their tight restraints that was her bikini top. " Agh!" Belinda cried out as she stumbled backwards, her right arm moving up to shield her chest.
Akiha face turned a little less red as she saw Belinda's face turn a bit red as well as her eyes widen for a second.  She then made a comment about how they would talk about it when Belinda beat her again. "So we're going to talk about it after three or four matches down the road as that will be the next time you win?" stated Akiha as she gain her confidence back.

The blond rival seemed to be beaten when the raven hair wrestler made a comment about how the foreign wrestler could make a finisher when the Japanese wrestler defeated her.  Yet seeing a frown on Belinda's face did make Akiha a bit sad.  In their match, the two were pretty happy despite the fact they were beating each other up.  Yet when she heard her rival comment the raven hair wrestler got fired up.  "Hi, that one doesn't count since I already admitted that when it comes to... that kind of stuff, you are far better than me.  We are only counting wrestling matches or else... well then it's not going to be much of a rivalry then." stated Akiha in an annoyed tone.

When the bell rang, Belinda attempted to get Akiha to start off with another test of strength but when it came to raw power, Akiha knew Belinda had her beat.  Thus, instead she kicked her opponent causing her rival to go back a few feet.  Yet just as her attack connected, the raven hair wrestler would charge forward and attempt to clothesline her rival, giving her no quarter.  She intended to give Belinda hundred and ten percent.
Taking that kick straight to her chest was not a good thing, it sent Belinda stumbling backwards but she had braced for it...it was far less devastating of a start than it would have been if Akiha had caught her off guard, and if this had been their first encounter then maybe the Japanese wrestler would have done so. However, Akiha had been fairly honest about her ways and tactics to Belinda and it was thanks to that which she had managed to anticipate such a move.

Still it seemed as if Akiha wasn't going to let up one bit, the girl soon started to run at her with a wild charge. Belinda would grit her teeth as she saw her raven haired foe run at her. At the last moment though Belinda would try and raise her right leg up, so that when her rival came at her she'd try and drive that sole of that foot right into Belinda's smaller chest, trying to hit her rival with a big boot for payback!
Page 1 of 7 • 1, 2, 3, 4, 5, 6, 7


---
Permissions in this forum:
You
cannot
reply to topics in this forum